Click Slide menu on left

Henry John*Guildford Time Line (1883 - 1911)

<
During this period, John undertook building houses, dredges, wharf and bridges in many parts of Southland, Otago and the West Coast
(Police Gazette, 1881, page 48.) Information is requested respecting Henry John Guilford, a native of England, a labourer, but may be employed as a clerk or carpenter, thirty-seven years of age, 5 feet 5 inches high, medium build, fresh complexion, hazel eyes, dark hair beard whiskers and moustache, scars on forehead, on right arm, and left hand, third finger of right hand contracted. He was sentenced at Dunedin on the 16th September, 1880, to six months labour for embezzling money belonging to the Portobello Road Board, by whom he was employed as clerk.
May 1881; The Marble, Portland Cement and Mining company was granted 320 acres (130ha) at the Caswell Sound with a seven years license to quarry

and it was here disgraced John Guildford following his discharge from gaol, took refuge and was employed erecting buildings and wharf in isolated Fiordland. (Prospectus
)
The Marble Companys quarries were extensive and the quality of the product was said to be the equal of any in the world, not excepting Carrara marble. The Caswell Sound marble competed against stone from Italy and other marble producing countries and was awarded first prizes at the Sydney and Christchurch Industrial Exhibitons. It was almost pure marble, easily and freely worked, and the company found no difficulty in obtaining a good market. Massive rocks were removed but the fractured nature of the stone prevented it being used for statuary and the factory closed.
In June, 1882 John went to Otautau, and spoke of going to Port Chalmers and it was supposed he went to Sydney...
3 Oct 1883: (Police Gazette, 1883, page 166.) Inquiry is made for him at the instance of his wife and three children, towards whose support he has not contributed for the past three years. Henry John Guilford has been found. He was recently arrested by Constable Henry Fretwell, Wyndham Police, for wife-desertion, and remanded to Dunedin
1883 4 Dec: Southland Times: Resident Magistrates Court: WIFE DESERTION. Henry John Guildford was charged on a warrant from Dunedin with having deserted his wife and three children and leaving her without adequate support. The accused admitted this and said he would be willing to pay a reasonable amount towards the support of his family.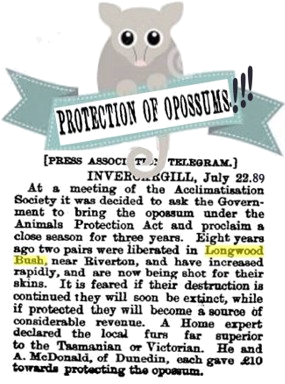 1888 31 Jan: Southland Times: The Bridge Road Presbyterian Church opening was celebrated on Wed, 25th. and was extremely well attended despite the miserable character of the weather. The parish minister Rev, I. Jolly, presided, and addresses suitable to the occasion were delivered by the Revs. A. H. Stobe and J. H. McKenzie. During the evening Mr Halliday, treasurer to the Building Committee, reported that the people had responded well in connection with the building and the small debt remaining would be paid. A choir, trained by Mr Field, sang most hearty and encouraging at intervals during the proceedings. Mr Guildford was the contractor for the building of the church, and the structure reflects great credit upon him (abridged)
1888 25 Apr: Southland Times: KENNINGTON. (The district was known as Waihopai, Awarua electorate - Kennington 1902 population 56) The meeting of householders was fairly attended. For the committee twelve candidates were proposed, all of those the following were elected : Messrs J. H, Dawson (chairman), R. Coupland, B. Edwards, H. J. Guildford, J. Crombie, A. W. Mason, J. Sutherland.
2 Feb 1889: The privaliges in connection with the Amateur Races will be sold in Invercargill today. The tender of Mr H J Guildford for erecting stand etc has been accepted
24 Mar 1888: Southland Times: Southland Education Board: A special meeting of the Board was attended by the chairman (Mr T. M. Macdonald) and Messrs McLeod, Molison. Lumsden, Baldey, Froggatt, Bain, Matheson, and Turnbull. To erect Charlton teacher's residence, H. J. Guildford, £135,
7 Feb 1889: Western Star: The privaliges in connection with the Amateur Races will be sold at Invercargill today. The tender of Mr H J Guildford for erecting stand etc has been accepted
1889 25 Apr: Southland Times; KENNINGTON. At the meeting of householders Mr J. H. Dawson, the chairman of the retiring committee, reported that the incoming committee would have a balance in hand with which to commence the year. Nine householders were nominated, the following being elected: Messrs G. T. Dawson, B. Edwards, J. H. Dawson (elected chairman for the ensuing year), R. Craig, R. Coupland, H. J. Guildford, and J. Crombie. .
1890 21 Mar: Southland Times; Southland Education Board At the annual meeting of the Board the following tenders had been accepted: Roslyn Bush: New school, H. J. Guildford, £78 I5s
.

1890 4 Sep: Southland Times: Southland Land Board. At the monthly meeting the following application were granted : H. J. Guildford and James Stoding, section 78, block 7, Invercargill Hundred ;
25 August 1891; Southland Times: Three small boys pleaded guilty to a charge of throwing stones at Brunswick to the damage of the dwelling of H. J. Guilford. Sergt. Macdonell said the youngsters admitted their misconduct. The father of two of the boys and the brother of the third were present and promised to look after them better in future whereupon his Worship cautioned and discharged them.
1891 21 Dec: Southland Times, Race Privileges. The privileges in connection with the Southland Racing Club's meeting at Myrosa Bush on Boxing Day were submitted to competition by the United Farmers' Agency Company on Saturday, and realised the following prices: Publican'a booth, F. Hewitt, L16 10s; refreshment booth, D. McFarlane, L2; gates, H. J. Guildford, L22 10s ; cards, J. Aldred, L7 10s; horse paddock, E. Fisher. LI0 10.
1893: Wallace electoral roll; Henry John Guildford; residence Merrivale; sawmiller (Operated the sawmill with John Whitting (Whitting and Co)
10 Jun 1893; Western Star: Messrs and Whitting and Co are now sawing at the Merivale Mill, turning out good stuff at a reasonable price
1895: State Forest Service; New Zealand Forest Service, Invercargill; (Maps and Plans of Forestry and Sawmill Areas; Archives New Zealand, Dunedin Regional Office) Sawmill Site No. 331 - Longwood Bush - Whitting and Guilford 1895 (agency series accession box / item record part alternative no. CAMP D106 26a S331)
16 Jan 1895: Wallace County Council: Bridge building recommendation: "I would recommend the council to buy timber (totara) offered by Whitting and Co and stacked at the old mill at Merivale, at 8s per 100. Whitting and Co do not require immediate payment." It was resolved to erect the bridge at Langfords at once.
12 Feb 1896: Wallace County Council: 46 at Otautau petitioned council to attend the road leading to the Bush, stating that if the road on the flat was made viable, Whitting and Co would run their tramway down to it. Agreed (The mill was erected in 1892, constructed of wood and iron, it contained a breaking down and breast benches, with moulding machines. The machinery was driven by 16 horse-power steam engine and the output was abt 5000 ft of dressed and undressed timber a day. After the timber yard became connected by a tramway at the railway station to the Long Bush sawmill, 3 miles distant, by 1902, 22 people were employed,
Mar 1897: The dissolved Parnership hitherto exiting between Messrs Whitting and Guilford trading under the name Whitting and Co, sawmillers, Otautau, has been dissolved by mutual consent. From the first day of February, the mill will be under the management of Mr John Walker. All orders entrusted to him will be promptly executed. The tramway is to be extended a half mile closer to Otautau, which will be a great advantage to those requiring timber, especially in winter, when the roads are bad. As in the past every effort will be made to suit customers, and the mill being local industry, should be largely patronised. Signed ALBERT WILLIAM WITTING and HENRY JOHN GUILFORD, the 29th Feb, 1897. All accounts owing to the late firm can be paid to either of the above partners

1897 22 Jan; Southland Times: Magistrate's Court: (Before Messrs R Gilmour and J. W. Forde, J.P.) JUDGMENTS BY DEFAULT. Southland Building Society v. H. J. Guildford, for £6 8s, costs 8s.

1897 - New Zealand Railways Department, District Engineers Office, Dunedin; (Leases and Miscellaneous Agreements; Archives New Zealand, Dunedin Regional Office.) Lease - Mr H J Guildford - Lease of Site for Storing Coal or Timber, Otautau Station Yard.

Henry continued as carpenter in the Waianiwa settlement area where the village had 52 residents and the surrounding neighbourhood, a population of 106. It was on the Invercargill-Orepuke railway line and the school was said to be the oldest in Southland. Wife Jane ran the "Bridge House" boarding house 12 miles away at Spey St, Invercargill.

At the time of Henry John Guildford's death at Kew Hospital, Invercargill, wife Jane operated a boarding house at Elles Street.
Henry John Guildford 1

Henry John Guilford
Index
Images and data used in this site copyright -
Descendant input to up-date family pages is very welcome - more detailed information available on request.