Leslie Family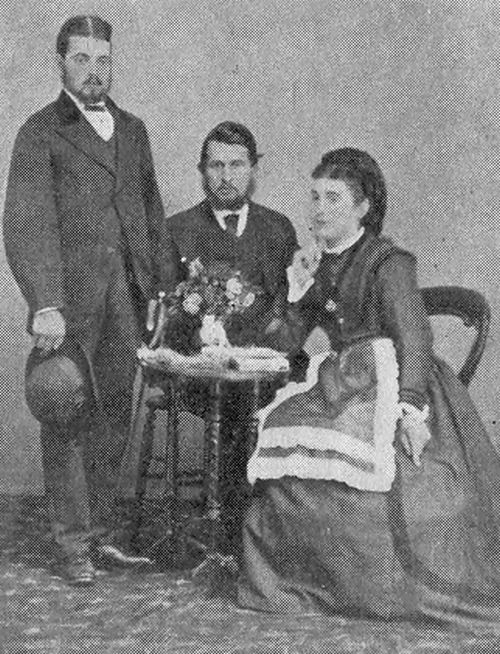 Partridge, Henry and Ann Leslie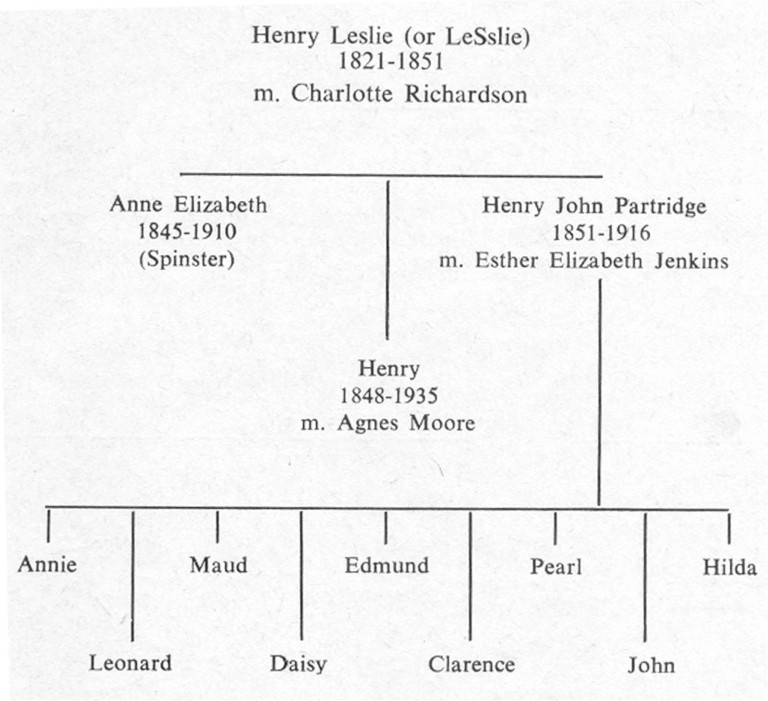 Even though Captain Thornhill had specific instructions to make to New Zealand with no stoppages, if at all possible. Whooping Cough became prevalent, with several cases of fever also and the medical supplies needed replenishing; so, on 29th November, the course of the CASTLE EDEN was altered, so that, on December 12th, the anchor was dropped off, Capetown.

While the Captain requisitioned some new crew; and provisions were replenished, the passengers had some time on shore. Mr Leslie, ignoring his wife's warnings, went ashore without warm clothing, and in consequence, caught a bad chill. In the South African Colony, Land was.being sold for a bottle of rum per acre, and Mr Leslie worried that by purchasing fifty acres in Clnterbury, he had made a bad bargain. There were also rumours that the new settlement at Christchurch was just swamp.

The ship put to sea again, on the last leg of the journey, on 21st December, with most passengers having benefited immensely from the rest. The run to Stewart Island was tolerably favourable. However strong contrary winds up the East Coast slowed the ship, and she did not sight Banks Peninsula until Friday, 7th February. However, it was the fate of Mr Leslie not to set foot on the laud which was to become the home of his wife and children. The chill acquired by Mr Leslie at Olpetown, combined with worry, and the lack of medical facilities on board culminated in his death as the CASTLE EDEN dropped anchor in Lyttelton Harbour on February 14th, 1851. The ship's records state simply-"One of the passengers, Mr Leslie, who had been sinking for some time, died the morning after the arrival of the vessel." Three births, three marriages and three deaths occurred during the voyage,and but for the stop at Capetown, the CASTLE EDEN would have been considered as expeditious as the earlier four ships of the Association.
And, so it was, that Mrs Leslie, the widow, and her two young children, came ashore on one boat, followed by another containing the coffin of her late husband. Mr Leslie was buried in the Anglican Cemetery at Lyttelton (Book 109D, page 774). However, the exact position has not been ascertained, as the church records only go back to 1860. As land had been purchased in England before departure, Mrs Leslie was entitled to the privilege of living in the Immigration Barracks in Lyttelton, for twelve weeks. It was in these birracks that Henry John Partridge was born on 28th February, 1851. He was baptised on June 8th, 1851 (Book 109D, page 775) by the Rev. B. W Dudley.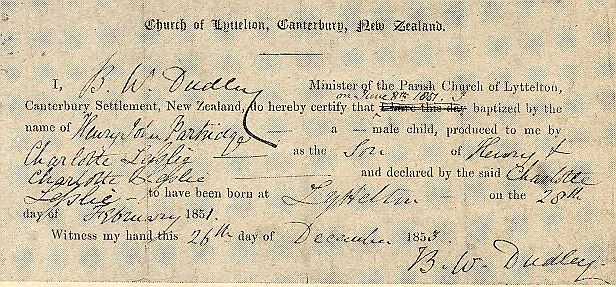 Despite the good preparations made in England by Henry Leslie, the young family had many a hard time to face in those first years. When Mrs Leslie left the Barracks, the family shifted to a sod whare which she had purchased. This investment turned out to be a dead loss, as the whare had been built on public land, and the family were obliged to move. A section was then bought at Salt's Gully (Lyttelton area) where they lived for many years. During this time, Mrs Leslie took in sewing to assist the family finances
With the children growing up, Mrs Leslie decided that it was time to see what the estate at Riccarton was like, and to take final possession of it, by setting foot on it. She borrowed a horse and a saddle from Mrs Robert Godley, and hired a man to lead it over the many bogs, creeks, and streams on the way. Mrs Leslie, taking Henry'John Partridge with her, came over the Bridle Path and then down the Heathcote Valley, which in those days was nearly all covered in water, being such low land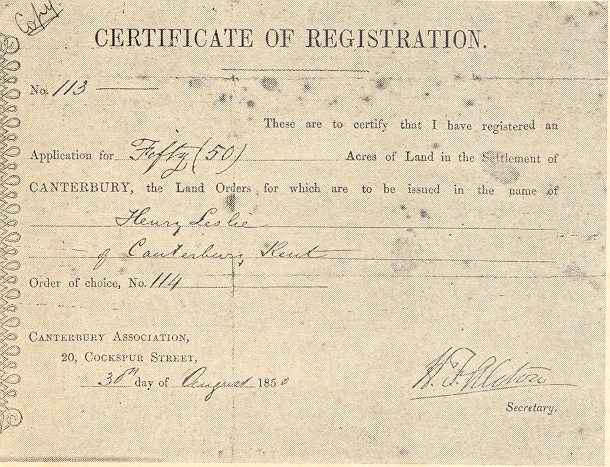 Having taken formal possession of her land, accommodation for the night had to be sought at Riccarton. This was kindly offered by a Mr Gregg, who gave up his bedroom and slept in a shed outside, so that Mrs Leslie and her small son could have .a good night's rest.The Canterbury Block, as the earliest settlers saw it, consisted of three distinct belts. Along the coast, was a strip of heavy wet land, usually some ten miles wide, and covered largely with rank swamp grasses, higijer than a man. Water cresses were there in plenty, and the luxuriant growth afforded by this land, had an abundance of pukeko and bitterns, whilst it was relatively common to see flocks of up to 60 Paradise ducks, flying overhead: other ducks, such as teals and greys as well as spoonbills, were also very common.
The swampy areas gradually gave way to dry stony plain, covered with light scrub and tussock. Wild Irishman, a very spiny plant, grew up to 3 ft 6in high, with needle sharp points, and yellow flowers on a seed head, ;went up from its base each year. Beyond this again, were the lower foothills of the great mountain chain on which tussock and scrub prevailed, although the valleys were often fertile and forested. Fauna abounded about early Christchurch, with introduced pheasants being so abundant, that, when a twelve-acre paddock of Mr Dean's (earliest settlers) was mowed fifteen pheasants and ten hares were killed, through getting tangled up in the mowing machine. Parakeets, which used to come down from the Oxford Bush, were a nuisance among the cherry trees and other fruit trees, while bats and moreporks were also present in moderate numbers.

The site of Christchurch and of the rural allotments of the first land purchasers, was what became known as "dry swamp", moderately wet land, with native flax, toi toi, cutty gra;;s, and sometimes heavy fern, with boggy creeks running through it. Before cultivation, this vegetation had to be stripped by hand with a mattock (a form of grubber). When the ground was thus cleared and burnt off, it was ploughed with a single-furrow plough. In Mrs Leslie's case, a horse and a cow yoked together, pulled the plough, before the ground was harrowed with a tine harrow, or sown by hand on the furrow. Often sheep were driven to and fro across the furrows, after sowing the seed to act as harrows and roller. When ready, crops were reaped with a scythe or a sickle, stacked, and then threshed with a flail. '

In the 1860's and 1880's, the Plains beyond the Riccarton Bush had no trees on them, and there was a mantle of snow at least a third of the way down the ranges, even in the hottest summer. With no trees to break the wind, the nor'westers blew across the plains with terrific force, and in the 1860's there were many stories circulating such as the following A man left his horse tied to a fence one windy day, but when he returned, its saddle had been blown clean off, even though double girthed. On another occasion, a farmer was ready to stook hay, when such a blustery wind came up, it was too windy to work. He lay down and slept with his head on a stook, and when he awoke, was shocked to find that the only stook left in the paddock, was the one on which he had his head. The likes of these stories may not be exaggerated, as, on the farm at "Glendale", Ma Waro, which was the eventual home of Clarence, newly cut sheaves of oats have been seen moving end over end up rather steep hills, before finding a resting place on more sheltered ground.

Fences in the early days, largely depended upon where people lived; if near a forest, fences were of post and rail; otherwise, sod wall, or ditch and bank fences were made. Fences were made five feet high from the top to the bottom of trenches. Alongside the trenches, which were five feet wide, was planted gorse, until a "Cabbage" Wilson wrote a book abount gardening, in which he advocated planting gorse and broom alternately. This proved to be poor advice, however, as the stock ate and rubbed up against the broom, ultimately breaking through Soon after having taken formal possession of the Riccarton land, the decision was made, to move there permauently. The purchase of the fifty acres, in England, had entitled the family to half an acre of land in the "city to be", this being where (in 1919) the Jewish Rabbi's house stood.

The trip from Lyttelton to Riccarton was made, firstly over the Bridle Path, walking and carrying what possessions they could. Then they were ferried over the Heathcote River where in 1928, the Tramway tanks stood on the Christchurch side. Here they were met by Don and Bishop's (grocers) carts, which took them to Gloucester Street. The Leslie's heavier possessions came by sea, over the Sumner bar, and then up the Heathcote River. A small two roomed house was rented, while their own, of similar size, was being built on the Gloucester Street section, by a Mr Dilloway, who later owned "The Plough Inn", Riccarton's first hotel.

Some years after having arrived at Riccarton, there was a search for the best bullock in the Christchurch district, for a banquet for the visit of the Duke and Duchess of Edinburgh. Mrs Leslie's beast was the best found, and she received twenty pounds (£20) for the sale. The fifty acre block was farmed until Charlotte's death in 1870, when the area was left to Henry. Being the fair minded man he was he sub-divided the areas (Gloucester Street and Riccarton) into three equal portions, in 1875, transferring the northern portion of the Riccarton property to Partridge, the centre one to Ann Elizabeth, retaining the southern portion himself. Partridge sold his portion in 1885.
Partridge's eldest daughter, Annie, spent her childhood with her Aunt Annie and Uncle Henry at Riccarton Waimairi Road), and finally inherited the greater portion of her aunt's property. Henry (who had married Mrs Agnes Moore) lived on the property, until he (lied in 1935. Some of the property was sold-the remaining area was left to Partridge's two eldest sons, Leonard and Edmund. It is now Canterbury University property.

By the end of the 19th century, the two elder children of Henry Leslie, who came out from England with their parents, were still unmarried. Ann died a spinster. Henry married Mrs Agnes Moore, late in life-a widow with two daughters. Henry John Partridge had a flourishing family of four boys and five girls, and had bought a farm at Aylesbury. While living there, Partridge uscd to work about Christchurch, doing carpentering, bricklaying and similar jobs, walking to Ayles,bury at weekends; arriving home at about 11 p.m., and walking back to Christchurch on Sunday. For all this travelling, Mr Leslie earned the nickname of "Night and Day" Leslie, from some of his friends.
The Aylesbury farm was sold in 1906, and a property bought at West Melton, only fourteen miles from Christchurch, at ten pounds (£10) per acre, 272 acres. This meant that Mr Leslie could do more carpentry work nearer home, and the farm was leased to the elder sons, Leonard and Edmund. They did a great deal of work to bring the farm up to standard; gorse fences were trimmed from being yards wide, and the standard of the farm much improved in over three years. When the lease expired, a younger son, Clarence, who had been working at his Uncle Ernie Jenkins' farm at Waddington, came home to work the team of horses and help run the farm. By this time, Annie, Maud and Daisy had married. Edmund and Clarence had worked on various neighbouring farms, and Clarence had been in partnership with Len at
Halkett for 1hree years, before Len bought the farm at Harewood. The West Melton property was sold in 1912, for seventeen pounds (£17) per acre (a good profit). Len married, with children, farmed his twenty acres at Harewood, supplementifig his income by taking on a milk run. Selling out from there, he bought a farm at Cust, and founded a very
successful Friesian herd. Later he sold out, and came back to live in the old family property on Waimairi Road.
After selling the West Melton property, Mr Leslie Snr. (H.J.P.) retired, with his family, to 344 River Road, Christchurch. Clarence then worked on various farms, and a threshing mill (before enlisting).
Edmund also did farming jobs for various people; (he and Clarence enlisted together). Jack went mustering at Fendlehurst and Molesworth; Pearl, after attending Commercial College, took a position in an office, and Hilda attended High School With the outbreak of World War I, there was a break in the family, when Edmund and Clarence enlisted in 1916. They met up with George Masterton in camp, (later to become their brother-in-law, marrying Pearl) and spent most of their soldiering days in France. Edmund and George were wounded (not seriously) and spent several months in hospital in England, convalescing. They thus moved home a little earlier than Clarence, who came through unscathed, and had also spent some weeks with the Occupation Army in Germany. The younger son, Jack, enlisted later, and got to camp. However, he contracted influenza in the epidemic of 1918 and almost died. He was so ill at one stage, that his mother in Christchurch was officially informed that she should go to Featherston to see him. All ended happily, however, with the family re-united in 1919. After "final leave", the brothers Edmund, Clarence and Jack, and George Masterton, went into partnership in a farming venture of 3,004 acres, a few miles from where the town of Tokoroa now stands.


Press, 22 April 1935: MR HENRY LESLIE:

By the death last week of Mr Henry Leslie, of Waimairi road, Upper Riccarton, Canterbury has lost another of its pioneer settlers. Mr Leslie was born in Kent, Canterbury, England in 1849. and came to New Zealand in the fifth of the Pilgrim ships, the Castle Eden, with his parents. His father secured a 50-acre section of rural land in London from the Canterbury Association, and was granted the town section in Gloucester street upon which the Jewish Synagogue now stands. His father contracted a chill on the voyage and died just as the ship dropped anchor in Lyttelton harbour in February, 1351. After residing in Salt's Gully. Lyttelton. for four years, the family removed to Christchurch by way of the Bridle Path. Mrs Leslie having had a cottage built on the section in Gloucester street. Mr Leslie was a foundation pupil of the Scottish School, opened by the Rev. Charles Eraser on the present site of St. Andrew's Church, and was probably the last scholar living who attended that school. When Mr Leslie was 10 years old the family removed to Waimniri road. He resided there until his death. Mr Leslie was the oldest living member of the original St. Andrew's Church, having attended the services of that denomination held in the Durham Street Church while the original church was in course of erection. He was for many years an elder of the kirk session of St. Andrew's, and was in regular attendance at the church services until a year ago. when growing infirmity prevented him from making the journey from Upper Riccarton. Mr Leslie was married late in life. He leaves a wife and two step-daughters, one the wife of the Rev. James Young, of Rotorua and the other he wife of a son of the late Rev. Frank Rule. The Funeral The funeral of Mr Leslie tonic place on Saturday from his home in Upper Riccarton to the Addington cemetery. The services in the house and at the graveside were taken by the Rev. J. Lawson Robinson, minister at St. Andrew's Presbyterian Church, of which Mr Leslie was the senior member. Members of the St. Andrew's congregation attended the funeral, as well as many who had known Mr Leslie during his long residence in Canterbury. The pall-bearers were Messrs L.H. Leslie. C. V. Leslie. E. Eaves. A. Cox, G. Masterton and D. Bulmer.

Mr Brian Leslie of Blenhein shared his book "The Leslies - a Portrait of a Pioneer family" after the Guilford Reunion in 1976 at Christchurch. It outlined the life of fellow steerage passenger immigrants on the Castle Eden - Henry Leslie, aged 29Y, occ; Cow Keeper who died on arrival at the Lyttelton Harbour; his wife, Charlotte Leslie aged 37Y and their 2 children, Ann 7Y and John Henry aged2.