- Port Cooper from sea, 2 1/2 miles S.W.; date - January 1850. Src: Hocken Library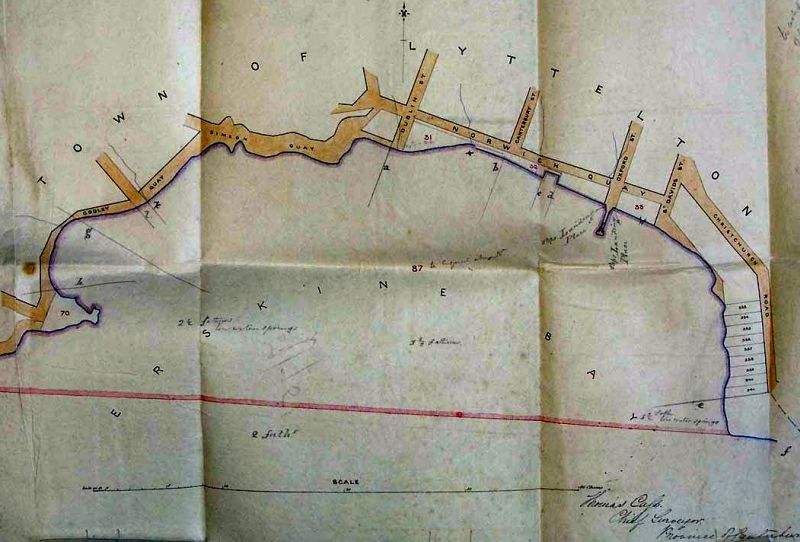 The four sailing vessels chartered by the Canterbury Association left Plymouth, England, in Sept 1850 to transport the first settlers to new homes in Canterbury, New Zealand. The first vessel, the Charlotte-Jane, landed at Lyttelton Harbour morning of 16 Dec 1850 and was followed in the afternoon by the Randolph. The Sir George Seymour arrived 17 Dec; then the Cressy on 27 Dec 1850..
Image Src: Weekly Press Jubilee (December 15th 1900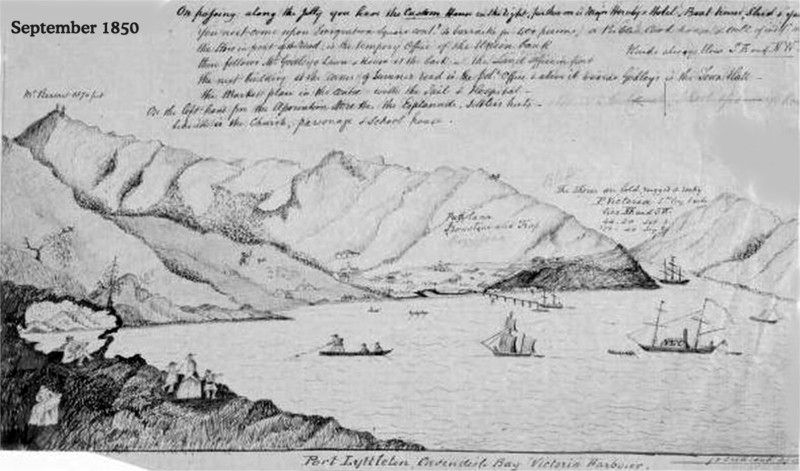 Cridland, Henry John (1821-1867); September 1850, View from Governor's Bay looking back towards Port Lyttleton, Cavendish Bay, Victoria Harbour. He was a surveyor and land agent commissioned by the Canterbury association to prepare estimates for roads, buildings and public works for the proposed settlement. Src: Alexander Turnbull Library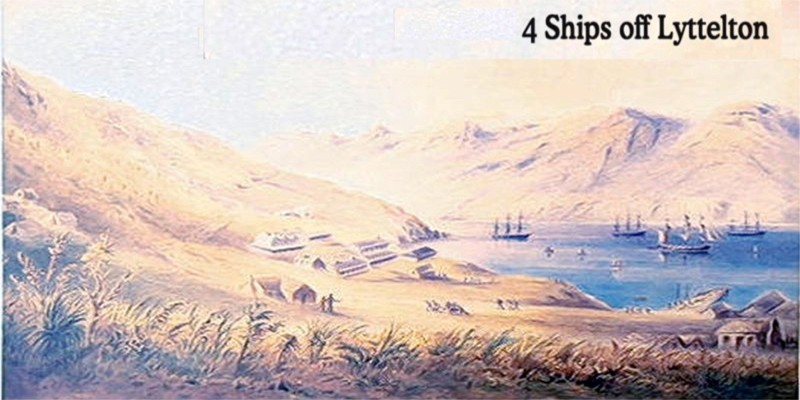 William H Rayworth
(1821 - 1904) was a surveyor and taught art between New Zealand and Australia. Lived at Lyttelton 1850 where he painted the arrival of the first four ships at anchor&nbsp and the accommodation barracks.
Artist: Mary Townsend (1822 – 1869) artist travelled on the Cressy, one of 10 children - her father James purchased the Ferrymead farm on the banks of the Heathcote River. on the Cressy on her arrival 27 December 1850 The signal flag is visible on the hill above. Src: Christchurch City Libraries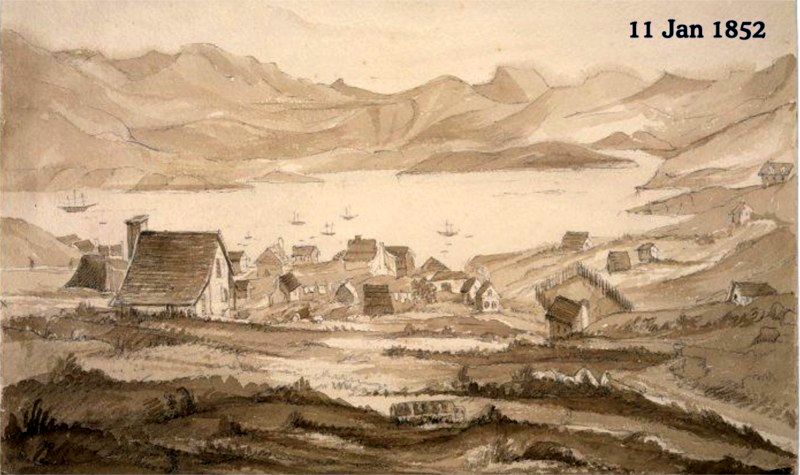 Janetta Maria Cookson (1812-1867)View houses to sth-east at Lyttelton, Quail Isalnd and hills above Teddington in distance. Src; Alexander Turbull Library.
William Fox
(1812-1893) 1851 View of Lyttelton from the harbour - "Camping Out" After arriving many immigrants improvised temporary shelter on the surrounding hills
William Fox
(1812-1893) 1851 View of Lyttelton harbour and the first four ships
Above: Artist Wm Howard Holmes (b.1825; d.1885); Intermediate passenger on the Castle Eden arr: 27 Feb 1851 Immediately after arrival, he did many sketches of Lyttelton - above and the two below, a year later, 1852, depict the port as an active and prosperous centre for shipping, commerce and farming with small craft busily transporting materials too heavy for packhorses over the Bridle Path. Src;
Canterbury Heritage
Frederick Aloysius Weld (1823 - 1891): Pastoralist, politician, premier, artist, explorer, colonial governor.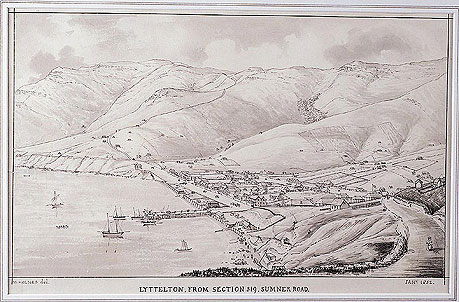 Src: Canterbury Heritage: The first vessel constructed at Lyttelton was launched (lower right) from the port's slip-way - the first New Zealand vessel built of indigenous timbers it was constructed by the Scottish emigrants John Grubb (1817-1898) and George Marshall (1821-1874), and built specifically for the coastal river trade and carry both construction timber from George Marshall's sawmill at Pigeon Bay and the early emigrant's heavy luggage from Lyttelton to the wharves at Christchurch on the Heathcote River.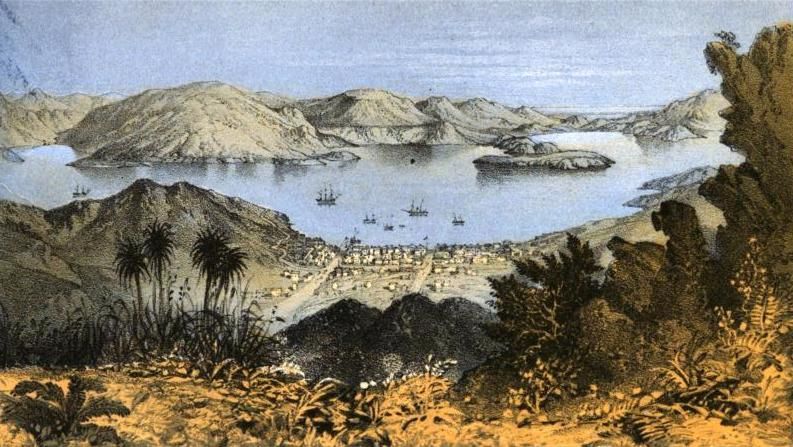 1855: Vincent Robert Alfred Brooks (1815 - 1885": Lithographic teacher and printer, in Covent Garden, London - his art featured in the Illustrated London News. This scene was painted by Edmund Norman - a view looking down from Mount Pleasant to the township of Lyttelton with its buildings - Quail Island on the right and the hills opposite (Diamond Harbour, Purau, Teddington.
English painter: John Wharlton Bunney (1828 - 1882); Port Lyttelton
Artist: Edmund Norman (1820 - 1875): Surveyor and Artist recorded Lyttelton from Quail Island, with Holy Trinity Church, Godley's house, town businesses and wharves and a backdrop of Port hills. Arrived New Zealand in the 1840s, and was appointed to a surveying post in Kaikoura in 1852 and travelled around as an artist.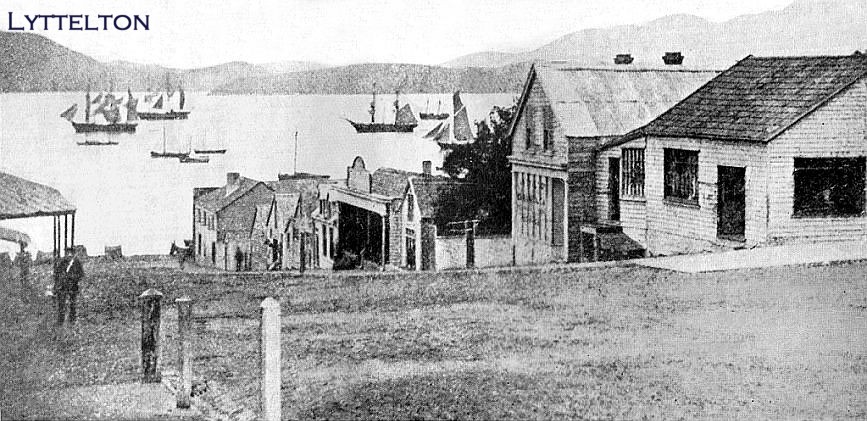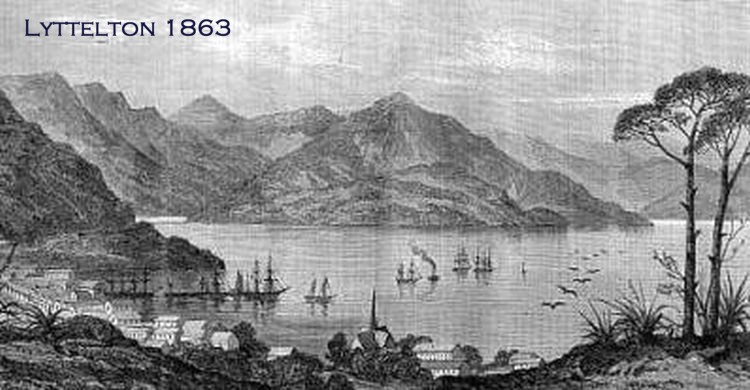 Lyttelton from the start of the Bridle Path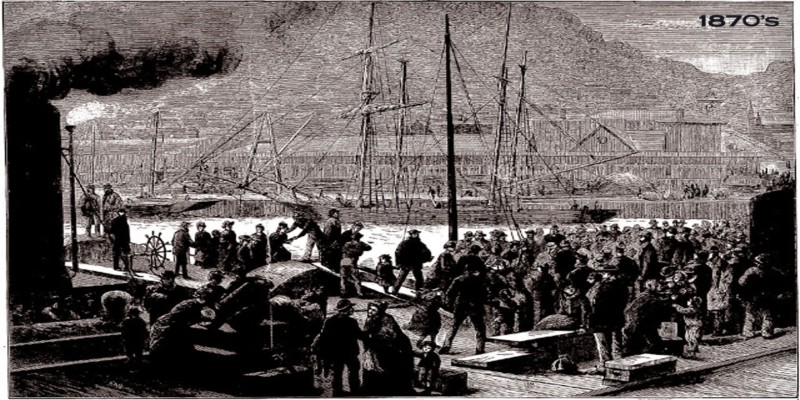 Lyttelton wharf - the chaos after a long and tedious journey followed by the complex unloading and accounting of human cargo and their possessions. Src: Wood Engraving, Illustrated Australian News.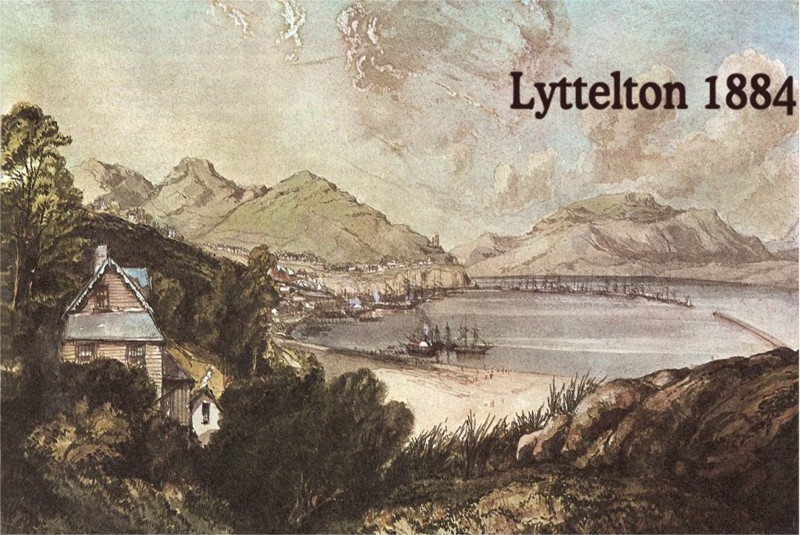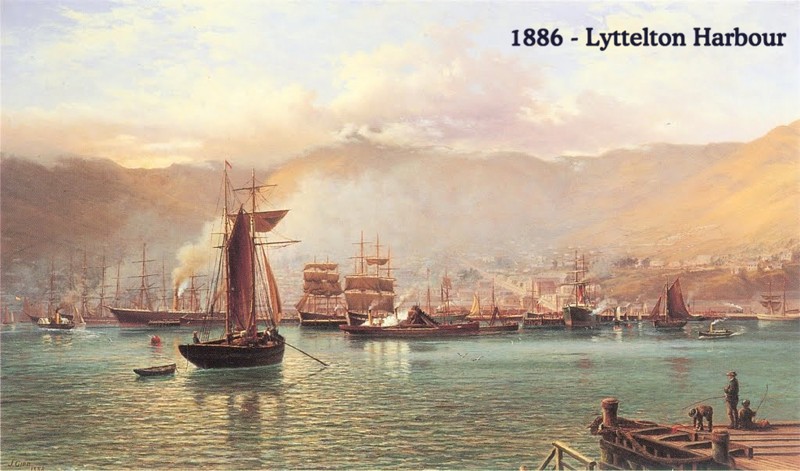 John Gibb

: Lyttelton Harbour, "Inside the Breakwater 1886"