Click Slide menu on left
Maud Adelaide & Reuben Heppleston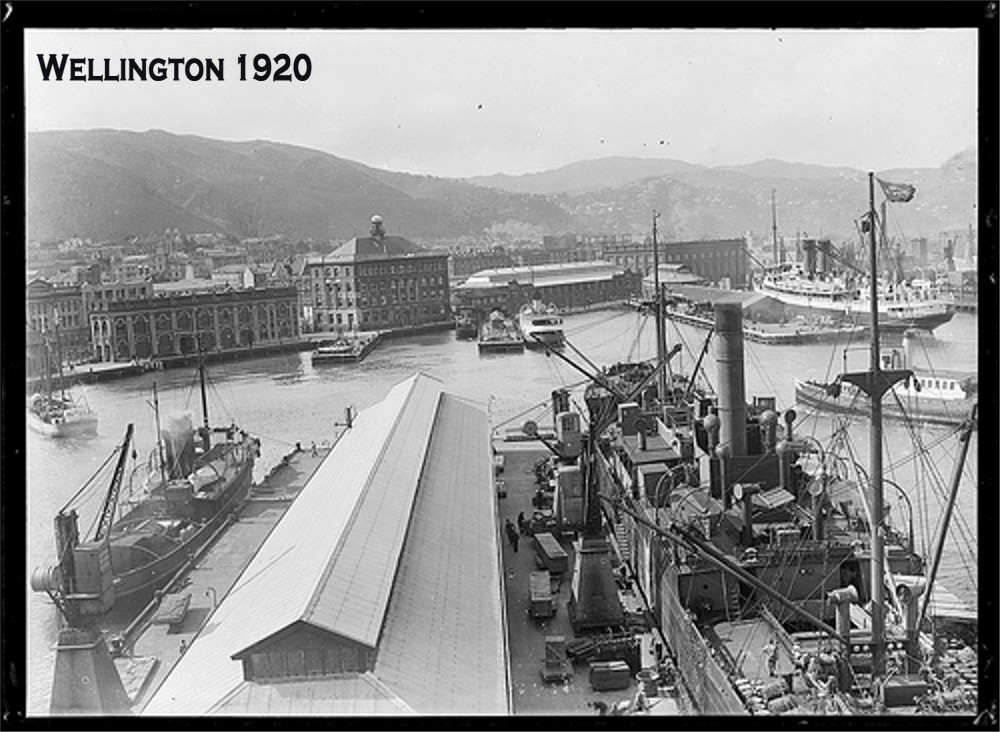 MAUD ADELAIDE GUILFORD daughter of James and Mary Guilford, was b: 26 Mar 1884) in Wellington. Education: Admitted 16 Jun 1890 to Te Aro Infants School; Parent / Guardian James Guilford; Address Dixon St; her last school Thorndon; 1892 School Inspector Returns -Name Maud GUILFORD; Clyde Quay School; 1893 School Inspector Returns; Maud GUILFORD; School Taita; 1895 School Records Maud GUILFORD; Petone Central School; Admission Date 21 Oct 1895; Parent / Guardian Mrs Guilford; Address Petone; School Otaki; Last Day 19 Jun 1896; Destination Upper Hutt; 1896 School Records Name Maud GUILFORD; Petone Central School; Admission Date 23 Jun 1896; Parent / Guardian Mrs Guilford; Address Petone; Last Day 24 Mar 1897; Destination: To work;
Maud mar: 10 Aug 1901 to REUBEN BLAKELY HEPPLESTON was b: 1878, he attended the School Petone School; his occ. engine driver; He d: 25 Aug 1942 in Wellington aged 64Y; bur: Aug 25, 1942 Karori Cem. Wellington, late of Hanson St, and beloved father of Roy, Ernest, and Albert.
(Reuben's father, WILLIAM HEPPLESTON had 6 sons and 2 daus. He was a well-known resident of Petone for 48 years and left Batley in Yorkshire in 1882 for New Zealand. He lived 3 years at Oamaru before taking the position of foreman miller at the newly established Wellington Woollen Company's mill at Petone.
1919 Reuben and Maud lived Sth Wellington electoral district
1933 Maude's residence: - Northsdale, East Sydney, New South Wales, Australia.
Nothing is known of the years until Maude's death 19th May 1952 at Auckland - she was bur: at Waikumete Cemetery - can you help, please?

Children of MAUDE GUILFORD and REUBEN HEPPLESTON are:

i. WILLIAM ROBERT HEPPLESTON (b. 1902; d. 1903 Age 3.5 Hours)
ii. ROY EDGAR HEPPLESTON (b. 14 Jun 1904 Wellington, son of Reuben Blakeley Heppleston and Maud Adelaide Guildford; d. 1 Dec 1973 Auckland age 69Y; bur: Birkenhead-North Shore Cem., Auckland)
He mar. 1924 at Wellington to VERA KEEGAN (b: Jan 12, 1904 to parents Patrick Keegan (1865-?) and Mary Jarvis (1875-1918) she d: Jan 28, 1997 North Shore, Auckland)

Roy was employed 1920 on the Staff Victoria Laundry Co, then as a dry cleaner in the Wellington area and the couple later moved to Auckland.
iii RITA HEPPLESTON (b: 1905 Wellington; d: 21 Aug 1942 in Auckland Hospital Mar: 1924 to Claude Lockhead Russell (b: 03 Nov 1903; d: 1989)
DEATH: RUSSELL (nee Heppleston): On Aug 21 at Auckland Hospital (suddenly). Rita, aged 36Y, dearly loved daughter of Maude Adelaide Heppleston, 145 Parnell Road, and loved sister of Roy, Ernest (Wellington) and Albert, missing overseas; . Sadly missed.
Claude mar: (2) 1943 to Olive Muriel Goodwin (b 7 Feb 1899; d: 1977)

Claude mar: (3) 1950 to Jessie Ellen Wootton nee GOFFIN (b: 13 Mar 1912; d: 25 Oct 1989)
iv. ERNEST WILLIAM HEPPLESTON (b. 1907 Wellington; Staff 1920 Victoria Laundry Co; he d. 14 Jun 1965 aged 58Y, Wellington; Crem; 16 Jun 1965 Karori Cem.) He mar. 1930 to IVY MILLICENT ANDREW (b. 1907; d. 1952) a dau b: 16 Oct 1942; son b: Nov 14 1940 at Knights Rd Hosp., Lower Hutt;
1946: Petone Electoral Roll: Ernest William Heppleston, laundryman; Ivy Millicent Heppleston, married (she was b: 1907; d: 1952)

1963: Petone Electoral Roll: Ernest William Heppleston, laundryman; Kathleen Irene Goodchild. Heppleston, married (b: 2 Oct 1913; crem: 13 May 1996 Karori Cem)
v. ALBERT REUBEN BLAKELY HEPPLESTON (b. 5 Feb 1908 Wellington; WW2 Serviceman; POW; d. 1981 Age 73Y; Crem; Karori Cem)
mar. (1) 1931 to JULIA ANN MURDOCH

mar. (2) 1946 to WINIFRED MAY BUTTERS (Div: Auckland: 1978)