Education: Admitted 1915 School Invercargill North; Reg. No. 1976; Admitted 1916 - Invercargill North; Reg. No. 2076; Admitted 1920 - School Invercargill North; Reg. No. 2542; Admitted 1921 - School Invercargill South; Reg. No. 9979;
May mar: 1949 to JOHN (JACK) FRANCIS STORRIE son of JAMES ANDREW STORRIE (he arrived 11 Oct 1909 from Melbourne to Bluff, Southland on the ship Moeraki and mar: 1912 to SUSAN McCHESNEY. Jack was b: 04 Aug 1916, Occ: Engineer. Military service: WW2 10977: NZ Expeditionary Force; a prisoner of War was not freed to UK until April 1945 (NOK: father James Storrie living 93 Teviot St, Invercargill) Jack's last address 4 Tramway Rd, Invercargill and d: 11 Feb 1972 in Dunedin aged 55Y. They had no family.
Monumental Inscription Invercargill Eastern Cemetery : Plot 25: In loving memory of May Lloyd Beloved wife of John Francis Storrie Died 15th Dec 1962 aged 52 years Also the above John Francis Storrie; d: 11th Feb 1972 aged 55 years; Bur: 15 Feb 1972, Eastern Cemetery, Invercargill.
Jack Storrie's pioneer grandfather, Alexander Storrie (1850-1937) left from Greenock 4 Jun 1979 arr: Aug 28 at Dunedin on the ship "Nelson". He went to Invercargill and with a partner started a blacksmith business "Alexander Storrie and George Young". In June 1883, their business premisses were set on fire by the blast furnace and although the fire raked out preventing all to be consumed, resulted in severe financial difficulties and Nov 1883 saw the blacksmith machinery and lease of buildings on the property in Esk Street auctioned.

Alexander was discharged from bankrptcy Aug 1884 and on 25th Sep 1884, Alexander mar: Mary Fleming Gibson (1858-1939).

Mary had sailed 17 Dec 1862 from Clyde, Scotland with her parents Andrew and Catherine Gibson on the ship "Sir William Eyre and disembarked 23 Apr 1863 at Bluff after an eventful six month voyage when 22 deaths occured.)
NEW ZEALAND MAIL, 6 JULY 1888: The following patents have been applied for during the week Alexander Storrie, of Invercargill, blacksmith, for a plough wheel to be known as " The Standard Patent Plough Wheel;
EVENING POST, 14 JULY 1888, New Patents. The following new patents have been applied for:Alexander Storrie, of Invercargill, blacksmith, and. James Storrie, of Melbourne, blacksmith, for an automation horseßhoe making machine, to be known as "Storrie s Patent Automatic Horseshoe Machine;
NEW ZEALAND MAIL, 19 DECEMBER 1890: Alexander Storrie, of Invercargill, for Storrie' Patent Manure Distributor, for the purpose of distributing artificial manure either in drills or broadcast, as may be desired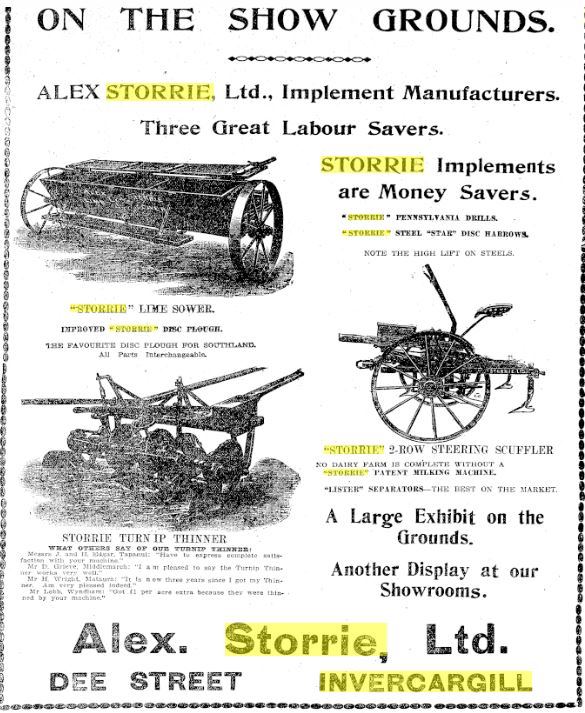 Southland Times: 16 Jun 1900: Alexander Storrie: Implement Manufacturer and Importer. Apart from her vast agricultural, pastoral and mining resources, New Zealand is rapidly becoming a great manufacturing country,and it is to her credit that she possesses foundries and engineering works in all the large towns which are capable of turning out machinery for the great industries equal to the imported article. And, as in the case of Mr Alex. Storrie, Implement manufacturer and importer, special care has been taken to adapt the work to local conditions. Mr Alex. Storrie has been a resident of Invercargill for about 20 years, and established his present business about five years ago. His premises are situated in Dee street, where they cover about a quarter of an acre of ground, the greater part of that area being occupied by buildings. Facing the street are the offices and showroom. The latter measures 66ft. in length and 24ft. in breadth, and therein are exhibited a fine stock of agricultual implements, including ploughs, diggers, draining ploughs, harrows, etc. At the rear and running at right angles to this building is the engineering department where Mr Storrie has a full complement of machinery for manufacturing and repairing work. One of the leading lines made by him is the well-known two row turnip and manure drill, a machine which is strongly and neatly constructed, and contains every quality for the rapid and faithful discharge of its work. Another machine of considerable note made by Mr Storrie is his patent combined ridger and cultivator, a most useful implement for turnip growing. It is made principally of steel, has large wheels, and is most easily handled.
The machine has many recommendations, and works on the following plan : First, it will sow manure broadcast from 1 cwt. up to 7 cwt. or more; second, it forms or raises drills to any width from 20 inches to 28 inches, properly packed, and made firm for seed bed ; third, the drill is then rolled with the rollers ; fourth, manure is sown a second time down a special coulter; fifth, seed is sown with manure and deposited on top of drill, manure any depth; sixth, the drill being finished, can be again rolled if thought desirable. It is claimed that the crops from this system of sowing have proved more profitable than those raised on any other plan, and it is from a careful study of local conditions that Mr Storrie has attained this result. Besides being a manufacturer, he is a large importer, and holds the agencies for a number of very popular machines. He is the Southland agant for Messrs Booth and Macdonald, "the well-known Christchurch firm, whose disc harrows, and other farming implements are widely known and extremely popular in this district; also the steel star windmills. The agency for the famous Planet Jr. machines is also held by Mr Stonie,,who negotiates an extensive trade in Southland in that line. Aveling and Porter's traction engines, made in Rochester, England, are among his lines, and the merits of these engines are so well known that there is a ready demand for them. They are largely used by contractors in this district, and for hauling purposes. In addition to these machines, are his own manufactures, which are displayed in his show-room, Mr Storrie keeps a very large stock of ploughs, diggers, drain ploughs, itc, duplicates and fittings, storing them in a special department on the premises. A line which particular stress should be laid upon consists in the "Pennsylvania " combined grain and manure drills, importation for which Mr Storrie s sole agent in New Zealand. This machine has steel frame, steel axle, steel spindles, and steel tyres, and possesses a force feed for manure, grain and grass. It may be had with spoon, canister, or Storrie's patent drop turnip food. The great recommendation which this implement has is its simplicity, and light draught. It is very strong, runs easy and when yoked up for work stands only three feet from the ground at the rear, dispenses with all and pinions - not a single change wheel is required, and is specially adapted for turnip sowing. Each drill is fitted with turnip points (patented), a most simple contrivance, and is specially made to suit New Zealand conditions. Mr Storrie was born in Lanarkshire, Scotland, and gained his first experience of his trade in that great engineering country. He came to New Zealand twenty years ago, and has lived in Southland ever since. He has had a wide experience, and has a thorough knowledge of the industry which he follows.
Dominion: 29 Sep 1915: An important Canterbury undertaking is the agricultural implement manufactuuring of Messrs. Alexander Storrie, Ltd. This firm has been in existence for nearly twenty-five years, and has devoted its energies chiefly to agricultural implements consisting of ploughs, harrows, cultivators, etc. Special attention has been paid to the dairying industry, and much time and means devoted to this end, with the result that hundreds of Storrie milking-machines are now in use throughout NewZealand, Australia, and even in England. The well-known firm of Lister and Co., Dursley, have accepted the Storrie milker in preference to others. In addition to dairying machinery, the firm has made a special feature in turnip and root-crop machinery. Since the Ridger was introduced, some 2500 have been built by the firm, and each year's sales are keeping up to the full average. The firm some few years ago introduced a two-row horse hoeing machine. This machine was after a good deal of testing perfected, and now there are hundreds in use. It is regarded by the farmers to be one of the finest cultivators for flat and drill work ever introduced. It is fitted with a special device controlled by the foot, leaving the hands frse to handle the reins; it can be raised and lowered to any depth or height required. Another machine that the firm has introduced, and is giving plendid results is the turnip and root-crop thinner, which the farmers say is equal to the ordinary hand thinner of the day. These machines are made entirely in Messrs Storrie's own works, the only parts imported being the raw| material, everything else being made here in New Zealand.
In 1919 Alex and Mary retired to Auckland and in 1934 they celebrated their golden wedding at 12 Shore Road, Remurewa. They were actively interested in church work for many years. (His son James Storrie took over engineering work as Storrie and Willet.)
Inscription Eastern Cemetery

In Loving memory of

May Lloyd

Beloved wife of

John Francis Storrie

Died 15th Dec 1962 aged 52 ears

also the above

John Francis Storrie

Died 11th Feb 1972 aged 55 years
Images and data used in this site copyright - ©
Descendant input to up-date family pages is very welcome - more detailed information available on request.