Click Slide menu on left
William Henry & Marie Guilford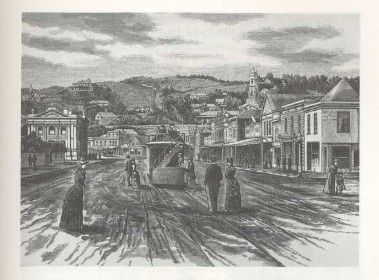 Lambton Quay 1885
WILLIAM HENRY GUILFORD was b. 1869, Wellington; occ: Plumber
; d. 13 Aug 1937, Prince Henry Hospital, Little Bay, Randwick;
1893 Wellington electoral roll; William Henry living at Parliament St; plumber
1893: Dryden and Guilford (Henry Ernest Dryden and William Henry Guilford), Licensed Waterworks and General Plumbers, Gastitters, and Sanitary Engineers, 1 Ghunznee Street. Private residences: Mr. Dryden, Karori; Mr. Guilford, Parliament Street. Both partners are natives of the Colony. Mr. Dryden was apprentice to J. E. Hayes and Co., plumbers, gasfitters, and sanitary engineers, Lambton Quay, Wellington. Having given close attention to all departments of the trade, he duly completed his term in 1887, and at once set about to commence in business on his own behalf. In the following year, 1888, he established the present business, and conducted the same successfully till 1893. In the latter year Mr. Guildford, who had finished his apprenticeship with Messrs. Hayes and Co. in 1888, was admitted a partner in the business. Mr. Guilford, like his coadjutor, had fully qualified by becoming an expert in all branches of the trade, and both have together worked hard, so as to give satisfaction to their numerous clients. The firm does a considerable local, trade, undertaking all descriptions of general plumbing work. They are specially licensed by the City Council authorities as waterwork plumbers. The specialty of their business is sanitary work, such as closets, drains, etc., and hot water fittings in connection with houses, public institutions, or business premises, and in this line they have a considerable connection. The building occupied by the firm is of wood, two stories in height, and affords about 1000 square feet of floor space.
Evening Post, 6 Sept 1894: A number of the friends of Mr. Bloom, teacher of boxing, tendered him a benefit at the Exchange Hall last evening. Mr. Kosh Arbeid was the musical director. Master Whittaker performed violin and bone solos, Mr. T. Wood danced a hornpipe and sang, Mr. W. H. Guilford gave an exhibition with the Indian clubs, and there were also several boxing bouts.
Evening Post, 14 Oct 1898: THE Partnership carried on by us under the style of "Dryden & Guilford," as Plumbers, has this day been dissolved by mutual consent. The business will be carried on as heretofore by Henry Ernest Dryden, under his own name, who will be responsible for all debts due by the firm. All moneys due to the firm will be collected by the said Henry Ernest Dryden. Dated this 13th day of October, 1898. (Signed) WM. HY. GUILFORD. H. E. DRYDEN. Witness (Signed) Leonard Tripp, Solicitor, Wellington.
1911 - Wellington Central roll; William Henry Guilford; 84 Taranaki St; Plumber
1911 - Wellington South Roll; William Henry Guilford; 54 Rolleston St; plumber
In the late 1800s most plumbing work involved roofing and guttering work. With the arrival of sewers and town water supplies, it became apparent that public health issues could arise if unqualified workers did plumbing work. As a result the Plumbers Registration Act 1912 required all plumbers to be registered and to hold certain qualifications, be already licensed as a plumber by a local authority, or demonstrate competency as a sanitary plumber. (Src: "Te Ara Encyclopedia")
1913 - Evening Post, 16 June; TO LET, Workshop. 35ft x 26ft, well lighted, centrally situated, large yard and cart entrance; suit builder, cabinetmaker, or painter; cheap rent to suitable tenant. Apply W. H. Guilford and Co., Plumbers, 26 Cambridge-Terrace, or 4 Alpha-street,
1915 Evening Post, 12 June 1915: PLUMBERS. WANTED TO SELL, PLUMBING, TIN-SMITHING, and GASFITTING BUSINESS, excellent jobbing connections ; practically new plant and tools, right up to date; stock and plant at valuation, £200 to £300; very little cash required, terms arranged, no goodwill; spacious factory and office, well lighted, good yard; lease can be arranged, small rent. Apply W. H. GUILFORD & CO., 4, Alpha-street.
William moved to Australia about 1916 and mar: 1921 aged 51Y to MARIE JENSEN nee SCHAFER, at Nautral Bay, St Leonards, Sydney.
1937: Death Certificate (name given as John Henry Guilford) JOHN HENRY GUILFORD, Occ: Plumber; Parents JOHN SYDNEY / FRANCES, place REDFERN; Bur: 14 Aug 1937, Roman Catholic Cem, Botony, NSW. He had lived 21yrs in NSW. Death certified by sister Rosanna Adams.