Click Slide menu on left
William Plank & Mary Naish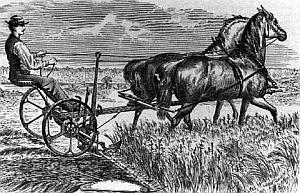 Mowing 1886
WILLIAM PLANK was b: 2 Sep and bapt: to parents William Plank and Sarah Plank (born Maslen) on 02 Sep 1799 in Marden, Wiltshire where he d: 09 Jan 1877.
He mar: MARY NAISH 8 Nov 1828 in Marden, Wiltshire. She was b; Bef. 01 Sep 1811 in Marden, Wiltshire, and died 27 Feb 1903 in Marden, Wiltshire.
Children of WILLIAM PLANK and MARY NAISH are:
1. SARAH JANE PLANK was b: 1831 in Marden, Wiltshire, and d: 12 Jun 1911 in Methodist Sect., Kempsey, NSW. She mar: 06 Nov 1852 to JOSEPH PATRICK in Marden, Wiltshire. He was b: 1827 in Chirton, Wiltshire; Occ: Farm Labourer; Ship Builder NSW and he d: 22 Dec 1912 in West Kempsey, NSW. Bur: Church of England, West Kempsey NSW. They immigrated 11 Jun 1853 on the ship " Harriett" (their fare cost £2)
Children of SARAH PLANK and JOSEPH PATRICK are:
i ELIZABETH (ELIZA) PATRICK was b: 23 Oct 1853 in Rawden Island, Hastings River, Port Macquarie, NSW, Bapt: 15 Mar 1854 and d: 1877. She mar: WILLIAM THOMAS DAVIES 27 Sep 1870 in Macleay River. He was b: in Mar. 1841 in Bangor, NSW, and d: 1892 in Macleay River, NSW.

Children of ELIZABETH PATRICK and WILLIAM DAVIES are:

i. WILLIAM HENRY DAVIES, b. 1872; d. 1942.

ii. SARAH ANN DAVIES, b. 1875.

iii. JOHN ARTHUR GEORGE DAVIES, b. 1877; d. 1954.

ii. LOUISA MARGARET PATRICK, b. 1864; d. 1949. 
2 JOHN PLANK b: 1837 in Marden, Wiltshire
3 MARIA PLANK b: 1840 in Marden, Wiltshire
4 ANN PLANK b: 1842 in Marden, Wiltshire
5. GEORGE PLANK was b: 1845 in Marden, Wiltshire; Occ: Miller/Agricultural labourer; he d: 1893. He mar: (1) EMMA PONTING. She was born 1844, and died 1883. More About GEORGE PLANK:
Children of GEORGE PLANK and ELIZABETH GARDENER are:
i. ANN MARY PLANK, b. 1870.

ii. ALFRED GEORGE PLANK, b. 1872; d. 1872.

iii. JESSIE ELIZA PLANK, b. 1874.

iv. ARTHUR PLANK, b. 1876.

v. EMILY MARIA PLANK, b. 1878.

vi. WILLIAM PLANK, b. 1880; d. 1881.

vii. ROBERT EDWARD (BOB) PLANK, b. 1889; d. 1965.

viii. HARRY ALBERT PLANK, b. 1891; d. 1969.

ix. GEORGE ALFRED PLANK, b. 1893; d. 1970.
*2nd Wife: George mar: (2) ELIZABETH GARDENER. She was born 1853.
6. WILLIAM PLANK b: 1848 Marden, Wiltshire Occ; Ag Lab
7. ELIZA PLANK b: 1852 Marden, Wiltshire