1. M

ARY CAMPBELL HUMPHRIS (2nd dau of VALENTINE JOHN and Jessie HUMPHRIS) was b; 14 May 1882 Papakaio, Oamaru; d: 26 Feb 1959 in Timaru aged 76Y; bur. 28 Feb 1959 Timaru Cem. Sect LAWN Block L Plot 600

Timeline :

1882 14 May Birth Papakaio, Waitaki, Otago, New Zealand The Humphris family were lived at Waitaki Nth where Mary attended Redcliffs School first, then admitted to the Ikawai School 14/4/1890; left 19 Dec 1891 when in Std 1 for the Village Settlement School.

She mar: 23 Apr 1902 to LOUIS ROBERT (LOU) FORREST in Waimate, son of ROBERT FORREST and AGNES MCKAY. He was b: 10 May 1878 in Waimate, and d: 18 Oct 1965 in Otaio, South Canterbury.

Age: 19 Marriage to Louis Robert Forrest , South Island, New Zealand

Electoral Roll 1905 -1906 Age: 23 Residence Makikihi, Waitaki, Otago, New Zealand

Date 1914- 1957 Residence Otaio,Location Otaio, Waitaki, Otago,

Probate: 06 Mar 1959, Married Woman, Otaio; Will No 79/59; Timaru Court

Notes for LOUIS ROBERT (LOU) FORREST:

1878 Name FORREST Louis; School Esk Valley; Register Number 127; Admission Date May 1889; Parent / Guardian FORREST R; Address Thorny Bank; Birthdate 10 May 1878; Last School Waimate; Last Day 12 Sep 1892; Destination Home to work

Timaru Herald, 7 Jan 1898: The quarterly meeting of the Waitaki Licensing Committee was held in the Courthouse, Waimate, yesterday. Transfer of licenses were granted from Robert Forrest to John Pickersgill, Georgetown Hotel,

NZ Probates Name FORREST Louis Robert; Place Otaio; Occupation Farmer; Court Timaru; Archives Reference CAHY CH 145 421/65; Probate Number 421/65; Filed Date 8 Nov 1965 Type Will

Death: Date 18 Oct 1965 Location Otaio, Waimate, Canterbury, New Zealand

Description 1965/44912 Forrest Louis Robert 87Y

Burial: Date 20 Oct 1965 Location Timaru Cemetery, Timaru, Otago, New Zealand - Bur. with Mary

Probate: 08 Nov 1965, Will; No 421/65; Timaru Court

Children of M

ARY HUMPHRIS and LOUIS FORREST are:
i. A
LBERT (BERT) THOMAS FORREST (b. 10 Sep 1902, Waimate)
School Records (APWs) Name FORREST Albert Thomas; School Otaio; Register Number 112; Admission Date 20 Oct 1908; Parent / Guardian L Forrest; Address Otaio; Birthdate
Attended Waimate High school F1. 1916; F2. Merit 1917; 1918 - honors pass Senior National Scholarship; 1919 pass Matriculated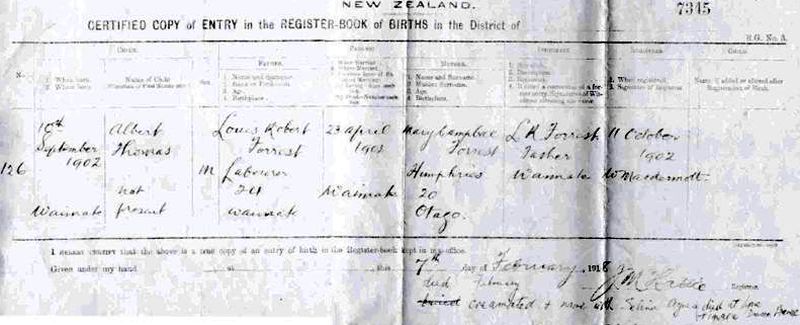 1929 Transfer Sect 34a, Windsor Park Settlement, 159 acres from Wm Davis to Albert Forrest
Occ: Ploughman 1942: appeald against military service
He d. 29 Jan 1982, 119 Domain Avenue, Timaru.Funeral service held Trinity Presbyterian Church, Timaru.
Bert was a very intelligent person but rather than pursue a career in business, was co-opted to work the farm. Bert did very well for himself and invested money in all sorts of company shares. When he died he left this to his sister Selina who had alzheimers disease and had little understanding of it. When she left her Domain Avenue home, there were countless unbanked shares everywhere. She went in to Timaru Hospital where she lived for 20 years at no cost to the family and on death, her estate was found to be over $800,000 in her solicitor's account, money he had the use of for 20 yrs.
In the 50's Bert was driving a team of horses (one of the last in the district) on the parents farm and Selena would be out stooking the wheat. In the 1970's both Selena and Bert went on a trip to England together and had a great time - there are diaries of their trip
Residence; Date 1963 Location Otaio, Timaru, Canterbury, New Zealand Description Farmer
Bert retired 1969 to 119 Domain Ave, Timaru, Canterbury; d: 29 Jan 1982 Location Timaru, Cremated 01 Feb 1982, , Timaru
ii. MARY FORREST (b. 10 Jul 1904, Waimate; d. 13 Jul 1904, Waimate aged 3D Bur: Waimate Old Cem. Presbyterian)
iii. SELINA AGNES FORREST (b. 28 Aug 1905, Waimate; d. 15 Jul 1995, Timaru, Age: 90Y)
School Records Name FORREST Selina Agnes; School Otaio; Register Number 130; Admission Date 14 Feb 1911; Parent / Guardian L Forrest; Address Otaio; Birthdate 28 Aug 1905; Pass: First-aid Examination Otaio-St Andrews Red Cross examinations - Pass: Selina and Albert Forrest.