Minnie Humphris was born 24th May 1894. She was enrolled in 1900, at the Tawai School which served the education needs of rural families in the area between Ikawai and Glenavy. In 1890 when it opened with 32 pupils, it had been called the Waitaki Village Settlement school and was first situated on the east-side of Ferry Road. By 1903, the number escalated and with an average attendance of 50, the school was moved to the corner of the Tawai-Glenavy road and underwent a name change. John Valentine Humphris elected as secretary on the school committee. Minnie left to work at home after completing Std 6 level.
In 1914 her brother William John, named his sister Miriam as his next of kin - her address c% W Thomas, Rectory, Timaru as housekeeper - her address changed when later Miriam moved to "Wharolis" 182 Manukau Rd, Parnell in Auckland.
Miriam (Minnie) Humphris mar: 15 Jun 1920 in Registrars Office, Auckland to Daniel John (Jack) Smith ( b: Abt. Dec 1892 in Wavertree, West Derby : Sheet Metal worker, Auckland
UK Smith Family: 1901 Census living in Standale Rd, Wavertree. Mother Elizabeth age 42; James N 22, John H 20, Mary 17, William 15, Robert 12, Elizabeth 11, Daniel 9 (therefore born 1892 +- 1 yr.) Louie 7, Annie 3. No father's name mentioned.
1911 Census, Daniel aged 19, still living at home in 65 Southdale Rd. Wavertree (About 1-2 streets away from Standale Rd.) Some of the same siblings plus others not on the 1901 Census.
1911 Daniel Smith left Liverpool for Melbourne.
1917 Daniel Smith joined the NZEF on 3 rd Jan 1917. WW1 Service record No 42219
On his enlistment sheet his mother Elizabeth Smith is named as NOK living at 35 Standale Rd Wavertree Liverpool. and at the time, Daniel was working for Mr Harding of Turangomoana near Matamata as a Ploughman.
Army records state:
1. He gave his birth date as 31 Aug 1895.
2. Noted was the loss of first joint 2nd finger right hand. His grand son and grand daughter both state Smith had part of a finger missing as he used to constantly tap it on the table - there was a finger nail protruding from the joint.
3. Left Eye Myopic. (eye defects after and during the war - he wore glasses)
4. 5ft 7" 10st.
5. He also had defective teeth and had pneumonia 4 years previously.
1918 Arrived in France 26.1.18, almost exactly 1 yr after his enlistment in NZ. About 6 weeks later he was evacuated sick. He reurned to his unit 1 week later then 17 days later he was evacuated sick again. Returned to his unit after 5 weeks. 5 ˝ months later he was evacuated sick once again and did not return to active service. He was 25 yrs old in early 1918.
1919 Daniel Smith returned to NZ on 10.3.1919 On the 8th April 1919 a Medical Board convenened on board S.S. Bhanno, the ship he returned to NZ on. Daniel sought compensation for his poor eyesight which he says is worse since the war and he suffers from headaches. His contact address was c/- Mrs W F (or T) Harding of Turanga-O-Moana, Matamata. A statement made on the Medical Board Inquiry form says "his statements are somewhat contradictory." He also appeared before a Medical board in Auckland dated 16 May 1919.
13.6.1919. Daniel Smith finally discharged, "no longer physically fit for war service, (defective hearing)" His grandson said Daniel Smith claimed to be born in Australia, claimed he was in the Australian Army during WWI and that He was wounded at Gallipoli (Apr 1915) - his grandson remembers he had an Aussie hat and badge. He also said he was a J.P......
15th June 1920 For the first time he uses his full name as Daniel John Smith when he marries Miriam Humphries in Auckland. On the marriage Cert he gave parents as John and Elizabeth Smith (nee Bell), that his age was 25.(ie born 1895) and that he was born in Minyip, Victoria Australia.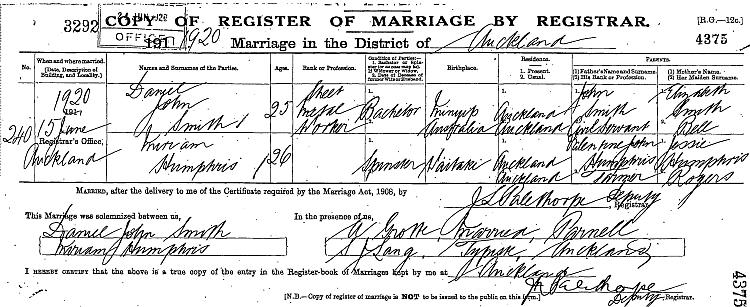 1922 Abt. Oct; Birth of daughter Gloria Mirium Smith, ( she married Stanley Carter in 1944 and died in UK)
March 1922 Daniel signed an application form for his war medals giving his address is 3 Alma St New Market. At this time he was employed as a sheet metal worker in Auckland.
Funeral Pages Herald, 7th July 1923. Inquest into the death of Miriam Smith of Alma Street, Newmarket, Auckland. The Smiths were living at Alma St, when Miriam died by taking a poisonous liquid. There was an inquest, the coronor's finding was suicide.

08 Mar 1924 Daniel married to Gladys Evalyn Victoria Mintrom

Born: 10 Apr 1897 - she was the daughter of Walter Thomas and Emily Mintrom and died 31 Mar 1978 in Auckland and was buried at Mangere Cemetery
9.7.24. On his war file is another address; Grey St Onehunga, dated 9.7.24. Written beneath that in the same red ink is "from Police Dept."
20 Dec 1930 Birth of daughter Doreen Gladys Smith who died in 2000. In 1950 she married Lawrence Ray Stephenson Shadbolt who was born: 18 Aug 1927 and died 2007 They had a son and daughter.
Supposedly he stole an old coin from the Auckland Museum and denied it at the time. He worked in that Dept. However after he died the coin appeared in his possessions.
16 Sept.1980 Death age 88 years; Daniel Smith at his Residence 58 Chippendale Cresc. Birkdale, Auckland. Discrepancies: Death Certificate; Parents; John and Elizabeth Smith (nee Bell).( Same as 1st marriage cert details.) Born 31 Aug 1892. (Birth year agrees with Census dates 1901 & 1911 and differs from WWI record by exactly 3 yrs. and 1st marriage cert). Birth location: Born Rupanyip Victoria (not far from Minyip as per marriage cert, an adjacent town).Time living in NZ 72 years (suggesting he arrived in NZ 1908, however Daniel Smith was still on the UK Census in 1911.) Date of Cremation 17 Sep 1980 Purewa B03.32