Valentine John Humphris - his birth was registered Jul-Aug-Sep 1856 Qtr; North Cotswolds, Stow On The Wold, Gloucestershire County; Worcestershire


1861 census: Household Members: Name Age
Father's name: John Humphries 50
Mother's name: Mary Ann Humphries 30
Hannah Carey Humphries 9
Elener Matthews Humphries 8
Rose Smith Humphries 7
Maria Couet Humphries 6
Valentine John Humphries 4 Estimated Birth Year: abt 1857 Relation: Son
Arthur Willim Humphries 1
Herbert James Humphries 1 MO
Mary Ann Borman 18
Selina Dodge 17
Mary Lane Griffis 17
1871 Census: Boys Boarding School:
Name: Valentine Humphries Age: 13 Estimated Birth Year: abt 1858
Relation: Boarder Gender: Male; Where born: Condicote, Gloucestershire, England Civil parish: Cheltenham
Ecclesiastical parish: St Luke Town: Cheltenham County/Island: Gloucestershire
Country: England Registration district: Cheltenham Sub-registration district: Cheltenham
Household Members: James Cox 48; Emma Cox 39; John Cox 9; Ada Cox 8; Samuel Cox 6; Clarissa Cox 3; Beatrice Cox 1; Minnie Cox 1 Month
Staff: Charles Parkis 20; Ana Dampier 56; Mary A Walkins 19; Julia Skilling 16; Sarah Astor 17;
Boarders - Henry Hanks 17; Frank Hanks 16; Joseph Healey 17; Robert Tustin 13; Robert Stanley 14; Thomas Gill 12; William Hodgkins 12; Valentine Humphries 13; Ernest Cornely 12; Henry C Albino 12;
Richard Boulton 12; Thomas Boulton 10; Henry Sheapway 7; Thomas Hodgkins 8
Immigration...... ???
In his obituary, it is stated that John Humphris came to New Zealand in 1876 but there is no immigration entry for that year but there is a John Humphris arriving on the Mataura in 1879. Family members believed that Jessie Jack Rodgers (also no entry to NZ found) came on the same ship as her future husband.
Likely travelled on the
"Mataura"
which sailed for Otago 26 June 1879, arriving at Port Chalmers 22 September 1879 - John Humphries, 2nd Cabin. Captain Brown
1882 Age: 26 Marriage to Jessie Jack Rodger , Canterbury, New Zealand1882/1705 Jessie Jack Rodgers Valentine John Humphries
(This arrival date disagrees with that in his obituary in paper - it also states his marriage was at Columba Church, Oamaru, however Jessie and John were married at the home of the officiating minister (this is verified by their marriage certificate. Jessie was delivered of her second child the previous month - the birth is dated as the date of their marriage.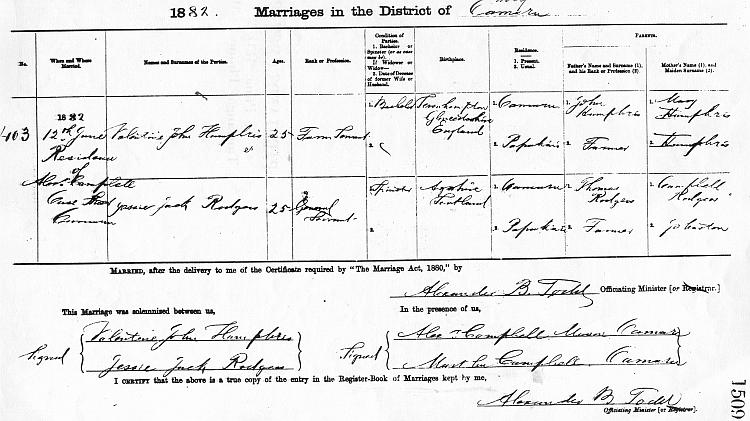 St Pauls Parish Oamaru Marriages: HUMPHRIS Valentine John 25 RODGERS 12 Jun 1882 Ref 4/403 North Otago Museum
John started as a groom on the Waikakahi Station for John McLean. On the breakup of the estate he had a dairy farm at Taiwai. He was a contractor - good with horses. Both he and Jessie were small and she spoke with a Scots accent
Original Settler in 1899 on Waikakakihi, Block X, Section 10 of 48 acres (19 ha). This block was owned by the family until 1951.
1890 Age: 34 Residence Waitaki North, Canterbury, New Zealand Ploughman
1 source citation New Zealand, Electoral Rolls, 1853-1981 .
1893 Glenavy, Waitaki Farmer
1895 SCHOOL COMMITTEE ELECTIONS. North Otago Times,26 April 1895, GLENAVY: A meeting of the householders of the Waitaki Village Settlement was held on Monday evening, when a good number were present and the following were duly elected a School Committee : Messrs Humphris, Butes, Fahey, Harney, Leonard, Ford, and Wallace and at the meeting of the Committee -held afterwards, Mr D. Wallace was elected chairman, and Mr Humphris, secretary and treasurer.
1900 Electoral Roll: Age: 44 Residence Glenavy, Canterbury, New Zealand Farmer

1905 -1906 Electoral Roll: Age: 49 Residence Glenavy, Canterbury, New Zealand Farmer
.
1911 Electoral Roll: Age: 55 Residence Waitaki, Canterbury, New Zealand Farmer

1914 Electoral Roll: Age: 58 Residence Tawai, Glenavy, Canterbury, New Zealand Farmer

1919 Electoral Roll: Age: 63 Residence Tawai, Glenavy, Canterbury, New ZealandFarmer

1928 Electoral Roll: Age: 72 Residence Tawai, Glenavy, Canterbury, New Zealand Farmer

1933 Farmer Glenavy
1935 Electoral Roll: Age: 78 Residence Tawai, Glenavy, Canterbury, New Zealand Farmer

1935 8 Sep; Age: 79 Death Glenavy, Canterbury, New Zealand BDM 1935/20914 Humphries John 79Y

Obituary Timaru Herald: Thursday; Mr J Humphris
A pioneer settler, Mr John Humphris died at his home at Taiwai on September 8.
Mr Humphris was in his 80th year had come from Gloucester to New Zealand in 1876 and was married at Columba Church by the Rev. Todd to Miss Jessie Rodgers. They came to Taiwai in 1887 and took up land. Mr Humphris was ever ready to do a good turn and was highly respected by all who knew him. Three of his family pre-deceased him but his widow, two sons - Messrs T Humphris (Washdyke) and W Humphris (Taiwai) and three daughters -
Mrs A Pelvin
(Totara Valley),
Mrs W Harper
(St Andrews) and
Mrs L Forrest
(Makakihi) and numerous grandchildren are left to mourn his loss.