William John & Johanna Harper
William John Harper was born 1850 in Pullyernan, Urney, County Tyronne and aged 25, on 9th January, 1875 immigrated to New Zealand on the "Margaret Galbraith"
. For many years he operated an express wagon in Oamaru and in 1895 was employed making the Maerewhenua road. He died 29 Nov 1934 in Oamaru.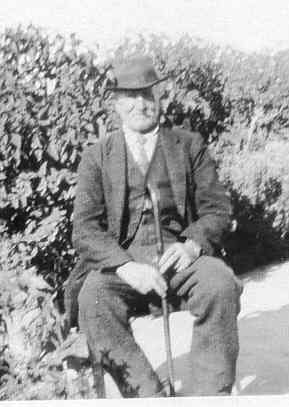 Johanna Conroy was born abt. 1856 in Carlow, Queens, Cork, Ireland to parents Patrick Conroy and Bridget nee Curran and had left Athy in Queens/Kildare county in Ireland for London. Travelling alone, she boarded the "Margaret Galbraith" as an assisted immigrant on October 1st 1874. Johanna gave her occupation as 'servant' , an occupation much in demand in New Zea;and and arrived at Port Chalmers, Otago on January 9th, 1875. Two years later, 7th Jun 1877 she married William Harper at Oamaru.
The following year saw difficult times. In September William and Express Driver, was declared bankrupt when unable to meet his debts and a meeting of creditors was held at Oamaru He surmonted this difficulty and again appeared in court summoned by the "Inspector of Nuisances"! for driving an express waggon through the town without his name being properly painted on it and was fined 10/-.
In 1891 William appied to the Borough council to lease a section in Reed street at 20/- a year and rates and in 1895 William was working at road making at Maerewhenua.
1914 11 Sep: William John Harpper was granted a yearly licence to various sections in the town of Waitaki .
Johanna and William Harper had 8 children but she died on 13 September 1901 at Seacliff Hospital aged 46 years. Their family:
i. John George Harper: Born 15 Mar 1878 at Waitaki, Oamaru where he worked as a labourer and died 17 May 1956 at Oamaru. His burial 19 May 1956 a the Oamaru Cem. John married 12 Oct 1914 in Waimate Julia Agnes Hawkins who was born 20 Dec 1882 in Hook. Her parents were Thomas Peter and Mary Ellen Hawkins. Julia died 03 Aug 1929 in Oamaru Public Hospital and was buried 06 Aug 1929 Oamaru Cemetery. Their family -
1. John Francis (Jacky) Harper was b. 1916 and d. 11 Jun 1950 in Oamaru

2. Francis Harper was b. 29 Nov 1917 in Waimate and d. 27 Nov 1941 in Al Alamein, Libya. He was buried at Halfaya Sollum War Cemetery, Libya, Egypt

3. Thomas William Harper b. 1922, Thomas d. 15 Aug 1960 in Karitane. He married in 1953 Irene Frazer Smith

4. Agnes Harper was b. 1925 in Oamaru and aged 10 months died on 13 Mar 1926 at Waitaki

5. Patricia May Harper was born at Oamaru and married ? Greenwood
ii. Ann Jane (Cis) Harper was born 05 Jul 1879 at Waitaki. She died on 04 Jul 1950 in Oamaru where she was buried. Cis married 03 Sep 1903 David Joseph Brosnan who had been born 1877 in County Kerry, Ireland - his father was David Brosnan. He was a farmer at Waitaki Sth and died 13 Sep 1957 at 83 Kaikorai Valley Road, Dunedin and was buried at Oamaru Cemetery. Their children:
1. David Joseph Brosnan b. 23 Sep 1904 in Waimate Died: 21 Apr 1978 in Dunedin; He married in 1930 Eileen Isabel Beattie Born: 1910 Her parents Charles and Ellen Beattie. Eileen died 18 Nov 1986 in Dunedin. Their children - Alan David, Ian and Iris Lorna

2. Mary Isabel (Maisie) Brosnan was born 09 Apr 1907 in Oamaru Died: 29 Sep 1971 in Oamaru where she was buried. She married 06 Apr 1931 to Daniel Thomas Fraser who was b. 16 Feb 1910 in Orari, South Canterbury to parents Daniel and Catherine Fraser. Daniel died: 17 Nov 1986 in Oamaru. Their family - Bryan and Ann Fraser

3. Annie Conroy Brosnan was b. 26 Apr 1912 at Waitaki, Oamaru and d. 11 May 1955 in Glenavy. She married in 1931 at Oamaru Robert Trevor Lavery. He was b. 18 Nov 1905 at Kaitangata - parents Edward Patrick Lavery and mother Agnes nee Stoddart. Robert died 24 May 1960 in Timaru Hospital, burial on 26 May 1960. Children are Ian Edward; Iris Anne; Alan David

4. Henry Francis Brosnan was b. 11 May 1918 in Oamaru where he d. 31 May 1985. He married: 1945 to Bertha Lillian Good Born: 19 Jul 1924 Died: 30 Oct 1978. Their children -
iii. Mary Harper was born 27 Jul 1881 at Oamaru and d. 06 Mar 1906 in Dunedin. Her burial 07 Mar 1906 Northern Cemetery, Dunedin. She was married 04 Jul 1905 in St Johns Church, Christchurch to John Harley Gill who was b. 1881 in Tenterfield, Queensland to parents Richard Gill and mother Martha nee Godding. He was a commercial traveller at Dunedin. Their son Geoffrey died aged 4 hrs after birth on 11 Feb 1906. John remarried Sarah Irwin Jenkins in 1907.
iv. Isabella Harper was born at Oamaru on 29 Aug 1883 and d. 04 Aug 1940 at Timaru where she was buried 07 Aug 1940. She married James Geddes on 17 Sep 1909 at Timaru. He was a salesman and was born 10 Mar 1879 at Temuka - his father was George Geddes and mother Agnes nee Thomson. James d. 18 May 1942 in 23 Elizabeth St, Timaru and was buried there on 19 May 1942. Their family -
a. George Harper Geddes Born: 12 Aug. 1912 Died: 1977 in Wellington (in Who's Who; 1964; Page 135) mar Nancy Rae McPherson b. 23 Jan 1917; died 2000;

b. Mary Patricia Geddes
v. William Harper was born 29 Oct 1885 at Oamaru. He was a farmer at Makikihi. He d. 5th Mar 1973 at Timaru and was bur. 06 Mar 1973 Old Waimate Cemetery. He married 26 Oct 1910 to Alice Humphris who was b. 20 Mar 1889 in Waitaki - her father was Valentine John* Humphris and mother, Jessie Jack Rodger. Alice d. 18 Jul 1936 in Waimate and was buried 20 Jul 1936 at the Old Waimate Cemetery.

vi. Henry James Harper was born 23 Oct 1888 in Oamaru. He was a farm labourer employed by R. Duff at Glenavy when he joined Kings Rifle Volunteers, Oamaru in 1912 (Service No 23548) and was a member of the Glenavy Defence Rifle Club.
On Feb. 10, 1916 both he and brother Frank together enlisted and trained at Trentham until May 29, when he was made Lance-Corporal and they boarded the troopship SS Tofua for England and arrived May 29 at Sling Camp near Bulford, Wiltshire and on July 29, Henry went to the Čtaples Depot on August 13 and joined the 1st Battalion Otago Regiment on August 24 at Citerne, Picardie. The Somme front was the scene of heavy fighting in the German advance and the Allied counter-offensive of 1918 and Henry was killed in action on Monday, Sep. 18, near Flers, Picardie in Caterpiller Valley, Somme, France WW1. His burial is recorded at the Caterpiller Valley NZ War Memorial, Somme, France
vii. Charles Alexander Harper was born 29 Mar 1890 in Waitaki, Oamaru and d. 2 Sep 1970 in Oamaru. He married 24 Nov 1914 to Mary Louisa Major who was b. 23 Sep 1892 and she d. 17 Aug 1977 at Oamaru where she was bur. Oamaru Lawn Cemetery from Basilica
1. Still Born Child Harper born 1916

2. Roy Francis Harper was born 21 Jan 1916 in Waimate, d. 25 Jul 1994. He married 1941 to Annie Veronica (Vera) Topp who was b. 30 Aug 1911 and d. 04 Jun 1997 Their family: Noeline Ann d. 15 Oct 1986 Wellington and Maureen Frances

3. Isobel Mavis Harper born 1921 in Waimate d. 25 Nov 1966 in Oamaru She married 1943 to Murray Horton Smart who was b. 31 Jan 1921; d. 1997. Their sons are Lyall; Murray Desmond and David John Smart

4. Joan Harper was born 1924 in Oamaru and married 1947 to Albert Edwin (Harry) Bee. Their children Lois, Kevin and ? Daughter Bee

5. Bernard (Bernie) James Harper was born at Oamaru Married: Norma Margaret Poole. Their family - Gregor John; Dianne Elizabeth; David John; Kenneth James; Wayne Patrick and Sandra Margaret
viii. Francis (Frank) Harper was born 10 Dec 1892 in Oamaru. He was one of the first to enlist for WW1 service in the Waitaki district and died of wounds 14 Oct 1917 received in France: Corporal 23547, 1st Bn, Otago Reg. NZEF. Frank survived his brother Henry by 13 months only to be killed in Flanders