Bennett Perry & Catherine Lethbridge
Bennett Perry Lethbridge - Photo sent by Lethbridge descendant and researcher, John Jensen

Bennett Perry (Dick) Lethbridge (b: 9 Mar 1867 in Turakina to parents George Yates and Fanny Lethbridge; Occ: farmer; d: 28 Oct 1929, Annbank, Turakina)
Dick mar: 16 May 1890 in Presbyterian Church, Turakina to Catherine Duff Ross (b: 1867 dau of parents Rev. John and Williamina Ross; she d: 09 Aug 1942 in Masterton, Crem. Karori Cem. Wgtn)
Wanganui Chronicle: 30 Aug 1901; President of the Turakina Cricket club
Wanganui Chronicle: 6 June 1902
Messrs. Gorton and Son, at the request of a. number of settlers, will hold a stock sale in Mr. B. P. Lethbridge's Turakina yards (kindly lent for the occasion). Settlers are asked to forward entries to Mr. 0. McDonnell, Turakina. As there are no yards between Wanganui and Marton, and there is a splendid scope of good grazing country between these two points, there is every reason why sates in this centre should be very successful, and it only remains with the settlers themselves to patronise these yards to ensure successful sales.
Wanganui Herald: 21 Aug 1906: Messrs Gilford Bros. of Sanson, have purchased about 600 acres of ''Ann Bank," Turakina, from Mr B. P. Lethbridge, and are about to build and take up their residences on the section.
Community service: Dick is Vice president of the Turakina Defence Rifle Club; member of the Wanganui Agricultural assoc; member of the Patea-Wanganui Charitable Aids Board; on committee Wanganui Hospital Board and Farmers Union; Wanganui Education Board; Rangitikei County Council.
Press, 16 Aug 1907: N Z EXHIBITION AWARDS MOTOR CARS.
The cars exhibited by Adams Limited were awarded a special Gold Medal for the Collective Exhibit. Humber Cars at the Exhibition were awarded Gold Medal, and the three cars were purchased by:—Mr A. Sutcliffe, Marton; Mr B. P. Lethbridge, of Turakina: and Mr H, 0. Dixon, of West Eyreton. Humbers
are very reliable and cosy running cars, and are specially suitable for doctors use or for touring. Ladies and gentlemen are invited to call and inspect the Talbot and Humbers Cars now in stock. Sole New Zealand Agents for Talbots and Humbers, Adams Limited, late Adams Flier Cycle Co., 138-140 High street. Christchurch.
Wanganui Chronicle, 20 Nov 1907: Mr. and Mrs. B. P. Lethbridge, joined Mr. C J Adams in his Talbot car. It ran from Turakina to Wellington in 6 1/2 hours, and returned next day, the whole journey being completed with no stop having to be made for attention to the car.
Wanganui Chronicle, 6 Dec 1907: SHOOTING. OPENING OF THE NEW RIFLE RANGE AT TURAKINA
In glorious weather and under perfect shooting conditions, the Turakina Rifle Club assembled in force on Wednesday afternoon, on the occasion of the opening of their new range, which has been laid out on a site generously placed at their disposal by Mr. B. P. Lethbridge, the president of the club. This site is in a much more convenient position than the old one, and is within five minutes walk of the main street, up the Turakina Valley road, and is an ideal one, a range up to 900 yards being available. The Ceremony of opening the range was gracefully performed by Mrs Lethbridge who fired the first shot, registering a bullseye. The president then declared the range open, and expressed hearty wishes for the prosperity of the club, suggesting that the members should always endeavour to follow the good example shown them by Mrs. Lethbridge in finding the bullseye. Captain T. E. Kiernan then handled Mrs. Lethbridge a lady's dressing case, asking her to accept same as a small tribute from the members of the club in appreciation of their feelings for her interest and kindness. Mrs. Lethbridge, who was quite taken, by surprise, expressed her sincere thanks for the gift and kind thoughts intimated by same and trusted that the club would enter upon a successful season, and assured them that their doings would always be of great interest to her. The president and captain then selected teams of nine a-side, and fired a match of ten shots a man at 500 yards, which resulted in a win for the president's team by 1 point. During the match, afternoon tea, provided by Mrs. Lethbridge, was handed round.
Wanganui Herald, 20 March 1913 At the meeting of the Wanganui Hospital and Charitable Aid Board yesterday, Mr B. P. Lethbridge, representing the Rangitikei County Council, tendered his resignation owing to his proposed extended tour abroad.

Wanganui Chronicle, 4 April 1913 left for the "old country"
Manawatu Standard: 19 Jan 1914: A letter from Mr B. P. Lethbridge, of Rangitikei, refers to woman's work thus:"From Amsterdam we started for Berlin, a rather long journey, but the country is most interesting. One sees ploughs drawn by cows working away in the fields, and very often women working the teams. It seems to be quite the proper thing to make your wife do the heavy work here. She digs the potatoes and carries them in a crate on her back to the pit. She also hoes the mangolds and does the farm work generally, and for a change looks after the house between times. Then when she has finished this she works at the railway station, filling trucks with coal and any other light job she can find. Berlin is a great city. By far the best streets we have come across in our travels, and the most beautiful parks we have seen. Since coming to Austria we notice that the women still work in the fields and do the road work as well, as we saw several breaking stones as we passed, and some mixing cement, while others were digging in the streets. A place of interest for every day in the week.
22 May 1914: Appointed by Government to the Rangitikei Liscensing committee;
25 Nov 1915: Chairman of the Rangitikei Council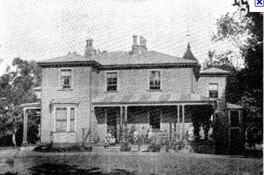 16 Oct 1915: An advertisement of special interest to land-seekers, by Messrs W. and G. Turnbull & Co., Ltd., and Messrs Gorton & Son, Ltd - the sale by auction at the Turakina Town Hall on the 16th, of "Ann Bank" the well-known property of Mr B. P. Lethbridge, situated alongside Turakina Railway Station and the Turakina Creamery. The property is subdivided into sections of suitable sizes for any class of farming, and a glance at the plan now obtainable at any of the offices of the above firms will show that every section is well provided with access by level and metalled road. A large proportion of the estate is alluvial flat of the richest quality, well adapted for dairying or fattening. The homestead contains one of the finest laid-out grounds in Rangitikei, planted with all manner of native and Oriental trees and shrubs. The whole estate speaks for itself, and an inspection will convince anyone that here is a chance of procuring land which is unequalled at the present time in New Zealand, both as regards quality of soil and suitable terms. Mr N. G. Gorton, the popular salesman of Gorton Son, Ltd., will conduct the sale. Visitors to Palmerston North and Wanganui Shows will have an opportunity of attending this sale, as it takes place on the Tuesday between those fixtures.
Wanganui Chronicle: 12 Dec 1916: BIG LAND DEAL - Mr B. P. Lethbridge's fine property at Turakina, has been disposed of through the agency of Messrs Wright, Stephenson and Co., Wanganui, to O'Neill Bros. of Kakatihi, who propose utilising the farm for fattening purposes. We understand the price paid for the property is in the vicinity of £60,000. Mr Lethbridge retains the homestead, with about 90 acres.
Hawera & Normanby Star, 25 Feb 1919: At the Moa County Commission, Mr B. P. Lethbridge, chairman of the Rangitikei County Council for five years, and a member for 11 years, championed the cause of large counties. He said the area of his county was between 1300 and 1400 square miles, with a valuation of £700,000 and a revenue of £40,000, raised by an average rate of 1d. He favoured larger counties because it would pay to employ a first-class engineer and a more competent staff and have the best road plant possible. A small county could not run this. The parochial element was not so strong in a larger county. Their financial arrangements were easier, and the county could be more economically managed. Roads, motor cars and telephones had to a large extent done away with the need for small counties by spreading the community of interest over a much larger area. One of the causes for subdivision was the limit of £6000 made by the Government loans to local bodies, but that was now done away with.
Manawatu Standard, 1 Oct 1919; POLITICAL. Mr B. P. Lethbridge, chairman of the Rangitikei County Council, has announced his candidature for the Rangitikei seat as a supporter of tho Reform Party.
3 Nov 1919; Mr. B. P. Lethbridge, who was contesting the Rangitikei seat as the Reform Party's candidate at the general elections, has retired, and his successor in the Reform Party's interests will be Major W. S. Glenn, M.C., the former All Black footballer, and formerly of Manaia.

12 Nov 1919: Owing to ill-health, Mr B. P. Lethbridge, Reform candidate for the Rangitikei electorate, has retired from the contest, and is replaced by Mr W. S. Glenn, well-known up and down the coast. Major Glenn (Military Cross) is not long back from active service. He joined up with the Royal Artillery early in 1915, since when until he was gassed in 1918, he was well in the thick of things. A keen sport—one-time member of the All Black team of 1915 - 1906, an energetic and successful farmer, Mr Glenn is one of the young men who should come out into the arena, and he thoroughly enjoys a good run for his money.
Wanganui Chronicle, 21 Nov 1919 CHILDREN'S HEALTH CAMP. Under the supervision of Dr Gunn
, Medical Inspector of Schools a
health camp
for certain selected pupils of. the local schools will be held at Turakina in the beautiful grounds of Mr B. P. Lethbridge. The camp will commence on Tuesday next, and will continue for about three weeks. Very complete arrangements have been made for the care of the children, some 50 of whom will attend. Health camps for school children have been held in England for some years past, but this is the first of the kind to be held in the Dominion. It will be watched with interest by parents and others. Parents will not be involved in any expense in connection with the camp. There are, however, many people who would no doubt be pleased to contribute vegetables, fruit, jam, etc., and these will be gratefully received. They should be left at the Education Board's Office, Avenue, by mid-day on Monday.
(Photo below at 1st health camp)
Wanganui Chronicle, 27 Nov 1919: At the annual and monthly meeting of the Rangitikei County Council, the chairman (Mr B P Lethbridge) was confined to his bed through illness. In his absence he was re-appointed chairman and all hoped that that gentleman would be speedily restored to health and would come back to again lead the Council as ably as he had done in the past. He now had plenty of time to devote to the position, and had everything at his fingers' ends, and the ratepayers should feel grateful for the time Mr Lethbridge devoted to the interests in the Council in the past. Carried unanimously.
N Z Herald: 31 Jan 1920: EXPERIMENTAL HEALTH CAMP FOR SCHOOL AT TURAKINA, NEAR WANGANUI. The camp
was established, during the Christmas holidays, by Dr. Elizabeth Gunn, medical inspector of schools, with the object of
demonstrating
that children suffering from malnutrition could be brought to a normal state of health by open air treatment and proper feeding. The Education Department supplied most of the money required for the undertaking, the remainder being subscribed privately. Fifty -five children under 12 years of age went into camp, and in each case, material, physical improvement has been shown by the inmates. The camp is on the-property of Mr. B P Lethbridge. The illustrations show the camp in the sheltered home paddock and some of the inmates.
8 May 1920: Mr B P Lethbridge resumed his seat as Chairman of the Rangitikei Council after a lengthy absence through ill health
Wanganui Herald: 23 Aug 1920: HYDRO-ELECTRICITY RANGITIKEI SCHEME REPORT OP ENGINEERS. LOCAL BODIES CONFER AT MARTON A proposal to generate power from the Rangitikei River
was discussed at a conference of representatives of local bodies from Rangitikei and Wanganui districts at Marton on Saturday. The conference was presided over by Mr B, P. Lethbridge, chairman of the Rangitikei County Council.
Evening Post, 14 June 1924: Mr. and Mrs. B.P. Lethbridge (Rangitikei) had a pleasant voyage by the Mooltan to England. They are travelling primarily on holiday, and the duration of their stay will be fairly long. Mr Lethbridge expects to look into business matters as well, in his.capacity as chairman of the Rangitikei Power Board, and intends to inquire into the prospects for raising a loan on this side. As representing his local branch of the Navy League, Mr. Lethbridge has promised to attend the annual dinner, which always takes place on 21st October. Since arriving in London the travellers have bought a motor-car, and in this they intend to make a general tour of Great Britain. The coming winter is to be spent on the Continent, and it will be the middle of 1925 before they leave for New Zealand.

The issue of Health stamps

in New Zealand originated in 1926 from a request by Mr E Nielsen of Norsewood, Hawkes Bay on behalf of his mother that special Christmas seals be issued, as was the case in Denmark, to raise funds for deserving health projects

Evening Post, 7 Sept 1925: Mr. and Mrs. B.P.Lethbridge returned from Gt Britain

Evening Post, 10 Dec 1926: Turakina Health Camp: In 1919 the School Hygiene Division of the Health Department started a children's health camp, which has been steadily growing annually and demonstrating the benefits conferred on sufferers from malnutrition. There were 55 children in camp the first year, and there are 118 this year. The camp, which is under the supervision of Dr. Elizabeth Gunn, school medical officer, is situated on the private grounds of Mr.B.P.Lethbridge at Turakina. The children will return to their homes at the end of next week.

DEATH: Oct 28, 1929: The late MR B P Lethbridge of Anne Bank, Turakina, died at the age of 62 years. He was the youngest son of the late Mr. G.Y.Lethbridge, and was born at Anne Bank, where his father, one of the earliest pioneers, had carved a home out of the wilderness. Mr.Lethbridge remained on the well-known Turakina homestead, and took it over on the death of his father. He was a well-known figure in this district, to which he had rendered much service. He had been a member of the Rangitikei County Council, first as councillor and then as chairman, of the Wanganui Hospital Board as member and later as chairman, of the Rangitikei Patriotic Society; as chairman, and was first chairman of the first Power Board at Wanganui . Ho was a keen supporter of the children's health camp movement. About four years ago Mr.Lethbridge went for a trip to tho Old Country, and since his return had lived quietly, and took no active part in public affairs. He is survived by his wife, one sister and two brothers, Messrs. H. Y. and J.P Lethbridge, of Turakina. The late Mr. Frank Lethbridge, for many years M.P. for Oroua, was also a brother.

Evening Post, 8 May 1937, HEALTH CAMPS : The Health Camp movement in New Zealand remains a wonderful memorial not only to Dr. Elizabeth Gunn, but also to Mr. Lethbridge.

Auckland Star, 5 Aug 1938: LANDMARK BURNED: TURAKINA HOMESTEAD

The 15 roomed two-storey wooden homestead of Mrs. B P Lethbridge;"Ann Bank," Turakina, was totally destroyed by fire which broke out about 11 o'clock to-day. The homestead was one of the landmarks of the district, and for many years New Zealand's first health camps were held in its spacious-grounds, which were placed at the disposal of Dr. Elizabeth Gunn by the late Mr. B P Lethbridge. This is the second landmark in Turakina to suffer from fire this week, the other building being the old Ben Nevis hotel, which was totally destroyed last Sunday morning. Both buildings were about the same age and associated with the early history of Turakina, which was formerly a live centre in the days when stage coaches travelled between Wellington, Wanganui and Taranaki. Mrs. Lethbridge was absent in Wanganui when the fire was discovered by the gardener, and, although neighbours assisted him to save some of the contents, most of the valuable paintings, silverware and furnishings were lost. No attempts could be made to suppress the fire, which was eating its way against a strong south-easterly wind. It took two hours and a half to destroy the homestead. The buildings and contents were insured by the Alliance Company for approximately £3000.

Evening Post 1 Sept 1938: GIFT TO COUNCIL TREES, SHRUBS, AND PLANTS WANGANUI, This Day. A gift of trees, shrubs, and plants worth several hundreds of pounds has been made by Mrs. B. P. Lethbridge, Turakina, to the Wanganui City Council, and these have been transferred to the Virginia Lake reserve. Mrs. Lethbridge's home was recently destroyed by fire.

LETHBRIDGE, Catherine Duff.—On August 8..1942. at Masterton, widow of the late B. P. Lethbridge, of Turakina, and eldest daughter of tine late Rev. John Ross, of Turakina. Private cremation at, Karori., No flowers

LETHBRIDGE.—On August 8, 1942, at Masterton,, Catherine Duff, beloved wife of the late Bennett Percy Lethbridge, late of Turakina; Funeral is from Chapel, 27 Wingfield St.,. 2 p.m. Monday, and thence to Crematorium, Karori.