Emma Yates & Alfred Ernest Lethbridge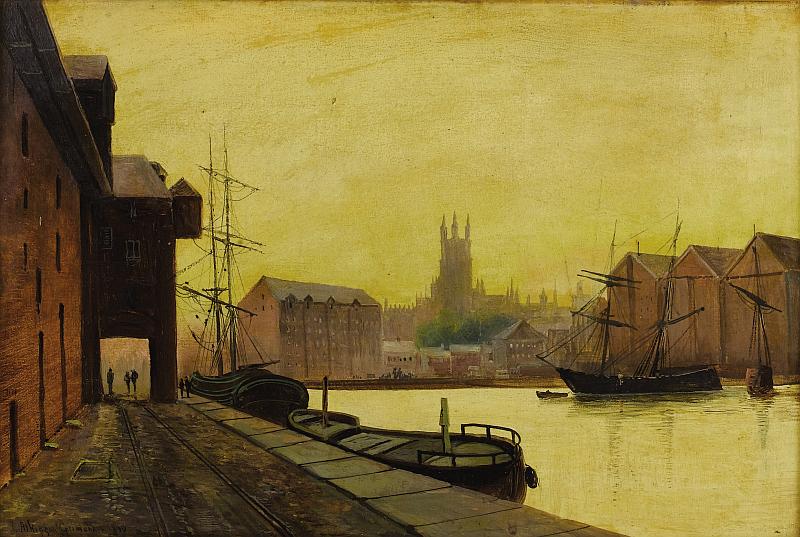 Emma Yates Lethbridge (b: 22 Jul 1862 in New Plymouth;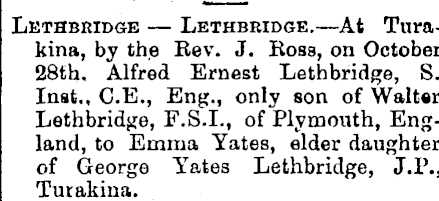 d: 05 Mar 1910 in Plymouth, Devon; Bur: Ford Park Cem, Plymouth, Devon) Mar: 28 Oct 1890 in Ann Bank, Turakina to Alfred Ernest Lethbridge (b: 1865 in Plymouth, Devon; Occ: Farmer/Architect; d: 15 Apr 1932 in Plymouth, Devon; Bur: 05 Mar 1910 Ford Park Cem, Plymouth, Devon)
Their family:
1 Walter George Lethbridge (b: 28 Oct 1891 at the Maputahi Station, Rangitikei; d: 15 Nov 1892 in Fielding; Bur: Turakina)
DEATHS: Lethbridge On Nov 15th, at tho residence of Dr Sorley, Feilding, suddenly, Walter George, only child of Ernest and Emma Lethbridge, 12 mths.
2 Fanny Louisa Lethbridge (b: 12 Apr 1893 at Maputahi, Turakina; d: 1969 in Adelaide, Sth Australia) Mar: 20 Aug 1917 in Plymouth Devon to Cecil Osborne Graham (b: 1891 in Perh, Scotland; WW1 Army 1916; Commissioned as 2nd Leut in the Fortress Engineers, No 4 Electric Light Mutley Barracks; d: 1968 in Adelaide, Sth Ausralia) Family are:
i Walter Osborne Graham (b: 13 Jun 1918 in Plymouth, Devon; Occ: Oncologist; d: 1941 in Australia)

ii Dorothy Winsland Graham (b: Abt. 1922 in Sth Australia) mar: John Amos Fuller Highfield (b: 1922 in Derbyshire, England) Children are;

a Andrew Graham Highfield mar Karen Bailey

Family are Lachlan James and Phoebe Louise Highfield

b Patrick Graham Highfield mar: Alison Harriet Bowen

Family are George Patrick Bowen and Kate Victoria Bowen Highfield

c John Lethbridge Graham (b: Abt. 1924 in Sth Australia; Occ: Mechanical engineer; d: Abt. 1967 in Tasmania)
iii Alice Winsland Lethbridge (b: 01 Aug 1894 in Taranaki; d: 1976 in Tavistock, Devon) Mar: 1942 in Plympton, Devon to Howard Ellis (b: 1889 Occ: Businessman; d: 1993 in Coleford, Goucestershire)
iv Walter Lethbridge (b: 11 Mar 1896 in Plymouth, Devon; Occ: Farmer; d: 1959 in Adelaide, Sth Australia) Mar: to Amarantha La Motte Turner (b: 29 Apr 1886; d: Feb 1984 in Adelaide, Sth Australia)
LETHBRIDGE - TURNER The Argus, Melbourne. September 12, 1925:
On the 4th August, at St John's, Heidelberg, by the Rev. R. J. Brady, Walter, only son of Mr Alfred Ernest Lethbridge, of Plymouth, England, to Amarantha La Motte (Aimee), eldest daughter of Mr William John Grey Turner, of Heidelberg, and niece of the late Misses Doherty, of St Kllda.
Their children:

i Prudence Elenor Yates Lethbridge (b: 06 Dec 1928 in South Australia; Occ: Accademic) mar: 09 Oct 1953 to Bryan Herbert Medland

Children are Barnabus Charles and Margaret Amaranthe Medland

ii Ernest Mark Lethbridge *b: 09 Nov 1931 in Sth Australia; Occ: Architect; d: 26 May 1995 in Sth Australia) mar: 18 Jan 1958 in Adelaide, South Australia to Ann Horsley Chapman. Children are:

1 Jonathon Thomas Lethbridge Occ: Electrical engineer

2 Benjamin James Lethbridge Occ: Biochemical Botonist

3 Matthew David Lethbridge Occ: Surveyor South Australian Lands Dept

4 Thomas Anthony Lethbridge

5 Alice Mary Lethbridge b: Adelaide, Sth Australia Mar: in Sth Australia to Richard Massimo Della Torre; Occ: Dairy Farmer

Children are Lucy Amarantha; Todd Darc and Tim Luke Della Torre
2 Ernestine Lethbridge (b: 31 May 1902 in Plymouth, Devon; d: 16 Aug 1986 in London, England) Mar: 18 Aug 1964 in Lyndhurt, Hampshire to Lionel Edward Barnard (b: 1892 Occ: Electrical Generating Engineer; d: 1964) Their children:
a Ernest Edward Peter Barnard (b: 22 Feb 1927 in Highbury, London; Occ: Naval Medical Officer) Mar: 12 Mar 1955 in Grays, Essex to Joan Marion Gunn (b: 16 Mar 1932 in Tilbury, Essex; Occ: Clinical Medical Officer) Their children:

1 Christopher Edward Mark Barnard (b: Paddington, London Occ: Computer engineer) mar: Bishop's Waltham R C Church, Han. to Caroline Fox. Children are:

a Emma Barnard b: Winschester, Han Mar: Swindon, Wiltshire to Simon Watkins

Their daus. are Rebecca and Sophie Barnard b: Winschester, Han

2 Penelope Jane Barnard b: in Orsett, Essex mar: Mark Charles Wassell Occ: Shepherd/woodman

Their family: Ellen Jane and Thomas Peter Wassell b: Swindon, Wiltshire

b Winsland Margaret Barnard b: Ilford, Essex; Occ: Orthoptist; d: 16 Dec 1989 in Fulham, London) Mar: Nov 1989 in Fulham, London to Phillip Doust b: in Rye, Sussex