Frank Yates & Clara Lethbridge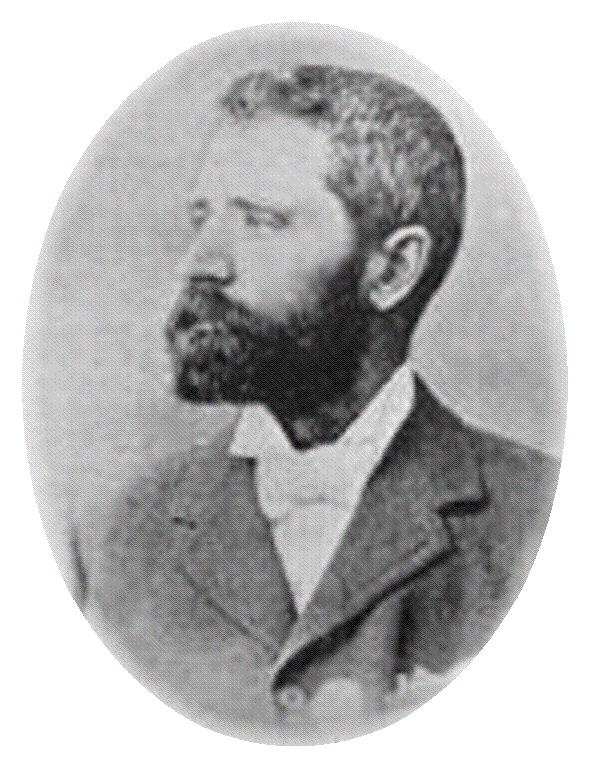 Frank Yates Lethbridge was b: 22 May 1852 at New Plymouth, eldest child of George Yates and Fanny Lethbridge - his bapt: 04 Jul 1852 by Rev Wm Woon,
During the Maori war period he was educated partly at the Public School in Nelson and Boys High School at Christchurch and after leaving, he went to work on his father's farm.
In 1876 he settled in Feilding, taking the management of a run which is owned by Messrs Lethbridge (George Yates Lethbridge Sen) and Sons. The estate, 7000 acres, principally consisted of pastoral land, and on the flats on the frontage was the first racing track used in Feilding, the local golf links, the polo ground, and cricket and football clubs' grounds.
Frank became a member of several local bodies, taking an active interest in farming matters and was for several years captain of the Manchester Rifles, and was also a lieutenant in the Militia.
He mar: his cousin 28 May 1879 in Turakina - Clara Lethbridge daughter of Thomas Barnabus Lethbridge and Sussannah nee George. She was b: 21 Oct 1852 in New Plymouth; d: 30 Oct 1933 Taranaki, Bur: Feilding Cem.
Their three daughters were:
i Fanny Edith Lethbridge (b: 12 Jan 1880 in Masterton; she did not marry; d: 18 Sep 1962 in Fielding aged 82Y; Crem: ashes to mothers grave Feilding Cem)

ii Sapience Ella (Tui) Lethbridge b: 25 Jul 1881 in Wanganui; Bapt: 05 Feb 1854 H Hanson Turton; d: 27/09/1961 widow aged 80Y; Bur: 29/09/1961 Feilding Cem) Mar: 30 Jan 1907 in Feilding to George Walpole (b: June 21 1882, in Kylebeg, Borris-in-Ossory, Laois, Ireland.; occ. farmer, Son of William and Mary Walpole, of Feilding; Rank: Bombardier WW1; he embarkked from Wgtn 23 Sept 1916; d: 2 Jul 1918 of accidental injuries (blow from horse) age 36Y; Bur: Bagneux British Cem., Gezaincourt, Somme, France

iii Dorothy Barbara Lethbridge (b: 10 Nov 1886 in Fielding; d: 03 Jun 1972 in Auckland) [1] Mar: 18 Dec 1907 in Fielding to George Barnard Russell Taylor (b: 1885 in Manawatu to parents Gavin Ralston and Maude Wylie; occ; farmer Waikato; d: 07 Dec 1917 in Belgium WW1 age 32Y; bur: Ecole Cem. near Ypres)

1 Gerald Lethbridge Taylor (b: 26 Jul 1909 in Makino, Fieldingl d: 02 Jul 1999 in Onetangi, Waiheke Is; Bur: Onetangi, Waiheke) * 1st mar: 1932 to Elizabeth Barbara Taylor (b: 1921 to parents William Innes Taylor 1878-1957 and mother Alberta Wynnifred Lambert 1878-1955; d: 3 Nov 2012 in her 92nd year, Auckland (Div: 1959 at Hamilton)

*2nd Wife of Gerald Lethbridge Taylor: Mar: 1959 Marion Joan McKinnon dau of J R Mckinnon (b: 1921; d: 3 Nov 2012 in her 92nd year, Auckland)

Their son is: Phillip Lethbridge Taylor
2 William Russell Taylor (b: 25 Apr 1911; d: 1995) mar: Amy Violet Chapman (b: 1905; d: 1981)
Their children are Peter Lethbridge Taylor; Christopher John Taylor; Mary Jennifer Taylor; Donald Winston Taylor; Anthony James Taylor; Judith Caroline Taylor mar: Peter Neilson (their dau; Teresa Marie Neilson mar; Donald Ian Mackenzie Watt)
3 Margaret Cynthia Taylor (b: 23 Jun 1914; d: 1990 in Gisborne) Mar: (1)1934 to Cornelius Alphonsus Collins (b: 18 Aug 1899 Napier, son of Isabella and John Collins; d: 1971 in Wairio Southland)
Their son: John Lethbridge Collins b: 03 Jun 1935; d: 05 Jul 2005 in Hawkes Bay mar (1) Hazel Colleen Older (Div: 1968 Hamilton)

*2nd Wife of John Lethbridge Collins: Annette Mary Boggiss (b: 07 Sep 1945 - her parents: William George Boggiss 1908-1987 and mother Doris Isabel Bolton 1916-1970; Annette d: May 1973 in Upper Hutt.

Their daughter: Melanie Anne Collins

*3rd Wife of John Lethbridge Collins - Helen Frances Murtagh
*2nd Husband of Margaret Cynthia Taylor: she mar: 1950 to widower John Leonard Syms (b: 1898; d: 1983 in Whangarei; he mar in 1930 to first wife was Rita Mabel Warnock (b: 1901; d: 1948) They had 5 children
*2nd Husband of Dorothy Barbara Lethbridge: Mar: 1920 to Percy Ernest Wyllie (b: 1890 in Gisborne to parents Gavin Ralston and Maude Emily Wylie; d: 1959 in Te Puke; Bur: Te Puke Old Cem) Their son:
1 Gavin Lethbridge Wylie mar: to Theola Susanne Maisey Family are :

i Suzanne Joy Wylie mar: William Malcolm Hutchinson

Their sons are Malcolm Gavin; Brian Andrew and Glen Murray Hutchinson

ii Barbara June Wylie mar: Stephen John Leeks

Their sons are Alan Wayne, Robert John and Peter Grant Leeks

iii Margaret Ann Wylie mar: David Bruce Lenny

Children are Adam Mark and Megan Christine Lenny

iv Nicola Gail Wylie

v Roger Lethbridge Wylie

vi Robyn Theola Wylie mar: Geoffrey Derek Aymes

Their sons are Kurt Derek and Grant Roger Aymes

vii Graham Gavin Wylie mar Lynn Prosser

Family are Michelle Ann; Paul David; Sarah Marie snf David James Wyllie

viii Heather May Wyllie mar: Geoffrey Vincent Paynter

Their daughters are Amy Cara and Holly Mia Paynter

ix Karen Annette Wyllie mar David John Laundry

Their 4 children are Jed Paul; Thomas Graham; Patrick Keith and Bronwyn Claire Laundry
Not long after marriage, Frank Lethbridge entered local body politics. He was an early member of the Manawatu County Council, and Treasurer for a year and was a member of the Manchester Road Board for fifteen years, six of them as Chairman. He was a member of the first Feilding Borough Council, becoming Mayor in 1882, 1886 and again in 1889. He was a member of the Feilding School Committee and of the Wanganui Education Board, and was the first Chairman of the Palmerston North Hospital Board.
He was pre-eminent in the field of sport, was the second president of the Jockey Club, and at various times held the presidency of the Polo Club, Golf Club and Cricket Club, the vice-presidency of the Cycling Club and was a member of the Rugby Football, and Bowling Clubs. He entered national politics as a Conservative, was defeated in his first contest for the Rangitikei seat in 1893, but was successful in 1896. He was a Member of Parliament from 1896-1902 representing Rangitikei and Oroua from 1902-1908.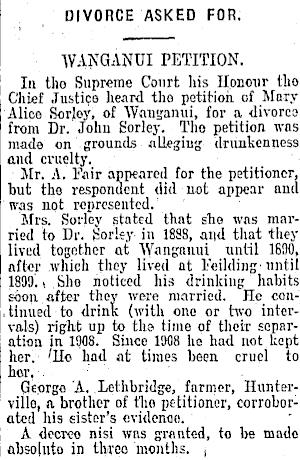 Feb 1909: Frank Lethbridge, of "The Hill", Feilding, retired from Parliament prior to the last general election, received a complimentary social from the Kimbolton electors last evening, and was presented with an address (says a press message). In a letter to the chairman of the meeting. Mr W. F. Massey said that Mr Lethbridge would be welcomed by all parties when he re-entered politics. Mr Lethbridge took up farming in the Feilding district in 1876 and represented Rangitikei from 1896 to 1902, and Oroua from 1903 to 1906.
Dominion; 7 April 1913: Petition for Divorce
Feilding Star, 26 Jan 1915: OBITUARY. DEATH OF Mr F. Y. LETHBRIDGE
There are few residents on this coast who will not learn with sincere regret that Mr Frank Yates Lethbridge, of Makino, succumbed this morning to the illness from which he had been suffering, after every effort had been made to effect a cure. He underwent two operations, one in Palmerston and the other in Feilding, but neither was of any avail. There are few men fortunate enough to be gifted with such a loveable personality as Mr Lethbridge possessed. Kindhearted, generous to a fault, liberalminded, tolerant, and both deeply read and a deep thinker, he won a place in the hearts of everyone who knew him for all the qualities that go to make up a man of the best kind. His benefactions were as broad and as liberal as they were secretive, and there are many residents who have cause to be grateful for the kindly thought and timely help which he so well knew how to render unobtrusively. Many tales are current in the district of his wide charity, and they all bear the impress of that quality which adds so greatly to its best characteristics. As a man of the class that is all too rare, Mr Lethbridge's death will leave a great oap amongst the earliest residents of this district.
As a public man he had a wide experience, but his good-nature prevented him becoming what is known as a "good party man." He had been a member of the Manawatu County Council, Chairman for years of tbe Manchester Road Board (and a splendid chairman, too), Mayor of Feilding from 1832 to 1889, captain of the old Manchester Rifles, whom he commanded at Parihaka, and a member and officer of a large number of other local institutions, particularly the Horticultural Society. In 1893 he unsuccessfully contested the R-angjitikei seat in ' the House of Representatives against Mr John Stevens, but was returned for that seat in 1896 and 1899. In 1903 he was elected for the Oroua constituency, but did not contest the seat at the 1906 election, Mr D. H. Guthrie taking his place. He was a member of several Royal Commissions, notably that in connection with the timber industry, and on those and as a member of tlie House he rendered good service in the unobtrusive manner
so characteristic of his life. In sporting matters he'was very keen in helping; for years the Feilding Jockey Club used his property free for a racecourse, and he was one of the leading spirits in the control of the great Feilding athletic sports. In fact, it would be impossible to name one source of worthy activity he had not a prominent share in.helping. Mr Lethbridge was born in New Plymouth in 1852, being a son of the late Mr G. Y. Lethbridge a member of the Taranaki Provincial Council), and mar: his cousin, Miss Lethbridge. He took up farming on the Feilding run in 1876, and when that was subdivided and sold, he built a residence on his property at Makino, where he could combine farming with his greatest hobby, the cultivation of native trees and shrubs. Mr. Lethbridge was a prominent member of the Masonic fraternity, and held the rank of P.M.
He leaves a widow and a family of three daughters (Miss Edith, Mrs G. Taylor, and Mrs G. Walpole) while his brothers and sisters and other relations are a legion in the land.
The PRIME MINISTER moved a similar motion respecting the death of Frank Lethbridge, a former member of the House of Representatives for the constituencies of Rangitikei and Oroua. Mr. Massoy expressed his admiration of the personal good qualities of Mr Lethbridge which had made him respectcd of all men. SIR JOSEPH WARD expressed keen regret at the death of Mr. Lethbridge, a gentleman whom, though a political opponent, he had always held in high regatd. Mr. D. H. GUTHRIE (Oroua), who succeeded Mr. Lethbridge as representative of the seat, expressed his regret for the death of an esteemed friend. The motion was carried.
Mr F Y Lethbridge, ex-MP, for Oroua, Frank Yates Lethbridge; Date of Death: 26 Jan 1915 after a long illness. Bur: 28/01/1915 Fielding Cem.
Clara's photo sent by descendant and Lethbridge historian - John Jensen - thank you!