Harry & Minna Lethbridge
Shearing the Rams (1890, National Gallery of Victoria) by Tom Roberts,
Henry (Harry) Yates Lethbridge (b: 22 Jun 1859 in New Plymouth; Bapt: 21 Jun 1859 New Plymouth; d: 29 Jun 1945 in Turakina)
1881 - Electorate Rangitikei:Surname LETHBRIDGE Given Names H.Y.
Nature Of Qualification Residential; Place Of Residence Turakina Occ: Farmer

Mar: 13 Apr 1887 in Upokongara, St Mary to

Minna Montgomerie (b: 27 Mar 1864 d: 21 May 1931 in Turakina)

Marriage: There was great excitement at Upokongaro says the Wanganui Chronicle, among the softer sex anent the marriage of Miss Montgomerie, daughter of Captain Montgomerie, of Makirikiri, to Mr. Harry Lethbridge, son of Mr. George Yates Lethbridge of Turakina. The interesting ceremony was performed by the Revs. T. L. Tudor and P. L. Cameron at St. Mary's, Upokongaro. The church was tastefully decorated for the occasion, and a large congregation was present. The fair bride was attended by her own sisters, the sisters of the bridegroom, and Miss Gorton. After the espousals, the hymn "The Voice that breathed o'er Eden" was sung (the service itself being only said), and at the conclusion the Wedding March was played by Mrs S. Roberston

Wanganui Herald, 11 Jan 1887: LOST or STRAYED from Makirikiri, near Kennedy's, two Horses one Cream-coloured, branded L behind the near shonlder, under the girth, and the other black, branded like (Ruatangata brand.) A reward of £2 will be given to anyone returning thorn to the undersigned or giving such information as will lead to their recovery. H. Y. LETHBRIDGE, Ruatangata, Wangaehu,
Wanganui Herald, 3 Jun 1891: On Committee of the Hospital and Charitable Aid Board with brother Frank
Wanganui Chronicle, 29 Feb 1892: FOR SALE: 2300 Lincoln Breeding Ewes, in one or more lots bred by Lethbridge and Sons'. Now running on Maputahi Station, Turakina Valley. Apply to H. Y. LETHBRIDGE, Ruatangata.
28 July 1892: Nominated as a member for the Wanganui Jockey Club
Wanganui Chronicle: 21 Feb 1893 WANTED - A Ploughman. None but a competent man need apply. H. Y. Lethbridge, Ruatangata, Wangaehu, (The run at Ruatangata comprised over 7000 acres, held on lease from the Maoris. This land was securely fenced and in good order, and carried over 17,000 sheep, besides 1000 cattle.)

Wanganui Herald, 26 Oct 1893: WANGANUI A. AND P. SHOW. H Y Lethbridge competed with horses

9 May 1899: On Education Board Committee

Wanganui Chronicle, 3 Sept 1900: RANCITIKEI COUNTY COUNCIL - H. Y. Lethbridge, advising that he now holds 4800 acres of the Ruatangata Block. Cr Beckett moved that the letter be received and the amount of rates adjusted.\

Wanganui Chronicle, 26 Feb 1914: DISPERSAL SALE
Messrs F. R. Jackson, in conjunction witl' iacssrs Gorton and Son. Ltd., held a clearing salo on Tuesday of the Ruatanpaua Lincoln flock on account of Mr H. Y. Lethbridge. The following prices wore real hodó 3-yoar ewes 18s fid; syear owes 1U 4-year ewes 16s 8d; 2-tooth ewes 20s; 4-tootli owes 16s and 6-tooth ewes 19s.

Hawera & Normanby Star, 27 June 1914: WANGANUI.
Freeman. Jackson and Co. (in conjunction with Gorton and Sons) held at their Wanganui saleyards on Wednesday, 23rd inst., a clearing sale of 800 head of Shorthorn cattle, on account oi Mr H. Y. Lethbridge, of Wangaehu. There was a large attendance of buyers. Bidding was spirited throughout, every pen being sold under the hammer at prices most satisfactory to tlie vendor.

Manawatu Times, 21 Mar 1917: At yesterday's meeting of the A. & P. Association, a letter was received from Mr H. Y. Lethbridge resigning his seat on the committee. It was decided to decline to accept Mr Lethbridge's resignation, but to grant him leave of absence. The President said that this would still enable Mr Lethbridge to attend the committee meetings when at present he was looking after three farms.

Auckland Star, 30 Nov 1934: Sheep Stealing. The concern felt by farmers regarding the stealing of sheep and wool in the Wanganui and Rangitikei districts has been crystallised in a reward of £100 which is being offered to the first person within that district who gives such information as will lead to convictions. Discussion at the last meeting of the Farmers' Union in Wanganui has resulted in the resuscitation of the Sheep and Woolstealing Prevention Committee, under the chairmanship of Mr. H. Y. Lethbridge.

Harry and Minna's 3 children are;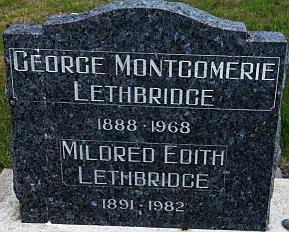 i George Montgomerie Lethbridge (b: 1888; WW1; occ: farmer; d: 1968 in Wellington; bur: Paraparaumu Beach Cem) Mar: 10 Apr 1912 to
Mildred Edith Rhodes (b: 03 Aug 1891 in Rangitikei dau: of daughter of Mr C. H. E. Rhodes, of Rata; d: 1982 in Paraparaumu) Their children:
a Vida Lethbridge (b: 25 Feb 1915; d: 1999) Mar: 1939 to Warren John Boyd (b: 31 Jul 1913; occ: Medical Doctor; WW2; d: 2000)
Family are:
1 Gillian Margaret Boyd mar: Robin John Young

Children are Michael Craig; Christopher Warren and Melissa Young

2 Jennifer Deidre Boyd mar: Ian Lloyd Revell

Children are: Hamish and Kirsten Anna Revell

3 Michael John Boyd mar: Margaret Louise Kemp

Their family: Warren John; Juliet Louise and Michelle Boyd

4 Stephen Lethbridge Boyd (St Johns Ambulance) mar: Linda Marion Ralph

Family are: Richard Lethbridge; Neisha Marie; Mandy Lucille and Katie Vida Boyd
b Minna Mildred Lethbridge (b: 1918) mar: Leslie Arthur Steel (b: 06 Feb 1899 son of Edgar and Julia Steel; d: May 20, 1980 in Palmerston North)
c Nan Lethbridge (b: 1924) Mar: 1948 to Russell William Jackson Their family:
1 Mark Lethbridge Jackson mar: Beryl Jacobsen

Their 7 children are: Andrew Mark; Luke Paul; Karina Beryl; David Russell; Peter John; Samuel Leonard and Jessica Nan Jackson

2 Paul Lethbridge Jackson mar: Raewyn Joan Salisbury

Family are: Stephen Paul; Carissa Rae and Karen Joan Jackson

3 Judy Jackson mar: William Bruce Parsons

Their children: Elizabeth Nan and Timothy William Parsons
ii Harry Montgomerie Lethbridge (b: 1890; d: 1890 in New Plymouth aged 11 mths; bur: Turakina Cem.)
iii Meta Elizabeth Lethbridge (b: 29 Oct 1892 Rangitikei; d: 14 Jan 1974) Mar: 1914 to John Lambert Mason (b: 28 Apr 1888 to parents John Mason and Alice Caroline Lambert; Occ: Sheep farmer; d: 21 Dec 1969 in Turakina age 81Y ) Their 6 children:
a John Harry Mason (b: 17 Jun 1915, d: 2012 age 97Y) mar: Lyndsay June Barstow (b: 30/6/1918; d: 2003 aged 85Y) Children are:

1 Rebecca June Mason mar; Peter Errol Signal

Two children - Barton Gordon John and Nada Elizabeth June Signal

2 Lyndsay Ann Mason mar: Melton John Hows

Two children - Melton Paul and Rachel Lyndsay Hows

b George Lethbridge Mason (b: 19 Sep 1916; d: 2002 aged 86Y) mar: Merle Aimee Palmer-Jones (b: 19 Mar 1920; d: 1980) Their 4 childen:

1 Prudence Elizabeth L Mason mar: John William Pyke

2 Bronwynne Yvonne Mason mar: John Jefferd Monckton

Family are: Mark Mason and Susan Jane Monckton

3 John Stafford Mason mar: Jane Catherine Maxfield

Their sons: Marcus Geoffrey John; Nicholas James; William Maxfield and Michael George Jackson Mason

4 Kim Ian Mason mar: Jennifer Marion McClellan

Their children: Samuel McClellan; Zara Aimee and Heath Luke Mason

c Shirley Lethbridge Mason (b: 19 Mar 1918; d: 2015) Mar: 1956 Peter Lowes (b: 19 Sep 1923; d: 1996) Their family:

1 Elizabeth Lowes mar: Noel Scanlan

Son is Mason Leo Lowes Scanlan

2 Nicholas Mason Lowes mar: Sally Jane Tuck

Their daus are; Georgia Jane and Madeline Nicole Lowes

3 Amanda Lowes mar; Gregory Charles Liggins

Son is Samuel Nicolas Liggins

d Paul Lethbridge Mason (b: 1919; d: 13 Feb 1946 aged 26Y; Bur: Turakina)

e Robin Lethbridge Mason (b: 02 Oct 1921; d: 1994 age 73Y) Mar: 1954 Valerie Frances Mary Stanbrook (b: 9 Jul 1931; d: 2013)

Their daughter: Pamela Frances Mason mar; David John O'Dea

Children are:Tania Marie Mason and Aaron John O'Dea

f Perry Lethbridge Mason mar: Cecilia Lois Peglar (Brown)
iv Dan Montgomery Lethbridge (b: 1901; On Wanganui Collegiate School register; d: 21 Apr 1965 in Wanganui; Bur: Turakina) mar: Joan Doris McRae (b: 1904; d: 26 Nov 1976 in Wanganui; Bur: Turakina) Their two children:
a Michael Harry McRae Lethbridge mar: Jean Chisholm Their family born in Melbourne:

1 Christine Lethbridge mar: Robert Allandale

2 Colin Lethbridge mar: Kim McConville

3 John Lethbridge (b: in Melbourne; d: 1976)

4 Gerrard Lethbridge mar: Laura Corsini

5 Anne Lethbridge

6 Katherine Lethbridge mar: Douglas Allen

b Timothy Yates Lethbridge Mar: Carolyn Mary Gilberd Their daughters b: in Wanganui are:

1 Karen Mary Lethbridge mar: Teppett;

2 Brenda Gillian Lethbridge mar: Speight

3 Joanne Lethbridge