J

OHN PERRY LETHBRIDGE was b: 05 Feb 1856 in New Plymouth, Bapt: 02 Mar 1856, Rev S Ironside; and d: 10 Nov 1934 in Otaki. He mar: the daughter of DUNCAN CAMPBELL MCDONALD, ANNIE MCDONALD on 28 May 1879 in Turakina, Wellington, . She was b: 1854, and died 17 Oct 1933.

Wanganui Chronicle, 2 Apr 1877:

Local Board Appointments.ó Mr R. J. Harris has been appointed valuer for the Bulls Local Board District, and Mr J. P. Lethbridge for the Lethbridge Local Board District. The lists are to be completed by the 3rd of April, and to be open for inspection, and objection, lodged according to the dates fixed by the advertisements. A sitting of the Assessment Court will be held at Turakina on the 10th,

Wanganui Chronicle, 24 Sept 1877: Local Board. The election of members to constitute the Lethbridge Local Board, on Thursday, resulted in the return of the following gentlemen, without a poll having been demanded: Messrs R. J. Knox, J. P. Lethbridge, C. A. Davis, C. Cameron, and G. Franklin.

Wanganui Herald, 31 May 1879: MARRIAGES. Married at Turakina, on the 28th inst., by the Rev John Roes, Frank Yates, eldegt son of George 'Yates Lethbridge, JęP., of Anne Bank, to Clara Lethbridge, neice of G Y Lethbridge. "

Also married on the same day, by the Rev John Ross, of Turakina, John Perry, second son of George Yates Lethbridge, J.P., to Annie, younger daughter of the late Duncan Campbell Macdonald,- F.R.G.S.E., factor, of the late Duke of Athole Perthshire 1881

Electorate Rangitikei: Number 459; Surname LETHBRIDGE Given Names John Perry; Nature Of Qualification Residential Place Of Residence Rangitikei; Occupation Settler For Property Qualification 650 acres, block 54, Bonny Glen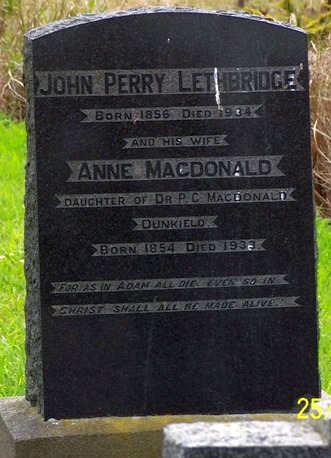 2 Feb 1888: J P Lethbridge on Agricultural Committee - A&P show; 21 Aug 1890: Appointed a Director of the Wanganui Meat Freezing Company
April 1891; On committee of the Wanganui Hospital Board and the Rangitikei Hunt and Steeplechase Committee; member of the Charitable Aid Board
Feilding Star, 16 February 1894: We regret to learn that Mr J. P. Lethbridge, of Bonny Glen, who lost a daughter aged 10 years by diphtheria on Wednesday last, has had the misfortune since to lose a promising boy aged about tive years, who died yesterday from the same disease. We sincerely sympathise with the family in their sad bereavement.
1893 Annie voted on first womans electoral roll; living at Bonny Glen, Wanganui; Married woman
Time, like death, is completely democratic. It shows no favour's, bestows no privileges, spares no individuals - belongs to all.
Headstone Inscription: Turakina Cem.
JOHN PERRY LETHBRIDGE born 1856 died 1934 and his wife ANNE MACDONALD daughter of Dr P.C MacDonald Dunkield born 1854 died 1933