John Perry & Annie Lethbridge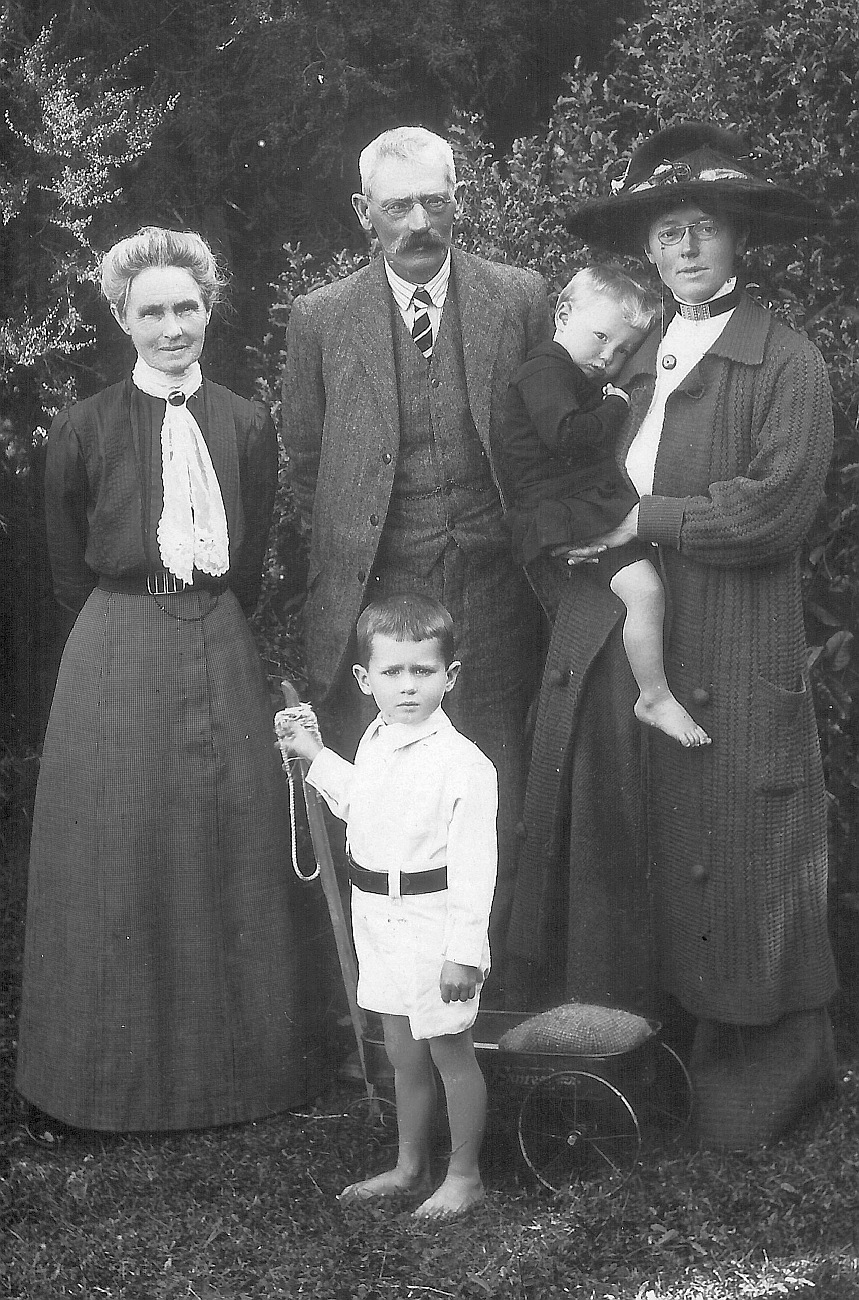 1905c: Thought to be Annie and John Perry Lethbridge, with daughter Helen Barbara Bayley and her 2 sons, Michael and George Bayley. Is this correct? Photo sent by Lethbridge descendant and researcher, John Jensen
John Perry Lethbridge (b: 05 Feb 1856 in New Plymouth; Bapt: 02 Mar 1856 Rev S Ironside; d: 10 Nov 1934 in Otaki; Bur: Turakina) Mar: 28 May 1879 in Turakina to Annie McDonald (b: 1854; d: 17 Oct 1933)
Their 9 children:
i Harry Bruce Lethbridge (b: 20 Jan 1880 in Turakina; Occ: Farmer; WW1; d: 07 Jul 1951 in Otaki Bur: Turakina Cem.) Mar: 1912 to Constance Minna Anderson (b:1886 to parents William Donald Anderson and mother Bettie nee Montgomerie; d: 14 Oct 1939 in Otaki; Bur: Turakina Cem) Children are:
a Alice Betty* Lethbridge (b:1912; d: 1998 in Wanganui aged 86Y) Mar: 1936 to William (Bob) James Bullen Tripe (b 12 Oct 1898; Occ: farmer Oxton Fordell; d: 1988 in Wanganui 89Y) Children:

1 James Nicholas (Nick) Tripe Mar: Jennifer Margaret Hopkins

2 Jennifer Mary Bullen Tripe Mar: Michael Ernest Christopher Cox

Their children are: Nicola Jane; Simon James Lethbridge; Frances Mary and Amanda Helen Cox

3 John Robert Lethbridge Tripe Mar: Diana Mary Woolams

Their children are: Antonia Mary; Robert John Rostrevor and William James Lethbridge Tripe

4 David William Lethbridge Tripe b 13 Feb 1953 in Wanganui Mar: Marion Ann Fitchett

5 George Christopher Lethbridge Tripe Mar: Claire Frances Ashton

Their sons are: Richard Michael and Oliver James Dunstan Tripe

b Judith Minna Lethbridge (b: 1 Nov 1913; d: 1997) Mar: 1935 to Peter Alan* Aldworth (b: 6 Sep 1909; d: 1979) Family are:

1 Ann (Toppy) Aldworth mar: Patrick Kennedy

2 Peter Aldworth mar; Lana Thompson

c Mary Isabel* Lethbridge (b 17 May 1922 d: 1978) Mar: 1949 to Nigel Maurice Campbell (b 24 Oct 1917; d: 1996)

Their family: Jillian Isobel; Timothy Alexander B ; Christopher Hew and Barbara Marion Campbell

d Christopher Edric* Wroth Bruce Lethbridge (b 1928 in Otaki; d: 08 Feb 1997 in Turakina; Bur: Turakina Cem) Mar: 1960 to Elaine Margaret Peach. Family are:

1 Allan Bruce Lethbridge mar: Joanna Bean

Their family are James Christopher; Timothy Charles and Grace Lethbridge

2 Peter John Brice Lethbridge mar: Rachel Christie.

Their son is Marcus Stewart Lethbridge

3 Elizabeth Ruth Lethbridge (b 21 Oct 1968 in Christchurch; d: 07 Aug 1992 in Fielding)

4 Jacqueline Elaine Minna Lethbridge mar: Caleb Stan Ralph

Their son is Harrison (Harry) Christopher Tuhourangi Lethbridge

*2nd Wife of Christopher Edric* Wroth Bruce Lethbridge: Mar: 1991 to Moya Oxley
iii Norman McDonald Lethbridge (b: 1881 in Wanganui; WW1; d: 02 Aug 1963 in 60 Cliff Road, Torbay, Auckland) Mar: 1916 to
Dorothy Mildred Gilbertson (b 1893; d: Sep 1969 in Auckland; 12 Sep 1969 Crem)
a Anne Elizabeth Lethbridge b 1917 Mar: 1940 Harold Lyster Joseph Porteous

b Helen Barbara* Lethbridge (b: 1920; d: 1937)

c John Devon Lethbridge (b 1921; d: Feb 1981 in Auckland) Mar: 1956 to Margery Heather Tilly - Munroe

Their son: John Lethbridge

d Christopher Norman Lethbridge (b 20 Oct 1924; d: 06 Jan 1992 in Te Awamutu) Mar: 1959 to Pamela Dale Norman

Their children: Fleur Barbara; Catherine Ann; Edward Guyand Christopher Morton Lethbridge
iv Helen Barbara* Lethbridge (b: 1883 in Wanganui d: 1966 in Te Awamutu; Bur: Crem. Hamilton Park Cem) Mar: 03 Apr 1901 in Turakina to George Orme Bayley (b: 1866; d: 1928; Bur: Turakina)
Mokoia:On the seaward side of the main road and surrounding the village sections surveyed in 1867, George Bayley held a similar-sized holding. Bayley bred horses and cattle as well as sheep on his holdings, both graziers killing stock from their properties at an abattoir built near the railway line that had cut through the village in 1885. Fresh killed carcasses were then railed to Wellington for freezing and processing or rendered down on the site for tallow.
George Bayley's holdings were bought by Mr O. Hawken and, despite part of the property being subdivided to provide farms for ex-servicemen after World War II, some of the original farm is still farmed by the Hawken family.
24 Feb 1913 Land lots, area sizes, survey district boundaries are situated around the Otamauri block, Tunanui block, Napier to Patea road, Okawa Stream and the Waitara Stream. George Orme Bayley - owner, has the land at Otamauri block
a Michael Orme Bayley (b: 1899) mar: Patricia Ryan (b: 1903)

b George Orme Bayley (b: 1902 in Wellington; d: 1970) Mar: 1937 to Audrey Eleanor Hobbs (b: 1903

Children; Michael Bayley & Daughter? Bayley

c Marion Orme Bayley b: 1905 in Wellington Died: 1930 in Turakina Burial: Turakina

d John Orme Bayley b: 1907 in Kaiapoi mar:Dorothy Dobree

Son is John Bayley

e Helen Hunt (Nell) Bayley b: 1909 Died: 1965 in Wanganui Mar: 1946 to Henry Esmond Blair Newton (b: 29 Aug 1901 d: 1982)

f Barabara Anne Bayley b: 1914
v Fanny Marjorie Lethbridge (b: 1884; d: 1894 aged 9Y)
vi Lance Lethbridge (b: 1889; d: 1894 in Turakina)
Monumental inscription Turakina Cemetery:
In memory of FANNY MARJORIE LETHBRIDGE, 9 1/2 yrs
LANCE LETHBRIDGE 4 1/2 yrs, HARRY MONTGOMERIE LETHBRIDGE, 14 mths; WALTER GEORGE LETHBRIDGE, 14 mths Grandchildren of Fanny and George Lethbridge
vii Laurie Isobel Lethbridge (b: 11 Jan 1894 in Rangitikei mar: July 16, 1919 Ernest Edward Hindmarsh Gilbertson (b: 1890 in Napier, Hawkes Bay son of Edward and Florence Eliza Gilbertson; occ: farmer Taupo; d: 1963 in Taupo; Crem. Hawkes Bay) Their family:
a Hugh Lethbridge Gilbertson (b: 20 Jan 1930; d: 1984) mar: Elizabeth Betty (Bubs) Cross

Children are: Shawn Quinton and Joanne Elizabeth Gilbertson

b John Edward Gilbertson (b: 1924 Waipawa, Hawke's Bay; d: 29 Jul 1945 WW2)

c Lance Dixon Gilbertson b: 02 Jul 1922; d: 1991) mar: Jaqueline Swinburn

Family are: Gael Jacqueline; Helen Mary; John Lloyd and Timothy Edward M Gilbertson
viii Jessie (Jetta) Lethbridge (b: 17 Jan 1895 in Rangitikei; d: 1973 Age 79Y; C/R Waikumete Cem.) Mar: 29 Jan 1920 Ann Bank, Turakina to Corsar Key (b: 1890 Corsar, youngest son of the Dr. Key, Montrose, Forfar, N. B; d: 1938) Their children:
a Peggy Lethbridge Key mar: Stuart Longton Adair

Family are Robyn Jane; John Stuart and Andrew James Adair

b James Key

c Janet Isabel Key mar Athol Joseph Cocker

Their children: Fiona; Timothy John and Paul Anthony (Tony) Cocker
ix Ellen Marion Lethbridge (b: 11 Apr 1899; d: 1978 aged 78Y; bur: New Plymouth Awanui Cem.)