Richard and Louise Lethbridge
Richard Lethbridge was born 2nd Jan 1794 in Ermington, Devon the son of Christopher and Sapience Lethbridge. Baptised in Ermington 29 Jan 1794, he died the opposite end of the world 3rd June 1873 in New Plymouth, Taranaki. He was burial left from his home Fulford Street on 05 Jun 1873 for Te Henui Cemetery, New Plymouth.
Richard married Louisa Mary Yates on 17 May 1820 in St Andrews, Plymouth, Devonshire, England, the daughter of Thomas Yates and Mary Vanstone Smith. She was born 08 Nov 1799 in Stoke Demerel, Devon, England, and died 06 Jan 1876 in Omata, Taranaki. Treasured articles of apparel Louisa brought on the Oriental voyage - a
shawl
, a
carved cross
and
fan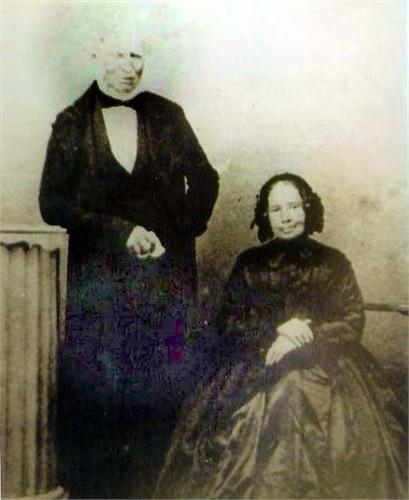 Richard and Louisa immigrated on the "Oriental" and arrived at New Plymouth 7 Nov 1841 with their family of 6 children
:
Read here for some idea of the conditions experienced by early pioneers arriving in Taranaki
From the diary of F Butler, 1st Mar 1854: A number of accidental but disastrous fires have occured in the past week, occasioning very considerable loss to many settlers. The clearings of Messrs Broadmore, Lethbridge and others on the Carrington Road, were on fire and seriously endangered the houses and stacks in the neighbourhood, the fire travelling from log to log and from stump to stump, of the old clearings. The exertions of the neighbour road happily proved sufficient to stay the mischief in this quarter, after days of labour and a considerable destruction of fencing.
1854's long hot summer and fires were driven by winds from the SE (called the mountain wind). Richard Lethbridge helped by the exertions of some 20 people who came to his assistance. They removed all his property and furniture, took out his doors and windows and saved the house and carted his wheatstack into John Hursthouses grass field.
1855/56/57; Men listed in the province of New Plymouth as qualified as liable to serve as Jurors for the year: Lethbridge George Yates, Devon St, Butcher; Lethbridge Richard, Carrington Road, Farmer; Lethbridge Richard jun. Carrington Road Farmer; Lethbridge Thomas, Omata, Publican
Sat 1st Aug 1857; Election District Grey and Bell: On Saturday last, notwithstandng the inclemancy of the weather, the contect was briskly maintained until the last moment. Shortly after the returning officer declared the state of the poll to be Lethbridge 75; Sunley 72. Mr Lethbridge was duly elected.
In 1861, the homes of both father and son Richard were burned out by the Maoris, The women and children were evacuated to Nelson in 1863, during the Wars. Richard and Louisa retired to Fulford Street, New Plymouth.
R Lethbridge Jnr. Carrington Road 1 1/2 miles from town
R Lethbridge Sen. Carrington Road 1 mile from town and 3/4 mile from nearest Blockhouse
DEATH of Mr. Richard Lethbridge, Sen. died on the 3rd June, 1873 at the ripe age of eighty years
 Page under construction
Images and data used in this site copyright - ©
Descendant input to up-date family pages is very welcome - more detailed information available on request.