Press F11 to limit top toolbar
Press again for toolbar to return
Descendants of Thomas Barnabus and Susan Lethbridge
THOMAS BARNABUS LETHBRIDGE was born Abt. 1822 in Ivy Bridge, Devon, England, the 2nd son of Richard and Louisa Lethbridge, and died 21 Dec 1883 in Hospital, New Plymouth, Taranaki. His burial on 23 Dec 1883, Te Henui Cemetery, New Plymouth.
Thomas married SUSANNAH GEORGE in 1843 in New Plymouth. The George family also immigrated on the Oriental in 1841 - her father WILLIAM GEORGE (1785 - 1682, son of William George and Mary George) had a brewery near Marshland Hill in New Plymouth and her mother was Jennifer "JANE" nee MUNDAY (1786 - 1857) - they had 11 children. Susannah was born 1820 in Helstone, Cornwall, England, and died 16 Aug 1886 in New Plymouth - her burial on 19 Aug 1886 was at Te Henui Cemetery.
In 1854, Thomas was licensee of the Omata Inn and in 1855 was Publican at Devon St, New Plymouth and 23 April 1859, at the annual Licensing Meeting of the Justices of the Peace for the Province of Taranaki on Tuesday, among certificates granted for the following year - Ship Hotel; Thomas Lethbridge However in July, household furniture, and other articles belonging to Mr T. Lethbridge, were auctioned.
During the War of 1860-1870 Thomas Lethbridge was a Private in the Taranaki Military and received the New Zealand Medal, having been either under fire or attached to Her Majesty's Imperial Forces, .
Children of THOMAS LETHBRIDGE and SUSANNAH GEORGE: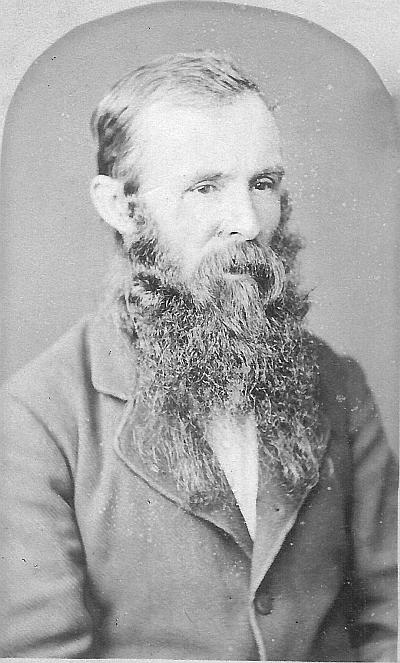 1. CHARLES FREDERICK LETHBRIDGE (b. 1844, New Plymouth; d. aged 72 yrs on 16 Nov 1916, Mental Hospital, Porirua)
Charles Lethbridge, Private, Taranaki Volunteers
He received the New Zealand Medal, for his war service 1860-1870
He tried goldmining before becoming a farmer at Turakina.
Goldminers of Thames - Charles applied for mining Rights
5831 Charles F. LETHBRIDGE 22 May 1868 Karaka

10940 Charles F. LETHBRIDGE 2 Sept 1868 Karaka

10985 Charles F. LETHBRIDGE 3 Sept 1868 Tararu

2. THOMAS GEORGE LETHBRIDGE (b. 1846, New Plymouth; d. 31 Dec 1853, Omata, Taranaki. Burial: St Mary's Churchyard, New Plymouth)

(Taranaki Herald, 4/1/1854) Cause of death - Fatal Accident at Omata. — An accident ended unhappily with fatal consequence occurred on Friday evening last on the Omata road opposite the house of Mr. Sam. Julian. The cart belonging to Mr. Steer was returning from New Plymouth, having in it Mr. Steer, Mrs. T. Lethbridge, (wife of Mr. T. Lethbridge of the Omata Inn) and her son a child of 7 years old, and another female. Unfortunately some children who were innocently playing in the road frightened the horse, and the child was thrown out of the cart, and so seriously injured about the head, as to occasion instantaneous death. The animal proceeded in its career until it reached Mr. Greenwood's gate, when from some cause or other it fell, and after much struggling got clear of the cart. The two females were thrown out when the horse fell but miraculously escaped injury, An inquest was held on the body of the child on Saturday afternoon, and verdict of accidental death returned.

3. ELIZABETH JANE LETHBRIDGE (b. 30 May 1849, New Plymouth; d. 23 Jun 1929, New Plymouth.) She married THOMAS HENRY OLDFIELD 12 Nov 1870 in St Mary's Anglican Church, New Plymouth, son of ANTHONY OLDFIELD and MARIA BUCHAN. (b 21 May 1845 in Woolwich, London, UK, and died 20 Oct 1902 in Eltham, Taranaki.)

Taranaki Herald, October 1902; OBITUARY. MR THOMAS OLDFIELD. Information was received in town about 5 o'clock on Monday evening that Mr Thomas Oldfield, who was in charge of a Government survey party, had died suddenly while walking along the Rawhitiroa Road, at a spot a few miles from, the headwaters of the Waitotara river. The Rawhitiroa Road runs in east from Eltham towards the Wanganui river. It was in the vicinity where he died that Mr Oldfield's party were at work. The deceased gentleman had resided in Taranaki for a long number.of years. He was born in England, being a son of General Oldfield. He was educated at the Sandhurst Military College as a candidate for the Army, but he abandoned this idea and came out to New Zealand. He joined the New Zealand Armed Constabulary, and was stationed at the White Cliffs and other places in the district. He left the service with the rank of Sergt. Major. Afterwards Mr Oldfield entered into business as a draper in New Plymouth, and carried it on for a number of years. On selling out Mr Oldfield speculated in smelting the iron sand. He purchased the works then existing at Te Henui, and had a try at the smelting. He afterwards purchased the remains of the steamer Hawea, and sold the scrap iron to the Onehunga ironworks. Mr Oldfield subsequently took up surveying work, and after working with Mr T G. Sole for some years, he joined the Government staff. At the time of his death he was engaged surveying a block at the headwaters of the Waitotara river. The deceased; who was about 60 years old, leaves a widow (nee Lethbridge) and several daughters to mourn their bereavement. One daughter is Mrs Barnett, wife of Mr Barnett of the Bank of New South Wales, Inglewood. The body will be brought to Eltham, and it is understood it will be brought to New Plymouth for interment. The survey men are left in charge of Mr Bell, chain man of his party. Deceased gentleman was in town quite recently and so well did he look on that occasion his many friends where the family reside, were surprised to hear of his sudden death.

Taranaki Herald, 1 October 1904 Parliamentary reporter writes: — The petition of Elizabeth Jane Oldfield, of New Plymouth, who prayed for compensation as a compassionate allowance on account of her late husband's services in the Lands and Survey Department, has been referred to the Government for favourable consideration.

Children of ELIZABETH LETHBRIDGE and THOMAS OLDFIELD are:
i. KATE BUCHAN OLDFIELD (b. 03 May 1872, New Plymouth; d. 27 Dec 1941, New Plymouth.) She married CHRISTIAN JENSEN 20 Sep 1904. (b 1877 - in October 1900 his occupation dairyman living at Carville, near Patea; he died 24 Aug 1942 in New Plymouth aged 65Y. Burial Te Henui Cemetery)

Children of KATE OLDFIELD and CHRISTIAN JENSEN are:

a. LAURA OLDFIELD JENSEN (b. 28 Jul 1897; d: 1951 aged 53. Burial Te Henui New Plymouth J02.24 )

b. THOMAS ALDRED JENSEN (b. 3 Aug 1905: d 1981; Burial Waimairi Cemetery Q08.07) m. 1946 to BARBARA WALLACE (b. 23 April 1913 d: 1996, Burial Waimairi Cemetery Q08.07.) Their son is John Oldfield Jenson

c. KENNETH JONAS LETHBRIDGE JENSEN (b. 8 Mar 1908, New Plymouth d 1991 Crem. New Plymouth;) m. in 1935 to DORA FEEK (b. 5 Aug 1914: d: 1981 Crem. New Plymouth.)

d. FRANK OLDFIELD JENSEN (b. 01 Jul 1910; d. 1965, Auckland aged 55 yr; Crem. Purewa B03.32) m. 1936 to GRACE MYRTLE GEORGE (b. 1 July 1915 d: 1999.)

e. RADOLPHUS TREVOR JENSEN (b. 26 Nov 1914; d 2001) m. 1941 to GWENDOLYN (LYN) NANCY MARTIN ( b. 26 November 1912 d: 20 Apr 2010. Aged 95)

ii. JANE ARDEN OLDFIELD (b. 12 Jun 1873, New Plymouth; d. 30 Oct 1913, New Plymouth. Buried at Te Henui Cemetery)

iii. EVA CONSTANCE LETHBRIDGE OLDFIELD (b. 21 Jan 1875, New Plymouth; d. 1944;) m. 13 Apr 1903 to PERCY YOUNG (b. 1872 d: 24 Mar 1921 Auckland) Their family:

a CECIL OLDFIELD LAMBTON YOUNG (b 1905) m. 1928 DOROTHY CONSTANCE RUSH (b 1903)

b CONSTANCE LAMBTON OLDFIELD YOUNG (b. 28 January 1906 d: 1980) mar. 1938 to MAURICE THOMAS LEYLAND GALLAGHER (b. 22 Mar 1903 d: 1976)

iv. ETHEL MARY (MARION) OLDFIELD (b. 03 Nov 1880, New Plymouth; d. 1950 Christchurch) m. 1901 BOWEN ELVEY BARNETT (b 1873, d 1920 at Edendale) Children are:

a Grace Barnett mar Arthur Rolleston Cant Their children Phillip Robert Euan and Elizabeth Cant

b Bowen Oldfield Barnett (Born: 1902 Died: 1905 New Plymouth)

c Charles Oldfield Barnett (Born: 19 Mar 1905 in New Plymouth Died: 1988 Age 83, Crem. North Shore Memorial Park (Schnapper Rock) mar 26 May 1930 in British North Borneo to Mary Christina Giddings (Born: 1902 in Walton, DBY, Died: 1956 in Singapore) Family are Avril Barnett and Christopher Charles Oldfield Barnett (B 1934 d 1994 Crem. Memorial Park Cemetery Christchurch

d Harper Barnett (Born: 19 Jan 1907 Died: 1987) Joy Gwendolyn Danes (Born: 10 Aug 1921 Married: 28 Oct 1960 Died: 2000) Their son Robert Wyndham Barnett

e Helen Mary Barnett (Born: 1909 Died: 1966) m: 1938 to Maurice Dawe (Born: 1907 Father: Charles Rupert Algernon Dawe Mother: Ida Sarah Died: 30 Jun 1944 age 37 Mt Hope; Bur. Hokatika Cemetery P04.06.)

*2nd Husband of Helen Mary Barnett m. 1945 Oliver Redvers Gardner (Born: 1900 Father: Christopher Gardner Mother: Alice Died: 1953) Daughter Geraldine Gardner

f Wyndham Barnett Born: 1912 Died: 17 Jan 1943 in Western Desert, WW2 Married: 1941 to Muriel Elizabeth Davidson (Born: 18 Dec 1920 Died: 2008)
v. FLORENCE MABEL OLDFIELD, b. 1883, New Plymouth; d. 1887 aged 4 years New Plymouth)

4. CLARA LETHBRIDGE, b. 21 Oct 1852, New Plymouth; d. 30 Oct 1933, Bur. Fielding. She married her cousin FREDERICK (FRANK) YATES LETHBRIDGE 28 May 1879 in Turakina, Wellington, son of GEORGE LETHBRIDGE and FRANCES PERRY. He was born 22 May 1852 in New Plymouth, and died 26 Jan 1915 in Makino/Fielding.

5. SUSAN LETHBRIDGE (b. 18 Sep 1854 in New Plymouth, and d: 25 Nov 1879 in New Plymouth, Taranaki.) Occupation: Dressmaker. Her son i. EDGAR LETHBRIDGE, (b. 08 Oct 1876, New Plymouth; d. 31 Dec 1876, New Plymouth)

DEATH. LETHBRIDGE.— On the 25th November, Susan, second daughter of Mr. Thomas Lethbridge, aged 25 years. The funeral will leave the residence of Mrs. Lethbridge, Devon-street, tomorrow (Thursday), at 2.15 p.m. Burial: 26 Nov 1879, Te Henui Cemetery

6. MARY LETHBRIDGE, b. 03 Dec 1856, New Plymouth; Mary did not marry. and d. 09 Jul 1944, Iona Private Hospital, New Plymouth. Bur. Te Henui Cemetery.