Emma and Albert's children:
i Arthur Henry Bayly b: 1872 Died: 1873 in New Plymouth
ii Edgar Richmond Bayly (b: 27 Feb 1875 in Omata, d: 16 Jan 1952 in Omata aged 76 yrs; Bur: 16 Jan 1952 Te Henui Cemetery, New Plymouth) Mar: 26 Feb 1895 in Oakura to Teressa Mary Crozier (b: 29 Sep 1874 dau: John and Teressa, d: 07 Oct 1943 aged 69 yrs, Bur: 11 Oct 1943 Te Henui Cem)
Mary's parents lived on Barrett Rd and she walked across country to attend the Omata School. Edgar and Mary first lived in a shingle wood house next to the Omata Hall on a 13 acre farm. Edgar, a shy man, was named after a prominent early settler J C Richmond. He was a metal contractor in partnership with a Mr Sole. When they formed and metalled the Nth Mt Egmont road with pit metal (4 miles in all) they lived in tents on the mountain.They used a light train line to get the metal from pit to road 1907-09. Also Edgar worked on the Upper Pitone Rd and the Carrington Rd where they made a deviation at the Ratanui Hill, also on the Strathmore saddle. They used a portable crusher lined with wood after carting the stone from rivers etc. In 1903 he bought 50 acres on Hurford Rd. Mary, his wife and a man who worked on the farm, milked the cows by hand. The cowshed was made from poles cut from the bush, the roof being covered with straw to run the water off. The staw lasted 3-4 years. At this time, the five eldest children attended the Omata School, riding each day on horseback. In 1909 Edgar bought 140 acres on Waireka Rd and in 1911 finished contracting and bought B Clemow's milkround. He served on the School, Hall and Patriotic Council committees, also was Chairman of the Omata and Royal Oak Cheese Factory. Albert, his eldest son, has duplicated most of the positions held by his father in the Omata district. Once when out shooting, Edgar accidentally discharged his gun,and wounded his arm which was affected for the rest of his life. He bought the Beach Road property where he retired.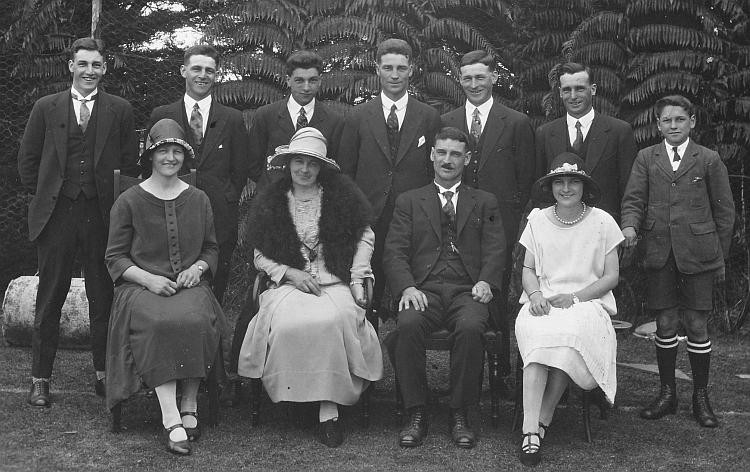 Back: Boyd William; Harold Newsham; Wilfred Harry*; Albert Richmond; Vaughan Edgar; Keith John; Jack Cowan
Front row: Emma Jessie; Teressa Mary (known as Minnie - Nanna); Edgar Richmond (Poppa); Alice Marjorie*.
Photo taken in 1925.
Children of Edgar and Minnie Bayly :
a Albert Richmond Bayly
Albert Richmond Bayly was born 02 Jul 1895 in New Plymouth, and served WW1 Last Address: 49 Omata Rd; d: 15 Oct 1988 in New Plymouth, aged 94 yrs. He mar: 15 Dec 1925 to Hazel Blanche Luxton (b: 21 Aug 1901 (Parents Albert John and Lillian Frances Luxton) d: 18 Feb 1980 N Ply) Their children: Ngaire, Ruth, Ian and Mary.

Puke Ariki Accession No ARC2001-539: Albert Bayly was 21 years of age when he joined the 5th Reserve Rifle Brigade and served with the New Zealand Expeditionary Force during the World War I. He returned from overseas service to New Plymouth on board the ship SS Tainiu. The collection consists of three soldiers' pay books belonged to Albert Richmond Bayly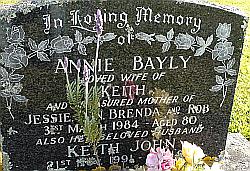 b Keith John Bayly (b: 20 Oct 1896 in Omata, WW1 d: 21 Nov 1991 in New Ply. aged 95 yrs; Bur: Awanui Cem) Mar: 1924 to Annie Batten (b: 1903 to Parents: James Alexander and Florence Elizabeth Batten; d: 31 Mar 1984 in New Plymouth, Bur: Awanui Cemetery) Their children: Jesssie; Don, Brenda and Robin
c Emma Jessie Bayly (b: 07 Mar 1898, d: 22 Mar 1958) Mar: 1920 to William Norman Perry (b: 1888 to Parents William and Rose Perry) WW1 d: 1969)
Their family; Molly, Joan and Patricia
d Harold Newsham Bayly (b: 30 Nov 1899, d: 17 Jan 1980) Mar: 1925 to Teresa Elsie McLaurin Monteath (b: 1900 daughter of Lawrence McKenzie Monteath and Emma Christina nee Raikes d: 05 Oct 1976) Their Children: Resli; Alan; Jill; John; Michael
e Vaughan Edgar Bayly (b: 07 Oct 1901, d: 22 Mar 1973 N Ply.) Mar: 1928 to Weetie Margaret Mace (b: 20 Apr 1905 to parents Phillip Herbert Mace and Catherine Isabel Looney; d: 11 Jul 1985) Their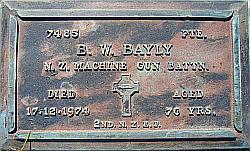 daughters Betty Joy, Nancy, Catherine and Margaret
f Boyd (Mick) William Bayly (b: 14 May 1904 in Omata, WW2 d: 17 Dec 1974 in Taranaki Base Hospital, New Ply. Crem: Te Henui) mar: 1946 to Norma Tyson
g Alice Marjorie* Bayly (b: 13 Oct 1906, d: 29 Jun 1947 in Auckland) Mar: 1932 to Kenneth Thomas Robert Taylor (b: 1905 to Parents George Henry and Annie Louisa Taylor; d: 18 Feb 1987 in Auckland; Purewa Cem.) Daughters are Barbara and Viienne
h Wilfred Harry* Bayly (b: 30 Mar 1910; d: 31 Jul 1968 ) Mar: 1933 to Margaret Alberta Georgina Simpson (b: 22 Jul 1911; d: 2003) Their children: Pamela (b: 1934 d: 1973); Jennifer, Douglas and Teressa Bayly
i Jack Cowan Bayly (b: 30 Nov 1912; d: 02 Apr 1953 in Omata) mar: Ivy Daphne Bessie Kenny. Family are Neil, Murray and Dennis
iii Bertha Bayly (b: 24 Jul 1878 in Omata, d: 11 Dec 1946 in Napier, Bur: Waipukurau Cem) Mar: 20 Dec 1899 in Taranaki to George Allwood (b: 1874, d: 1956)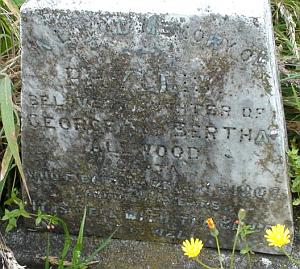 a Phyllis Allwood (b: 22 Aug 1900; d: 8 Apr 1903 Omata (her Headstone at Waireka cemetery)
b Albert Hugh Allwood (b: 01 Apr 1902, d: 1991) Mar: 1932 to Kathleen Frances Tansey

c Phoebe Allwood (b: 14 May 1904, d: 17 Apr 1976 at Auckland; Bur Kelvin Grove Cem, Palm. Nth) Mar: 1936 to Edward Clince Little (b: 06 Jun 1900 in New Plymouth to parents Edward Parker and Elizabeth Little; Occ: Bank Manager; d: 17 Jul 1966 Palmerston Nth)

d Marion Valetta Allwood (b: 08 Apr 1906, d: 12 Aug 1974 in Te Awamutu) Mar: 09 Feb 1932 to John Basil Wilkie Roberton (b: 30 Jan 1896 to Father: Ernest Robertson Mother: Eliza Ann Wilkie; d: 04 Jan 1996 in Te Awamutu) Family are:

i Joan Eileen Roberton Mar: 1956 to Jon Michael De Latour

ii John Alistair Robert De Latour

iii Geoffrey Peter Roberton De Latour

ii John Albert Roberton

iii William Henry Roberton

e Eileen Allwood (b: 29 Jul 1909, d: 04 Sep 1987 in Auckland) Mar: 1935 to Frank William Bales (b: 7 Feb 1905, Occ. Master Mariner d: 6 Aug 1981 in Auckland)
iv Hilda Mary Bayly (b: 09 Oct 1879, d: 11 Jul 1939; Crem: Waikumete Cem.) Mar: 09 Jul 1903 in Wesleyan Church, Liardet St, New Plymouth to Harold Douglas Hooker (b: 17 Jan 1879 to Father: James Hooker Mother: Hannah; Occ. Farmer at Cambridge; d: 19 May 1952)
v Ada Bayly (b: 09 Mar 1877 in Omata, d: 02 Feb 1933 in Te Awamutu) Mar: 17 Apr 1911 in Anglican Church, Omata to Arthur James Shepherd (b: 01 Apr 1879 in Auckland to Father: Franklin Skevington Shepherd Mother: Susan Rowe; Occ: Schoolmaster; d: 14 Mar 1970 in Auckland) Their family:
a Arthur Winston Shepherd (b: 08 Feb 1914 in Hamilton d: 16 Apr 1987 in Waihi) Mar: 15 Jan 1938 to Morwena Nicholas Burke (b: 23 Dec 1915 in Cambridge, Matamata, d: 15 Oct 1989 in Waihi)

b Stuart Bayly Shepherd (b: 17 Nov 1916 d: 21 Aug 1961 in Morrinsville) Mar: Dec 1946 to Heather Winifred Beable (b: 22 Nov 1922 d: 14 Mar 2007)

c Bertram Franklin Shepherd (b: 07 Mar 1919 in Avondale, Auckland; WW2 d: 28 Jul 2006 in Whangarei) Mar: 1956 to Noeline Mary Sheama Jakish
*2nd Wife of Albert George Bayly - he married 28th Mar 1894 in St. Mary's Church, New Plymouth Annie Blackley (b: Abt. 1860 in Manchester; d: 1943 in Auckland Crem. Waikumete Cem). Albert d: 06 Sep 1909 in Moturoa and was bur: 08 Sep 1909 Waireka Cemetery) His estate certified for stamp duty £1404. Annie and Albert's children:
a Gwladys Bayly (b: 09 Jul 1895, Occ: Teacher, d: 27 Dec 1945 in Auckland)

b Madge Bayly (b: 30 Apr 1897, Occ: Teacher, d: 16 Sep 1979) Mar: 1953 to William Wills McLaughlin (b: 12 Sep 1873 to Father: William McLaughlin Mother: Jessie Turnbull Nicol; d: 1966