Hidden Slide Menu on Left
Below, Newsham Page Index

Albert Edward Newsham
Corduray Road through native bush, Northland region, photographed by Northwood brothers

A

LBERT EDWARD (BARNEY) NEWSHAM son of Thomas and Mary Louisa Newsham was b: 19 Dec 1868 in Omata, Taranaki, and was brought up by his older brothers and sisters from the age of 5 after the death of both parents. Albert d: 01 May 1945 in Tauranga aged 76Y; bur: 2 May 1945 Tauranga Anglican Cem Plot 34, Sect 1A.

Timeline:

Taranaki Herald, 8 June 1881: We regret to state that the accident which occurred to a son of Mr. Alfred George, of Omata, last week, by the accidental discharging of a gun, has proved to be more serious than was at first anticipated, and the left arm has had to be amputated, owing to mortification having set in. The operation was very skilfully performed by Dr. Rawson, who did it in the presence of Dr. Gibbes. It is to be hoped that his other hand may be saved. We were in error in stating that it was a brother of the unfortunate youth who discharged the gun accidentally; it appears that it was a lad named Albert Newsham who did it.

July 1886: Albert was employed by farmer Hendy at Manaia - witness at court

- cattle straying onto native land

1893: Electorate: Bay of Islands Number: 2572 Surname: Newsham; Given Name: Albert Edward Residence: Hukerenui, Occ: Farmer; Type: Residential

The Hukerenui South settlement began in 1886, with a request made by a group of local people for the land under the Village Homestead Special Settlement system. The village was opened to the first 25 settler families the following year. Although on the main road from Whangarei to Kawakawa, it was only a dirt track, and was impassable during winter. Gum digging was one of the initial sources of income, but the Government cancelled gum-digging licences after fires in early 1888. A flax mill at Towai provided some jobs. Some were employed to build and improve the roadsThe North Auckland railway line reached Hukerenui in 1901 or 1902

1896 Electorate: Bay of Islands Number: 2345 Surname: Newsham Given Name: Albert Edward Residence: Hukerenui, Occ: farmer

Albert mar: 15 Mar 1899 to ANNIE THERESA SMITH at Whangaroa, daughter of WILLIAM SMITH

and CATHERINE HAYES. Annie was b: 10 Dec 1876 in Whangaroa, and died 25 Dec 1914 in Auckland.

1902: NZ MILITARY PENSIONS Brother: Barney Newsham, of Whangaroa, Auckland named as NOK when brother NEWSHAM John Private 6379 7C - He died at Soames Island, Wgtn after returning from the Boer War

1903 Occ: Contractor Whangoroa

1905/06 - Albert Edward Newsham, occ: Carter, Opotiki with his nephew George Hursthouse Newsham, son of brother Charles Newsham

"In the 1890s the Kelly Brothers of Opotiki ran a buggy service from Opotiki to Paengaroa from where horse-drawn coaches were available to take the traveller either to Rotorua or Tauranga. The Kelly's main source of income was carrying the mail, and the odd passenger they carried was a bonus….So when the Rotorua Motor Coaching Company expanded their business and began a coaching service to Whakatane and Opotiki, it opened up a new route which became popular, as from Rotorua it was possible to catch a train for Auckland. The first coach on this route ran in late 1906, and initially it ran twice-weekly. By 1911 it was three times per week. The change of focus from sea transport to roads is traceable in the directories for the district. The 1910 Directory lists several occupations related to wheeled and horse transport: blacksmiths, wheelwrights, carters, saddlers, cycle dealer, livery stables, coach drivers".
1909 School Records - Name ANDERSON Eileen; School Opotiki; Register Number 0685; Admission Date 8 Feb. ; Parent / Guardian Albert NEWSHAM; Address Opotiki; Birthdate 06 Dec 1894; Last School - St Mary's Convent, Opotiki, Last Day 06 May 1910; Destination Home (Niece Eileen was daughter of Annie's sister Kate mar: to David Henry Andrew Turner Anderson)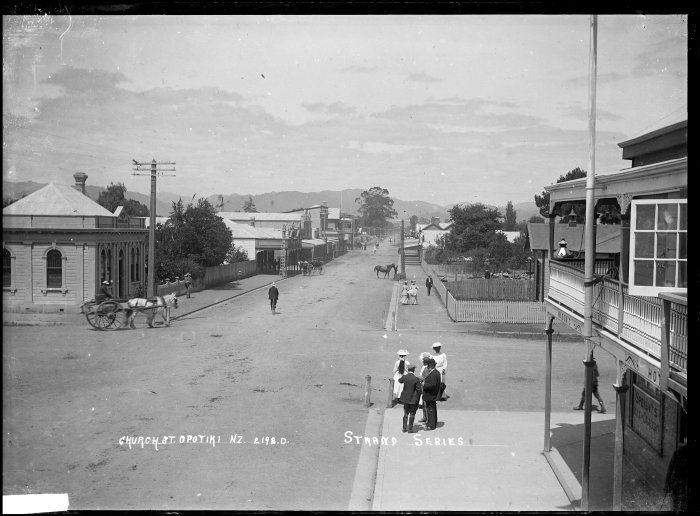 Opotiki 1910
21 July 1911 - Bay Of Plenty Times: Prior to their departure from Opotiki, Mr and Mrs A. E. Newsham were entertained at a farewell social in the Victoria Hall, tendered by their numerous friends. During the evening Mrs Newsham was presented with a silver jug and teapot. Last Friday, evening the friends of Mr 'A. E. Newsham. entertained him at a social gathering in the Opotiki Hotel. There was a large and representative attendance. During the evening. Mr Newsham was presented with a case of pipes, and hearty wishes were expressed for his future happiness and prosperity in his new home at Tauranga.
1911 - Electorate: Bay of Plenty Number: 4533 Surname: Newsham Given Name: Albert Edward Residence: Opotiki Occ: carter
1911 - Electorate: Bay of Plenty; Surname: Newsham Given Name: Annie Residence: Opotiki Occ: married
Bay Of Plenty Times, 10 July 1911; Mr A. E. Newsham, who has purchased Mr M.P Stewart's coaching and livery stable business, arrived from Opotiki on Friday evening to take over the business
Painting of Tauranga - Edmund Gouldsmith
1911 - Electorate:Tauranga Supplementary Roll - Surname: Newsham Given Name: Annie, Residence: McLean Street, Tauranga Occ: married
1911 - Electorate: Tauranga Supplementary Number: 7130 Surname: Newsham Given Name: Albert Edward Residence: Spring Street Tauranga Occ: livery and bait stable keeper
14 Jul 1911: A E Newsham (Late of Opotiki) DESIRES to inform the residents of Tauranga and Surrounding Districts that he has taken over the TELEPHONE LIVERY AND BAIT STABLES from Mr M P. Stewart, and hopes, by civility and strict attention to business, to merit a fair share of public support.
16 Aug 1911: Mr A E. Newsham on committee BOP Jockey Club
Bay Of Plenty Times, 4 Sep 1911: A. E. Newsham, Telephone Stables, can supply riding horses and buggies at all hours." Telephone. No. 9
Bay Of Plenty Times, 6 Sep 1911: IMMEDIATE SALE—Three 400-Gallon Tanks and Large Wooden Trough.—A. E. NEWSHAM, Telephone Stables.
Bay Of Plenty Times: 13 Sept 1911: REGISTRATION OF VEHICLES. Mr A. E. Newsham waited on the Council in regard to the registration of vehicles. He thought it was bit rough to have to pay 7s 6d on small buggies. The Mayor referred to the by-law, which set out that 7s 6d was the charge for vehicles used for passengers. Cr. Munro pointed out that the charge originally proposed was 15s per vehicle. Mr Newsham stated that the charge in Rotorua for buggies was 2s 6d each. A number of his buggies were used exclusively for coastal work. He asked for a reduction in the light buggies The Mayor intimated that the Council would look into the matter. Mr Newsham thanked the Council and withdrew
Bay Of Plenty Times, 20 Sept 1911 Borough Council - CARRIERS LICENSES. The Town Clerk reported tbat Mr A. E. Newsham had taken out three licenses, but did not take licenses for twelve other vehicles which he considered should not be licensed. Mr Newsham had waited on the Council in regard to the matter a week previously. The by-law was referred to and set out that the fee for each vehicle was 7s 6d. The Mayor said that the numbers should be attached to the vehicles. He thought it was within the power of the Council to meet Mr Newsham or anyone else in a conciliatory manner, -and make a rebate on the amount of fees paid. Cr. Carmichael considered that vehicles sent to the coast were not plying for hire - if a vehicle was sent out of the stable with a driver, it would be plying for hire. Cr Hammond proposed that Mr Newsham be requested to pay the full license fee of 7s 6d for each carriage or vehicle he uses for carrying passengers and in his doing this the Council will consider the advisability of making a rebate. Cr. Castaing seconded. Cr. Carmichael proposed an amendment -That the question be referred to the borough solicitor for an opinion. The amendment was not seconded. Cr. Munro was not in favour of the motion. Cr. Brabant,': What about fixing the amounts of the rebate? Cr. Hammond's motion was carried. Cr. Munro moved an amendment —¦ That all the words after "passengers" be deleted. In doing so, he said he did not think the Council should hold out an inducement to pay, which would practically bind it to favourably consider the application. The amendment was seconded by Cr. Brabant and negatived.
Bay Of Plenty Times, 30 Oct 1911: Mr C. Wood has sold his commodious residence at the corner of Willow and Brown Streets, to Mr A. E. Newsham.
Oct 1911; Mr A E. Newsham on Committee of Tauranga Rowing Club
Bay Of Plenty Times, 30 Oct 1911 - Mr C. Wood has sold his commodious residence at the corner of Willow and Brown Streets, to Mr A. E. Newsham.
Bay Of Plenty Times, 29 Nov 1911: One of Mr A E. Newsham's double horse teams was responsiblefor a good performance a few days ago, accomplishing the journey from Tauranga to Opotiki and back, a distance of nearly 200 miles in three days.
Bay Of Plenty Times, 27 Dec 1911 An inanimate pigeon. shooting match was fired at Te Puke yesterday between teams representing Tauranga and Te Puke. There were four guns on each side. The match resulted in a tie and in the shoot-off Te Puke won by three points. The Tauranga visitors were driven down by Mr A. E. Newsham and speak in, glowing terms of the treatment received from the Te Puke sports.
Bay Of Plenty Times, 21 Feb 1912 The Telephone Stable", situated at the northern end of Devonport-road, have recently been completely overhauled in order to enable the proprietor to thoroughly cater for the requirements of patrons. All tne stalls have beea concreted and channelled and provided with drainage connected with the Borough system in the neighborhood. A considerable addition to the accommodation has been provided oh the northern side of the premises, with the result that thirty horses may now be dealt with in the building atone time. Serviceable vehicles and reliable horses are kept, and competent drivers may be secured when required. Mr Newsham has also taken over the agency for the Rotorua Motor Coaching Company, and in future travellers may book at his office. The present proprietor is determined to keep abreast of the times, and no doubt the enterprise of the 'popular "Barney" will be well recognised by the travelling public.

Bay Of Plenty Times, 15 May 1912 LICENSING OF VEHICLES.The Inspector of Licences reported to the Borougn Council on Monday night that carriers have been informed that their licences are now due, and the number of ten were admitted. He also stated that Mr Newsham had refused to pay for licenses for vehicles. Cr. Drown suggested that a sub-committee consisting of the Mayor, Cr Macmillon and the mover be empowevt d to wait on Mr Newsham in regard to registration of vehicles. Seconded by Cr. Murdoch. ' Cr. Carmichael thought that Mr Newsham should only have to pay license on three vehicles. The motion was put and carried.

Bay Of Plenty Times, 15 May 1912 Waterworks Matters Re street tap near Mr Newsham's: Ths tap is being used for purposes other than street watering. The bylaw would probably be found to impose a penalty, but the Committee recommend that the tap be removed.

Bay Of Plenty Times, 29 May 1912 Council change to valuation roll - C. Wood to A. E. Newsham, lot 338, section 1

Bay Of Plenty Times, 21 June 1912: Bay of Plenty Club: A very interesting billiard tournament had been held, thirty-two members taking part, for a five-guinea suit of clothes donated by Mr J. H. Dean, the local tailor, Messrs W. P. Sommerville and A. E. Newsham survived till the final round, and there was a good attendance to see these two gentlemen play off for the trophy. Mr Sommerville proved successful with a margin of 14 points, and Mr Dean subsequently measured and fitted him for his very useful prize, which was turned out in the maker's usual workmanlike manner.

Bay Of Plenty Times, 28 June 1912 Mr A. E. Newsham has sold the Telephone Stables business to Mr A. Findlay, of Ngawaro, who takes possession on Monday next. Mr Newsham's numerous friends will be pleased to know that he will continue his residence in Tauranga. He has purchased a farming property of a thousand acres in the county, which he intends to fully develop. Some time ago Mr Newsham bought a commodious house on the Camp so that he now holds considerable vested interests in this district.

Council: Mr Wayte wrote requesting that Mr Newsham's name be placed on the Council's books instead of the applicant's for lease of Camp allotments. The Mayor moved that the letter be referred to the Endowment Committee. Seconded by Cr. Dunranson and carried.

13 Jul 1912: AUCKLAND LAND BOARD. (King Country Chronicle)

AUCKLAND LAND BOARD. SITTING AT TE KUITI on Thursday last. There were present the Commissioner and Messrs Harris, Rountree, Trounson and Johns. SPECIAL APPLICATIONS FOR LAND. Sections 3 and 4, blocks 2 and 3, Rotorua, 968 acres, Alexander Findlay to Albert Edward Newsham of Tauranga, livery stable proprietor — Approved.
Bay Of Plenty Times, 31 July 1912 Mr and Mrs Newsham and Miss Anderson returned yesterday from a holiday trip to Auckland.
Bay Of Plenty Times, 14 Aug 1912: The many friends of Mr Alex. Findlay will regret to learn that he is at present indisposed and has found it necessary to proceed to Te Aroha for a rest. During his absence Mr A E Newsham is in charge of the Telephone Stables
Bay Of Plenty Times: 23 Aug 1912: HUNT CLUB: THE WAIKATO HOUNDS VISIT TO TAURANGA TO BE ARRANGED A meeting of all interested in hunting was held in the Commercial Hotel last evening. Present—Messrs G W Brown, J. Tanner, N. Quirk, A Delaney,D. Hall (jun.), P. H. Dodson, R. Wall is. C. H. Jordan, J. A. E. Newsham, B. Ravvles, and W Ferguson. Mr Brown was voted to the chair and explained that the meeting had been called to consider whether or not a visit from the Waikato hounds would be arranged this season. Mr Newsham moved: That the Waikato Hunt, Cambridge, be asked to send their hounds over to Tauranga for three days' hunting on the same terms as arranged last year.—Seconded by Mr Rayles and carried unanimously.
Mr Brown announced that Mr Ben Myers, of Auckland, had intimated that he would visit the Tauranga meets and bring his hunter Bowler down for the occasion. Mr Myers had also said that he thought several other Auckland sportsmen would also make the trip.
Officers of the Club for the ensuing year were elected as under: Patron Mr Alex. Dickie; president, Mr W. J. Baigent; vice-presidents, Messrs L. Tollemache and W. Darragh; general committee. Messrs G. W. Brown, N. Quirk, C. H. Joroan, C. Gunson, A. E. Newsham, B. Rawle, J. Tanner, A. W. Snodgrass, S. Darragh, A. Delaney J. A. Macleod, M. P. Welsh, M. Crimmins, S. Tanner, T. Floyd, A. Brown J. Darragh, H. P. Smith. A. Matheson. A. Tudhope, and C. Ball (Pongakawa); secretary, Mr C. H. Jordan; canvassing committee, Messrs B. Rawles and A. E Newsham; committee to arrange jumps, Messrs J. Tanner, T. Floyd. S. Darragh. A. W. Snodgrass and A. Delaney; entertainment committee, Messrs J. A. MacLeod, F. Dodson, C. H. Jordan. A Tudhope, G. W. Brown and A. Matheson.
Mr Dodson intimated that Mr T. Floyd had informed him that he would accommodate the whip, huntsman, and the hounds free of cost, and if not in the Tauranga Hotel at the time he would arrange for the accommodation. Mr Brown moved: That Mr Floyd be thanked for his offer.—Seconded by Mr Newsham and carried. Mr Newsham said he thought Mr Findlay would accommodate two of the Waikato horses free of cost. It was decided: That the membership fee be fixed at £1 1s. It was resolved: That a ball be held during hunt week, the arrangements being left in the hands of the Entertainment Committee.
THE REFORM LEAGUE. Bay Of Plenty Times, 14 Feb 1913 A. E Newsham on committee
Bay Of Plenty Times, 1 Dec 1913: THE GUN CLUB The match held hy the Tauranga Gun Club ou Thursday for the J. C Jordan and Co. trophy resulted in a win for Mr H. T. Lysaght, the President of the Club. The scores were as under: J H Kerr, 5; A E Newsham, 5; E Cradban, 0; R Cook, 0; H T Lysaght, 8; W Tanner, 2; W Floyd, 6; J Tanner, 0; FH Dodson, 3. The weather conditions affected the shooting to a large extent, aud wos also no doubt responsible for the small muster of members.
1913 - Tauranga; Albert Edward Newsham Stable Keeper; ratepayer Lot 338 Sect 1, owner; Annie - domestic duties
1914 - A. E Newsham on committee of the Bay of Plenty Jockey Club -and also athletic club
Bay Of Plenty Times, 12 August 1914: One transfer on the valuation roll was authorised at the meeting of the Borough Council on Monday evening, viz, Lot 18, Elms Estate, from Mr A. Skinner to Mr A. E. Newsham.
30 Sep 1914: PUBLIC NOTICESi THE TAURANGA RIMU COMPANY LIMITED. Imperial Buildings, 42 & 44 Queen Street, AUCKLAND. TENDERS will be received at the Company Office, Imperial Building, Queen Street Auckland, for the leasing of the undermentioned sections for a period of THREE YEARS from the Ist November, 1914 to Ist November, 1917. SECTION 3, Blk. 2, Rotorua S.D. - 973 Acres (Late Newsham's Section) SECTlON 2, Blk. 3, Rotorua.
DEATH: Annie Theresa Newsham aged 38Y; Bur. Waikaraka Cemetery Area 2, Block U, Lot No. 59
New Zealand Herald: 26 Dec 1914: NEWSHAM. At her late residence, London Street, Ponsonby, Annie Theresa, dearly-beloved wife of Albert Edward Newsham, aged 38 years. R.I.P. Private interment.
Bay Of Plenty Times, 19 June 1915: TAURANGA GUN CLUB. On the Club's range at Sulphur Point on Thursday afternoon Mr Crichton's medal was shot for, Mr A. Newaham proving the winner with eight hits out of a possible of ten.
Bay Of Plenty Times, 22 Dec 1915: Changes to Rates Rolls - J.H. Coats to N. Quirk and A. E. Newsham ( co owners) Pt. lot 67, section 1, Tauranga
Albert Edward Newsham married (2) 02 Aug 1916 at Opotiki to AMY EMMA* FOX , daughter of PATRICK and MARY FOX. Emma was b: 16 Feb 1886; she d: 26 May 1974 in Devonport, Auckland. 
THE RECENT FIRE: Bay Of Plenty Times, 15 Nov 1916: The motor garage occupied by Mr H. M. Griffiths, which was destroyed, belonged to Messrs N. Quint and A. E. Newsham.
Bay Of Plenty Times, 13 July 1917 Included in the visitors at the Star Hotel are Messrs Leggo and O'Moore (Auckland) Digglenian (Katikati), Mr and Mrs Newsham (Papamoa.)
Bay Of Plenty Times: 27 May 1918: GAME LICENSES Licenses to shoot game in the Tauranga Acclimatization District : issued - A E Newsham
Bay Of Plenty Times: 6 Aug 1919: Mr F. M. Mullions property of eight acres at Greerton has been purchased by Mr A. E. Newsham, who recently sold his farm at Papamoa.
1919 to 1933 - A E Newsham Freehold, Lot 18 Elmes; Section 1; owner; Mrs A E Newsham married; ratepayer Lot 18, Block 1, husband owner
Bay Of Plenty Times: 1 Sept 1920: TAURANGA GUN CLUB. Annual Meeting The annual general meeting of members of the Tauranga Gun Club was held in Mr Len Norris's hairdressing saloon on Monday evening, Mr A. E. Newsham presiding over a fair attendance of members. Officers were elected as follows : —President, Mr G. W. Brown ; vice-president, Mesers A. Brown and G. W. Henderson; committee, Messrs E. Chadban, R. Cook, J. Tanner, A. E. Newsham, and N. Quirk ; secretary and treasurer, Mr R. Long ; handicappers, Messrs E. Chadban and J. Tanner. Mr J. Tanner, the retiring secretary, reported that there was a credit balance of £t 6s 8d, and assets of 750 clay birds and two traps. The membership fee was fixed at 7s 6d.
13 May 1927 - A. E. Newsham elected to Tauranga Borough Council
BOP Times; 4 May 1929: A. E. Newsham polled 3rd highest of 9 candidate elected to Tauranga Borough Council
Auckland Star; 3 Aug 1929; TAURANGA. A board of control for Tauranga Racecourse Domain has been elected as follow: Messrs. H. A. Sharp, J. G. Green, N. .T. Baigent, A. E. Newsham, R. T. Goulding, A Ivory, J. M. Darragh. Those elected will be submitted to the Minister for approval.
NZ Herald: 9 Dec 1930: COUNTRY HOUSE BURNED BUILDING NEAR TAURANGA. A five-roomed house at the corner of Hunter and Grace Streets, over two miles from the town, was destroyed by fire on Saturday. The brigade was called but could not save the building. The contents were also destroyed. The house was owned by Mrs. A. E. Newsham and occupied by Mr. J. Turner. The insurance on the house was £400 in the Alliance Office and on the furniture £l60 in the New Zealand Office.
On the 20th May 1933 Albert Newsham was appointed Tauranga Borough deputy-Mayor and new Mayor, Mr A F Tunks was unmarried and it was announced that the duties of Mayoress will be undertaken by Mrs. A. E.Newsham of Devonport Road - she undertook this until his death in 1936.
Aug 1934 Albert elected Chairman of the Tauranga Domain Board,
NZ Herald: 18 June 1938: HIGHER HOSPITAL LEVY TAURANGA, Friday The levy on public bodies would have to be increased by about 19 per cent, stated Mr. A. E. Newsham, re-elected chairman of the Tauranga Hospital Board, at a meeting of the board to review increase. Mr. Newsham added, was unavoidable, owing to increased cost of goods and labour, and the interest on a loan of £7000.
1938 to 1941; Albert E Newsham, farmer; freehold, Lot 699 Section 2; owner; Mrs Amy; ratepayer, married; Lot 633 Section 11; owner
1944 - Albert E Newsham, farmer; freehold; Lot 699 of Section 2; owner; Amy Newsham - married; ratepayer, Lots 4, 5 d.p. 28581 of 633 of Section 2; Owner
1947 - Amy Newsham, Widow ratepayer, Lot 4/5 d.p. 28581 of 633 of Sect. 2
1953 - Amy Newsham, Widow, living at 312 Devonport Road
1956 - Albert E Newsham Farmer, Tauranga Probate for will 6, £192 5/7/1949
1945 Auckland Probates - Archives New Zealand Auckland, Regional Office, NEWSHAM Albert Edward - Tauranga - Farmer 1945 - 1945 Probate under the value of £4000 (£6,192.9.3 Stamp duties) 5 Dec 1949
OBITUARY MR A. E. NEWSHAM, TAURANGA, Wednesday May 1: The death has occurred of Mr Albert Edward Newsham, aged 77. He was born at Omata, Taranaki. In the early days he owned a livery stable at Opotiki, extending his operations to Tauranga. He was chairman of the Tauranga Domain Board before the Borough Council took over, and from 1927 he was a member of the Tauranga Borough Council, for a period being deputy-Mayor. He was chairman of the Tauranga Hospital Board from 1936 till 1943. He was a life member of the Bay of Plenty Racing Club and a director of the Tauranga Dairy Co. Mr Newsham is survived by his wife.
Burial: 02 May 1945, Tauranga Anglican Cemetery Plot 34 Sect 1A

1949 South Auckland Land Transmissions;

Name NEWSHAM Albert Edward; Date 11 Apr 1949; Land District SA; Doc Number Z64979; Place Tauranga; Occ: Farmer; Death; 01 May 1945; Probate Value £6192 03 Jul 1945
Images and data used in this site copyright - ©

Please

and replace # with @ in my address. All pages have Sound