John Napier Miller was born in 1846 in Otorohanga He first appeared in Cambridge on the electoral roll of 1879 as a carpenter. In 1880 he became a member of the first Cambridge and Waikato Reed Band and in November became a band member of the Cambridge Cavalry Volunteers. Francis Madigan and John Napier Miller, were co-partners in a contracting business in 1879 at Cambridge. He died 26 Apr 1928 in Paeroa. Their children -
1 Charles James Napier Miller (b: 18 Oct 1875 d: 20 May 1923 in Cambridge) Married: 03 Jan 1899 to Kate Millicent Jennings (b: 02 Apr 1878 Father: Edward Jennings Mother: Mary; d: 1963) Charles was a storekeeper in Cambridge

i John Edward Miller (b: 04 Mar 1900 d: 25 Jan 2002) mar: 1929 to Hazel Grace Mexted (b: 23 Jan 1905, Father: Walter Mexted Mother: Agnes Eastwood; d: 1994)
ii Myrtle Irene Miller (b: 23 Apr 1902 d: 14 Feb 1945) mar: 03 Nov 1924 Thomas Elliot Dagg (b: 18 Aug 1905 d: 21 Jul 1970)
iii Mary Alexandra Miller (b: 27 Mar 1904 d: 14 Sep 1940) Mar: 23 Mar 1928 in St Johns Church Dannevirke to Ernest Littlejohn (b: 05 Mar 1898 Father: James Johnston Littlejohn, Mother: Alice Mary; d: 11 Aug 1973)
iv Annie Mavis Stewart Miller (b: 04 Mar 1906, d: unknown)
v Frederick Napier Miller (b: 27 Aug 1908 d: 31 Jan 2001)
2 Alice Lily Miller (b: 27 Feb 1878 d: 1961) Married: 07 May 1902 to William John Davidson Hall (b: 24 Aug 1878 Father: John Morrisson Hall Mother: Elizabeth Ann, d: 15 Dec 1948 )
i Mary Edith Hall (b: 26 Jan 1903 d: 11 May 1971) Mar: 25 Jan 1928 to Frederick Charles Speed (b: 26 May 1897 d: 10 Jul 1977)
ii Clarence William Hall (b: 02 Jun 1906 d: 1959 in Kaiwaka) Mar: 1935 to Jean Ella Bellington (b: 03 Oct 1910 d: 25 Jul 1979)
iii Florence Winifred Hall (b: 16 Feb 1910 d: 22 Dec 2006) Mar: 1934 to Thomas Henry Murphy (b: 16 Nov 1902 Father: Henry Murphy, Mother: Kate Wilson; d: 23 Apr 1974)
iv SBC Born: 1917
3 Florence Muriel Miller (b: 19 Nov 1881 d: 25 Nov 1967 )
4 Frederick Steele Miller (b: 23 Dec 1885 d: 17 Nov 1890 )
5 George Finch Miller (b: 11 Aug 1887 in Cambridge d: unknown)
f John Napier Miller (b: 11 Aug 1887 in Cambridge d: unknown)
6 Winifred Lucy Miller (b: 02 Oct 1890 d: 06 Aug 1975 Selwyn Village, Pt Chevalier)
7 Percival Steele Miller (b: 07 Feb 1893 d: 1959 in Kaeo (d. registered as Percival John) Married: 1929 to Mary Elizabeth Walker (b: 27 Aug 1897 d: 21 Jul 1991)
8 Jack Stanley Miller (b: 12 Feb 1896 d: 27 Jul 1917 in Belgium)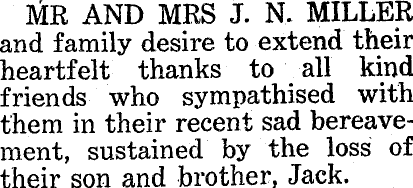 LOCAL BOY'S DEEDS.
WINNER OF O.C.M. SERGEANT G. F. MILLER,
Details of the manner in which his son, Sergeant George F. Miller, D.C.M., M.M., Ist Australian Divisional Signal Company, won the D.C.M. have been received by Mr John Miller, of Flora Street, Paeroa. The London Gazette states that the award was made "for conspicuous gallantry arid devotion to duty in re-establishing communication by telephone during' a heavy enemy, barrage, when it had been temporarily disorganised by shell-fire. After this line had been laid he organised his linesmen as stretcher-bearers, and brought in five badly wounded men. Throughout the operations he succeeded in maintaining telephonic communication.
9 Grace Dorothea Miller (b: 09 Jan 1901 ) Married: 1929 to Gilbert Thomas Smith (b: 1846 d: 27 Mar 1930 in Paeroa) *2nd Husband of Grace Dorothea Miller: Married: 1932 to Edward Taylor

Contents of this website may only be used for private personal research. © 2011
Some content has been kindly provided to me by other researchers, to whom my thanks go, and whom I hope to have acknowledged.
I would be delighted to hear from other researchers, and would appreciate being told of errors, omissions and broken links.