Auckland Star, 3 January 1878: KIRK.—FINCH.—On the 3rd instant, by special license, at St. John's Church. Te Awamutu, by the Rev. L. C. Brady, incumbent, Thomas Kirk, Esq., clerk R.M. Court, Alexandra, to Elizabeth, second daughter of Thomas Finch, Esq., of Ngaroto.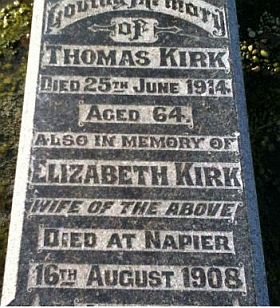 Thomas Kirk was born abt 1850 in England and entered the public service in 1869 and until 1875 was at Alexandra before his appointment as Clerk of the Court for the Waikato District and stationed at Hamilton. There was a magistrate's court at Hamilton since 1865. The building, centrally situated opposite the Wesleyan Church, was erected in 1874. It contained, besides the courthouse, rooms for the magistrate and clerk of court. Hamilton was the centre of a large magisterial district, including Ngaruawahia, where the court was held in the town hall, Huntly, in the public hall, and at Mercer, Pukekohe, and Waiuku, at each of which there is a courthouse. His duties included Returning Officer for elections held and attending outlying court fixtures. After Elizabeth's death he moved to be with his sons and died 25 Jun 1914 at Christchurch and was buried Saturday, 27 June 1914 at Sydenham Cemetery, Christchurch, Q10.09. His address had been 29 Cotterill Street, Christchurch
Elizabeth Kirk voted in 1893 - 1st Women's Electoral Roll Electorate Waipa Number 1427; Residence Hamilton West, Occupation Domestic duties. They had 6 children who attended the Hamilton East School:
1 Thomas Seeton Kirk: Born: 31 Oct 1878 He died on 20 Jul 1901 in Gisborne His burial Friday 26 July 1901 was at Hamilton West Cemetery Location A2A-Q-26
Poverty Bay Herald, 20 July 1901: The unfortunate accident that occurred on the football field on Saturday afternoon last has terminated fatally. Mr Thomas Kirk, captain of the Kaiti team, having succumbed to his injuries and quietly passed away at the Hospital at 6 o'clock this morning. The news of his death was received with very general and heart-felt expressions of regret. Kirk was an extremely popular young fellow, and was a first-class footballer - in fact, he was one of the best three-quarters in the district, and would certainly have been chosen as a member of the representative team had he not met with the sad mishap that has brought about his death. As explained in our report of the match, the occurrence was purely accidental, and no blame is to be attached to Donald Porter, with whom Kirk came into collision ; in fact, as stated yesterday, Kirk sent for Porter and frankly told him that he was not responsible for what had happened. Under the circumstances, Air Barton, S.M. and Coroner, has instructed Sergeant Siddells that if he finds the facts as stated there will be no need for an inquest. The body is to be taken for interment at Hamilton by Wednesday's steamer. We can assure Mr and Mrs Kirk that the very deepest sympathy is felt for them in their sad bereavement by all the young men to whom their son was so well and favorably known, and indeed by the whole community. In consequence of Mr Kirk's death, all football fixtures for today were postponed.
2 Edward Creighton Kirk: Born: 24 Jan 1880 a Pharmaceutical Chemist, he died Sunday 20 Aug 1916 at his address 357 Columbo St; Date of burial: Wednesday, 23 August 1916 at Sydenham Block number: 7C Plot number: 54 Age: 35 years
3 Susannah Kirk: Born: 10 Sep 1880 She was a nurse and did not marry and died: 15 Aug 1973 in Caughey Preston Home, Remuera, Auckland and was cremated 17 Aug 1973 at Purewa Cemetery, age 84. Her ashes interred at Sydenham Cemetery, name on M/I
4 Jane Kirk: (b: 08 Jul 1883 d: 26 Apr 1974) Mar: 14 Feb 1910 to Charles Norman Johnson (b: 29 Sep 1881; Father: Charles Edwin Johnson Mother: Ellen Williams; d: 26 Jul 1962 in Wanganui aged 81Y )
Jane was named by brother Robert Kirk, Chemist of Christchurch on his service record as next of kin, and was living at Fillis St., New Plymouth. It was reported in the Taranaki Herald August 1909: "Mr. C. N. Johnson (late of Kiddles and Johnson) announces that he is carrying on the business of the late firm on his own account under the style of the New Plymouth Furnishing Warehouse. Mr. Johnson has just landed new stock, including a fine selection of brass rail bedsteads, linoleums, carpets, etc. A fine turned oak sideboard and a collection of veneered panels of New Zealand wood suitable to be made up into furniture and at present on view in the shop window, are samples of Mr. Johnson's workmanship." He served WW1 10354 - Army 1914 - 1918 nd gave his occupation as a Carter   
Their son: Charles Neville Johnson Born: 29 Nov 1910 Died: 02 Mar 2001 Married: 1941 to Joan Lumsden Taylor Born: 19 Dec 1917 Died: 28 Jul 2003 Charles (jnr) worked for the Public Works Dept and the Evening Post reported 25 June 1940:
"Recruits posted from the Wellington and Hutt Valley area to the specialist railway, engineering, and forestry companies for service overseas, in addition to those published yesterday, are as follows:— 12th RAILWAY SURVEY COMPANY (Trentham). C. N. Johnson.."
5 Robert Kirk: (Born: 15 Mar 1892 - he died on 16 Jun 1930 in Christchurch aged 38 yrs.) In 1917 he was living at 357 Columbo St ChCh, a Pharmaceutical Chemist working for his older brother Edward Kirk when his military call-up came War service He returned to Christchurch to his Chemist work and he conducted an orchestra at the Crystal Palace Theatre. This was new - Christchurch's purpose-built picture theatre to screen silent films shown to the accompaniment of an orchestra. In addition to his work in 1919 and 1920 with the Crystal Palace, he was the conductor of a small local group, the Lyric Orchestra.
6 Kenneth (Jack) Finch Kirk (b: 21 Jul 1898 d: 16 Feb 1988 in Tauranga; Crem. Pyes Pa Cemetery aged 89yrs) He served WW1 and married in 1928 to Elvira Phyllis MacFarlane (b: 03 Jun 1905; Father: Robert Carlisle MacFarlane, Mother: Hilda Mitchell; d: 23 Sep 1996)