Hidden Slide Menu on Left
Below, Newsham Page Index

Frederick Ernest Newsham
FREDERICK ERNEST NEWSHAM was the second son of Thomas and Mary Louisa Newsham and was born on 22 Sep 1848 at New Plymouth. His christening took place on 12th November 1859 in the small Wesleyan sand-stone chapel at the corner of Courtenay and Liardet streets by the Rev. Henry Hanson Turton. Turton was said to be "a young, clever, handsome man" and the Government required the assistance of Maori linguists - these were scarce in those days unless they were missionaries, so Rev Turton was also employed in much secular business with the Maoris.
In October 1845 Fred's father Thomas who was employed as a policeman, purchased a suburban section from Mr Wickstead where they lived until the Omata block was opened up 1848. Many of the Henui villagers who were Primitive Methodists, moved there to take up land. Those years would have been hard - setting up with a young settler family in the first home built of rushes, clearing the land - and improvising where necessary was to teach all the family skills they would use all their life.
First schooling at Omata was in Mr W M Crompon's home. It provided and elementary level of education and the classes catered for children and education for adolescents and were free and held at odd hours of day or evening. Miss Wakefield was later joined by Miss Shaw and in 1853-4, rented a cottage from Thomas Newsham (not far from present school) It was 30 ft by 14ft - two rooms lined and papered with calico ceilings and now, in 1854, ten boys and 13 girls attended and in 1855 the pupil roll numbered 15 boys and 25 girls.
In another part of the district Mr T Wilkinson leased a cottage to Mr and Mrs Hart who gave lessons for first their children and then any others who wanted to learn (this was abt. same size as T Newshams) 1859 Mrs Beaumont began a school also at Omata.
Maori were unhappy with land sales and engaged in skirmishes, many taking place among the hedges of the settler's farms, and occasionally bullets pierced houses and despite cartridges exploding, few casualties occurred and no Pakeha was injured. In 1855 settlers in New Plymouth petitioned the Government for military protection. Mr. MacLean advised that block-houses should be built, the Militia called out to defend the town and in August and September, 1855, detachments of the 58th and 65th Regiments, with two twenty-four pounder guns, landed at New Plymouth under the command of Major Nugent of the 58th Regiment. A truce was in 1856 after sixty Maoris had been killed, and one hundred wounded.
In February, 1858, an Act was passed and the Volunteer Taranaki Militia were formed with Charles Brown, appointed the captain to lead their training. Each man was served with an old smooth-bore musket, a bayonet, and belts and pouches of ancient date. The drilling was performed by soldiers of the 65th Regiment, superintended by Major Lloyd, who had settled at Omata.
Fearful of their safety, the Newsham family first moved into town and then along with others, gathered their belonging and were shipped to Nelson - nine Newsham children, the oldest aged 13 and Alfred, a baby in the arms of his mother. There was security for 2 years tenanted by the generosity of the province and schooling at Waimea.
To return home to Taranaki was to find nothing the same - buildings having been destroyed by fire so a period of rebuilding In 1865 settlers (among them Tom Newsham) suggested Mr W C Gilbert become headmaster of a school to be in the Omata Stockade

1872 the school rooms was transferred from the stockade to the corner of Sealey and Waireka Rds - it was near the store and Methodist church. In 1874 the school rooms moved onto the Newsham land which was leased at first. After his father's death, Fred took over the running of the Omata Inn in 1875 and in 1881 Fred Newsham sold the 6 acre block the school was on to the Taranaki Board who purchased for £121.

Omata settlers united in restoring their lives and organised events for settlers entertainment. Dec 1869 a good attendance at the Waiti horse races and Fred entered 2 heats on his horse "Queen of Trumps" round the course, over 4 flights of hurdles 3 feet 6 inches in height at. Other events - foot races, sack race, puttting the stone, catching the greasy pig etc and over the years he and brother William were active in organising community entertainment and competing in sports fixtures eg Okato Boxing Day Sports in 1878 - Tossing the Caber: F. Newsham, 1 ;J. O'Connor, 2; Vaulting with Pole - C. Julian, 1; W. Newsham, 2.
Fred leased out the hotel and was droving for a time. At Normandy in 1880 he made an appearance in court charged with using threatening language to someone he said 'was a cantankerous old man'! Fred the defendant was a strong, able bodied young man, and plaintiff was advanced in years but he angrily objected to hungry bullocks in his neighbours garden and threatened to shoot them. He picked up a piece of wood, and Fred threatened to put him in the mudhole. A witness come past at the time, and said, "Newsham, don't lose your temper." so Fred walked away, and left the plaintiff there with the wood in his hand.
In October 1883 at Alexandra, Fred Newsham gave his support to an athletic sports fixture to be held at Christmas and was elected onto committee with Thomas Finch
In March 1888, it was reported "The Omata Hotel, 3 miles south of New Plymouth, was burned down at 11 o'clock last night. A gale was blowing at the time and the licensee and his family had barely time to escape before the building was engulfed in flames. The origin was unknown, but it is supposed to have commenced near the kitchen range. The property is owned by Mr Newsham and leased to Mr Paul, brewer, New Plymouth It is insured in Mr. Paul's name in the Phoenix office for £200 but there is no insurance on the stock or furniture."
In 1890 Fred was farming 1000 acres at Mokau and resided there almost up to the time of his death in 1908. This land may have been owned in conjunction with brother Charles. 
TENDERS will be received by the under-signed up till 20th April, 1895, for tho Goodwill of Section 1., Block 1, Awakino, containing 5000 acres. This land is situated about 50 miles north of New Plymouth, and is accessible either by steamer or road, and has a frontage of two miles on the sea coast. One thousand five hundred acres are cleared and grassed, the balance in standing bush. This Estate is one of the earliest selections, and adjoins the well-known estates of Messrs. Bayley Brothers and Elliot and Bayley, and is an excellent run for grazing purposes. The Lease has 21 years to run, with the right OF renewal for a further period of 21 years, with unlimited compensation clause for all improvements. The 1500 acres now grassed is, as it now stands, capable of carrying 300 head of cattle and 2000 sheep. The rental is £85 per year. Tenders will be received by and full detailed particulars given on application to Newton King, Esq., Auctioneer, New Plymouth ; or from the undersigned, NEWSHAM BROS., Waitara, Taranaki
Death -At New Plymouth, on August 31, 1908, Frederick Newsham; aged 60 years.
FUNERAL NOTICE. The funeral of the late Frederick Newsham will leave the New Plymouth Hospital Morgue at 1.30 p.m.. TOMORROW (Tuesday,), passing through Omata ,at 2.30 p.m. for Waireka Cemetery, Omata. Friends kindly accept this intimation. W. F. BROOKING, Undertaker.

September 1, 1908:

The funeral of the late Mr. Fred Newsham took place at the Omata cemetery this afternoon. The deceased was the second son of Mr. Tom Newsham, and was born at Omata just sixty years ago.

He had spent the whole of his life in this district, where he was well-known and highly respected by a large circle of friends. With his father and eldest brother he took a prominent part in the Maori wars. During later years Mr. Newsham was farming Tongaporutu district where he had a property of 1000 acres. He had been in failing health for some time past and a short time ago disposed of his farm. About 18 months ago Mr. Newsham had to undergo an operation for internal trouble, and although this was successful he never seemed to gain his usual strength. He had been staying for some weeks with his brother Charles, in the Opotiki district, but was taken seriously ill and at his own request brought to New Plymouth a fortnight ago and conveyed to the private hospital where he died yesterday morning. Deceased never married. He is survived by four sisters - Mrs Staite (Maude Alice) late of Oakura, Mrs T. L. Joll (Louisa) of Okaiawa, Mrs. Twomey (Kate Eva) of Feilding, and Mrs. Morton (Minnie Arabella) of Huntly, and four brothers - two of whom reside at Opotiki (Charles and Albert Edward), one at Opunake (George) and one at Te Aroha (William).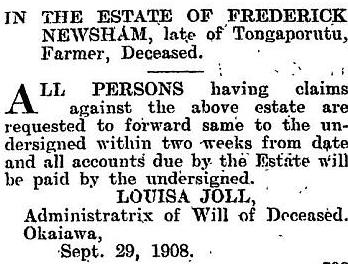 Hawera & Normanby Star, 1 September 1908:

Mr Frederick Newsham, a member of an old North Taranaki family, died at the New Plymouth Hospital on Monday. He was born at Omata sixty years ago, possessed a cheerful and kind disposition, and was a general favorite. In the early days he earned not a little fame, particularly amongst the natives, for his skill as a horseman and his utter lack of fear in the trying and difficult situations incidental to the life of those stirring days.