George Newsham was born 10 Jun 1863 in New Plymouth. His father Thomas registered the birth on 10 Jul 1863 stating he was was employed as a Tide Waiter ie. custom's inspector. The family had
returned from Nelson and the next years were spent in restoration of their Omata property which had been destroyed during the conflict.
An outdoor life and a happy time and for George an enduring love of riding and livestock.
Taranaki Herald, 16 Nov. 1872: Sunstroke Whilst Bathing: We regret to hear that Mr. Newsham's son George had a sunstroke on Monday last, the 11th November. It appears that he and his brothers were out bathing, and George Newsham having remained in the water for some time, went on the Fishing Rock for a rest. One of his brothers missed him after a while, so accordingly went in search of him, when he was found lying on his back on the rock perfectly insensible. He was taken to the main land, and then conveyed home as speedily as possible. We are happy to hear from Dr. St. George that he is now out of danger.
The death of both parents Thomas and Mary (1874 and 75), meant the younger family members relied heavily on older members. Before 1880 George is in the Normandy and Hawera area working as a farm labourer. He was one of the highest scorers in the Rifle Association matches on the Waihi range and was in court on 25 June 1885 with R. Lucena - they pleaded guilty to charges of furious riding within the borough and were each fined 20s, and costs 11s. His skill saw him riding mounts with success at the various race meetings in the province.
2 Feb. 1887: A curious case came on at the S.M. Court this afternoon. The keeper of the totalisator at the late Opunake races sued Francis Alexander Read for £4, said to have been given to defendant in mistake. Read's evidence was that Geo. Newsham had his horse saddled up for racing, and gave defendant his money, asking him to take out two tickets in the totalisator. This he did, and the dividends came to £1 14s. The keeper of the totalisator gave defendant, as he thought, two £1 notes, but his assistant swore he gave Read one £1 and one £5 note. The defendant denied this, and taking money ont of his pocket there proved to be a £5 note among the ones. That note Read swears belonged to Newsham, being part of the money given him to keep. Newsbam swore he gave defendant a £5 note. The S.M. gave a decision in favour of the plaintiff, as the evidence for him was so positive.
In 1890 George Newsham becomes a Tobacconist and has adjoining Billiard Rooms at Hawera and there met and courted Jane Prosser. Her father John, seven years previous had been host of the Hawera Hotel but in January 1890 returned to take the Railway Hotel and her mother Jane was the licensee of the Commercial Hotel at Kaponga until Dec 1891. The the Prossers applied to the Borough of Carterton Licensing Board and were granted the licence of the White Hart Hotel (I had been built in 1880 and was later called the Club Hotel.)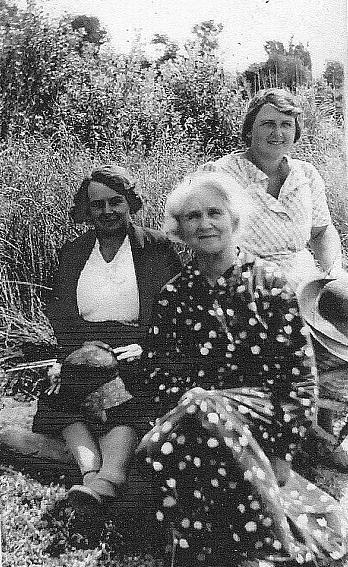 On 9 Apr 1892 in St Marks Church, Carterton, Wairarapa George married Jane Prosser
( she was b: 1868 in
Wellington)
In May 1892 G. Newsham applied for leave to sublet his lease to G. H. Norcross but on a division, the request was refused. The following month, in June, their son Clifford Newsham was born at Carterton.
1893 Jane recorded her vote on first woman's electoral roll Electorate: Patea Number: 2845 Surname: Newsham, Given Name: Jane Residence: Hawera Occupation: Wife of George Newsham Type: Residential
1893 13 April at the Hawera Borough Council, George Newsham, asked leave to transfer section 3, block 19, Hawera, to Alfred Jury - the transfer was granted
George combined his business with his love of horses taking part in meets held by the Egmont Hunt Ciub "Some splendid jumps having been prepared by Mr J. D. Mitchell. Only four riders got round - Mr N. McRae on Rambler, Mr G. Newsham on a grey, Mr Higgins on Merman, and Mr J. Anderson. There were several spills." George was employed as a jockey to ride maintained contact with family with Charles, Fred and Louise who also were in the area.
Their daughter
Clare Newsham
was born May 5 1895 but then, August, calamity struck Hawera when the central city was
burnt down
with the loss of
two lives
. The Billiard rooms owned by George Newsham were destroyed by fire. They had a limited insurance cover - Buildings (including Wilson's office), plant, £260, (Phoenix Insurance).
It took months of work restoring and re-building Hawera and in addition to re-erection made necessary by the fire, a number of shops and private houses were added. The fire laid clear a space of ground requiring high expenditure and labor to rebuild however nearly the whole of the buildings were re-built, the only exceptions being the two Government buildings.
"The building erected for Mr George Newsham by Messrs Clarson and Smart is a well-finished and commodious one, and much more suitable than that destroyed by fire. The total ground space is 34ft. by 44ft., the building being divided, Mossrs C. R. Bayley and J. Wilson occupying offices on one side. In the front of the other division are the shop and hairdressing room occupied by Mr Purser, which are nicely laid out and finished. At the rear of these is the billiard-room, 30ft. by 24ft., lofty and well lighted, a pretty dado running round, and nicely papered. There is also a comfortable fireplace. A neat verandah adds to the general effect. Mr Brodrick was architect. Mr Whittington did the brickwork, and Mr Styles the painting."
Jane and George lost their third child, son John who was born: 09 Mar 1898 and died: 31 Mar 1898
Hawera & Normanby Star, 29 November 1899: Some forty friends of Mr G. Newsham, who, after twenty-three years' residence in Hawera, is about to commence business in Opunake, farewelled him last evening, in the Shamrock Hotel. The funotion took the form of a smoke concert, given by Mr A. J. Jury. Mr B. D. Welsh ocoupied the chair. Apologies for non-attendanoe were read from Messrs 0. E. Major, A. S. Woolmer, F. 0. Faber, Thos. Armitage, J. McLachlan, W. Tucker, F. Oarrigan, G. H. Gibson, Q. Mackie, and Q. Syme, junr., while Mr J. Boyd apologised for Mr S. Adamson. After the loyal toast had been honoured, the chairman proposed the Health of the Guest," and in doing so, said many kind things regarding Mr Newsham - a straight-forward and honourable man, and true sportsman. He then presented him with a massive gold Albert and a gold sovereign case. Messrs C. B. Bayley, B. Douglas, Boyd, Heslop, Mitchell, Purser, and B. Lucena added their testimony to the good qualities of Mr Newsham, who, in a feeling reply, said he had always been treated with great kindness in Hawera, which he looked upon as his home. The other toasts honoured were "Absent Friends" (proposed by Mr Heslop), "The New Zealand Contingent" (proposed by Mr Izett, and responded to by Mr J. D. Mitchell), British Sports (proposed by Mr Fred Purser, and responded to by Mr B. Lucena), The Ladies (proposed by Mr Heslop), and Our Host and Hostess" (proposed by Mr D. Knight, and responded to by Mr A. J. Jury). During the evening, songs were given by Messrs Henley, Izett, Welsh, Robinson, Clements, and Mitchell, and recitations by Messrs Izett and Heslop.
On electoral rolls, George states he was a stock agent at Opunake - he took an active interest in local affairs -
the Opunake Racing club - he served for many years as a member and was race steward and Clerk of the Course at the Pihama race meetings
for more than 20 years; and was on the Committee of the Caledonian Society and Opunake Town Board.
Throughout 1903 and 4, George advertises his livery stables
George also took an interest in Coursing (greyhound racing and several times acted as slip.
He loved the sea and fun - this, an example of his participation in New Years events for the entertainment of local families:
OPUNAKE Jan 1911 "On Thursday, the 12th inst., a wind-up picnic of helpers was held on the beach in connection with the Opunake Seaside improvement Society's Gala on tho preceding day. A great number of Opunake people were there, and a large portion of them indulged in bathing. The tit-bit of the afternoon was the launching of George Newsham's raft, which is made of a wooden deck with acetylene tins for floats underneath. A picked crew assisted their captain to launch the "Mary Jane" (was this named after his mother and wife???) and the craft was paddled out beyond the breakers, when mal de mer set in and caused most of the crew to seek the shore. Each declared that he was the only one to stay on the raft, but as no one I believe, really did stay, the mystery is still unsolved, as to who stayed but the fact remains that the Mary Jane crew were out.of practice, but with a little coaching from their skipper they will be able to go to the jetty and back.
The takings of the fete on Wednesday amounted to £60 - a large amount for Opunake speaking well for the promoters and public. Considerable improvements were being carried out in the main Street, Messrs Holmes and Arthur's shop, the Post Office, and Mr W. S. Cooledge's shop have been renovated and present a smart appearance. The town board's foreman (C. Donnelly), has completed the blinding of the metal in Layard street, and is now preparing for the winter months by cleaning drains, a great number of the business people are having the foot paths in front of their place! tarred and sanded, thus keeping the dust down and making s
ure no mud to be brought in."
His name appeared yearly applying for a fishing licence eg Report in Hawera & Normanby Star, 10 April 1917: FISH - The high price of fish has frequently been commented upon in the press and it certainly has become such a luxury that a great many people just do without it. It is a wonder to me that someone does not start a fishery somewhere along this coast, where the sea is teeming with fish. On certain days good catches are made by throw lines from the beach, and almost invariably when the boats go out to the feeding grounds, large hauls are made There is a particularly good spot at Oeo. I have frequently heard, of it but never visited it until this Easter There are three motor boats there one of which is owned by Mr W Lambie. I was in hopes of being able to get out in one of these, but on the day of my visit only one went out and it was fully occupied. Mr Lambie was laid up, but he and Mr Geo. Newsham went out in a flatty. They were only out a comparatively short time but they brought in nineteen schnapper and a good number of cod. Some of the schnapper were enormous fish - the largest I have ever seen. Taking a line from the price charged in local fish shops, I should say that some of them were worth at least six or seven shillings
The children attended the Opunake school until 1915 when George and Jane moved to Pihama and became farm manager and stockman on the Thomas Good property.
George was involved in a car accident February 1922 on the Watino road, opposite Mr J. S. Tosland's farm, as the result of which Mr E. Madgwick suffered such injuries that he died some hours after the accident, while Mr W. Lambie was also severely hurt. It appears that Mr Madgwick, with Mr W. Lambie and Mr G. Newsham were driving along, when a tyre burst and the car capsized. All three were thrown out on the road, Mr Madgwick being thrown on his head. Neighbours were soon on the scene and medical aid was summoned. Dr Watt and Nurse Greig quickly arrived and rendered first aid. Mr Madgwick was seen to be seriously injured in the head, and he and Mr Lambie were at once taken to the private hospital in Opunake where they received medical attention. It was found that the former had sustained a fractured skull, and despite all that could be done for him he died shortly before midnight. Mr Lambie sustained a broken arm and several broken ribs. After treatment he was taken to his .home at Pihama. George Newsham was badly bruised and shaken.
His grandson remembers staying with his grandmother as a very small child - they lived in very poor circumstances at Oeo. George was a drover - he does not remember ever seeing him other than hearing the thump waking him as his saddle was dropped on the verandah and he would be away early in the morning. They lived at Goods property, Pihama
George Newsham Died: 03 Jun 1941 in Hawera aged 78 years and was buried at Pihama Cemetery, Taranaki.
Jane Newsham lived with her daughter and died aged 89 Years on 21-December-1956 at Te Aroha and was bur. 24 Dec 1956 at Hamilton East Cemetery.

Note: George's birth year is incorrect on his headstone. This lovely Pihama cemetery is also known as

Lizzie Bell Cemetery"

named after the ship wrecked on the night of the 24th July, 1901 just off the Oeo coast with the loss of 12 lives. The cemetery is overseen by a Board of Trustees and is immaculately kept by local residents.

George was remembered as being a drover in his early years - this pre-1920 photo taken on Main Rd, Manutahi.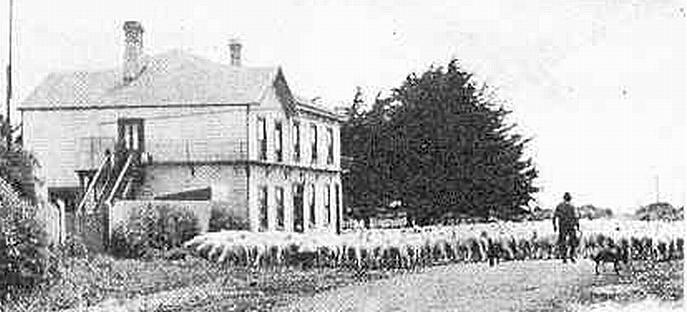 All images and data used in this site are copyright - ©

Descendant input to up-date family pages is very welcome and more detailed information is available to family on request.

Acknowledgement must be given to this research source and no content may be published without permission.