Hidden Slide Menu on Left Below, Curtis Page Index
Herbert Bloomer & Caroline Curtis
Herbert Bloomer Curtis (b: 24 Nov 1852 in Omata, Taranaki and at the outbreak of war became a volunteer and subsequent to this received a commission as Lieutenant.In 1879 at New Plymouth he mar: Caroline Jorgensen Larsen (b: 14 Jul 1860 in Horsens Weile, Denmark; d: 18 Feb 1931 in Inglewood; Bur: Inglewood) In Feb 1883 he and Caroline sailed to visit Southern ports on the steam ship Wanaka. For many years Caroline suffered bad health and was subject to fainting fits.
From 1880 to 1904 Herbert was on the Management Sports committee of the Inglewood Athletic club
1887 June 7: Crown Lands Office: Kate Larson sold to Herbert Bloomer Curtis of Inglewood, butcher, Section 41, Block 6, Waimate. Granted
Feb1890 : Made application for a licence to slaughter large and small cattle on Sect. 7, Moa the Inglewood Town Board. Granted
Aa an early settler in Inglewood when in a primitive stage, Herbert assisted on the Town Board in it's development to a borough. He was member of the firm of Curtis Brothers (Eugene, George, Herbert) and took an active part in the business life of the town and then as a farmer became substantual land holder.
Buildings at Inglewood: Date 01 October 1909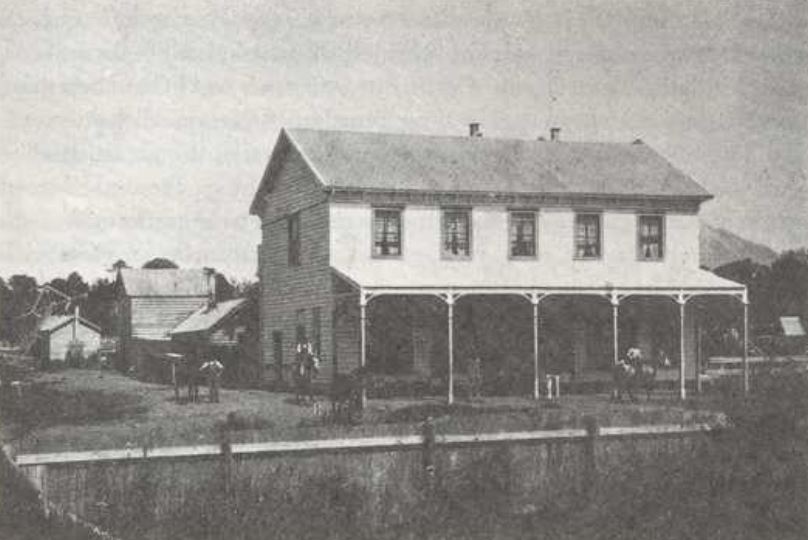 The original plan for the construction of a two storied office building on the corner of Richmond and Rata Street, Inglewood for Mr H B Curtis was designed in 1909 by Frank Messenger. (Pen, ink and colour wash on linen. 640mm x 490mm.)
Herbert was Mayor of Inglewood Borough Council from 1907 to1910 and in Mar 1912 was nominated to Licensing Committee. He d: 3 Jan 1915 leaving a widow, 2 sons and 8 daus. His funeral was held 5th Jan 1915 at Inglewood Cemetery
Probate: Archives New Zealand, Head Office, Wellington; CURTIS, Herbert Bloomer JP d; 1915 - 1915 Occupation Gentleman (date files 3 June 1915 New Plymouth Court)
Herbert and Caroline had 11 children:
i Eliza Caroline Curtis (b: 17 Aug 1879 in Inglewood, Taranaki d: 1948) Mar: 07 Jul 1903 in Inglewood, Taranaki to Alexander Burnet Charters (b: 1876 in ChCh to parents William Womburle and Isabella Charters; d: 10 May 1948 in Wellington)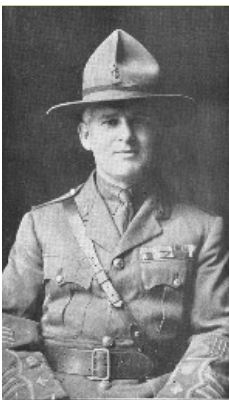 Mr. Alexander Burnet Charters, B.A., Head-master of the Greytown District High School. He was born in Christchurch in June, 1876, the eldest son of Mr. W. W. Charters, manager for Messrs. Kinsey, Barnes and Company, of Christchurch. He was educated at the Opawa and West Christchurch public schools, and, after gaining a Soames' scholarship, spent two years at Christ's College. He matriculated in 1892, gained his D certificate in 1895, and then spent twelve months in the Normal Training College, during which time he attended Canterbury College and gained his C certificate. For the following six years he was employed as a relieving teacher, successively at Inglewood, Taranaki; and the Thorndon and Clyde Quay schools, Wellington. In Jan 1902, Mr. Charters went to South Africa as a regimental sergeant-major of the Eighth Contingent, and returned to New Zealand in August of the same year. He then acted as relieving teacher for a short time at the Te Aro and Lower Hutt schools, and in 1903 was appointed first assistant master of the secondary division of the Masterton District High School, where he remained for four years, during which time he completed his B.A., degree. Mr. Charters was appointed to his present position in June, 1907. He is chairman of the Wairarapa Rugby Union, is a junior warden of the Masonic Lodge, and was captain for four years of the Masterton Rifle Corps. Mr. Charters married Miss Eliza Curtis, a daughter of Mr. H. B. Curtis, of Inglewood. WW1 service C.M.G., D.S.O;
Their children:
i Jack Curtis Charters ( b: 11 Dec 1906 Wgtn, NZ; d: Sep 19 1980 Hastings, Hawkes Bay) mar: 1936 to Shirley Kidson (div: 1945) (Shirley was b: 01 Jan 1918; she d: 18 Feb 1997 in 43 Kiwi Esplade, Mangare Bridge, Auckland ) Her 2nd mar: 1946 was to George Thomas Sunich (b: 15 Jun 1920; he d: 16 Apr 2000 in Auckland)
ii Noeline Burnet Charters (b: 04 Jan 1915 in Wellington; d: 07 Mar 2007 in Whangarei, Northland) Mar: 03 May 1
938 in Wellington to Horatio Nelson Duxfield (b: 08 Dec 1905 in Horotiu, Waikato; d: 02 Sep 1991 in Perth, Western Australia; Bur: Nungarin, Western Australia) Their daughters:
a Shirley Dianne Lynnette Duxfield (b: 11 Feb 1942 in Ngaruawahia, Waikato; d: 2011 in Kununoppin, Western Australia
b Jacqueline (Jackie) Joy Duxfield mar: Robert James Paul (b: 10 Feb 1927 in New Lynn, Auckland; d: 15 May 2016 in Radius Lester Heights, Whangarei)
Their family: Robert (Bob) Paul and Lynn; Wayne Paul and Linda; Felicity Paul and Dion; Andrew Paul and Leonie; Hayden Paul and Luana; Aaron Paul and Hannah
ii Elfreda Emmeline Curtis (b: 19 Apr 1881 in Inglewood, Taranaki, d: 1963) She mar; 16 Jan 1900 in Wellington to Herbert Swan Dixon (b: 11 Sep 1874 in Seaforth, near Liverpool, England, d 1913) On 11 Aug 1906 Herbert Swan Dixon, a clerk, pleaded guilty to five separate charges of theft of moneys from his employers James Jones and Co., storekeepers, Ekatahuna amount involving £206, twelve months sentence. In 1912, his wife applied at the Inglewood Court for separation and maintenance from H Dixon of Waihi - she was granted 15s a week -
Their children: Dorothy Gwendoline Dixon (b 1901; d 1902 age 16M ); Kenneth Somerville Dixon ( b: 17 Jun 1902 in Wellington; d: 1978) Marjorie May Dixon (b: 01 Sep 1903 in Wellington d: 1966) she Mar: 1932 to Terrance Lindsay Mansell
*2nd Husband of Elfreda Emmeline Curtis: Mar: 20 Nov 1917 in St Phillips Church, Tariki nr. New Plymouth to Edmund Albert Hill (b: 10 May 1883 in Manilla, NSW, Aus; he d: 04 Nov 1977 in Palmerston Nth; Bur: Kelvin Grove Cemetery.
Their son: Roland Curtis Hill (b: 03 Mar 1920 in Palmerston Nth; d: 23 Jun 1997 in Fitzroy St, Palmerston Nth; Bur: Kelvin Grove Cem)
iii Anna Katrina* Curtis (b: 09 Jun 1882 in Inglewood; d: 1961 Tauranga) Mar: 1908 to Arthur George Hynes (b: 1883 d: 1941 Bur: Tauranga Anglican Cem)
Their son: Terence Curtis Hynes (b: 30 Sep 1915 d: 1991) Mar: 1942 to Beryl Tether (B 2 apr 1922; d: 1996)
iv Helena Georgina Curtis (b: 07 Jul 1883 in Emerald Hill, Melbourne d; June 6 1849 Tauranga)
v Herbert Halvour Curtis (b: 16 Oct 1884 in Inglewood, Taranaki d: 28 Apr 1950 in Inglewood) Mar: 1919 to Elsie Margaret Buckthought (b: 16 Jun 1893; d: 18 Dec 1981)
Dominion, 18 June 1919: "The wedding took place in St. Andrew's Church, Inglewood, of Mr. Herbert Halvor Curtis, eldest son of the late Mr. Herbert Curtis, to Miss Elsie M. Buckthought, Inglewood. The Rev. Mr. Stanton officiated. Miss Ethel Buckthought and Miss Marjorie Dixon (niece of the bridegroom) were bridesmaids. Mr. H. Stratford was best man, and Mr. Francis Buckthought groomsman, A rcception was subsequently held in the Town Hall, and later the bride and bridegroom left for the north." Their son:
i Halvour William Herbert Curtis (b: 30 Apr 1920 d: 24 Dec 1985 in Pukekohe, Auckland) Mar: 1949 to Dorothy Elizabeth Bosley (b: 23 Oct 1928 ; d: 21 Dec 2020 in Auckland; Crem. Ak)
Their children: Joy, Margaret, Ken, Phillip, Annette(dec)
vi Eugene Gorgen Curtis (b: Apr 1886; d: Jul 14 1886 age 6M, Inglewood)
vii Ivy Juanita Curtis (b: 22 Apr 1887 in Inglewood, Taranaki; d: 31 Aug 1969 in Cambridge; Bur: 03 Sep 1969 Hautapu Cemetery) Mar: Jan 21 1911 to Albert John Law (b: Oct 24 1881 son of John and Martha Law; d: 12 Jun 1962 in Cambridge Bur: 14 Jun 1962 Hautapu Cemetery) Dominion, 30 Jan 1911: Wedding at Inglewood. A great amount of interest was centred in the marriage of Miss Ivy Curtis, daughter of Mr. H. B. Curtis, old settler of Inglewood, and an ex-Mayor, and Mr. Albert John Law, of the Bank of New South Wales, Inglewood. The ceremony took place on Tues. Jan 21, in St. Andrews Church, the Rev. F. G. Evans officiating, and Mrs Mackay (Wellington) presiding at the organ. Visitors were present, from Stratford, New Plymouth, and several other provincial towns, as well as all parts of the Inglewood district. The bride, who was given away by her father, wore a rich white satin dress with bridal veil and orange blossoms. She was attended by three bridesmaids, her sister, Miss May Curtis, wearing a pretty shell-pink colienne dress and lint to match, and two little girls; Miss Marjorie Dixon (niece of the bride), and Miss Vivian Law (niece of the bridegroom), both wearing white silk frocks with pretty pink bonnets, and carrying baskets of pale pink sweet peas. Mr. H. Stratford, headmaster of the Inglewood School, acted as best man. After the ceremony a very large number of guests attended a reception held by the brides parents at their residence, "Bushlea", where the customary toasts were honoured. Later in the day the bride and bridegroom left for the north, the bride wearing a navy blue coat and skirt and green hat trimmed with shaded lilac.Their family:
i Kenneth Oscar Law DFM (b: 17Oct 1916, d: 25 Feb 1958 at Te Miro, Cambridge bur:Hautapu Cem) mar Gwen Brunskill. Their children: Pamela and Donald
ii Donald Newsham Law (b: 26 May 1918 Gisborne, d WW2 19th of October 1941; bur: at Hounslow and Isleworth Cem: Hounslow, Middlesex, England)
iii Eric Stuart Law b; 31 Jul 1920 ; RNZAF; d: 1991) After Ken's death, widow Gwen married Eric1v ??
viii Laura May*Curtis (b: 15 Sep 1888 in Inglewood, Taranaki; d: 24 Nov 1918 in 73 Freyburg st, Lyall Bay, Wgtn 29Y ) she mar: 20 Dec 1912 in St Andrews, Inglewood to George Rudel Kidson (b: Abt. 1885 in Bilston, South Staffordshire, England, Occ: Teacher; d: 1942 in Tauranga aged 56Y) Their children:
Shirley Kidson (b: 01 Jan 1918; d: 18 Feb 1997 in 43 Kiwi Esplade, Mangare Bridge, Auckland ) Mar: 1936 (Div. 1945 Hamilton) to Jack Curtis Charters (b: 11 Dec 1906 in Wellington; d: 19 Sep 1980 in Hastings, Hawkes Bay, NZ)
*2nd Husband of Shirley Kidson: Mar: 1946 to George Thomas Sunich (b: 15 Jun 1920; d: 16 Apr 2000 in Auckland )
Their son: Rudal Kidson (b: 1914; d: 22 Jul 1940)
ix Oscar Kenneth Curtis (b: 10 Dec 1894 in Inglewood, Taranaki, WW1 d: 11 Aug 1916 in Fulham Military Hospital, London WW1 Bur: London) "Sergt. Curtis, 26/47; d: at Fulham Military Hospital, London, on Aug 11th, from a wound in the back. His funeral left the hospital at 9.30 on the morning of Wednesday, August 17th, for Kensal Green Cemetery. There were wreaths from the New Zealand Office and from the Association." (Src: Chronicles of the N.Z.E.F. August 30, 1916 p. 8)
x Ruby Cecil Curtis (b: 09 Jan 1896 in Inglewood, Taranaki d: 1976 in Lower Hutt, ) Mar: 16 Jun 1916 in Inglewood, Taranaki to John Noden Bullard (b: 23 May 1890 in Westport;WW2 Crem: Karori Cem; Home Guard, Whakatane 1941; d: 1973 in Lower Hutt; Crem: Karori Cem
i Margaret Cecil Bullard (b: 02 Nov 1919 in Gisborne; d: 16 May 1975 in Paraparaumu; Bur: 19 May 1975 Otaki War Memorial Cem, Otaki) Mar: 05 May 1945 in Inglewood, Taranaki to James Rowland Preston (b: 01 Jan 1902 in Maryport, County Cumberland, England d: 27 Oct 1970 in Ngaio, Wellington Bur: Body donated to Otago Medical School, Dunedin)
Their family: Rowland Gail Preston
xi Myrtle Eileen Curtis (b: 20 Feb 1897 in Inglewood, Taranaki d: 1979) Mar: 1916 to Ian Percy Grant (b: 30 Dec 1891; WW1 d: 1985