Descendants of Hulton Joseph Webber
Hulton Joseph trained as a doctor at St Bartholomews Hospital, London. Having just qualified, he travelled to NZ from Plymouth (13/7/1863) on the "Owen Glendowner"as Surgeon Superintendent and arrived at Auckland (19/9/1863).
This research by descendant Shelley - Contact
Skinners Pioneer Medical Men of Taranaki : (Page 93) In 1863/64 a large body of what were termed "Military Settlers" were recruited for service in Taranaki , from the "gold rushes" of Victoria and Otago. Numbers of unsuccessful seekers, of a fine type in fill physical vigour, were eager to accept Militaru Service and escape the desperately hard times that had fallen on them. To the various Companies into which the Military Settlers were drafted, surgeons were appointed amongst them Dr Webber a well know military surgeon.
Gudgeon in his work on the "New Zealand Wars" says "Everyone acquainted with the late Dr Webber, of the Taranaki Military settlers knew him to be one of the bravest of the brave and though an excellent surgeon, he was by no means at heart a non-combatant officer." He then went on to relate a very plucky action by Assistant-Surgeon Webber at the wreck of the S. S. Alexandra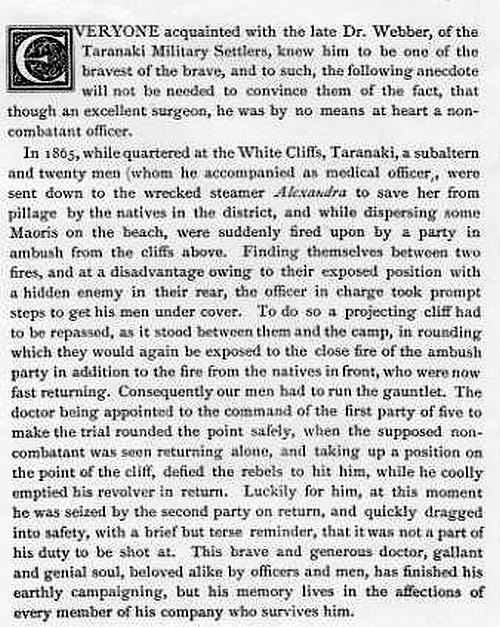 (see on right). Hultan received a medal for his exploits at White Cliffs which son Henry collected on his behalf in 1890.
Taranaki Herald, 27 August 1864, MARRIAGE: WEBBER-CURTIS
On the 10th instant, by the Rev. J. Whiteley, Hulton J. Webber, Esq., M.R.C.S., fourth son of William Webber, Esq., F.R.C.S., of Tunbridge Wells, to Helen Jecks, youngest daughter of George Curtis, Esq., J.P., of Omata, Taranaki, N.Z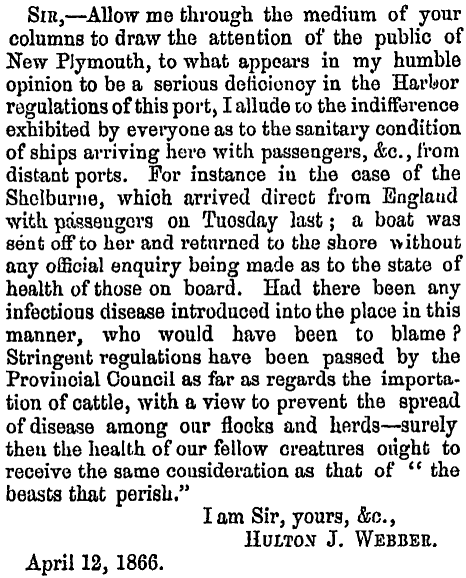 Taranaki Herald, 25 Nov. BIRTH. On the 20th inst., at his residence, in Brougham Street New Plymouth, Taranaki, the wife of Hulton J. Webber, Esq. of a son. (Henry Preston Webber
Escessive drinking was to be the cause of his early death aged just 27 years on the 5th Feb 1868 at
his home at New Plymouth and Hulton Webber was buried at Te Henui, location now unknown. Helen remarried Thomas William Mace on 24 May 1872 at Omata
Son Henry Preston Webber b: 20 Nov 1865 in New Plymouth d: 25 Oct 1915 in Omata
Taranaki Herald, 25 July 1890: A residence is being erected on Miranda street for our well-known townsman Mr H. Webber, who is about to take unto himself a wife.
The marriage of Mr H. Preston Webber, only son of the late Hulton J. Webber, M.R.C.S.E. to Miss Marion Blair only daughter of W. Blair, Esq., Blair Athol, took place, on Wednesday, September Ist, 1890. The Rev. H. H. Brown performed the ceremony in the presence of a large number of visitors, the Straford English Church being quite full. Mr Corkill presided at the organ, and, assisted by some members of the choir, two hymns were sung during the ceremony. The wedding party then proceeded to Blair Athol, the residence of the bride's father, where the wedding breakfast was held, which was attended by a large number of guests. In the evening a most enjoyable dance was held at the Town Hall, and was well attended, dancing being kept up until two o'clock. We wish the young couple every prosperity and happiness.
Marion Blair was born 28th Jul 1873 in Wanganui and died 23rd Jun 1950 at Te Puke.
Their 14 children:
a Josephine Hulton Webber b: 16 Sep 1891 in Stratford; d: 11 Jun 1959 Auckland; Crem: Mt Albert Auckland; Mar: 15 Nov 1915 at Te Puke to Ernest Wade Deacon son of Olave and Jessie Madeline Deacon, b: 3 Nov 1887; Occ: Clerk New Plymouth; d: 14 Jan 1951 Auckland Crem: New Plymouth

b Preston Hulton Webber b: 6 Apr 1893 in Stratford; WW1 90415 - Army; d: 18 Jul 1964 Hamilton; Mar: 10 Apr 1921 at Te Puke to Margaret Nancy Knight dau. of Arthur Portal and Margaret Knight, b: 9 Jan 1896; d: 18 Mar 1964; Bur: Hamilton Park Cemetery

c Helen Curtis Webber b: 31 Oct 1894 in Stratford; d: 16 Mar 1973 in Te Puke; Mar: 21 Dec 1915 at Te Puke to James Barney son of James and Emily Barney b: 3 Jan 1883 Rangitata; Occ: Mt Maunganui - Storekeeper; d: 23 May 1943 in Te Puke; Bur: Te Puke Old Cemetery

d Beatrice May Webber born 26 Aug 1896 in Stratford, Taranaki Died: 21 Jun 1958 Hamilton; Married: 27 Aug 1935 at Te Puke to Bernhardt Anton Hintz son of Bernard and Dorothy Hintz; b: 22 Sep 1897 Inglewood; Occ: Te Puke Farmer; d: 30 Mar 1969 Hamilton; Bur. Hamilton Park Cemetery

e Emily Frances Webber b: 03 Apr 1898 in Stratford; d: 26 Apr 1958 Whakatane; Mar. 18 Aug 1922 at Whakatane to John Huish Born: Jun 1890 at Adelaide; WW1 13/852a, 7/852 - Army; Occ: Edgecumbe - Farmer; d: 12 Jan 1970 Whakatane; Bur: Hillcrest Cemetery Whakatane

f Henry Preston Webber b: 21 May 1900 in Stratford; d: 07 Aug 1900 in Stratford aged 11 weeks; Bur: Pioneer Cemetery, Regan St. Stratford

g Marion Grace Webber b: 08 May 1901 in Stratford; d: 7 Feb 1957 Auckland; Mar: 18 Jan 1924 at Te Puke to George Peebles Thom son of David Meikle and Margaret Thom; b: 6 Sep 1893; WW1 13/463 - Army; Occ: Farmer Edgecumbe; d: 5 Mar 1959 at Glen Eden, Auckland; Bur: Wakumete Cemetery

h Edward Octavius Webber b: 16 Jul 1903 in Stratford, Occ: Te Puke Farmer; d: 12 Aug 1963 Te Puke; Bur: Te Puke; Mar: 5 May 1936 to Daphne Gladys Voltz b: 3 May 1918 Patea;

i Constance Ida Webber b:27 Mar 1905 in Stratford; d: 21 Dec 1973 Auckland; Mar: 26 Sep 1939 at Te Puke to Maurice Molan Ramsay b: 2 Nov 1906 Wellington; d: 17 Dec 1981 War Pensioner; Taupo

j Herbert Webber b: 1 Jan 1907 in Stratford; d: 3 Mar 1989 Te Puke; Mar: 1 Nov 1928 to Ellen Ruth Jean Webb born 4 June 1910 and d: 19 Aug 2002 Te Puke; Crem: Tauranga

k Whetu Egmont Webber b: 17 Dec 1908 in Stratford; Occ: Auckland - Company Director; d: 20 Apr 1978 St Heliers Auckland; Mar: 1935 Kesia Rhoda Readford dau. of Walter Innes and Elizabeth Emma Readford; b: 6 February 1911 and died 8 Dec 1978 Auckland; Bur: Purewa Cemetery Auckland

l Eliza Hope Webber b: 7 Jul 1911 in Stratford; d: 9 Jul 1999 Hamilton; Mar: 1934 to James Trevor Parkinson son of William Waller Benjamin and Caroline Mary Parkinson b: 21 Oct 1902 Opotiki; Occ: Sharemiker Cambridge; d: 18 Feb 1974 Hamilton; Cem: Hautapu

m Blair Ngaere Webber b: 6 Aug 1913 Te Puke; d: 18 Mar 1977 Whakatane; Mar: 1934 to Norman Edward Pearson b: 25 Aug 1916 WW2 Serviceman; Occ: Salesman Gisborne; d: Jan 1986 Gisborne; Crem: Taruheru Cemetery, Gisborne

n George William Webber b: 3 Jan 1917 Te Puke; Occ: Mt Maunganui Butcher; d: 19 Nov 1967 Te Puke; Mar: 14 Apr 1952 Mt Maunganui to Jessica (Jessie) May Hodge b: 10 May 1930; d: 7 Mar 1992 Tauranga; Bur: Dudley Vercoe Drive Cemetery, Te Puke