Below: The Tombstone of Grace and James Bayly at Te Henui Cem. at New Plymouth reads:
Sacred to the memory of Grace the beloved wife of James Bayly died 5 July 1891 aged 73 years.
The blood of Jesus Christ God's Son

clenseth

us from all sin
Also her loved husband James died 2 July 1901 aged 84 years.
Both arrived Amelia Thompson 1841
And their son in law
Daniel Berry died 17

th

May 1917 aged 69 years.
Children of Grace and James Bayly:

1 Arthur Bayly b: 29 Oct 1839 in Clawton, Devon, d: 09 Sep 1900 in Nelson. He married: 28 May 1867 at the residence of Richard Rundle, Beach House, New Plymouth to Sally Rundle b: 02 Sep 1836 in Cornwall ( Father: Richard Rundle Mother: Ann Veale )

Sally died: 07 Aug 1916 in Waitara.

Arthur's local knowledge proved invaluble during the Taranaki conflict.

He was in the Taranaki Militia and in Feb. 1864 was presented with a commission in recognition of his effective scouting as Ensign. He suffered from epilepsy and from 1881 until his death aged 60, he was in the Nelson Asylum.

Arthur and Sally's family;
i Hester Maude Bayly b: 20 Jun 1868 in Taranaki Died: 27 Jan 1953 in New Plymouth Married: Apr 1894 to Simeon Grey Fraser in New Plymouth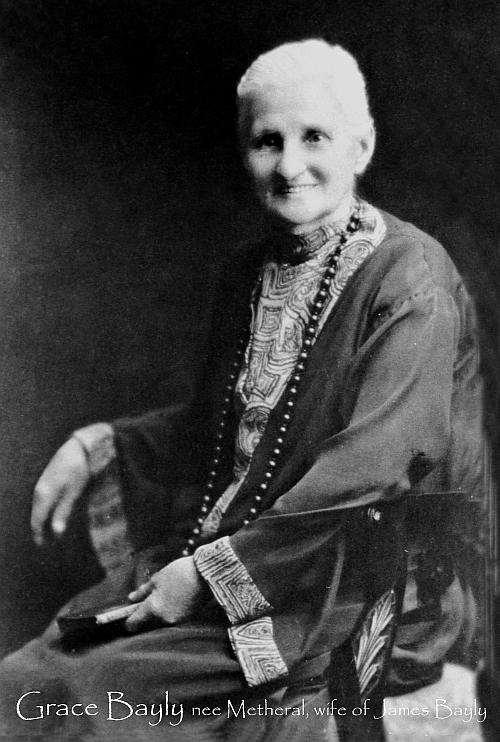 ii Etta Ann Bayly b: 25 Sep 1869 in Tataraimaka, New Plymouth Died: 1925 in Ashfield, Australia Married: 10 Apr 1894 in Taranaki to Louis Frederick Bullot
iii Ernest Lawrence Bayly b: 15 Oct 1870 in Tataraimaka, Taranaki Died: 17 Jun 1954 in Waitara Married: 1912 in NZ to Martha Cooper
iv Emily Ethel Bayly b: 08 Feb 1872 in Tataraimaka, Taranaki Died: 1977 in Wanganui
v Blanche Alice May Bayly Born: 02 Jul 1874 in Tataraimaka Died: 04 Sep 1960 in New Plymouth
vi Lena Emily Bayly b: 14 Aug 1876 in New Plymouth Died: 02 Jul 1955 in Waitara
2 Emanuel Bayly b: 18 Jan 1842 in New Plymouth Died: Abt. 1842 in New Plymouth
3 Ascott Bayly b: 12 Oct 1845 in New Plymouth. He died 29 Nov 1865 aged 20 years, by drowning whilst trying to save a comrade at the Hangatahun River, Taranaki . His body was recovered along the beach, and was buried at Te Henui Cemtery, New Plymouth.
4 Albert George Bayly b: 02 Nov 1848 in New Plymouth d: 06 Sep 1909 in Moturoa; Mar: 27th Mar 1872 in Omata to Emma Eliza Newsham b: 04 Sep 1851 in New Plymouth (Father: Thomas Newsham; Mother: Mary Louisa Lethbridge) d: 16 Nov 1891 in Omata Burial: Waireka Cemetery. Their children:
i Arthur Henry Bayly (1872 - 1873)
ii Edgar Richmond Bayly (1875 - 1952)

iii Ada Bayly (1877 -1933)

iv Bertha Bayly (1878 -1946)

v Hilda Mary Bayly (1879 -1939)
*2nd Wife of [1] Albert George Bayly: Married: 28 Mar 1894 in St. Mary's Church, New Plymouth to Annie Blackley b: Abt. 1860 in Manchester d: 1943 in Auckland Burial: 1843 Crem: Waikumete Cemetery
v Gwladys Bayly (1895 - 1945)

vi Madge Bayly (1897 - 1979)
5 Laura Bayly b: 30 Aug 1854 in Tataraimaka, Taranaki, d: 16 Aug 1940 in Auckland Bur: Hillsborough Cem. Area 4 Block K Lot No 44; Mar: 14 Nov 1876 in New Plymouth to Daniel Berry b: 1848 in Auckland (Parents Daniel and Mary Berry) Occ. Ironmonger; d: 15 May 1917 New Plymouth Bur, Te Henui Cem. Location Primitive Methodist - Row 10 Lot 8 Plot 3
i Mabel Grace Berry b: 1877 Mar: 18 Apr 1901 in New Plymouth to Wyndham Hopkin

ii Beatrice Laura Berry b: 1881, d: 30 Jun 1927 in Auckland, Bur: Hillsborough Cem. Area 4 Block K Lot No 44 ; Mar: 1907 to Thomas Leonard Williams b: 1879 (parents - Tom Boswell and Joanna Murray Williams); d: 1959 in Wanganui

iii Elsie Ethel Berry b: 1883 in Taranaki d: 19 Apr 1953; Crem: Karori Cem.; Mar: 29 Nov 1906 in New Plymouth to Francis Alfred Dobell b: 1873 England Occ. Accountant, d: 21 Apr 1964 Bur: Kaitaia Public Cemetery Block : N Row : Plot : 42

iv Lilian May Berry b: 1885, d: 26 May 1952 Bur: Hillsborough Cemetery, Area 4 Block C Lot No 12

v Amy Mildred Berry b: 1887, d: 3 Mar 1962 Onehunga, Bur: Hillsborough Cem. Area 4 Block C Lot No 12 ; Mar: 1920 to Wilfred Grant Fargie b: 1879; Occ. Auctioneer, d: 16 Dec 1955; Crem: Waikumete Cemetery

vi Leonard Daniel Berry b: 1889, Occ. Civil Servant; d: 13 Mar 1953 Wellington; Bur: Karori Cemetery Section: Soldiers Plot Number: 5 C/4

vii Muriel Matilda Berry b: 1891, d: 19 Feb 1949 Onehunga, Bur: Hillsborough Cem. Area 4 Block K Lot No 44

viii Winifred Alice Berry b: 1892, d. 20 Feb 1980 Onehunga, Bur: Hillsborough Cem. Area 12 Block A Lot No 470

ix Eileen Maude Berry b: 16 Feb. 1893, d: 20 Jul 1973 Onehunga, Bur: Hillsborough Cem. Area 12 Block A Lot No 470

x Kathleen Doris Berry b: 1895, d: 1950; Mar: 1930 to Lionel Lewis Cock b: 1890 ( Parents Richard and Alice Maude Mary Cock) Occ. Commercial Traveller, d: 30 Mar 1941 New Plymouth; Bur: Te Henui Cemetery Anglican Row 2 - Lot 2 Plot 2
6 Emma Bayly b: 20 Jan 1856 in Tataraimaka, Taranaki Died: 29 Aug 1859 in Tataraimaka, Taranaki
Contents of this website may only be used for private personal research. © 2011
Some content has been kindly provided to me by other researchers, to whom my thanks go, and whom I hope to have acknowledged.
I would be delighted to hear from other researchers, and would appreciate being told of errors, omissions and broken links.