James Prosser & Jane Eva Paterson
The Prosser family - father Samuel, aged 40, a labourer from Surrey, his wife Caroline aged 38, James (on ships list as Lewis) aged 16, Samuel 13, William 9, Thomas 6, Joshua 4, and Caroline infant, left from Southampton on the "Hornet on the 23rd May 1857 and arrived at Melbourne on the 2nd September 1857. Oldest son John appears to have travelled prior to this.
His father was a cab driver for a line of mail coaches to Malvern Hills, Melbourne and in 1862 the four oldest brothers, John b. 1839; James b. 1841, Samuel 1844; and William Robert aged 11 years left Melbourne on 15 September for Otago giving their occupations as miners for the goldfields (Source: LDS Film 284490)
1867 Daily Southern Cross: 12 Apr.1867: MARRIAGE: On March 9, at St. Pauls, Thorndon, Wellington, by the Rev. P. Hay Maxwell, Mr. James Prosser, of the firm of Hannah. Prosser, and Pierce, to Jane Eva Isabelle, third daughter of Mr. George Paterson, Surveyor, Titirangi, Auckland. New York papers please copy. ( James occ. livery-stable Keeper) (Their Family
)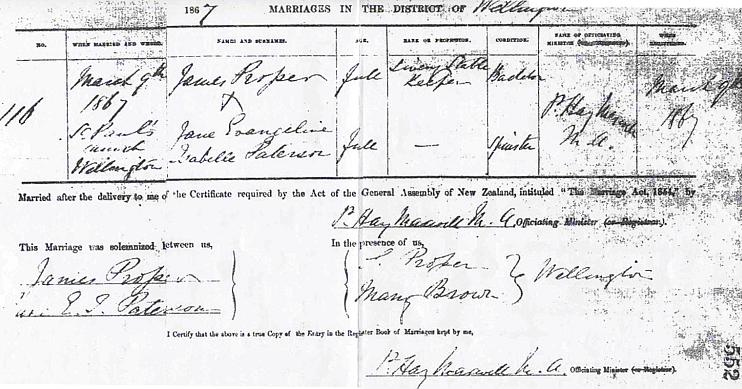 1867 Evening Post: 27 Jun.1867: TO LIVERY STABLE-KEEPERS AND OTHERS. Dissolution of Partnership: MR. JOHN H. HORNER has received instructions from Messrs. Hannah, Prosser and Pierce, to sell by public auction on the premises, Lambton Quay, at 2 o'clock sharp, ON TUESDAY, 2nd JULY, 1867, The whole of their valuable Stud, Carriages, &c, It comprises: 30 first-class horses, broken to saddle and harness. They have all been handled by Mr. James Prosser, one of the members of the firm, acknowledged to be the best horse-breaker in the colony, are very quiet, and fit for private service. The carriages and harness have all been purchased regardless of expense, and with the great care bestowed upon them may be considered equal to new. All are on view from this day. The terms will be liberal. Full particulars in catalogues, to be obtained at the stables, and from the Auctioneer
1868 Evening Post: 28 May.1868: A trotting match will come off on Saturday next between James Prosser's black horse Flatcatcher and Mr. Fawn's brown horse Railroad, for the sum of £10 a side, from the Hutt Bridge to Wellington.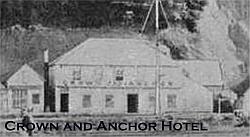 1868 Evening Post:1 Sept.1868: SUPREME COURT. CRIMINAL SITTINGS. THIS DAY. [ (Before His Honor Mr. Justice Johnston. ) The Court was opened at 10 o'clock. LARCENY FROM A DWELLING. John Lewis, charged with having on the 10th July, last, stolen from the dwelling of James Prosser a gold watch and appendages, and a gold coin, the property of William Prosser, pleaded not guilty. The Crown Prosecutor having stated the case, called William Prosser, who described the property he had missed from his bedroom at the Crown and Anchor Hotel, on the date mentioned ; He deposed to having seen them last on the following morning at 10.30; he identified the property when shown to him. Mr. Edwards, landlord of the Cricketers' Arms, swore that on the l6th of July the prisoner had given him the watch in question, to take charge of; he had delivered it to a constable in the same state as he had received it from the prisoner; he stated that he had refused lending him money upon it ; prisoner had then asked him to cash an old sovereign with a hole in it; he had declined. William Payne, a tailor, swore to the prisoner offering the sovereign with the hole in it to the last witness for 18s, the latter declined. In cross-examination he admitted having been first taken up as the culprit, and of having been convicted of felony before. A constable deposed to having received the watch and appendages from Edwards, and the coin from a pawnbroker named Jones. The prisoner, who was undefended, made an able defence, pointing out to the jury the weakness of the evidence against him, and the improbability of his having offered a sovereign for I8s, when anywhere it would be worth £1; he affirmed it was a case of mistaken identity. His Honor in summing up remarked that were the lngenius statements of this prisoner correct, the witnesses Edwards and Payne had "wrongly stated facts. A verdict of guilty was returned by the jury after a short consultation. - The Judge, in passing sentence, remarked that the prisoner, who, it was shown, had been previously convicted of felony, was an old offender, and that no leniency should be shown in the case. It would be well, his Honor remarked, if the police had his photograph taken and sent to various parts of the colony, in order to see who he was. Sentenced to two years imprisonment with hard labor.

1869 Evening Post:12 Oct.1869: CHALLENGE. MR. JAMES PROSSER will trot his pony Little Wonder from one mile to twenty, against any other pony that can be produced in or out of the Province, standing the same height, viz. 13 hands, from £20 to £50 a side.
1870 Evening Post: 2 Apr.1870: We are sorry to learn that Mr. James Prosser, of the Crown and Anchor Hotel, met with a rather severe accident this afternoon. He was driving a lady in a buggy up Cuba-street, and, when opposite Barry's Ship Hotel, by some means or other, one of the point wheels came off, and the horse kicked up as was to be expected. The lady jumped out, and escaped without much injury, but Mr. Prosser held on to the reins until he unfortuately received a kick which disabled him, and the horse escaped with the shafts. Mr. Prosser was carried into Cooper's store, when it was discovered that his leg was broken.
1872 Evening Post:13 May.1872: WANTED, two steady respectable Women as Cook and Housemaid ; good wages; sisters preferred. Apply to Mrs. James Prosser, Crown and Anchor Hotel.
1872 Evening Post: 16 Jul.1872: WANTED, for the Country, a Young Man, to make himself generally useful about an hotel and stables. Apply at once to James Prosser, Crown and Anchor Hotel.

1873 Evening Post: 6 Jan.1873: HORSE STEALING. G. Smith, was charged with stealing a horse, the property of A. Nichol, of Porirua. He borrowed a horse from Nichol, of Porirua, sold it to Prosser, of Wellington. A. Nichol said the prisoner asked him to lend him a horse to go to Wellington to fetch a scythe. Eventually witness hired him a horse, because he had a "flash" one that he wanted quieted before he rode it; the horse was returned to him by Mr. Prosser; he gave no authority to sell the horse.

James Prosser, a horse dealer, said the prisoner rode into his stables on a grey gelding, and said he had bought it at the Pahautanui hotel, and had given £3 10s for it, and would sell it for £4 - subsequently witness bought the horse for £4, and got a receipt for it; Nichol afterwards claimed it, and he gave it up. Smith was sentenced to eighteen months' imprisonment, with hard labor.
1873: Advert: Evening Post: 1 May.1873: PATENT SLIP EXCURSION. A COACH-AND-FOUR will leave Prosser's Hotel at 9 o'clock To-morrow morning. Return ticket four shillings, JAMES PROSSER, Proprietor.

1873 Evening Post: 5 Nov.1873: NOTICE, MR P, COOKERY having bought the goodwill of Mr James Prosser's afternoon Coach to the Hutt, begs to inform passengers that on and after Monday, 3rd November, he will run the Coach to and from the Hutt to Wellington, at the same hours. Every civility and attention will be paid to travellers. In reference to the above, Mr Jas, Prosser begs to thank the public for past patronage, and solicits the same for Mr P. Cockery

1873 Evening Post: 8 Nov.1873; WANTED, two Barmaids. Apply to Mrs James Prosser, Crown and Anchor Hotel.
1874 Evening Post: 21 Feb.1874: Amongst other changes made by the Jockey Club may be noticed the appointment of Mr James Prosser as Clerk of the Course. Mr Prosser is undoubtedly the right man in the right place, and the Club may be congratulated on securing his services.

1874 Evening Post: 28 Jul.1874: FUNERAL NOTICE. The Friends of James Prosser are respectfully invited to attend the funeral of his late mother, Catherine Prosser, late of Melbourne, which will leave his residence, Crown and Anchor Hotel, Lambton Quay, TO-MORROW (WEDNESDAY), at 2 o'clock. J. H. HUTCHENS, Undertaker.

1874 Evening Post: 28 Dec.1874: The members of the Central Volunteer Fire Brigade started from the Post-office engine shed this morning on a picnic to the Upper Hutt, accompanied by their wives and families. The party occupied five traps. Captain Moss and his officers leading the van in a trap drawn by four greys, and driven by Mr, James Prosser. All the traps were gaily decorated with flags, and as they drove away the assembled multitude gave them a hearty cheer.

1875 30 Jan. Evening Post: Travellers on the West Coast road will be glad to learn that the Telegraph Hotel at Otaki has at length fallen into first-class hands. For a long time complaints have been rife regarding the management, but we are sure that in future there will be no foundation for any, as Mr. James Prosser, the well-known and genial host of the Crown and Anchor in this city, has taken the house, and will assume the management on Monday. Mr. and Mrs. James Prosser are so well known that it is needless to say anything in their praise. They will be much missed from the old hostelry on Lambton Quay, and their absence from town will be much regretted. In their new house we are sure all will wish them success, and travellers on the road may feel thankful that in future they will have such a host and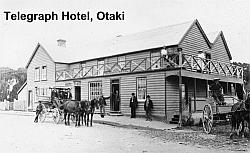 hostess to minister to their comfort.

1875 6 Feb.Evening Post: ACCIDENT
Mr. and Mrs. James Prosser, lately of the Crown and Anchor Hotel, Wellington, have now assumed the proprietary of the Telegraph Hotel

, Otaki, had a very narrow escape from getting drowned in the Otaki River on Saturday morning last. Accompanied by a Miss Williams and another lady, they had almost reached their destination. They were travelling in a closed carriage, and had succeeded in getting along without mishap of any kind, until their future home was actually in view. The driver was a stranger to the coast, and the horses were unused to deep water. The wrong ford - that is the former one - was taken, in which since the last flood several deep and treacherous holes have been washed out. Cautiously and timorously the vehicle proceeded, deeper and deeper the water, the current also proving difficult to contend against, the river flowing very rapidly owing to the occurrence of a slight fresh, which also caused the water to be so muddy that bottom could not be seen, and thus the holes could not be avoided. It was soon apparent that the other side would not be reached in safety. The water was running into the cab, greatly alarming the occupants, who however sat still, and allowed no indication of the uneasiness which they one and all felt to be visible by movement or exclamation. Eventually the horses, thoroughly terrified at the depth of water, to which they were never previously accustomed, refused to move. Mr. Prosser was equal to the emergency, and under the trying circumstances never lost presence of mind. Managing to get outside the cab, and having previously directed the females to unrobe, lest the worst coming to the worst, and all being thrown into the water, they might not be encumbered in their efforts to reach the shore with an unnecessary quantity of clothing, he directed the driver, to whose body he first made fast a rope, to get out and release the horses. By these means the horses were unhooked, and Mr Prosser, mounting one of them, carried Mrs. Prosser safely to shore, though the rapidly rising current made this a matter of considerable difficulty. Returning, he conveyed Miss Williams and the other female on the subsequent trips to terra firma; and the thoroughly frightened ladies had to make the best of their way to the township, which was nearly a mile distant, on foot. The driver got away on the other horse, and so the whole party reached Otaki safely, the cab being temporarily abandoned to its fate. To all is due credit, but to the ladies especially, for the admirable coolness, self-control, and presence of mind displayed by them under circumstances of an unusually trying nature.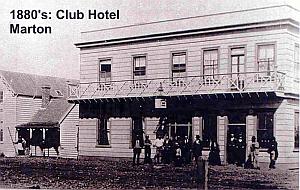 1875 Evening Post: 2 Mar.1875: QUARTERLY LICENSING COURT. (Before Mr. Crawiord. R.M., Major Paul, Captain Sharp, and Mr. T. Kobbell, J.P's Licensing Commissioners) The business before the Court: Crown and Anchor Hotel, Lambton Quay. Application for transfer of license from James Prosser to Samuel Prosser. Mr. Cheeseman appeared in support of the application, which was granted without opposition.

1876 Wanganui Herald: 5 Feb.1876: Mr Fred. Bright, a well-known settler in the Paikakariki district, has, we learn, become the proprietor of the Telegraph Hotel at Otaki, having purchased Mr James Prosser's interest in it.

Wanganui Chronicle,3 Oct.1876 Marton- Rangitikei Jockey Club. From the 'Advocate' we have compiled the following report of the proceedings of the meeting of the members of the Marton-Rangitikei Jockey Club held at Evans' Hotel, Bulls, on Friday evening last Mr Maclean was voted to the chair. (Among the new members formally proposed and seconded was James Prosser)

1876 Advocate: Aug 20.1876: PROSSERíS CLUB HOTEL, Marton; James Prosser having taken over the above House from his brother William, begs to draw the attention of the Commercial Public and Families (en route) to the unsurpassed accommodation of this Hotel. The suites of Apartments for Families are well arranged, distinct from the Hotel departments, while the rooms are commodious with easy access. SAMPLE ROOMS For Commercial Travellers and Paddocks for Cattle and Horses; The Stabling and attention to Horses will afford satisfaction to the most exacting. Wines, Spirits and Ales of the Best Brands only. The aim of the proprieter is to make for this hotel a reputation second to none in the colonies, and nothing that can conduce to that end, shall be wanting. Horses bought and sold on Commission. JAMES PROSSER, Proprieter

1879/80 Rangiteiki Elect. Roll - Marton Leasehold, Sect. 3, Martin, Club Hotel

1880 Wanganui Herald: 26 Oct.1880: CLUB HOTEL, MARTON. JAMES PROSSER, having again entered into possession of the above well-known Hotel, assures his friends and the general public, that no effort of his will be wanted to secure their comfort. Private apartments for ladies and families. Good stabling, etc. JAMES PROSSER, Proprietor

1882 - James Prosser, residence Marton Occ: Settler; Club Hotel
1882 - "Return of the Freeholders"; James Prosser, Hotelkeeper, Marton; Value Palmerston North £20; Marton £2200

1882 - Wanganui Herald: MARTON Mar.171882 At the annual meeting of the Fire Brigade, held last night, among officers for the ensuing year - Captain, James Prosser

1882 - Evening Post: 9 Aug.1882: FOR SALE OR TO LET, the well-known Club Hotel, Marton, Rangitikei, doing good business. For terms apply to the proprietor, JAMES PROSSER, Marton.

1886 2 Aug. Wanganui Herald: WANTED - A steady Cook for Club Hotel, Marton ; wages 30s; James Prosser.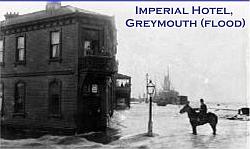 1887 Grey River Argus: 2 Sep.1887: Two new public houses were opened yesterday in Greymouth. Mr Cornelius Mahoney opened the Trafalgar Hotel, and it was an open house with a thousand welcomes for his friends, and everyone else for that matter. The other opening was that of the Imperial Hotel, the property of Mr W. Codies, by Mr L. C. Auseline. The corner is generally considered a good stand, and the house ought to do a good trade. The town should be thankful to Mr Coates for putting up such a handsome building on a section that for years was an offence to the eye and a disgrace to the town. Mr James Prosser, a very successful Boniface from the North lsland, has been in negotiation for the lease of the Imperial Hotel that at least is the name in which the license was taken out. Both hotels are two-storey buildings, and we suppose that this increase to the licensed victualling establishments of the town mast be accepted as an indication of its progress in other directions.

1887 Grey River Argus: 19 Sept.1887; On Saturday, Mr Ed. Ashton gave up possession of Ashton'a Family Hotel to Mr James Prosser, of Wellington city and Wellington district, where he is well-known as a hotelkeeper, owner of coaches, and keeper of livery stables, having been in business in various parts of the district for the last 20 years in one capacity or the other. Tlhere are several of his brothers there, and all are connected In one way or another with horses or hotels, and all are alike popular and successful as times go. There is no doubt that the fine hostelrey of which Mr Prnsser has become the proprietor on a long lease will lose none, of its popularity in his hands and it is certain that he will have no occasion to rue his bargain, as the house has always had a connection of its own and did a good trade. Mr Ashton is one of the very oldest publicans in the place, if not the very oldest - he pitched his tent here at Blaketown before the first rush and has been in the business so long now that he thinks he is entitled to retire and make way for a younger man or one who has not borne the heat and burden of the day for so many years continually as he has done. Mrs Ashton, too, a hostess who always made people feel at home in the old house, must also feel like taking a rest, having taken an active part in the business with her better half all the time. It is to be hoped that Mr Prosser will succeed in a degree equal to his liveliest expectations, and that Mr Ashton will have no occasion to go again behind the counter.

25 January 1888: BRANCH HOTEL, Corner Lambton-Quay and Woodward St. Wellington. Mr. James Prosser, formerly of the old Crown and Anchor Hotel, and late of the Club, Marton, Rangitikei, has taken the above well-known house, where he will be pleased to see all his old friends. The hotel has been thoroughly renovated throughout and has a large and well-ventilated dining hall, capable of seating seventy persons. The best Beer to be had in the city on tap. Wines and Spirits of the beat brands only kept. (later this became Swain's Private Hotel and Luncheon Rooms, 125 Lambton Quay. Smoking and sitting-rooms, and a hairdressing saloon and tobacconist's shop are also on the ground floor. On the first floor are fourteen cheerful bedrooms, all well appointed and carefully tended.

May 1889 Took over the licence from brother John of the Panama Hotel on the corner of Taranaki and Ingestre streets and in July sold his Interest to Mr. Thomas Taylor, a well-known dairyman of South Wellington

1893 - Rangitikei Electorate: Voting qualification residential - James and Jane gave their residential address as Eva Place, Martin and he was a member of the Marton Borough Council and was Captain of the Marton Fire Brigade for several years
29 March 1898, Mr James Prosser, of Marton, has taken over the Caledonian Hotel at Napier. CALEDONIAN HOTEL, Corner of Hastings and Dickens' Streets, NAPIER. JAMES PROSSER Proprieter. Best of Accommodation for Travellers and Tourists. Prices Moderate

Dec 1898: For Sale or To Let. FOR SALEó The Goodwill and Lease of Caledonian Hotel, Napier. First class business. Long illness and continued bad health of proprietor sole cause for letting. Apply Mrs James Prosser, Caledonian Hotel, Napier,

Jane died at Wanganui on 8 Feb 1889 "Mrs Jane Eva, the wife of Mr James Prosser, late of Marton, aged 51 years was amongst the colony's oldest residents, and had endeared herself to many friends. To the husband and family is extended the sincerest sympathy in their sad bereavement. Her remains will be taken to Marton for interment in the cemetery there, the funeral having been appointed to leave the Marton railway station on arrival of the mail train from Wanganui on Monday next."
17 May 1900 at RANGITIKEI LICENSING DISTRICT. Notice of Application for a Publican's License, JAMES PROSSER, of Colyton, do hereby give notice that I desire to obtain, and will at the next Licensing Meeting to be holden at Feilding, on the seventh day of June, 1900, apply for a Certificate authorising the issue of a Publican's License for a house situate at Colyton, and known as " The Colyton Hotel," containing 15 rooms, exclusive of those required for the use of the family. Their children

All images and data used in this site are copyright - ©

Descendant input to up-date family pages is very welcome and more detailed information is available to family on request.

Acknowledgement must be given to this research source and no content may be published without permission.