John Wilson and Anne Shutt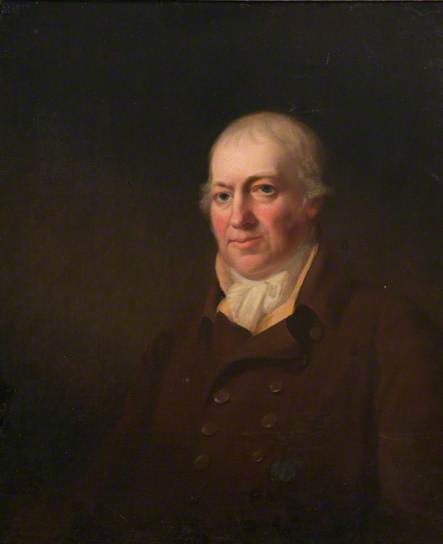 JOHN WILSON was b: 11 Apr 1785 in Stockton-on-Tees, Co. Durham, the eldest son of parents: William Wilson (1752 - 1839) of Stockton-on-Tees, County Durham and Jane Maria Fowler Wilson (1766 - 1859)
Judge John Wilson (1785–1851) Above, his portrait by an unknown artist. Date painted: c.1800–1810, Oil on canvas = 76.5 x 63.5 cm; Collection: Carmarthenshire Museum where it is able to be viewed. John Wilson was a Judge of the courts of Brecknockshire and Glamorganshire and Recorder of Carmarthen from 1848 to 1851. He lived at Cwmffrwd House, Llandyfaelog, Carmarthenshire.
John Wilson, Esq, son of William Wilson , was a lawyer, Barrister at Law and a member of the Middle Temple from 3 May 1811. During most of his career (1812-1846) Mr. Wilson specialized as a conveyancer and equity draftsman; in the latter of these categories he would have drawn up pleadings or other documents for use in Court of Chancery proceedings. He was involved with the "Carmarthen Circuit" (1819-20), the "Carmarthen, Pembroke and Cardigan Great Sessions" (1821-30), the Welsh Circuit" (1831-37) and the "South Wales Circuit" (1838-51). England and Wales were (and are) divided into circuits for the administration of justice, and it is clear that Mr. Wilson's practice as a lawyer centered upon South Wales. From 1838 until 1851 he was Recorder (acting judge) of Carmarthen; and from 1847 until 1851 he was also "Judge of the County Court in circuit no. 30'", i.e. Judge of the County Court that included within its jurisdiction Cardiff and Swansea.
Census 1851 H0107/2472/286/6 Civil Parish Llandefeilog County Carmarthen  
John Wilson Head Mar (b 1786 Hockton on Durham); Judge of County Courts; Barrister

Ann wife (b 1796 Walthamston Essex) Barristers wife

Anne D'arcy Wilson _b 1828 Bloomsbury Middlesex) Barristers dau

Owen Sanders Wilson (b 1832 Highgate Middlesex) Barristers son
John Wilson d: 08 Dec 1851 in Llangendeirne, Carmarthenshire, Wales. Burial: Saint Cyndeyrn; Wales (Src:)
CWMFFRWD HOUSE, Llandyfaelog
About 1860 Cwmffrwd House was built as a place of retirement for the then Bishop of St Davids (Dr Thirlwall) whose nephew lived there.
"The nephew later sold it to Mrs Annie Wilson (cousin of the Bishop and widow of John Wilson, Recorder of Carmarthen). She died in 1874.
Colonel Owen Wilson was the last of the family living there, and afterwards it became the home of Edwin Morgan, dental surgeon, of Carmarthen, and the family lived there until 1921 when it was demolished by a disastrous fire.
It had six bedrooms, bathroom, dining, drawing and breakfast rooms, large flagged kitchen and back kitchen, a detached dairy, cellars for fuel, game and fruit, wine and beer. There was a semi-circular drive with two double-gates, lawns, shrubberies, walled garden, a lodge, cowhouse etc, stables, coachhouse with chapel over; a large orchard, 12 acres of fields and woods"
Children of J
OHN WILSON and ANN SHUTT are:
i. ANNE D'ARCY WILSON, b. Abt. 1828, Bloomsbury Middlesex; (dau: of JOHN and ANN WILSON) was born Dec Q. 1827 Middlesex, and died Dec Q. 1871 Buckingham Oxfordshire.

She mar: JOHN THIRWELL Abt. Dec 1851 in Carmarthen (this spans the boundaries of counties of Carmarthenshire, Dyfed and Pembrokeshire) He was b: abt 1829 Quebec, Canada and d: 22 Dec 1877 in Fraser Township, Martin County) They are said to have 10 children

1871 Census (Census Ref RG10/1436/96/40)

John Thirwall Head 41 occ Barrister at Law b Quebec British Subject

Ann Wife 43 b Middlesex

Darcy Dau; 18 b Llandefeilog, Carmarthenshire

Ellen Dau: 18 b Llandefeilog, Carmarthenshire

John Son 17 b Llandefeilog, Carmarthenshire

Maud Dau: 14 b Llandefeilog, Carmarthenshire

Bernard Son 7 b Llandefeilog, Carmarthenshire (From Martin County probate court records - Christina Thirlwall petitioned to have Bernard Thirlwall, age 16, committed to an institution in 1879. Institution records state Bernard lived in an institution in Faribault, Minnesota until he died in 1882. He is listed there in 1880 US census report

Herbert C Son 4 b Oxfordshire

Alban G S Son 2 b Oxfordshire

Plus Servants Residing at Bevington Road Hawthornden St Giles Oxford

Son Edward Thirlwall SBC Abt. Dec 1854 Carmarthen, Wales

Daughter Violet Mary Thirlwall was b: Sept 1871 Headingtion, Buckinghamshire, Oxfordshire - her mother Anne died in childbirth

(2nd mar:) John Thirlwall Full age,Barrister - his Father- John Thirlwall Deceased, occ-Merchant; Register of St Davids,Widower of Abergwili 4th Feb 1873 Christ Church Croft, Lancashire to Christine Wilson,Full age, Gentlewoman Spinster of Croft; her Father -Robert Wilson, Deceased, Occ-Clerk ; Witnesses -W Kirkham, Margaret Wilson

Children of Christine and John Wilsoni

Christina Felicia Thirlwall b: 20 Jan 1874 in Abergwili, Carmarthen

Max Alexander C Thirlwall b: Abt. Mar 1875 in Bath, Avon, Somerset

Beatrice Katharine C Thirlwall b: Sep 1876 in Bath, Avon, Somerset (In 1909 travelled to Boston to the address of a Mrs Christina Kirkman, The Grange Timperley Altrincham )

John Thirlwall is listed residing in Bristol, Avon, Glouchestershire October-December 1875 - Bishop Thirlwell was his uncle. A biographical sketch by John Morgan published in 1892, Bishop Connop Thirlwall left Abergwili in 1874 and moved to Bath where he died in 1875, cared for by his loving nephew, John Thirlwall.

John Thirlwall and three of his sons came to the United States in May 1876, but Christina and the other children were not on that ship (The Queen). John d: 22 Dec 1877 at Fraser Township, Martin County

Timeline:

John Thirlwall second son of John Pyefinch Thirlwall Esq, aged 13, 1841

Price, Exeter College Oxford 1848

Barrister at Law Inner Temple 1853

Formerly Secretary to his uncle Bishop Connop Thirlwall of St Davids

John Thirlwall, age 48, died in Fraser Township, Martin County on December 22, 1877.

Canadian 1881 census: These England born Thirlwall children are living with William Wilson, a professor of classics, in Windsor, Hants, Nova Scotia are : Christina (age 7)Violet (born in 1869), Max (born in 1875), and Beatrice (born in 1876) .

Bernard Thirwell (Christina's stepson) was sent to an institution in Minnesota - the Superintendent mailed a letter to "Mrs. Thirlwall" in October 1880 addressed to Windsor, Hants, Nova Scotia.

The US 1880 census report for Fraser Township, Martin County, Minnesota lists these Thirlwalls:

Christina Thirlwall, age 37, born in England and head of the household

John Thirlwall, age 26 born in Wales -- listed as Christina's son,

Maud Thirlwall, age 23, born in England -- listed as her daughter,

Anna Thirlwall , age 21, born in England -- listed as her daughter,

Herbert Thirlwall, age 12, born in England -- listed as Christina's son

Alban G. Shan Thirlwall, age 11, born in England -- listed as Christina's son
Christine, widow of John Thirlwall returned to England at an unspecified date and was there in 1904.

*2nd Husband: Christine Wilson: mar: Sep 1890 in Bath to William Wright Kirkman (b: 1843 in Lancashire Croft Nr Warrington, occ: solicitor ) Their 1891 census address The Grange Timperley Altrincham (He was the lawful attorney of Christina Thirlwall (widow) and listed in brief in the Probate Calendar for John Thirlwall who died 22 Dec 1877, probate was granted 21 May 1878.)  

ii. OWEN SANDERS WILSON, b. Abt. 1832, Highgate, Middlesex.

Notes for OWEN SANDERS WILSON:

Owen Sanders Wilson b 1832 Highgate Middlesex Barristers son

Volunteer Service Gazette and Military Dispatch London, England 3 Jan 1863

MEMORANDA. Her Majesty has been graciously pleased to accept the resignation of the Commission held by 2nd Lieutenant Owen Sanders Wilson in the 6th Carmarthenshire Rifle Volunteer Corps.