Hidden Slide Menu on Left
Below, Hursthouse Page Index

Kate & Robert Henry Weldon Oliver

KATE HURSTHOUSE (b: 26 Apr 1874 in Motueka, Nelson was dau: of Richmond and Mary Hursthouse and became a Fine Arts Student at Wellington Technical School;

20 Aug 1906: Since her arrival in London about Easter time Miss Kate Hursthouse (Wellington) has been carrying on her art studies at St. Martin's Art School. She says that at first she experienced some difficulty in finding an art school which taught the subjects she required. However at St. Martin's Art School she at once set to work to learn what she could before the South Kensington examinations of May and June. She sat for the art class teachers, five subjects required, and since then has devoted her time to design and modelling from life. Miss Hursthouse is at present undecided whether she will return to New Zealand at the end of this year, or whether she will pass the winter in Italy and come back to London in the spring.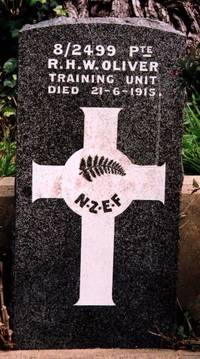 She mar: 29 Aug 1907 St Paul's Cathedral, Wellington by Rev Sprott to ROBERT (Bob) HENRY WELDON OLIVER. Robert was b: 18 Sept 1880 in Alverstoke, Hampshire to parents Samuel Pasfield Oliver (1838-1907) and Clara Georgina nee Dick (1842-1899); Robert was a farmer at Manakau, Manawatu Line and died of pneumonia contracted at camp 21 Jun 1915 in Wellington WW1

He enlisted: 20 April 1915 - Private Serial No. 8/2499; Age: 35Y; Private NZEF New Zealand Training Unit; his job on enlistment: Field Ambulance.

Kate became a widow and d: 05 Mar 1920 in Wellington Age: 45Y; Bur: Karori Cem.)

Children of Kate and Robert

:
i. JOHN RICHMOND OLIVER (b. 12 Jun 1908; Occ: Nelson Accountant; d. 02 Sep 1983, Nelson Age: 75Y; Crem: 6 Sep 1983 Wakapuaka Cem. Nelson) He mar: Mary Caroline Hopkinson b: 1910 Cambridge, England, d: 1942 at Nelson - they had 3 children Katherine, Robert and Priscilla Oliver John *2nd mar: 1943 (2) ISABEL GWYNNETH* JONES ( b. 05 Oct 1917; d. 2007)

ii. R

OBERT (ROBIN) SELWYN OLIVER, (b. 28 Jan 1910; d. 1984, UK) mar. MOLLY MOLLOY (b. 1907; d. 1983) Their 3 children are Stephen, Irene and Henrietta Oliver

iii. W

ILLIAM WELDON OLIVER - an infant when mother Kate died, he was adopted by Rhoda Hursthouse who was married to Richmond Hursthouse. NZ University Graduates - William Weldon Oliver HURSTHOUSE - Canterbury B.E. [El. Mech.] 1938