Prosser Immigration to Melbourne
The Prosser family sailed 23 May 1857 on the "Hornet" from Southampton and arrived at Melbourne 2 Sept. 1857. It could accommodate 450 immigrants at one time
and used the non-stop clipper route (Roaring Forties) to Melbourne. It made no stops on its voyage before reaching Melbourne and took 100 days for from Southampton.

The Argus, Thursday 3rd Sep.1857
The Hornet, from Southampton, anchored in Hobson's Bay yesterday. The Government immigrants, were as follows:- Married couples - 47; single women, 236; single men - 23; children from 1 to 12 years - 90; infants - 5. Six births have taken place on the passage, and no death has occurred among the passengers. A fatal accident happened on the 27th July, when, during a very heavy gale, a boy named Joseph Bulmer, aged sixteen years, a native of Shields, fell from the main-yard on deck, and died about twenty-four hours afterwards. Capt. Grieves reports having experienced very heavy weather throughout the passage; as also the loss of the cross-jack yard.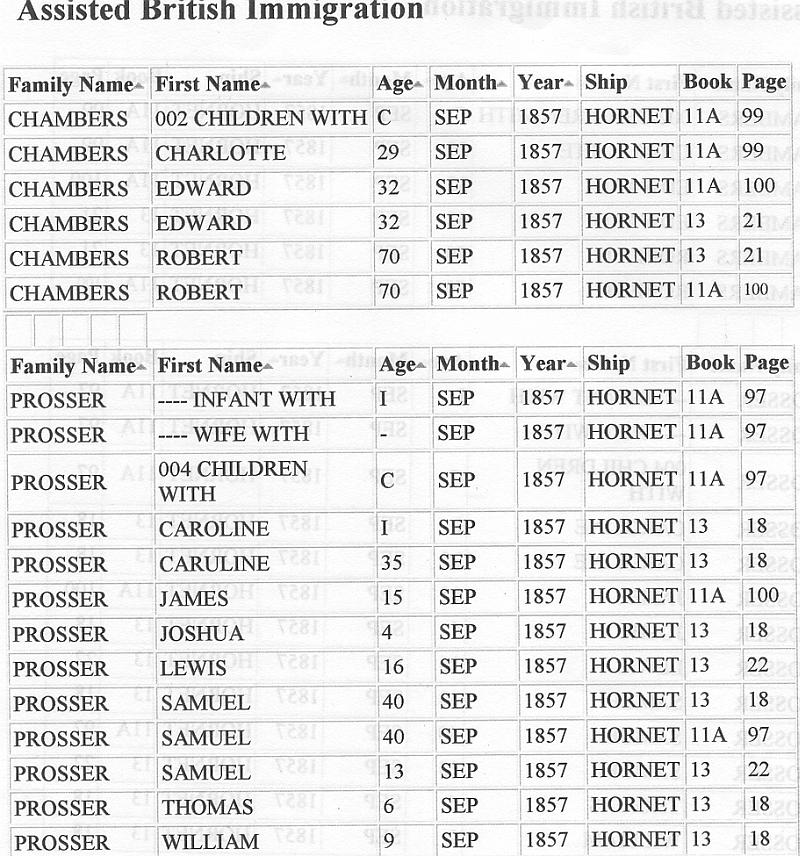 On passenger list, Samuel aged 40, labourer from Surrey (C of E) can read and write; Caroline (38) read only; William (9); Thomas (6) Joshua (4) Caroline (infant) Listed as single persons (ie 14 to 45) are Lewis Prosser, laborer from Surrey (16) - a transcription error for John comparing age/birth (no second name "Lewis" has been found) and Samuel (13) labourer Surrey.
All images and data used in this site are copyright - ©

Descendant input to up-date family pages is very welcome and more detailed information is available to family on request.

Acknowledgement must be given to this research source and no content may be published without permission.