John Cresswell Grierson (b: abt Dec. 1856 in Sale Moor, Cheshire, U K; baptism: 30 Jan 1857 at Manchester Cathedral, Lancashire, England; d: 05 Feb 1933 in Auckland; Bur: 06 Feb 1933 Purewa Cemetery) His father John Grierson was born in the South of Scotland, went to England, and died in Cheshire 1904 at the age of 90 years; his mother Martha was born in Lancashire, near Manchester. John Cresswell Grierson said the name "Grierson" was derived from the name of Macgregor and was the softened Lowland pronunciation. He emigrated to NZ on the 29th May 1877 from London for Auckland on the "Sam Mendel" and by June 4 was 44 mile SW of the Lizard.
The following is the captain's report: Left London on May 28th with strong westerly winds, and passed through the Downs three days afterwards. On June 3rd landed the Channel pilot at 5 p.m.. having met on the way down strong westerly gales; passing the latitude of Madeira on June 19th, 22 days out. encountering stiff S.W. and W. winds. Secured the N.E. trades, which however, were very light, and passed St. Antonio on the 23th; thence to the Line calrcs and southerly winds prevailed, and the Equator was crossed on July 12th in longitude 26 west, 45 days from London. Had light south-east trades at first, which subsequeutlv increased in strength, and the vessel was carried a long way to the southwest of Tristan d'Acunha. passed on the 29th July. To the longitude of the Cape of Good Hope, experienced north-west and westerly winds. and passed the Cape on August 5th, 69 days out. Thence to Tasmania, nothing but a succession of heavy circular gales, accompanied I by lightning and thunder, and at 100 days out, the aforesaid island Avas sighted. To the coast of New Zealand heavy variable weather, the North Cape being passed on Friday last at 1. a.m., and thence to west north-west, breezes. The passengers sneak very highly of the constant attention bestowed on their comfort by Captain Steel and his officers. Theatrical performances, concerts, dances, and other amusements have been of frequent occurrence on board, and in this way the tedium of a long voyage has been considerably relieved. John Griersham's is named in the list of the Saloon passengers.
A keen sportsman in 1879 John was Te Awamutu Cricket captain and folowing that at Alexandra and also captained the Waipa Football team who selebrated with a dinner after at Finch's hotel.
THE DINNER. After the necessary "ablutions" and change of dress, the two teams were entertained at dinner at the Alexandra Hotel were a most sumptuous spread had been already prepared for them. Host Finch's reputation as a caterer is proverbial, and on this special occasion he outrivalled himself to sustain his reputation. All the good things procurable at this season of the year were produced in abundance for the enjoyment of those who had so well earned a good dinner in doing battle for their respective districts, and served up in a style that the great Soyer himself would have been proud of. Having thoroughly discussed, with "kickite" appetites, their welcome repast, and the debris having been removed, Mr J. C. Grierson (captain of the Waipa team), rose to propose the toast of "The Cambridge Team," coupled with the name of their captain (Mr Moore). In proposing i the toast, Mr Grierson said he felt proud of the position he held that day, and in meeting such friendly, but at the same determined opponents as the Cambridge team had invariably been at their favorite game. He was proud in having beaten them at last at the headquarters of the Club. He thought that the two Clubs united would be able to give a good account of themselves against an interprovincial team had they an opportunity. The toast was received with musical honors and cheers that shook the house, with one more for the captain. Mr Moore, in responding, thanked the Waipa team for the most cordial reception they had given them that day. They were perfectly satisfied with what they received at headquarters, with the exception of one thing — the weather — and that had been very bad indeed. He would call upon them to drink "The Health of the Waipa Team." The toast was received with musical honors. Mr Cotton (Cambridge) proposed "The Health of the Umpires." They had in one sense the most "arduous duties to perform in the match played that day, and he believed they had given entire satisfaction to both parties. He hoped, however, to meet them some day when their decision would be reversed from that of to-day. Messrs Kayll and Conneli responded in a few well-chosen words. Mr Cotton in proposing the next toast said it was one that was frequently proposed at the wind up of pleasant parties, that of the host and hostess : but on this occasion it gave him unusual pleasure to propose. They had met the Waipa and other teams on various occasions at district events, and never before had they had such a spread as they had done justice to that evening. He had great pleasure in proposing " the health of Mr and Mrs Finch and all the young Finches." Received with cheers and musical honors. Mr George Finch, as one of the little Finches, very aptly returned thanks on behalf of his parents. Songs and conviviality succeeded for a short time, and at 8 o'clock in the evening the visitors, to general regret, withstanding the most pressing solicitations to retire till morning, left, under rounds of cheering and good wishes.
Susan Finch (b: 31 Dec 1862 in Howick, to parents Thomas Finch and mother Jane Creighton Smythe; d: 19 Jan 1956 in Auckland Bur: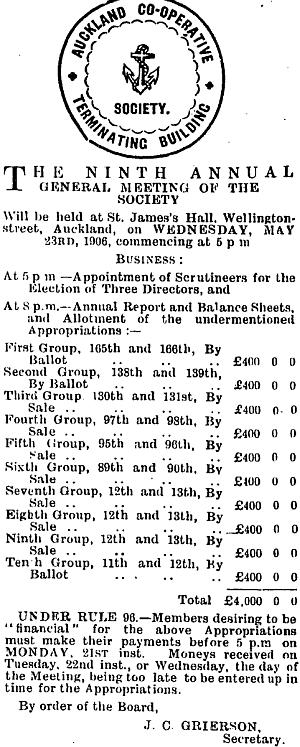 20 Jan 1956 Purewa Cemetery)
Marriage: Grierson— Finch.— On April 16th, 1883 at the residence of the bride's brother, Ngaroto farm, by the Rev. K. J. Phillips, John Cresswell Grierson, Esq., Queenwood, Alexandra, to Susan, third daughter of Thomas Finch, Esq., Alexandra.
Waikato Times, 17 April 1883
Our Alexandra correspondent telegraphs last night: The township is generally en fete, celebrating the marriage of the third daughter of our most respected chairman of the district board, Mr Thomas Finch, to Mr.J. D. Grierson, another popular favourite.
Farming: Between 1880 - 1890, the couple farmed between Pirongia and Te Awamutu in South Waikato. First, John needed to clear his land and advertised: FOR SALE, CHEAP— Good Kahika. tea Rails ; also, Posts suitable for fencing crops, etc. — Apply to J C Grierson, Near Alexandra.
"Truth" in 1928 explains these years..."WHAT'S all this talk about butterfat being the main commercial lubricant for the wheels of posterity? Perhaps it is, but . . . What about the days when settlers coaxed Strawberry to the bucket all for a meagre 3d a gallon — the days of the early 'eighties, when John Cresswell Grierson was spanking the kine in the Te Awamutu district? Yes, ye disciples of modern agriculture, those were the days when many a cockie had a hard row to hoe, when his mettle of spirit and brawn were put to the real test of adversity. J.C.G. stuck it out for fifteen years before deciding that Waikato daisies were not so lucratively succulent as they appeared. He found his way to city fields where pastures of livelihood were not measured in threepenny pieces.
That he came out on the sunny side of the hedge is evident from the way he now throws his secretarial grit into the solid concrete of the Auckland Coop. Terminating Building Society. A quiet, understanding human, whose motto of "Always on the job" has earned him a prominent place in the Auckland business men's gallery, John Grierson has never looked for notoriety." Source Truth 1928
Susan and John's children:
1 Florence Barbara* Grierson (b: 25 Mar 1884, d: 16 Jun 1974 in Auckland) Mar: 10 Aug 1909 in Auckland to Alan Amery Gray (b: 27 Sep 1882 Father: Samuel Gray Mother: Louisa; a chemist and Coy Magr. he died 19 Jun 1954 in Auckland) Read Barbara's Reminiscences
2 Hugh Cresswell Grierson (b: 12 May 1886 d: 12 Nov 1953 in Auckland) Occupation: Hugh was an
architect
and survived the war despite being wounded at Passchendaele. Bet. 1918 - 1920, studied and qualified in London as ARIBA12. He was a partner at the Auckland firm of architects Grierson, Aimer and Draffin and the firm entered the competition to design the proposed Auckland War Memorial Museum in 1921 and won the competition. The firm also won the competition to design the Wellington Centotaph.Other Bldgs designed: Bet. 1932 - 1954, Kinleth Mill, Hamilton Empire Theatre and the Tauranga Town Hall.
He married on 25 Aug 1915 in St Sep's, Khyber Pass Rd, Auckland to Ailie Rita Harris (Born: 20 Jan 1890 Father: Alfred Richard Harris Mother: Alice; Died: 18 Dec 1959 in Horikiwi; Cremated at Purewa: 21 Dec 1959)
3 Charles Kirkpatrick Grierson (b: 06 Jan 1889 Occupation engineer and surveyor, d: 26 Oct 1969 in Auckland) Mar: 01 Mar 1916 to Elsie Vera Lyttle (b: 28 Feb 1895 Father: William John Lyttle, Mother: Elizabeth Goodall; d: 16 Mar 1970)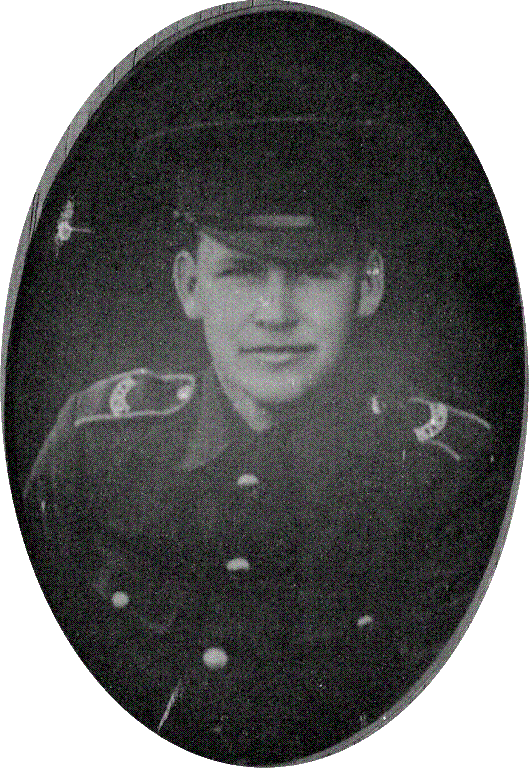 4 Ada May Grierson (b: 26 May 1891 d: 16 Oct 1977 in Auckland) Mar: 1917 in Auckland to Frank Whittome (b: 1885 Auckland Father: Alfred Whittome Mother: Agnes; occ, Jam and Preserve Mnufacturers Ak; d: 01 May 1965 in Auckland)
5 Walter Alexander Grierson (b: 30 Sep 1893 d: 08 May 1915 in Krithia, Gallipoli Peninsula) He was the 3rd son of John and Susan Grierson and set off for Gallipoli with the main body on the 16 October 1914 on the Waimana from Auckland. He was killed in action on the 8 May 1915 and is on the Twelve Tree Copse memorial and at Mt Eden.
6 Beatrice (Trish) Marjorie Grierson (b: 19 Jan 1896 d: 26 Nov 1966 in Auckland )
7 John Grierson (b: 15 Jul 1898 in Auckland d: 27 Aug 1964 when visiting Marylebone, London; crem. Golders Green Crematorium, London 1 Sep 1964. Married: 1924 to Lilias Christie (b: 1898 Father: George Christie Mother: Catherine Steedman; d: 1976) John was educated at Auckland Grammar School and Auckland University. An accountant, he was chairman and served as a member of the board of a number of public companies. Before his appointment as chairman of the Bank of New Zealand in the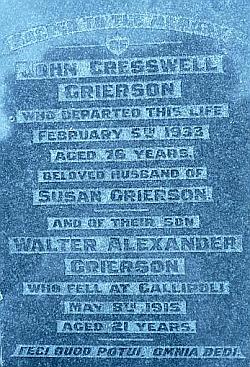 summer of 1960 he had been acting as deputy chairman. Apart from his business activities Grierson had a range of charitable interests and was chairman of the Auckland Hospital Board from 1947 to 1959. He was made C.B.E. in 1954.
8 Maxwell Rae Grierson (b: 22 Nov 1900 Occ. Barrister and Solicitor, OBE and Mayor of Pukkohe; d: 10 Jun 1994 in Auckland) Mar: 1933 to Freda Evelyn Kenny (b: 25 Aug 1910 in Auckland Father: Arthur Kenny Mother: Rita; d: 14 Apr 2002 in Auckland)
9 Reginald Minton Grierson (b: 10 Mar 1905 Occ. Motor Engineer/Car Salesman then Director of Grierson and Gillies Motor Trade, Newmarket; d: Jan 1970 in Auckland) Married: 1927 to Clarice Marama Neighbour (b: 02 Apr 1906 Father: Frederick Albert Neighbour Mother: Ella Victoria; d: 1995)