Hidden Slide Menu on Left Side of Page
Bayly Index
Children of Thomas (Jnr) and Ann Bayly
1 George Thomas Bayly (b: 19 Mar 1856 in Tataraimaka, Taranaki d: 26 Jun 1938 in Whangarumera, Auckland) Mar: on May I7th, at Christ Ohurch, Wanganui, by the Rev. T. L. Tudor, George Thomas Bayly, Esq., of Mokoia, Hawera, to Alfreda Gertrude Louisa Dawson-Welsh, oldest daughter of the late Rev. Ralph Dawson-Walsh, of Pomeroy, County Tyrone, Ireland. (b: 1867, d: 20 Nov 1919 Mount Street John Avenue, Epsom, Auckland Bur. Purewa Cem.)
1889: Name BAYLY George Thomas (Reference AJHR Section H25) Land; Owners of 5000 acre blocks and upwards
1894 South Taranaki Rates Book Name BAYLY George Thomas Town Mokoia Legal SEC 3 BLK 4 HAWERA
24 Aug 1909 Mr. and Mrs. George Bayly and family were passengers for North' by the Rarawa last evening, en route to Auckland, where they intend to reside
They moved from New Plymouth to live in Auckland after death of Arthur George, their son. George Thomas Bayly purchased Kaikoura Island in the Hauraki Gulf on 16 June 1911 and in 1919, lived at Mount Street John Avenue, Epsom, Auckland. 1938, at time of death farming at Arkles Bay (Stanmore Bay) Whangaparoa Pen; The Bayly family owned the island for nearly 30 years before selling in 1941 to William Warren In the 1920s or early 30s the Bayly's released fallow deer.
GEORGE - THE SPORTSMAN: I write about New Zealand's greatest footballer whose playing days were in the seventies and eighties of last century. I realise that no-one survives other than myself, who can tell of him. George Thomas BAYLY, of Taranaki, who died in Auckland was the best footballer New Zealand has known. He was born at Waitara, one of the famous family of footballers. George, the eldest, was educated in Australia, and on returning to New Zealand became a sheepfarmer at Mokoia, near Hawera.
I claim I have the knowledge and the experience to assess the merits of players as I played for Wellington in '77, for Poverty Bay in '78 and '79, and for Taranaki well into the 1900's, and I am the only survivor of most of the teams I played with.
George Bayly was supreme as a captain of a team. He was a fast runner, well knit and strong, and of sound judgement in all life's affairs. He was always in good condition, tolerant, a fine drop-kick, a certain collarer, and in my opinion the best place-kick New Zealand has known. George Bayly was a good cricketer and a top-knotch captain of an eleven and New Zealand has produced no better horseman in the hunting field and no man with a higher sense of honour in my long life have I ever known. - C E MAJOR, Kohimarama
George and Alfreda's children:
i Arthur George Bayly (b: 04 May 1888 in Mokoia, Taranaki, School Nelson College 1896/97; d: 17 Aug 1909 in New Plymouth).

Taranaki Herald, 17 August 1909 The death occurred this morning of Mr. Arthur Bayly, eldest son of Mr. Geo. Bayly. The deceased, who was in his twenty-first year, had been laid up for the past two years, having received an injury at football which led to his death. As a pupil at Nelson College he was very popular, and his doings in the athletic department showed great promise. His first year at the institution saw him a member of both the senior football and cricket teams, a position which he maintained until compelled to retire owing to injuries Not only at school but in New Plymouth he was well known on the cricket field, and his death will widely regretted by a large circle of friends. Bur; 18 Aug 1909 Te Henui Cem.

ii Beresford Richard Bayly was b: 15 Jan 1891 Hawera; School 1897 Nelson College; a farmer in Sth Auck; he served WW1 Unit 24th Reinforcements Auckland Infantry Regiment, A Company 1914-1918; Residence 1919 Mt St John Ave; d: aged 28Y on 1 Oct 1919; FATAL MOTOR ACCIDENT. Beresford Bayly was the passenger in a the motor car which on Sep 29 collided with a tram car near the junction of the Great South Road and Manukau Road - accident resulting in his death Bur: Purewa Cem. Blk A; Row 023 Plot 034

iii Georgina Bayly (b: 29 Aug 1895 Hawera; widow, d: 1984 Lower Hutt) Mar. 1917 to George Neville Hill (b: 1891 to George and Mary Eliza Hill; served WW1; Rank Second Lieutenant; Occ: Real estate salesman; he d: 29 Nov 1944) They are buried Purewa Cem. Auckland

MR. GEORGE NEVILLE HILL REPRESENTED N.Z. A former outstanding athlete, Mr. George Neville Hill died yesterday at the Green Lane Hospital. In 1910 he won a modified marathon from Howick to Auckland. He won the New Zealand amateur one mile championship in 1909-10, 1910-11 and 1911-12, and the three miles championship in 1910-11 and 1911-12. In 1911 he won the Australasian one mile and three miles titles. He represented New Zealand at the Olympic Games at Stockholm in 1912, and during the tour competed in Scotland. Mr Hill was educated at King's College. He served in the last war. He was well known to the Auckland business community, being for the past 18 years an advertising representative of the Auckland Star. Mr. Hill is survived by his wife, four sons and three daughters. One son is a prisoner of war.

iv Esme Alicia Bayly (b: 04 Dec 1899; d: 12 Aug 1962 in Auckland; Bur: 22 Aug 1962; Crem: Purewa Cem, Auckland; Ashes scattered) Mar: 13 Nov 1924 to William James Meredith (b: 1885 son of JAMES SHEPHERD MEREDITH (b. c1857 - d.1903) and ​ANNIE LEWIS (b. c1860 - d. 1925); Occ: Sports announcer; d: 19 Aug 1957 in Auckland aged 72 Y; Crem:Waikumete Cem; Auckland

v Charles Dennis Bayly (also known as John Charles Denis Bayly) (b: 1906, Occ: Sales manager, Palmerston Nth; d: 1964 in Palmerston Nth; Mar: 1929 to Lois Muriel Allen (b: Apr 1912; d: 1980) bur: Kelvin Grove Cem., Palmerston Nth
*2nd Wife of [1] George Thomas Bayly: Mar: 18 Nov 1930 to Vera Elizabeth Taylor (b: 12 Sep 1889 in Thames; her Father: George Byron Taylor; Mother: Henrietta (Hetty) Waite) Widow, she d: 11 May 1963; last address 25 Stanley Pt Road, Devonport, Auckland; Bur: 1963 Purewa Cem. Ak,
2 Fred Bayly (b: 26 Mar 1857 in New Plymouth; d: 12 Dec 1930 New Plymouth) Educated in New Plymouth and Wanganui Collegiate. He was brought up to farm life, and owned farms at Manaia, White Cliffs, and Mokohia. His property Hillside of 950 acres, carried 2,200 crossbred sheep and 150 head of cattle. He took a considerable interest in all athletics, but principally in football and cricket.
He mar; on 24 May 1888 in St Mary's Church, Hawera to Frances (Fanny) Louisa Fantham (b: 27 Sep 1866 in Canterbury; d: 10 Sep 1948 New Plymouth) In 1885, when 19, she was one of a party who climbed to an un-named peak on Mt Egmont. This was named Fanthams Peak in her honour, the first woman to climb that far on Mt Egmont. In WWI she went to England, where she worked in a munitions factory and nursed at a hospital at Walton-on-Thames. They brought up a family of three boys and three girls, farming in various areas of Taranaki.
Their family:
1 Basil Oscar Bayly (b: 16 Jun 1889 in Manaia WW1; Occ: Storekeeper Awapuni; d: 29 May 1946, farmer, Te Maika, Kawhia aged 58Y); Mar: 1913 Martha Jane Walker (b: 19 March 1892 the daughter of Fanny and Robert Walker. Last address Trivllyn Home, Victoria St, Hamilton She d: 7 Nov 1991 aged 99Y bur: Te Awamutu Cem.)

2 Howard Albert Bayly (b: 05 Oct 1890 in Manaia; Occ: farmer; d: 28 Jun 1963 at Inglewood where bur.) He mar: 10 Apr 1912 in Stratford to Josephine Pauline Levandowski (b: 1887; d: 1965)

3. Zaida Pauline Bayly (b: 25 May 1893 in Hawera, d: Abt. 1967 in Sydney) Mar: 15 Aug 1914 in Stratford, Taranaki to Harry Leopold Spratt (b: 20 Dec 1888; Migrated to Australia in 1928; d: 13 Mar 1977 Sydney) 1925 address Princes St Bx 37 Hawera; Div. 23/08/1944. Their 3 sons were: Alaric (Rix); Harry Geoffrey (b: 19 Jul 1919 Hawera; d: WW2 Missing-in-action; and Miles Tom Havyatt (b: 21 Nov 1921 Hawera)

4 Fay Cora Frederica Bayly (b: 18 Aug 1894 in Toko, Stratford, Taranaki; d: 13 Sep 1982 in Kai Iwi, bur: Aramoho Cem., Wanganui) mar: 26 Mar 1919 to Stanley Home Cross (WW1 11/1260 - Army; Mrs Fanny Mandeno (mother), Saint John's Hill, Wanganui) She mar: 1921 Edward Genders Foden (b: 28 Jan 1893 Hawera; occ: acct d; 23 Dec 1966)

5 Patricia Mary Bayly (b: 27 Nov 1896 in Toko, Stratford; d: 06 Dec 1952 in Kai Iwi, Wanganui); Mar: 05 Oct 1915 in St Mary's, New Plymouth to Arthur Noland Foye Bignell (b: 27 Nov 1889 to parents: Arthur Gorbell and Florence Catherine Bignell; attd. Wanganui Collegiate, 1917 Farmer Awakino; d: 1982)

6 Geoffrey Fantham Bayly (b: 27 Jul 1901 in Stratford; d: 1961 in Auckland; Bur: 1961 Purewa Cem. Auckland); Mar: 1927 to Alexandria (Lexie) MacLeay. He and family moved From the Taranaki province to the Waikato to farm at Putaruru and was for a time a member of the firm of Thos BORTHWICK and Son. During some 16 years in the Waikato district he became actively engaged in sporting activities being President and Captain of the golf club, secretary of the bowling club and a rugby selector. In 1952 he took up a mixed farm holding of 200 acres on the No. 3 Road, Te Puke and later after subdivision, elder son, Fred, farmed the balance of the property. Geoffrey built up the bottom portion of the holding retaining an interest in the farm up to the time of his illness. During his time in Te Puke he also took a great interest in golf, bowls,and rugby. He d: in Mar 1961 at his home on the No. 3 Road, Te Puke, leaving his wife, two daughters, Anne (Mrs J HAWORTH of Putaruru) and Beverley (Mrs B BENNETT of Te Puke) and two sons, Fred (of Te Puke) and Ian (of Takapuna)
3 Amelia Dallas (Minnie) Bayly (b: 12 Dec 1858 in New Plymouth; d: 16 Apr 1939 Waikaraka; She Mar: 05 Apr 1887 in Wesleyan Church, Waitara to Joseph John Mather; Occ: Wesleyan Minister; b: 1857; d: 8 Nov 1921 in Waikaraka; Bur: Onehunga Waikaraka Cem. Their family;
i Florence Marion Mather (b: 21 Mar 1902 in Auckland d: 28 Aug 1909 in Whangarei Burial: Onehunga Waikaraka Cem.)

ii Clifford Wharfedale Mather (b: 13 Mar 1889 in Auckland; Rank Sergeant; Died: WW1 30 Jun 1916 France; Bailleul Communal Cem, (Nord.))

A BRAVE MAN'S FINISH AND A GOOD WOMAN'S LETTER. Mr Mather, of Glorit, has received the following letter in reference to the death of Sergt. Cliff W. Mather, who was well known to many readers of this paper. The letter was written by Sister C. E. Cameron, of No. 1. Canadian Casualty Clearing Hospital, and is dated July 1, 1916 : "Dear Mr Mather, Your son, Sergt. Mather, was admitted to the hospital a week ago, suffering from abdominal wounds. An operation was performed in the hope of saving his life. For two days he seemed to be doing fairly well but he gradually sank, losing consciousness Thursday night, lingering until last night (Friday June 30th.) when he peacefully slept away at 9.30. His wounds were very severe, and had his life been spared he would have been very weak, as internal organs were affected. He made a brave fight, and was so grateful, and considerate of all his fellow-patients, that he endeared himself to all. He asked me to write to his uncle, Mr Charles Bayly, in London. I did so. He spoke of his home, and sent his love. He would have liked to have seen all his dear ones, but as he said to me "This is part of the game." With sincere sympathy, Yours very truly, Christine E. Cameron, (Sister.)

iii Violet Anne Mather (b: 9 Dec1890 Auckland; attd: Wanganui Girls College, home addr: Wesleyan Parsonage; Pal Nth; spinster; d: 2 Oct 1959 Auckland; Bur: Onehunga Waikaraka Cem.)

iv Harold Wilson Mather (b: 1888 in Auckland; occ: farmer; d: 11 Jul 1956 in Hellensville; Bur: Onehunga Waikaraka Cem.) Mar: 1913 to Gracie Cheyne

v Edna Jeanne Mather (b: 1893 in Auckland; spinster; d: 16 Oct 1971 in Mt Albert, Auckland; Bur: Onehunga Waikaraka Cem.)

vi Charles Gordon Mather (b: 10 May 1896 in Auckland; attd Pukekohe Sch. then Apr 1909 Whangarei Sch.; d: 25 Mar 1951 in Stratford Married: 1922 to Emma Eliza McQuay (b: 1895 d: 06 Mar 1959 in Stratford) Their burial at Kopuatama Cem. Stratford
4 Frank Rundle Bayly (b: 1860 in New Plymouth; d: 31 Jul 1864 in Taranaki)
5 Harry Bayly (b: in New Plymouth in 1862, educated at Wanganui and the Parnell Grammar School, Auckland. He had considerable experience in managing farms, before taking up land of his own in 1891. While a resident of the Toko district he owned "Tokoawa", a fine property of 1649 acres, on the banks of the Toko river. It carried 3,500 sheep, and about 400 head of cattle; and the woolshed could house 500 sheep at night, and had accommodation for shearing 5000 each season. Mr. Bayly acted as judge for the Stratford Racing Club. After leaving Toko, Mr. Bayly lived at Palmerston Rd, Gisborne.

He mar: 28 Feb 1893 in St Mary's Anglican Church, New Plymouth to Ella Sidney Rennell a daughter of Wilfred and Eliza Jane Rennell (b: 1868 and d: aged 74Y on 12 Sep 1942 Auckland, Bur: Purewa). Harry d: aged 72Y 29 May 1935 Epsom, Ak; home addr: 21 Claude Rd, Epsom; Crem. Purewa Cem. Auckland E/038/087/A.

Their children
i Winifred Sidney Bayly (b: 1 mar 1894; attd; Wanganui Girls College, home address St John's Hill; mar: 1919 Woburn Square, London, England to ?

ii Harry Leslie* Bayly (b: 08 Aug 1895 in New Plymouth; attd Gisborne Cntl School 1902 home addr: 'Tiromoana' Kaiti; in 1905 home addr: Rutene Rd; attnd. Wanganui Collegiate; 1917 occ: farmer Kohimarama; d: 1974 in Tirau; Crem. Rotorua); Mar: 1922 Edna Mary Moore-Jones (b: 17 May 1903; d: 2000)

6 Norah Bayly (b: 1864; d: widow, 1957 in Auckland; Bur: 1957 New Plymouth) Mar: 1895 to Henry Edward Vaughan (b: 1863; 1894 - Teacher examination; 1909 - Clerk of the Clifton County Council; d: 18 Dec 1949 aged 86Y addr: Herne Bay, Auckland; Crem. Waikumete Cem.)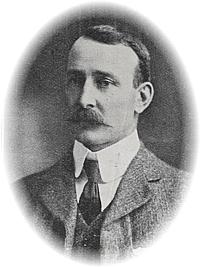 7 Alfred Bayly (b: 20 May 1866 in Waitara; occ; grazier, d: 14 Dec 1907 Wanganui, occ: Gentleman) mar: 1895 to Mary Eleanor Georgina Cashel (She was b: 1875 to parents John and Mary Cashel ; she d: 14 Aug 1972 - last add: Caughey Preston Home, Remuera, Auckland; Bur: at Purewa Cem.)

Alfred played rugby for six different Taranaki clubs from 1882 to 1901 and was chosen in 1893 to tour Australia as a member of the first official New Zealand team - in all 10 matches in Australia and finished as joint top try scorer. The following year he captained New Zealand from the centre three quarter position in their one match, a 6-8 loss to New South Wales. 1897 he captained the North Island team in the first inter island match and then led the New Zealand team on their tour of Australia. His nine tour appearances included games at fullback, wing and five eight. Whilst still playing Bayly was active in rugby administration as Taranaki selector 1891-98, 1901, 1906 and president 1899-1906. He was New Zealand national selector in 1901, 1905 and NZRFU president 1907 at the time of his death.

Alfred's five brothers Walter (who also represented New Zealand in 1894), Charles, Frank, Harry and George all played for Taranaki, the latter was NZRFU president in 1898.
The Bayly name lives on through the Bayly Scholarship, awarded annually to a Taranaki primary school representative. Alfred was a member of the Stratford Council, and for several years held a seat on the Land Assessment Court and the New Zealand Rugby Union soon after its initiation made him president. In his younger days Mr Bayly did a good bit of rowing on the Waitara, and later he took up cricket, being one of the mainstays of the Hawera Club. His health suddenly collapsed, and a strong man became an invalid, believed due to heart strain in his earlier years. 1889, recorded as owner of 5000 acre block at Toko, in 1906 he sold the property to the Government, and went to live at Wanganui where he d: 14 Dec 1907; bur: Stratford Pioneer Cem. Their daughters:
1 Marguerite Eileen Bayly (b: 1897; d: 1902)

2 Maud Rita Mary Bayly (b: 1898; d: 1910)

3 Doris Ethel Cashel Bayly (b: 1899; d: 01 Jan 1972 in Auckland )

4 Alice Alexander Bayly (b: 1901; d: 1902)

5 Audrie Minchin Bayly (b: 05 Mar 1907; last addr: 145 Victoria Avenue, Remuera, Auckland; d: 12 Jun 1981 Ak) Mar: 1933 widower Bertie Coleman Jacobs (b: 1881; occ: grain merchant, Leeston; his first mar: 1919 to Mary Beatrice O'Malley(she d 1928 aged 35Y); occ: Publisher, Ak; he d: 1947)
8 Charles Bayly (b: 1868 in Waitara, Taranaki; d: aged 71Y in 1939 at Pahia); Occ: Grazier; mar: age 23Y in 1891 to Bessie Sarah Jonas (b: 1867; d: 10 Nov 1918 in Toko, Stratford)

DEATH: Among the victims of the influenza epidemic is Mrs Charles Bayly of Toko, wife of Lieutenant Charles Bayly now in Egypt. Mrs Bayly, who died on Sunday of pneumonia supervening on influenza was a Miss Jonas, of Waitara, and sister of Mrs J. B Hine
27 Feb 1919: Mr. Charles Bayly returned by the s.s. Riverina yesterday from Palestine, where he fought through the Allenby campaign. He volunteered, for service with our Government, but being over the age limit he was declined. He then went to England and was given a commission in an English cavalry regiment, and was all through the- Allenby campaign. He is one oi the Bayly family celebrated in former times as a tower of strength in Taranaki football teams.
*2nd Wife of Charles Bayly; Mar: 1920 to Muriel Molyneux (b: 20 May 1899; d: 1983) Sep: - Div: Jun 1931
Charles Bayly mar: 1931 (3) Nora Woolley (b: 09 Feb 1889; d: Abt. Nov 1977 in Bay of Islands)
Their 2 Childen:
i Nora Bayly (b: 11 Nov 1925; d: 22 Apr 1993 in Wellington, NZ) mar: 10 Dec 1949 in Kings College Chapel, Auckland to Richard Christopher Savage (b: 05 Dec 1926 in Kasuali, India; occ: Judge High Court NZ; d: 10 May 2014 in Wellington)

ii Roger Bayly (b: 19 Feb 1929; d: 1985 in Pahia, Bay of Islands) mar: 1952 to Dorothy Marion Dixon Reeves (b: 25 Nov 1931; d: 2009)
The Bayly Brothers (Alfred Bayly and Charles Bayly) were educated at the New Plymouth High School, brought up to farming by their father, and became sheepfarmers at Toko. Their property, 3000 acres of good pastoral Land, carried about 6000 sheep, and 500 head Of cattle, Two fine homesteads, and large woolshed with one of Taylor and Bremmer's latest Woolpresses. The Ab over Toko brand of wool is well known in the market. In their younger days were well known representing their province on the football field and as members of athletic clubs.
OBITUARY CHARLES BAYLY: The death has occurred at Paihia of Mr. Charles Bayly, a member of a well-known Taranaki family, at the age of 71. Mr. Bayly was born at Wanganui, the fifth son of the late Mr. Thomas Bayly, who came to New Zealand from Devon in 1841. As a young man he took up bush land at Toko, which he developed into highly productive country. Mr. Bayly, who played representative football for several years, was one of 10 brothers who distinguished themselves at the sport. On the outbreak of war in 1914 he went to England and joined the Devonshire Yeomanry, serving in Egypt and Palestine. Ten years ago Mr. Bayly took up land at Paihia. He is survived by his wife, a son and a daughter.

9 Ernest Bayly (b: 18 Nov 1869 in Taranaki; occ: Farmer Waitara; Last Address: Princess St, Waitara; d: 22 Oct 1950 aged 80Y Waitara; bur: 24 Oct 1950 Te Henui Cem. New Plymouth) Ernest was one of five brothers who represented Taranaki at rugby in 1891. An all-round athlete, he was successful in both track and field events. He was a member of the Clifton Park Croquet Club and Clifton Park Rugby Club. Ernest mar: 1899 to Rosa Kate Clarke (b: 1866; retired and d: 16 Feb 1947 Stratford; bur: Te Henui Cem. New Plymouth) Their children: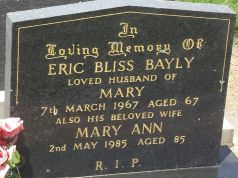 i Eric Bliss Bayly (b: 1899; farmer at Stratford; d: 7 Mar 1967 retired aged 67Y; bur: Kopuatama Cem.) Mar: 1924 to Mary Ann Jones (b: 15 Nov 1899; d: 2 May 1985 aged 85Y bur: Kopuatama Cem.)

ii Olga Stope Bayly (b: 14 Dec 1900; d: 12 Apr 1991 Waitara; Crem. Waitara Cem.) mar: 1923 to Richard Alfred Taylor (b: 1897; occ: Garage attnt; d: 1970 Waitara; Crem. Waitara Cem.)

10 Walter Bayly (b: 18 Nov 1869 in Waitara; d: farmer at Silversale; on 20 Aug 1950 aged 82Y in Auckland; Crem: Wakumete Cem) mar: 18 Feb 1896 in St Mary's Anglican Church, New Plymouth to Mary Standish (b: 27 Aug 1871 in Taranaki; d: 08 Oct 1954 in Auckland)

MARRIAGE AT ST. MARY'S CHURCH.A marriage ceremony in which a great deal of interest was centred was consummated at St. Mary's Church at 1.30 o'clock on Tuesday, when Mr Walter Bayly, sixth son of the late Mr Thomas Bayly of Waitara, was united to Miss Mary Standish, eldest daughter of Mr Arthur Standish, of New Plymouth. The ceremony was witnessed by a large number of spectators, who comfortably filled the sacred edifice. The Ven. Archdeacon Govett officiated. There was a full choir, the service being fully choral. The bride, who was given away by her father, wore a dres3 of cream brocaded satin, corselet bodice, edged with pearl trimming, and draped with satin and old lace, huge elbow sleeves of brocade, also trimmed with old lace to match bodice, with a spray of orange blossom prettily arranged from the shoulder. Godet skirt, with full train. The bridal veil of tulle was of exceedingly fine texture, embroidered with white silk, and was very gracefully arranged over a wreath of orange blossom. The bride was attended by Miss Ethel Standish and Miss O'Callaghan as bridesmaids, who wore dresses of green cropon trimmed with salmon-pink chiffon, striped with gold, waist bodices, draped with ribbon to match, large elbow sleeves, godei skirts, with pink hats to match The bridegroom's best man was Mr Allen Good, and the groomsman Mr L. Bayly.</b> After the wedding ceremony Mr and Mrs Standish entertained a large number of guests at their residence, Witiora. Mr and Mrs W. Bayly left for Hawera on their honeymoon trip by the 4 o'clock train.

A wing forward, Walter Bayly played for Taranaki between 1889 and 1894 and had his one game for the country at Christchurch in 1894 in the 8-6 defeat against the New South Wales side known as the Cornstalks. POSITION Wing forward; LAST SCHOOL New Plymouth Boys' High; RUGBY CLUB (First made All Blacks from Clifton PROVINCE Taranaki; ALL BLACK DEBUT Sat, 15 Sep 1894 v N.S.W. at Christchurch aged 24 years, 301 days; ALL BLACK GAMES 1 ALL BLACK NUMBER 48

Mary Bayly Applied and awarded a Judicial separation 15 Sep 1910; 12 Sep 1927 she left New Plymouth to take up residence in Epsom, Auckland

Their children:

i Owen Walter Bayly (b: 04 Jul 1898 in New Plymouth; d: 1972) 30 Oct 1919: Mr. Owen Bayly, son of Mrs Walter Bayly of New Plymouth, who is at present studying law at Auckland- University, has kept his third year's term for the LLB. degree, and- passed hs examinations in the five subjects he took, viz., International law, Roman law, property, torts and conflicts. ba 1925 Ak; MA Economics 1926

WEDDING. BAYLY—MATTHEWS. A pretty wedding was celebrated at St. Paul's, Paeroa, by the Rev. Frank Dobson, on Tuesday, December 6, wihen Miss Frances Cornelia Matthews, eldest daughter of Mr and Mrs Walter Matthews, of Netherton, was married to Mr Owen Walter Bayly,</b> eldest son of Mrs Walter Bayly, New Plymouth. The church had been prettily decorated by friends of the" bride. The bride, who was.given away by her father, looked charming in a gown oi ivory charmeuse with overdress of georgette in petal desiga edged with seed pearls. The veil of beautiful old Limerick lace was lent by a friend of the bride, and was held in place by a wreath of orange blossoms. The bridesmaids were Misses Helen Matthews and Gwen Bayly.

ii Colin Standish Bayly (b: 21 Jun 1901; d: 22 Jul 1913 aged 12Y at New Plymouth)

iii Gwendoline Mary Bayly (b: 17 May 1903; d: 1986) mar: Jan 1926 in St. Mary's Church, New Plymouth to Malcolm Septimus Campbell (b: 1901; d: 1970 )

WEDDING. An interesting wedding took place recently at St. Mary's Church, New Ply, mouth, when Miss Gwendoline Bayly, only daughter of Mrs. Walter Bayly, was married to, Malcolm Septimus Campbell, Pukckohe, Auckland. The Rev. F. 0. Harvie officiated. The bride, who was given away by her brother, Mr. Owen Bayly, Auckland, wore cream and silver brocade and a long embroidered tulle veil forming a slight train, with a wreath of orange blossoms. She carried a bouquet of carnations, roses, and sweet pew in palest pink, and white with maidenhair fern and streamers of tulle. The bridesmaids were Miss Freda Hirst, Beryl Barthorp, Miss Dinah Brown and Miss Helen Matthews The bridegroom was attended by his brother, Mr. Bert Campbell, as best man, with Messrs, J, Brodie. D. Sax ton, and Gordon Bayly as groomsmen

11 Frank Bayly (b: 1870 in New Plymouth, Taranaki; d: 23 Nov 1948 aged 77Y in Silverdale, Auckland. Crem. Waikumete Cem.) He mar: 1904 to Constance Ivy Walker (b: 1881; d: 1960 in Auckland Bur: 1960 Purewa Cemetery)

Residence 1905: Dunesallin, Waiheke Island

21 Feb 1910: BOP Times Mr Frank Bayly, of Pokeno, who has purchased Matakana Island, arrived, here last week, for the purpose of making arrangements to sow about 300 acres in grass this season.

Children of F

RANK BAYLY and CONSTANCE WALKER are:

i ENID FRANKLIN BAYLY was born 23 Mar 1905 in Mt Eden, Auckland, and died 1959 in Hamilton, Waikato. She mar: 10 Mar 1926 in St. Barnabas' Church, Mount Eden to ALAN BRACKEN MATTHEWS, son of ROBERT MATTHEWS and GRACE MARSHALL. He was b: 12 Jul 1893 in Waitara, Taranaki, occ; before enlistment Commercial traveller; WWI, 1914-1918 Serial No. 10/3647; Last Address 38 Marama St Hamilton; d: 11 Jun 1982 age 88Y in Hamilton, Waikato; Cem. Hamilton Park, Location RSA-UNSPE-0.

11 Mar 1926 - WEDDING: MATTHEWS - BAYLY: The wedding ot Miss Enid Franklin Bayly, only daughter of Mr. and Mrs. Frank Bayly, of Balmoral Road, Mount Eden,and Mr. Alan Bracken Matthews, of Pukekohe, fifth son of Mr. and Mrs. R. J. Matthews, of Claudelands, Hamilton, took place yesterday afternoon at St. Barnabas' Church, Mount Eden. The Rev. Olive Mortimer Jones, vicar of Cambridge, brother-in-law of the bridegroom, officiated. The bride, who was given away by her father, wore a very charming gown of deep cream crepe de chine and georgette, with petal trimming. Her veil was of Limerick lace and she carried a beautiful bouquet of carnations and sveet peas. The bridesmaid, Miss Doris Clark, of Hamilton, wore a frock of the palest of pink georgette, with tinsel trimmings, and a pink tulle veil. Her bouquet was of pale pink and mauve. Mr. Russell Matthews attended his brother as best man. A reception was held subsequeritly at the residence of the parents of the bride.

ii. WILLIAM (BILL) ALFRED BAYLY was b: 15 Jul 1906 in Auckland, and d: 20 Jul 1934 in mt Eden, Auckland, Crem: Waikumete Cem. His family lived on farms in Waikato and to the south and east of Auckland. In June 1925 Bill Bayly moved to Papamoa, a few miles from Te Puke, to work on a farm his father had purchased.The rest of the family followed in 1926. A 'handsome dare-devil fellow' with a magnetic personality, Bill mar: on 29 Aug 1928 in Auckland to stenographer PHYLLIS DOROTHY PALMER (b: 18 Dec 1906, she d: 1986). The couple were dairy farming at Ruawaro, near Huntly then lived briefly in Auckland and Henderson. He was survived by his wife and two young sons. iii. FRANK TREVOR* BAYLY (b. 23 Nov 1909; d. 1976, Auckland; Crem. Purewa)

24 Aug 1932: ENGAGEMENTS The engagement is announced of Agnes McNair (Ness), eldest daughter of Mr. and Mrs. Allan Ryburn, of Te Puke, to Frank Trevor, second son of Mr. and Mrs. Frank Bayly, of Waingaro

Trevor mar: 1936 to Margaret Alva MacKinnon (b: 10 August 1914; d: 1975)



iv. G

ODFREY NORMAN LYALL BAYLY (b. 21 Jun 1912 at Pukekohe, Auckland, d: 1996).

MARRIAGE: BAYLY— MCDONALD; On May 9, 1940, at St. Mark's Church, Remuera, by Canon P. Houghton. Godfrey Norman Lyall Bayly, of Manawanui. Pepepe, third son of Mr. and Mrs. Frank Bayly, Siiverdale, to Marjorie, elder daughter of Mr. and Mrs. Herbert McDonald, Carlisle, England.

v. THOMAS BAYLY (b: 1918

v. C

HARLES BAYLY (b. 5 Sep 1926; d: 1996) mar; 1956 to Eileen Lumber (b: 24 Oct 1926; d; 1977)


12 Lawrence Bayly (b: 1873 in Taranaki d:1956) Mar: 1896 to Mary Emily Rountree (b: 1876 to parents John and Emily Rountree; d: 27 Jul 1956 aged 79Y Te Awamutu) Divorce: 1923 BAYLY Laurence / Mary Emily.

1949 - Franklin Electoral Roll - BAYLY Laurence; Place Runciman, Occ: Farm labourer

Children of LAWRENCE BAYLY and MARY ROUNTREE are:

i. C

YRIL THOMAS B

AYLY (b. 15 August 1896; WW1 Service No. 74009 - Army; d. 26 Jul 1976,

Bur: Te Awamutu)

mar. 1923 to MARY HILDA RUSSELL

(b: 14 March 1903; d. 29 May 1987).

1922: Bankruptcy file - Cyril Thomas Bayly of Wharepuhunga, farmer ex partner Margaret Charlotte Penuel Ralph Smith of Maungapiko, married woman

1976: Te Awamutu/Tauranga - occ: Garage Proprietor

ii. CHARLES BAYLY, b. 1904; d: 1904 - 5 mths

Please Email

Sarah if you can help with Bayly research.