Hidden Slide Menu on Left

Written by S Percy Smith, John Stephenson Smith's son, aged 9Y when they immigrated on the Pekin
In 1842 my uncles John and Charles Hursthouse emigrated to New Plymouth where they settled on a farm named Tarahua on the Carrington Road, now absorbed in Vogeltown. In 1848 Uncle Charles returned to England with a view of lecturing on New Zealand as a field for emigration and to publish a book on the subject which appeared in 1849 under the title of "An Account of the Settlement in New Plymouth". On his arrival in England he came to stay with us at Beccles and it was due to his persuasion that we decided to emigrate to New Plymouth. My father saw little chance of advancement in the world in the old country and thought there would be a better chance in the new one,

Preparations were therefore made for this great change in our lives... My father sold his share in his uncle Samuel Smith's property to the Jecks to raise money to pay for our passages and outfit. Whilst all the packing was being done I was sent to Walton'to my aunt Rachael to be out of the way and had a very good time with my cousins Mary Cross and Jos Garsed.

After all the packing was completed my grandfather Charles Hursthouse; Aunt Mary Hursthouse; my mother and father and Nora, Ida, Frank, and Harry all proceeded up to London and secured lodgings... After staying at Walton some time, Aunt Rachael took me up to London to the rest of the family, visiting Peterloo Cathedral on the way. The elders had a very busy time there purchasing an outfit for the new life before us, for very little could be procured in the colony at that time, Passages had been taken in the ship Pekin under Captain Whitby, a vessel of about 600 tons...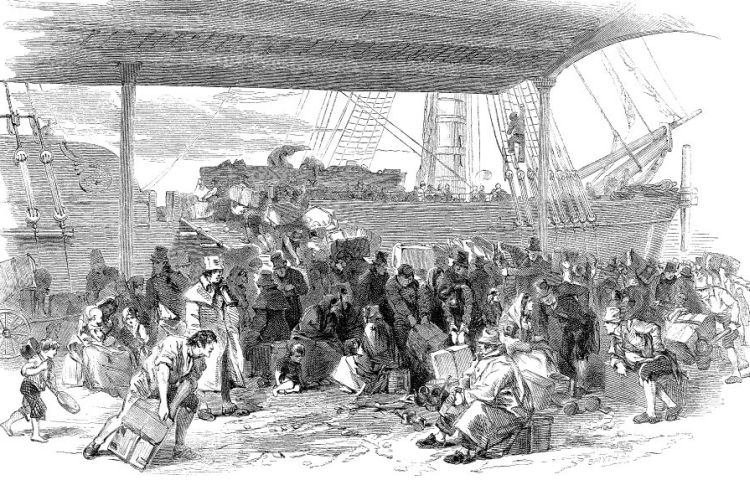 She was lying in the London docks and here we used to go every day to fit up the cabins... Mr George Curtis and his wife Eliza (nee Newsham) along with their children George, Ida and Helen had also succumbed to my uncle's persuasions, and embarked with us.

All being ready for our voyage, the ship dropped down the Thames to Gravesend where we joined her after going down the river in one of those little steam tugs. Those who came to see us off were Miss Richmond; Miss Akinson (afterwards Mrs C W Richmond); C W and James Richmond, their mother, Mrs Rlcnmond; and Aunt Rachael. After we parted from our friends, the ship again dropped down the river but brought up in the Downs because the wind was against us. This was 9th August 1849 ... For a whole fortnight we had to beat down channel against a southwest wind, being close to the coast of France each evening and on the coast of England every morning. However, we eventually got a fair wind and proceeded on our voyage.

We had a considerable number of passengers on board for various ports in New Zealand and among them was Dr Muller the ship's surgeon, his wife and his children... Mrs Muller died on the voyage. I remember she was sewn up in a hammock and dropped over the side after the Captain had read the service for those buried at sea. Dr Muller settled at Blenheim where he was for many years Resident Magistrate. Another of our passengers was a Mrs Griffiths with her two children and she afterwards married Dr Muller.
In those days there were apparently pirates still plying their trade in the Atlantic, for on one occasion great alarm was experienced pn our ship due to another ship which was apparently chasing us, but the Pekin easily out-sailed her and, indeed, any other craft we came across.. .

I am astonished now when I think of it, how our parents could possibly have allowed us to do the risky things we did. George Curtis, Eugene Muller and I (both of them a little younger than me) used to climb to the tops of the m~ts and it ~as considered the proper thing to do to clap one's hand on the truck at the top of the mast. Even Ida Curtis, who could not have been more than seven years old, used to go up to the main-top. On one occasion, when some of us were chasing her, she slid from the main-top, along the stay of the main-staysail right down to the foot of the main mast, much to the detriment of her hands and clothes, for she got covered with grease.

In the South Indian Ocean it was a great amusement to everybody to catch albatross which was a cruel proceeding for it was done by hook and line. Many of the beautiful little cape pigeons were also caught, but this was done by letting a frayed line float from the stern of the ship, in which they got
engangled.
We fIrst sighted the New Zealand coast at the Snares Islands, south of Stewart Island, and from there ran up the coast to Otago, arriving at Port Chalmers on 5th December 1849. I can remember well as we drew into the bay outside Otago Heads, after passing Cape Saunders, the excitement of everybody on again seeing land so close... and this excitement was increased when we saw a whale boat approaching in which were Captain Driver and his crew of four Maoris. The pilot had brought off a supply of fresh bread, butter and meat, and we all thought the bread and butter the most delicious food we had ever eaten.
After crossing the bar we had to anchor for the tide just opposite a large Maori village prettily situated under the wooded hills, with a white beach in front, on which were lying a number of canoes. When we anchored at Port Chalmers, we found two other ships lying there... both of which had brought emigrants for Otago from Scotland... Port Chalmers was not then a very large place: as a matter of fact there were only four houses, three of which were public houses. The hills rose immediately behind the houses and were covered with dense forest through which, along a hollow that the railway now follows, a sledge track about ten feet wide had been cut to Sawyer's Bay, and thence on to Dunedin;


Worsley, Charles Nathaniel, 1862-1923 :The "Snares". [Jan 1902].Shows a colony of penguins standing on the cliffs of a precipitous coastline with several inlets
The New Zealand Company's agent at that time was Mr Walter Mantell, who came off and arranged to send quantities of fresh provisions, which needless to say we enjoyed very much, after the diet of preserved milk and meat, and biscuits on which we principally lived during the voyage.
My father and Mr Curtis walked up to the embryo ,town of Dunedin from Port Chalmers and on their return described the terrible state of the road - or track - owing to the mud they had had to pass through on the way. There was a pretty little bay about a mile east of Port Chalmers... through which a nice little stream fell into the harbour. To this place, many of the women passengers took all the dirty clothes that had accumulated during the voyage to have a grand washing day. Emma Francis, whom we had brought with us from our lodging in London as a servant whose duty it was to nurse my brother Harry, undertaking our part .
Photograph of a painting depicting the arrival of the Philip Laing at Port Chalmers, 15 April 1848, with the John Wickliffe at anchor. The painting is by David Ogilvie Robertson; photographed by David Alexander De Maus in 1898. Original painting at the Otago Settlers Museum.
After a stay of about a fortnight at Port Chalmers we sailed on up the coast, passing the place where Lyttelton and Christchurch are now, on Christmas day. Neither of these towns had been founded at that time and I believe there was only one white man - Deans - living near the present site of Christchurch.

On 26th December we arrived at Wellington which, at that time, was also a very small place - the houses extending along the beach from near Thomdon to Te Am and a little pier where passengers landed, just where the Government Printing Office now is. There was a kind of rough road running along high water mark, dignified with the name of Lambton Quay. Part of Thomdon flat was still under forest as were the whole of the Tinakori Hills.
Heaphy, Charles:Port Nicholson from the hills above Pitone in 1840 Identifies Hutt River, Somes Island, Evans Bay and Wellington. Shows the huts of the first settlers at Petone. View of western hills looking out towards the harbour entrance.
Whilst there my father and Mr Curtis decided to walk overland to New Plymouth - some 250 miles, rather an undertaking for people who had just come off a long sea voyage. As a matter of fact they did not accomplish the journey on foot after all but having got as far as Rangitikei they found themselves so footsore that they had to buy two horses for the further prosecution of the journey... After a good many adventures they arrived safely at New Plymouth and were able to make arrangements for the housing of the family on our arrival by sea.

We left Wellington on 13th January 1850 and after two or three days knocking about in Cook Strait reached Nelson. We left Nelson on 3rd February and as we passed down the channel saw the ship Berkshire miss stays and go ashore on the boulder bank where, it is said, she broke her back. W e were however almost as unfortunate, for we ran ashore on the opposite bank of the channel and there laid in the mud until the next high tide enabled us to get off. I remember the ship laid over so much that it was difficult to walk on the deck. It was shored up by several spars thrust over the side into the mud and made fast at the upper ends to the vessel. While lying in the mud, i hooked a large shark (eight feet long) which the sailors pulled
Artist Charles Heaphy: 1849 - view from the sea with a three-masted barque, possibly to represent the Tory. The Sugar Loaf Islands and volcanic peak Paritutu in right foreground and Mount Egmont and foothills in the background.
We had no further adventures and finally dropped anchor in the old anchorage at New Plymouth on 7th February 1850. My father came off in one of the old-fashioned surfboats to meet us, and unfortunately got one of his hands badly crushed between the ship and the boat. Thus ended our long voyage of two days under six months. It was altogether a pleasant experience for a boy like me and I learnt a good deal about ships etc. which has always remained with me, together with a fondness for the sea.
Images and data used in this site copyright - ©

Please

and replace # with @ in my address. All pages have Sound