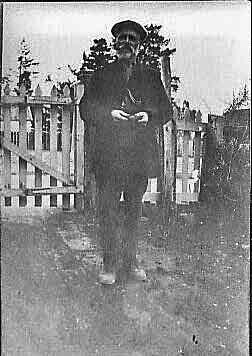 William Newsham
Miner of Wairongamai
FAMILY LIFE
In May 1889, at Alexandra (later Pirongia), Newsham married Jane Alexandra Finch, the first Pakeha girl to have been born there, as her middle name implied. She was 23, and her husband 40. After the Church of England service, there was 'a very pleasant party' at her parents' hotel. 'The bride being so well known throughout the district from her musical and theatrical abilities, which were at all times cheerfully at the service of any good cause, has made herself a host of friends, who, of course, took great interest in her marriage'. Newsham was 'also well and favourably known throughout the district'. The service took place at her parent's home, 'a large number of the bride's relations being present'; Hursthouse, now the district engineer, was the best man.
After breakfast the happy couple drove off amidst showers of rice and old slippers to their future home, with the good wishes of all here for their happiness and prosperity. The evening party enjoyed themselves immensely with dancing, charades, singing, and other games, the fun being kept up without cessation…. All declared it to be as pleasant a party as ever assembled here. The refreshments provided by the host and hostess, it need hardly be noticed, were plentiful and heartily enjoyed. The health of the happy couple was duly toasted, not forgetting Mr and Mrs Finch.The company parted at an early hour, after having thoroughly enjoyed themselves.
Jane was the daughter of Thomas and Jane, who had jointly run the Alexandra Hotel since 1870; after her husband's death in 1892 Jane continued in charge until leaving the district in 1906. Formerly a soldier in England, he had served in the Second Waikato Regiment. His hotel brought in sufficient income for him to own land valued in 1882 at £364.351 His only involvement with mining was in January 1881, as an owner of the unsuccessful Alexandra claim at Te Aroha. Their first child, Jane Lethbridge, was born at Alexandra 11 months after the wedding. Hilda Blanche was born in 1892, Tom in 1894, Mabel in 1897, and William in 1900; all were baptized as Anglicans. By 1905, if not earlier, Jane was running the Ivanhoe boarding house in Te Aroha, from necessity rather than desire because of the state of the family finances.355 In March 1907, when her husband had no settled employment, she 'just' managed to make it pay.
NEWSHAM IN THE COMMUNITY
In the following year Newsham did not take a leading role in community affairs. When at Waiorongomai in 1889 he signed a petition opposing the establishment of a Te Aroha borough that would include this settlement, and ten years later was elected to the school committee, but no other involvement was recorded. His obituary stated that he was not interested in public life, his only interest apart from prospecting being to enjoy 'a roll up on the bowling greens on many occasions'. The family was 'very highly esteemed in Te Aroha'.
DEATH: In his last years, Newsham led a very quiet life, although the gold fever at times stirred him and he wandered over the hills and gullies prospecting. Fifteen months before his death, his 'failing health' forced his wife to sell her interest in her boarding house, and in his last month he was hospitalized 'suffering from a serious complaint'. This was cancer of the rectum, which took two years to kill him; he died on 30 January 1921, aged 73. Jane outlived him by only three years, dying suddenly in Parnell, where she was living; her last ten years had been dominated by chronic ill health. Despite leaving five children, neither made a will, suggesting that their estates were very modest.
CONCLUSION: Newsham was an example of a prospector who never gave up, was reputed to have made great discoveries, but in fact spent the last years of his prospecting life working on often-inaccessible ground of little value.
His most exciting experience, one that could have led to an unpleasant death, was when he was a young surveyor, resulting in his being saved by Te Kooti.
The above shared by descendant John Newsham.
1913 Evening Post, 21 April 1913:
A memorial was unveiled in the Upper Mokau Valley a few days ago to Kaahu Huatere. The inscription read as follows — "Kaahu Huatere, born 1850, died 10th October, 1911. He fought in the Taranaki and Waikato Wars. He was a man of peace, yet he was brave. He saved the late Wilson Hursthouse and Mr. Newsham, who were taken prisoners and locked up in a whare by Te Manakura, as the result of the prophet Te Whiti's teaching in 1882."