Hidden Slide Menu on Left
Below, Newsham Page Index

William Morris & Jane Alexandra Newsham
Thomas and Mary Louise Newsham's eldest child William Morris Newsham was born on 18th August 1847 at New Plymouth. Mary's parents farmed on Carrington Rd and her mother Louisa Lethbridge was likely midwife. William was baptised 7 Nov 1847 by Rev H H Turton. The following year in July Thomas proudly wrote home to tell his mother about her grandson's progress.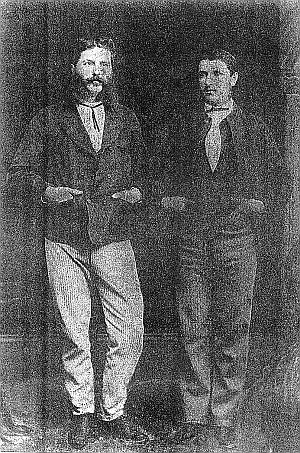 His childhood was spent on the farm at Omata. In the 1850s provincial governments were given responsibility for education but in Taranaki there was no organised public school system in place. Children received basic learning, the three R's under the tutelage of Mr Crompton and his wife in their home and Miss Wakefield took classes in a cottage rented from Tom Newsham - there would have been a fee charge for parents. Reading was dependent on the books brought in by settlers used in Britain and it was not until about 1867 that booksellers began to import readers designed for a structured learning progression. Promotion from class to class was based almost entirely on a child's success in reading. The uncertainty of War in 1860 drove settlers to apply for use of the stockade as a school, then came the upheaval and for security, travel to Nelson. Much time passed before his mother and her family could return to Omata to rebuild their shattered lives and William would have assisted his father. Education continued for the children of the area at the stockade until a move in 1872 to a cottage used as a school on Waireka Road.

William enlisted in the N Z Militia at the age of 16 during the 2nd Taranaki War and served first in a Rifle company before transferring to the Taranaki Mounted Volunteers

under Capt. Frank Mace NZC. The troop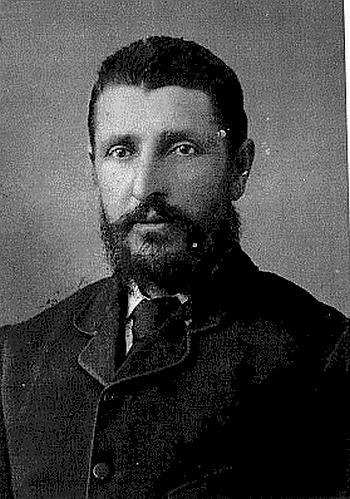 was under fire in at least 5 significant actions including the one at Ahu Ahu where Capt Lloyd of the 57th Foot was decapitated by the rebel warriors. His head was later paraded around the lower North Island as a trophy by the Hau Hau leaders. For his services between 1862 - 1867, William was awarded the New Zealand medal.

On his discharge from the military William went to the Thames for the gold. "The Thames" was the greater area surrounding the relatively new town of Thames , a combination of the two smaller townships of Shortland and Grahamstown - it is not known what parts of the area William prospected in.

Thomas Newsham died in 1874 and for a time, William returned to farming on his fathers property at Omata and then in March 1883, was employed as an 'assistant surveyor'(chainman)on the Mokau route of one of several original proposed routes for the Auckland to Wellington railway.

At this time the rail had not entered the King Country from the North and from the south had reached Marton. William assisted his cousin, the well known Govt. surveyor Charles Wilson Hursthouse

in this survey. With a party of Maori guides they were captured by a sub-chief Te Mahuka near Te Kumi and imprisoned without food for some 2.5 days. They were freed by Te Kooti who was in a benign mood having been pardoned the previous month by Minister of native affairs John Bryce.

1913 Evening Post, 21 April 1913: A memorial was unveiled in the Upper Mokau Valley a few days ago to Kaahu Huatere. The inscription read as follows "Kaahu Huatere, born 1850, died 10th October, 1911. He fought in the Taranaki and Waikato Wars. He was a man of peace, yet he was brave. He saved the late Wilson Hursthouse and Mr. Newsham, who were taken prisoners and locked up in a whare by Te Manakura, as the result of the prophet Te Whiti's teaching in 1882."

William is recorded as taking up a mining lease in Wairongamai near Te Aroha in 1889 - shortly before his marriage in 1889 to Jane Finch.
Jane and William took up residence at Wairongamai near the Public Hall in MacKays township - it had a population of 52 and William is recorded on the electoral roll as an "Amalgamator" The area where William had two gold claims in Wairongamai was 3 miles SE from Te Aroha one under his own name which grossed 936 and a more prosperous one, the "Premier", as a member of a syndicate. The Premier yielded 2594. In 1890 he and partner Jennings leased a stamper mill to crush their own ore and for others on a casual basis.
1890 Waikato Times 26 Aug 1890: Newsham applies successfully to Piako County Council to have his name inserted on the valuation roll as owner and occupier of Section 22 Block 7 Gordon Special Settlement
February 1892 a report from WAIRONGOMAI: "The new owner of the tramway has already commenced work, and it is to be hoped he will get plenty to do. Willie Newsham is always looking for quartz." By May it is reported "The battery at Waiorongomai is now running steadily, thanks to the late rain, and unless the supply of water should again run short, the work of crushing the quartz brought in from the various mines will be carried on for some time to come. Scott and party have at present about 40 trucks being treated and Gavin and party will be the next with about 100 trucks, and after them Newsham and party with from 70 to 80 trucks." Reported in December: "Newsham and party are sending about 9 tons of picked stone from the New Premier. mine, Waiorongomai, by steamer to Thames for treatment there. They expect a good return. We also learn Mr Newsham had 6 tons put through the Moanatairi battery for the handsome yield of 52ozs. He has left between 2 and 3 tons to be treated by the school of Mines after the holidays.
9 December 1893: Land - on Saturday there was a very lively bidding for the land in the estate of the late Thomas Newsham and under the Rating Act, every section selling on the hammer - it is believed at this time, the expense of running the mine occasioned the need for finance, so William sold at Omata.
This understanding is born out by this extract from the eulogy written at the time of the death of his wife: "Mr Newsham was a Maori War Veteran who had some stirring deeds to his credit and was afterwards a prospector. He was one of the last of the old band to give up searching for a paying reef in the Te Aroha Hills. Mr Newsham owned several mines, but the cost of the treatment of those of them near Te Aroha was not compensated for by the returns to a sufficient extent to work them thoroughly."
REPORT ON GOLDFIELDS: WARDENS' REPORTS.
Appendix to the Journals of the House of Representatives, 1894

1895 Thames Star, 11 Sept 1895 - WAIORONGOMAI: The Palace is still getting good gold. Messrs Newsham and Jeffery secured 7lbs of specimens last Thursday, literally clogged with gold. You can hardly put a pin's point between the precious metal in some, and it was all sizes up to duck shot. As all the stone from the leader. though not showing gold in the solid shows it pounded, the shareholders are evidently in for a good thing, and they deserve it, as they have been working for about twelve months for nothing bar the fifteen pounds or so they got at Christmas. The Loyalty intend crushing in a few days. A good return is expected.
Leaving the isolation and to supplement the income, Jane moved into Te Aroha and ran the old homestead "Ivanhoe" as a boarding house and William lived during the working week at Wairongamai on the side of Te Aroha mountain.
1896: Bay Of Plenty Times 22 July
Mr Newsham, a well-known Upper Thames prospector, lately operating at Waiorongomai in the Loyalty claim, paid a visit to this district on Monday, and returned to Katikati on Tuesday, where he intends remaining for a few days to inspect the ground there.
November 1898: We are pleased to hear that Mr W. Newsham, Wairongamai's sole prospector, is at the present time getting some valuable stone. During the past few weeks Mr Newsham has been getting small parcels of quartz which yield an ounce to the pound.

REPORT ON GOLDFIELDS: WARDENS' REPORTS

Appendix to the Journals of the House of Representatives, 1899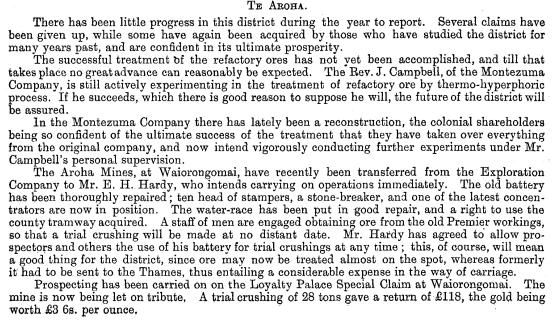 Ohinemuri Gazette, 5 May 1905 A PROSPECTOR RETIRES "W. Newsham, prospector, stated that owing to the bad weather coming on he had abandoned prospecting for the present. He thanked the Council for past assistance.
In 1911 Jane and William are living at Rewi St, Te Aroha.
Courtesy of descendant John Newsham: (Src) Research paper on
W M Newsham, Goldminer

William applied for several rights over the years the last being with one Charlton in 1912 covering areas in the Te Aroha Karangahake region for 1912 /13. As late as 1921, The NZ Gazette record William Newsham as a Privilege Holder, Tui Mine.

William died 30 Jan 1921 in Thames Burial: 01 Feb 1921 Shortland Cemetery, Thames.

Jane Newsham died 27 May 1924 in Awatea Road, Auckland where she was cremated Waikumete Cemetery, Ashes niche 22

A PIONEER PASSES. (New Zealand Herald, 1924-06-09)MRS. 'J. A. NEWSHAM. Old residents of the goldfields and Waikato will regret to learn of the sudden death in Auckland last week of Mrs.Jane Alexandra Newsham in her 60th year. The late Mrs.Newsham was. the very first white girl bom in the Alexandra (now Pirongia) district, at the time of the armed constabulary occupation. She afterwards lived at Waiorongomai, near Te Aroha, when the goldmine boom took place. "When Waiorongomai " petered out," Mrs. Newsham and her husband went to Te Aroha, where they lived until a year or so ago. Mrs. Newsham was predeceased by her husband about 12 months ago. Mr. Newsham was a Maori War veteran, who had some sterling deeds to his credit and was afterwards a prospector. He was one of the last of the old band to give up searching for a paying reef in the Te Aroha hills. Mr. Newsham owned several goldmines, but the cost of treatment of those of them near Te Aroha was not compensated for by the returns to a sufficient extent to work them thoroughly. The deceased leaves two sons, Messrs. W. and T. Newsham of Auckland, and three daughters, Mrs.J. Boles of Morrinsville, Mrs. W. C. Coote, of Matamata, and Mrs. A. N. Thompson, of Matamata.
William and Jane's children:
1. Jane Lethbridge (Tiny) Newsham (b: 15 Apr 1890 in Alexandra, Te Awamutu d: 01 Nov 1948 in Bank Street, Morrinsville Burial: Block V, Plot 9 Morrinsville Cemetery) Married: 1920 to Samuel Joseph Hislop Boles (b: 15 Jan 1882 in Thames, Father: John Boles Mother: Annie Hislop; d: 31 Jul 1933 in Morrinsville Burial: Block V, Plot 9, Morrinsville Cemetery) Their family:
i John Hislop (Jack) Boles (b: 30 Dec 1921 in Morrinsville d: 22 Apr 1990 in Te Puke where he is buried) Married: Abt. 1945 in UK to Grace Born: in Scunthorpe

*2nd Wife of John Hislop (Jack) Boles: Married: Abt. 1963 in Hamilton to Marion

a Ruth Hislop Boles (b: 07 Oct 1923 in Morrinsville d: 1995 in Tauranga) Married: 1947 to George Bostock Valder (b: 04 Jun 1918 in Morrinsville d: 2005) Children - Kevin, Geoffrey, Ian and Jane Patricia Valder
2 Hilda Blanche Newsham (b: 27 Jun 1892 in Wairongamai, Te Aroha d: 14 Nov 1944 in Takapuna) Married: 17 Dec 1913 to William Charles Coote (b: 12 Dec 1882 in Paeroa; Father: James Might Coote, Mother: Jane; d: 13 Oct 1956 in 38 Vincent Av; Remurewa, Auckland, Burial: 15 Oct 1956 Purewa Cemetery
Gwendolyn Shirley Watson-Walker nee Bramley (b: 28 Nov 1919 in South Auckland d: 23 Aug 2007 in Takapuna) Their son: Richard Might Coote mar. Belmont, Auckland to Moira Elizabeth Alexander - their family is James Might and Olivia Alexandra Coote

ii Charles Might Coote (b: 27 Oct 1916 d: 21 Apr 1994 in Whangarei Crem: 23 Apr 1994 Maunu Cemetery) Married: 1945 in Auckland to Frances Eileen Bramley (b: 1915 in Sth Auckland d: 05 May 2004 in Auckland) Their children 1. Graeme Charles COOTE mar: Caroline Lean STEWART 2. Prudence Might COOTE mar: David Bower

iii Robert (Bob) Might Coote (b: 11 Dec 1920 d: 04 Sep 1979 in Auckland Hospital Crem: 07 Sep 1979 Maunu Cemetery) Married: 1952 to Doreen Lilley (b: 08 Jul 1915 in Whangarei d: 15 Jan 2009 in Potter Home, Whangarei Bur: 17 Jan 2009 Maaunu Cemetery, Whangarei) Their children 1. Charles Lambert; 2. Michael Robert and 3. Margaret Rosina Coote (b: Apr 1958 in Whangarei d: 02 Mar 1959 in Whangarei

iv Terrence (Terry) Might Coote (b: 11 Oct 1925 in Matamata d: 24 Dec 2004 in Whangarei Crem: 29 Dec 2004 Maunu Cemetery) Married: 1949 to Norma Dorothy Ross (b: 14 Nov 1930 in Whangarei d: 06 Aug 2002 in Whangarei Base Hospital, Bur: 09 Aug 2002 Parua Bay, Whangarei Heads Their family 1. Dianna Might COOTE mar Andrew Clarke WARREN; 2. Julie Blanche COOTE mar: Reginald BEE; 3. James Terence COOTE mar: Margaret Kaye STUART-MENTEATH
3 Thomas (Tom) Newsham (b: 27 Oct 1894 in Waiorongamai, Te Aroha d: 11 Dec 1963 in 28 Aldred Rd., Remurewa, Auckland, Bur: 13 Dec 1963 Waikumete Cemetery Soldiers Section, Blk K Sect 2A, Plot 23) Married: 1926 Daisy Alice Thorpe (b: 27 Oct 1905 in St Helena, Atlantic Ocean, d: 08 Aug 1995 in Auckland Crem: 11 Aug 1995 Manakau Memorial Gardens) Their son
a Thomas Newsham (b: 13 Sep 1928 in Auckland d: 13 Sep 1928 in 24 Aldred Road, Auckland Burial: 15 Sep 1928 Waikumete Cem Block C Sect 22, Plot 46 Aged 16 hours

b Fay Yvonne Newsham, a nurse (b: 14 Oct 1931 Auckland; d: 19 Jan 2006) She mar : 1952 to John Wallace Beckerleg, a dairy farmer. at Gordontown - their dau is Suzanne Beckerleg .
She mar Michael Thompson

c Ann Beverley Newsham (b:: 1935 in Wellsford Died: Abt. 1997) mar Murray Jeffray Christian They had two children<:

(a) Vickie Anne Christian mar: David George Manchester - their three children are Jason Jaffray Manchester; Nicole Jane Manchester and Devon David Manchester.

(b) Dianne Marie Christian who mar: Mark Nicholas Humphries - they have 2 children - Alivia Anne and Benjamin Christian Humphries.FONT>
4 Mabel (Puss) Newsham (b: 07 Jun 1897 in Te Aroha d: 1
9 Sep 1943 in Hamilton Burial: 20 Sep 1943 Hamilton East Cemetery) Married: 12 Mar 1918 to Adam Neilson Thomson (b: 1883 d: 12 Jul 1948 Hamilton, father - David Moncriff Thomson; mother Lucy Shaw; Bur: 14 Jul 1948 Hamilton East Cemetery agd 63yrs) Their sons:
a David Neilson Thomson (b 1924, d: 21 Jan 1971 23 Masters Ave Hamilton) Mar 1946 Betty Maud Mossman. Children: Alexander and Jan

b Alexander Neilson (Alec) Thomson (b: 17 Apr 1921 in Cambridge; d: 22 Apr 1942 in Milton, near Gillingham in Dorset WW2)
5 William Newsham (b: 05 Mar 1900 in Wairongamai, Te Aroha d: 23 Jan 1958 in 4 Clifton Road, Takapuna, Auckland, Service at St Mary's Cathedral, Crem: 24 Jan 1958 Purewa) mar: Ivy Lilian Clarke b: Birkenhead, Auckland to Father: Robert Clarke Mother: Ellen Louisa (Nellie) Mitchell) Mar: 20 Apr 1936 in St Andrew's Presbyterian Hamilton Their son
a William John* Newsham b: Matamata mar: Margaret Rose Parker at St Mary's Catholic Church, Avondale.
William and Jane left for Auckland about 1919 with son William and bought a house at Jervois Rd, Herne Bay for approx. 1250. Pound William died in 30 Jan. 1921 at Thames while visiting his brother Charles who farmed on land that is now the Thames Airfield. and was buried Feb 1st at Shortland Cemetery, Thames. Jane died 27th May 1924 at Awatea Road, Auckland aged 60 years and was cremated Waikumete Cemetery
Obituary: A Pioneer Passes - Mrs J Alexandra Newsham

Many old residents of the Goldfields and Waikato will regret to learn of the sudden death in Auckland last week of Mrs Jane Alexandra Newsham, in her 60th year. The late Mrs Newsham was the first whie girl born in Alexandra (now Pirongia) during the period of the Armed Constabulary's occupation and was this, one of the very first of Waikato's daughters.
She afterwards liv