Hidden Slide Menu on Left
Below, Newsham Page Index

William and Ivy Newsham
William Newsham was born 5 March 1900 at Wairongamai near Te Aroha. He became interested in sport and played hockey for his primary school. Residents in his parents boarding house were active in various codes and particularly in hockey representing the town and he became their team mascot travelling with them to various game venues. He attended Hamilton High School and traveled from Te Aroha by train each day. He represented the school at rugby, cricket, hockey and swimming and after he left, became a member of a cycling club participating in track and racing events. He moved to Auckland in 1920 where his love of hockey saw him join the Somerville Club's senior team and represented his province in 1921 then a leg injury ended his playing career. Bill maintained his interest in the game by turning to team selection, first for his club, and then in 1925 became sole Senior selector for the Auckland Hockey Association - a position he held for 30 years. In 1935 he was appointed one of the N Z selectors becoming the convenor of the panel in 1937. He held this position until 1955. He worked as an accountant and married Ivy Lillian Clarke in Apr 1936 at St Andrew's Presbyterian Church, Hamilton. She was born at Birkenhead, Auckland - Father: Robert Clarke and Mother: Ellen Louisa (Nellie) Mitchell.

The war years arrived along with their son John and Bill served in the Home Guard. His organising ability was recognised when he served on the Organising Finance Committee in preparation for the successful Empire Games held in February 1950 at Auckland.
William Newsham died on 23 Jan 1958 in Lister Hospital, Takapuna, and on 24 Jan 1958 a service was held at St Mary's Cathedral (Cremated Purewa) Widow Ivy celebrated her 100th birthday 2011.
| | | |
| --- | --- | --- |
| | | H Lawry (Wgtn) W Bowden (ChCh) W Newsham (Ak) NZ Hockey Selectors |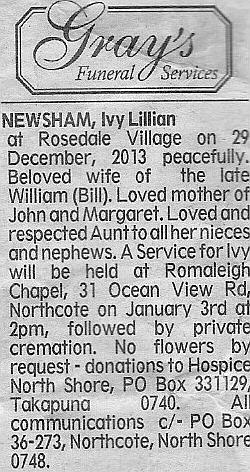 IVY LILIAN CLARKE was born 30 Apr 1911 in Mayfield, Birkenhead, Auckland, the daughter of Robert Clarke (1832-1925) and mother Ellen Louisa (Nellie) nee Mitchell (1886-1974) and died in her 103rd year.
She was a foundation pupil at the Vauxhall Primary School, Devonport, then progressed to the Auckland Girls Grammar School and in 1928 attended the Brains Commercial College. Ivy was employed between 1929 until 1936 at J Wiseman Ltd, Saddlers and Leather Merchants, Auckland and resigned to marry William Newsham on 20 Apr 1936 at St Andrews Presbyterian Church, Hamilton.
The Newsham newly-weds moved to make their their home in Clifton Rd, Takapuna. Ivy was active in the community - during the 2nd World War she supported Patriotic affairs and in the 1940ís, was a member of Takapuna Plunket, the North Shore Golf Club, the Takapuna Bridge Club, the Takapuna Probus Club and she was honored with Life membership of the Takapuna Floral Art Club of which she was the Treasurer and a committee member for many years
.
Her husband William's died 23 Jan 1958 and she again, in 1959, undertook employment - at Gainsborough Millinery Ltd; in 1965 with Clyde Clark Ltd, Chancery St, AK and finally retired in 1979 after 11 years with Martelli, McKegg and Wells, Barristers & Solicitors, Auckland. From 1965 onwards, she became a frequent overseas traveler and toured the U K, Thailand, the USA, Australia, South Africa and Central Europe.
Ivy sold in 1970 and moved to a new town house overlooking Lake Pupuke at 14b Rangitira Ave, Takapuna and, fiercely independent, she drove a car from 1947 until the age of 93. However, now in her 90's, she conceded and moved to the security and support of the Rosedale Retirement Village, Albany.
On the 31st April, 2011, Ivy celebrated her 100th birthday with a luncheon with family and friends.