Hidden Slide Menu on Left
William Robert Prosser & Mary Ann Beer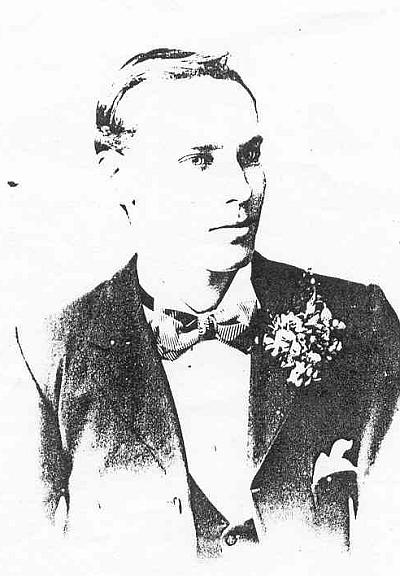 William was born 06 Jul 1848 to parents Samuel and Caroline Prosser and Chr: 23 July 1848 at St Luke Old Street Finsbury, London. He is recorded on the
1851 Census living with parents at 97 White St, Finsbury, London and in 1857 aged
9, immigrated with his family on ship "Hornet" to Melbourne.

With his brothers James, John and Samuel he arrived from Melbourne at Otago on the 15th Sept. 1862 on the ship "Result". The brothers were successful on the gold fields and their mother and younger family members joined them at Wellington where they had livery stables and the Crown and Anchor Hotel

17 July 1868: John Lewis was charged with having stolen from William Prosser, a billiard marker, a gold watch and chain, with trinkets attached, valued at £12, from a waistcoat pocket in his bedroom at the Crown and Anchor Hotel. William Edwards, landlord of the Cricketers' Arms, said the prisoner asked him to take charge of the watch and chain, which he did but then later asked him to advance him a pound on it; He refused and handed the watch, &c, to the police. The apprehending constable gave evidence that he had received the watch and chain from Edwards and hearing they were stolen, arrested the prisoner. Committed for trial.

Marriage 26 Apr 1872 in Melbourne to Mary Ann Beer (Chr: 25 Dec 1852 in Cornwall - her parents George Beer and Selina nee Lee; d: 1930 in Chelsea, Melbourne, Australia)
1874 Coach Driver, Marton
1875 Livery Stable keeper, Marton
1875 Manager of the Club Hotel, Marton and Prosser Horse Repository Aug
1876 Whenuakura Hotel (between Patea and Hawera)
THE CLUB HOTEL MARTON. THE Proprietor of the above begs to announce to the inhabitants of Marton and the surrounding districts, that it will be his endeavour to supply unequalled accommodation to his customers. The Travelling Public will receive attention at all hours. Table D'Hote at 12.30 daily. The magnificent addition to the Hotel will be open on and after Saturday, November 13th. Wines and Spirits of the best quality CHARGES MODERATE. Excellent Stabling attached. WILLIAM PROSSER, Proprietor
1877 Evening Post,QUARTERLY LICENSING BENCH. This Day. (Before H. S. Wardell, Esq., R.M., Major Paul, J. Moore, and T. Kebbell, Esq., Licensing Commissioners.) NEW LICENSES. William Prosser applied for a publican's license for a new house, erected by him at Pahautanui. Mr. Gordon Allan appeared in support of the application, and submitted plans of the house which had just been finished. He further laid before the Bench a petition in support of the granting of the license. Mr. Ollivier appeared on the other side to object, and submitted a memorial, setting forth that the present Pahautanui hotel was sufficient for all the requirements of the place. The applicant deposed that the present licensed house was totally inadequate to supply all the accommodation required. His house was completed, and the stables would be finished in a week. Cross-examined. — The house stood upon two acres of land, a portion of which would be fenced off as a paddock. The land was securely fenced and had cost about £400. The house was situated about 100 yards from the other hotel, the other nearest hotel being about three miles distant. Witness — Building had cost over £700, and when the stables were completed the total outlay would be about £1300. Evidence was taken in regard to the application, after which the new license as applied for was refused.
A proper building had been erected by Mr. Prosser, and the only opposition came from the owner of a licensed house in the neighborhood, which was not satisfactorily conducted. Mr. Olivier objected to such ground being taken. The applicant had no right to blacken the character of the existing house, as no notice had been given so that rebutting evidence might have been brought. Mr. Allan contended he had a right to do so. because the only ground of objection raised was that there was a licensed house there already, therefore he was entitled to show that the existing house was not a suitable one. When there was only one house there was necessarily a monopoly, and the landlord, provided he kept within the letter of the law, could supply inferior liquor, or could do just what he chose. He strongly urged on the Beuch the justice of granting this application. The applicant then being sworn, described his new building and its appliances. Edward Bollou corroborated the evidence of the applicant. He considered the new hotel was much needed, as there were ten or twenty travellers passing now for every one that passed a few years ago, when there were two inns, instead of only one as now. Francis Brady, J. Blachie, Roderick Mulheu, and others gave similar evidence. Constable Ryan stated that the house was in every way fit to be licensed. Mr. Ollivier held that there was no reason to alter the previous decision of the Bench, and that the house was not really required. The Bench refused the application.

1878 Licensee of the Travellers Rest Hotel, Taita, Lower Hutt; 13/3/1878
SPORTS AT TAITA.Evening Post, 25 May 1878: A capital day's sports took place at Taita yesterday in the paddock behind Mr. Prosser's Traveller's Rest Hotel. The various events resulted as follows :—
Maiden race, Wren 1, Harris 2 high jump, Avery l; Taita handicap, 440 yds., Hooper 1, Greeks 2, Harris 3 ; 100 yds., Dryer 1, Hooper 2, Greeks 3; 220 yds , Hooper 1, Dryer 2, Greeks, 3. Hooper having scored 10 points, thus won the £6 prize. Sack race, Harris 1, Murtagh 2; boys' race, 150 yds., Pringle; steeplechase, Greeks 1, Bennett 2, Sherrin 3; trapeze, Cudby 1, Prosser 2; 1 mile handicap, Judd (scratch) 1, Greeks (10 yds.) 2, Bennett (10 yds.) 3; time, 5 mm. 1 sec. The whole affair passed off most successfully.
1878 - WARRANT ISSUED FOR THE ARREST OF WILLIAM PROSSER. 17 July 1878; A warrant was issued yesterday afternoon for the arrest of William Prosser, who formerly kept the Taita Hotel. He is charged with obtaining £250 odd by false pretences from George Wiltshire, the person who has recently taken the hotel at the Taita. The accused, we learn, has been arrested at Hawera to-day, and will in due course be forwarded to Wellington.
Taita- "Barley Mow Hotel - On 16th July 1878 a warrant was issued for the arrest of
William PROSSER who formerly kept the Taita. He was arrested in Hawera the next day and charged with obtaining £250 ($33,900 in 2009) by false pretences from George WILTSHIRE who had just taken over the hotel - he was discharged when it was discovered the warrant was issued in error

1878 Evening Post, 22 July 1878, Page 2
THE CHARGE AGAINST A PUBLICAN. William Prosser, formerly landlord of Taita Hotel, surrendered to his bail on a charge of obtaining £250 by false pretences. Mr. Buckley appeared for the defendant, and stated that he understood the prosecution made a mistake in taking out the warrant, and did not intend to proceed with the case. He therefore asked that the defendant might be discharged. His Worship said that he would allow the case to be withdrawn, but he did not approve what had been done — first of all preferring a very serious charge against a man, and then compromising outside the court. Mr. Buckley said that it was scarcely a compromise, as the warrant was issued in error. It appeared that the letter by which the matter was settled was written before the warrant was issued. His Worship then ordered the defendant to be discharged.

1880 Livery stable keeper, Hawera (On Cobb and Norma's birth certificate, stated arrived from Melbourne 20th February, 1871)
1880 Hawera & Normanby Star, 30 June 1880: HAWERA HOTEL LIVERY AND LETTING STABLES. Double and single buggies, ladies' and gentlemen's saddle horses. Opened and Covered Expresses. Buggies can be had by commercial travellers and others to go to any part of the province. Good paddocks, but no responsibility. W. R. PROSSER, Proprietor.
1880 Hawera & Normanby Star, 24 July 1880: IMPOUNDING NOTICE. IMPOUNDED, at the Public Pound, at Hawera. One Bay Gelding ; branded X off shoulder. One Chesnut Gelding ; branded A S near shoulder ; white face. If not claimed, and expenses paid, will be sold by auction, at the Pound, on Tuesday, the 27th day of July, 1880, in accordance with the provisions of the Impounding Act. W. .R. PROSSER, Poundkeeper.
1881 HAWERA RESIDENT MAGISTRATE'S COUBT.Hawera & Normanby Star, 25 June 1881; W. Prosser v. F. Bailey.— Claim, £30. This was a suit for the return of a horse sold by W. Stannard to W. Prosser, and afterwards re-sold by Stannard to Frank Bailey. His Worship gave judgment to the following effect : — It appeared to him that the main question at issue was whether there had been evidence of a complete contract of sale or not. Taking into consideration the fact that it had been shown that the horse passed immediately into the possesion of Prosser after its sale by Stannard, and that the latter had accepted payment and given a receipt in full, he considered that the sale was undoubted. It had only been shown on the other side, that under certain circumstances which never happened, the horse might have been given back by Prosser to the vendor. It was again contended that possession was again given to Stannard by Prosser when the former obtained permission to lead the horse off to grass. But it appeared that at this time Stannard was simply acting as the servant or agent for W. Prosser. The Magistrate quoted authorities showing that where a livery-stable-keeper had sold a horse, and the purchaser had stipulated at the time of the sale that the horse was to be kept at livery by the vendor for the buyer, it had been held that the mere transfer of the horse from the livery to the sale stables of the seller was sufficient to complete the contract for sale. That the owner had thereby given delivery and relinquished possession, and only held the animal in custody for its new owner. He was of opinion that no right of re-sale had been given to Stannard, when he took the horse with the avowed intention of leading it away for W. Prosser to a paddock of Messrs. Wilson's. Judgment would be for a return of the horse or its value, £18 10s., and costs. The claim for damages would not be allowed.
1881 Land Grants section No 60 at Oeo and No 4 at Opunake Town 2/9/1881
1881 Coach Proprieter, Hawera NEWS AND NOTES Hawera & Normanby Star 19 March 1881; There is now mail communication on alternate days between Hawera and all the A.C. camps. The orderly meets Mr. Prosser's coach at Opunake, and takes the mails on. The concession is much appreciated, as quite recently it took about a week for a letter or newspaper to go from Hawera to the Cape or Pungarehu. We now learn that Mr. Prosser intends running his coach through to New Plymouth three times a week, returning on
alternate days.
1881 Hawera & Normanby Star, 27 August 1881:CROWN LANDS OFFICE, Patea August 26 1881 NOTICE is hereby given that Mr William Robert Prosser, the selector of Section 7, Block V., Waimate Survey District, desires to transfer his interest in the said land, as provided under section 65 of the Land Act, 1877, to Adam Hunter, of Waimate Plains, farmer. C. A. WEAY, Commissioner Crown Land.
1882 Hawera Freeholder , value Opunake £45, Coach proprietor, Hawera
1882 Hawera & Normanby Star,8 April 1882: THE IMPOUNDING CASE. This case (Quin v. Prosser), raised the issue as to whether Mr. William R. Prosser, who was appointed poundkeeper at Hawera by the Patea County Council had power to act in that capacity when the Hawera County had been proclaimed until re-appointed by the latter County Council. The evidence was brought out at the hearing a fortnight since, and the Bench (Messrs. Wilson, McGuire, and Caverhill) on Thursday delivered the following written judgment :"After carefully considering the impounding case before the Court, and looking up authority, we find nothing to compel or imply that any poundkeeper is required to close his pound during those periods when changes are taking place by one local body taking over the management of affairs from another. By the Acts bearing on this question — Municipal Corporations Act, clause 16, and Counties Act, clauses 29, 32, 39, and 201— it would appear that officers appointed by one local body continue in office, notwithstanding any changes that take place, until confirmed in their appointments or dismissed by the new local body coming into power. By clauses 21 and 22, Counties Act, it appears that some time is allowed a new county in taking over charge of affairs from the county from which seceded. It is therefore obvious that the closing of public pounds, hospitals, and slaughterhouses, if enforced or permitted during periods of local government changes, would cause serious inconvenience. It seems clear that no clause in either of these Acts sanctions or consents to any action that would so seriously inconvenience the general public. In this case we are of opiuion that the defendant was poundkeeper, with power to act as such on the date the cattle were impounded, that gave rise to the action." Judgment for defendant, with costs. Defendant was ordered to pay the costs of an adjournment obtained at his instance. Mr. Matthews appeared for plaintiff; Mr. Parrington for defendant.
1882 Hawera & Normanby Star, 21 April 1882: HAWERA RESIDENT MAGISTRATE'S COURT. Thursday, April 20. (Before Captain Wilson, and J. S. Caverhill, Esq., J.P.'s.) IMPOUNDING. William R. Prosser was charged, on the information of Charles Quin, with having, on the 28th February, committed a breach of the Impounding Act, by having failed, Ist, to keep in his possession a copy of the Impounding Ordinance, and (2), that he had neglected to enter in the pound book " every particular required to be entered " at the time certain animals belonging to defendant were impounded. "Mr. Matthews appeared for complainant, and Mr. Barton for defendant. Mr. Barton raised the objection that the information was bad, because it charged two distinct offences, whereas the 7th section Justices of the Peace Act provided that no information should charge more than one offence. Mr. Matthews applied to have the information amended by striking out the first part. ' The Bench concurred, and struck out the first part. Mr. Barton then objected that the charge of omitting to enter particulars was not specific enough. The information should show what particulars it was alleged had been omitted. Mr. Matthews said he would prove that the particulars were not properly entered; if they had been entered his case would fail. Mr. Barton rejoined that defendant was entitled to know what he was charged with. Mr. Matthews said the charge was that defendant had omitted to enter " every " particular. The evidence would show what particulars were not entered. The Bench decided to give leave to amend the information by specifying the omitted particulars. The case then proceeded. Charles Quin stated that on the 28th February last he missed some cows and a calf; he searched for them, and next day about noon he found them in Hawera pound ; asked what was to pay, and was informed by Mrs. Prosser that it was 205.; on request was shown the pound book ; there was no statement as to the brands, the cause of impounding, or by whom they were impounded; he was informed that the cattle were impounded from Kitouetea; was satisfied the cattle had never been there, and he paid the money under protest ; Mr. Prosser afterwards said Keteonetea was a mistake; he admitted having neglected to make the proper entries. To Mr. Barton — I laid this information because defendant broke the statute law which we should all keep; I may be a benefactor, to the human race; I leave that to you to judge. You did not come here because of your biliousness P — No; because a breach of the law was committed. You are aware that his wife was there in his place P — Yes. Do you not think it mean and spiteful to proceed against a man because of the omissions of his wife P — No ; if a man could bring his wife into the question whenever he committed a breach of the law, there would be plenty of breaches. You do not feel sore because you lost your previous case P — No. You do not think your conduct mean and spiteful P — No. Mr. Barton hoped the Bench, would not convict. In the first place, the poundkeeper was not present when the omission occurred — it was the act of the wife. The prosecution was vindictive, because plaintiff lost his previous case. The Bench said the Act applied to paid pound keepers, and scarcely could be held to apply to pounds in these small places. No unpaid man could be expected to be at the pound all day. Mr. Matthews said the law was plain,
1882 CORRESPONDENCE.Hawera & Normanby Star, JUSTICES JUSTICE. TO THE EDITOR OP THE STAR.
Sir,— l am glad that you thought proper to print, in Saturday's issue, the verdict in the impounding case. It will show the public the amount of labor the Bench took to sugar-coat their verdict over, so that their bitter "pill" would go down as agreeably as possible. The most extraordinary thing in this decision is the amount of extraneous matter mixed op with it. There was not one word of evidence before the Court in this case about either slaughter-houses or hospitals, or about the Municipal Corporations Act, as Mr. Prosser admitted he was not appointed poundkeeper under that Act at the time. Why the Bench mixed up these things in their verdict no "fellah" seemed able to understand. I always thought until now that a bench administered Statute law as they found it, and not as they wished it to be : but we live and learn. In the first place, there was an action about to be brought against Mr. Prosser, by me, for a breach of the Impounding Act; and when questioned about his appointment as poundkeeper, he admitted that he was neither appointed by the Hawera County nor Borough Council, but was acting as poundkeeper on his own responsibility. It then became necessary to test the validity of his appointment. This action was then brought under section 200 of the Counties Act, which reads thus: "The council may establish and maintain public pounds within the county, and' may appoint, remove, and re-appoint poundkeepers." The case hinged altogether on Mr. Prossor's appointment by the Council. It is admitted that he was appointed by that body; but as the Act distinctly states that the pound must be within the county, as soon as separation took place Hawera was outside the Patea County, and the council that appointed him ceased to have any jurisdiction over theirl servant : therefore, he ceased to exist. Then the Hawera County Council never appointed Mr. Prosser; but if they had, when the borough was proclaimed Prosser's pound was outside both counties, and neither of those bodies has any jurisdiction outside their boundaries ; and he was' not appointed by the borough at the time of this lawsuit. I challenge the Hawera Bench to show a case where the officer of a public body retained his appointment when his employers ceased by the clear wording of a Statute to have any jurisdiction over him. The Bench's Verdict dwells on officers appointed by publio bodies, " holding their appointment until succeeded by someone else, or dismissed by a new local body." Just so. If the Bench had acted on this, I would have no cause to complain. I would remind the Bench that Mr. McRae was appointed to succeed Mr. Prosser by the Hawera County Council, and he can act as poundkeeper, being within the county; but I again challenge the Bench to show how Mr. Prosser could be appointed poundkeeper under the Counties Act, either now or when the case was heard, as he is outside both counties. I did not expect to gain this case from the very moment Mr. Parrington showed the Bench that if I gained the case, " it would be a serious matter for Prosser, as he would he liable to refund all monies received through the pound since separation." Captain Wilson appeared to set himself from that moment to save Prosser, as the following, I think, will plainly show: — When Mr. Matthews stated that the poundkeeper required to be re-appointed by the Hawera County after separation took place, Capt. Wilson said that "if that was the case, the publicans would have to be reappointed, and re-licensed also." Did Captain Wilson not know that the poundkeeper was a servant of the Council, and that the publican was not ? Did he not know that the Council has neither power to license a house or take a license away? Did he not know that there is a Licensing Act to deal with publicans ? I believe Captain Wilson knew nil this; but the poundkeeper was to be saved from the consequences of his own illegal act, and I have been made the unfortunate victim. — I am, &c, Charles Quin. Normanby, April 11, 1882.
1882 Taranaki Herald, 13 October 1882. Opunake. — Several changes have taken place in coach proprietorships. Mr. A. Hall having secured the Wellington-Manawatu mail contract has sold out the line from Opunake to New Plymouth to Messrs. Middleton Bros. hotelkeepors, Opunake. Mr. Andrew Young is going to fresh fields and pastures new, and has sold out Waverley to Hawera and Hawera to Opunake lines to William Prosser, livery stablekeeper, Hawera.
31 Jan 1883 Hawera LAST NIGHT ENTERTAINMENT. Last evening a benefit was given to Mr. Harry Power and Mdlle. de Glorian, in recognition of their professional services in connection with the Fancy Fair. The Hall was pretty well filled and proceedings were commenced by the Hawera Band performing a selection. The second part of the programme consisted of vocal music and recitations contributed by Mrs. Pinches, Mrs. Major, Messrs. Pinches, Dixon, Gower, and W. Prosser. Mr. William Prosser, in this part, not only sang the Wreck of the London, but gave his trapeze act in good style. A Harlequinade terminated a very successful entertainment and sent the audience home in high good humor.

1884 Hawera & Normanby Star29 August 1884: Conveyances, &c.
COBB'S LINE OF ROYAL MAIL COACHES. NOTICE. The undersigned desires to inform the public that he has taken over the line of coaches running between Hawera and Opunake, and hopes by punctuality, and attention to the requirements of customers, to merit a continuance of the favors hitherto conferred upon Mr. Prosser.
The Coaches will run as under : — Hawera — Opunake. Leave Hawera at 2.30 p.m. Leave Manaia 3.45 p.m. Leave Otakeho 4.45 p.m. Arrive Opunake 7 p.m. Leave Opunake 6.30 a.m. Otakeho 8.30 a.m. Manaia 9.30 a.m. Arrive Hawera 11 a.m.
CHAS. GOOSEY, Proprietor.
ROYAL MAIL LINE OF. COACHES, BETWEEN HAWErA AND MANUTAHI.
Messrs. J. DUEING & FLYNN beg to inform their friends and travelling public that they have taken over the line of Mail Coaches between, Hawera and Manutahi from Mr. W. E. Prosser, and their coaches will always be at the Railway Stations at Manutahi and Hawera on arrival of trains, connecting at Hawera with Prosser's coaches to Opunake. The Coaches run in connection with F. Bailey's Livery Stables, where Buggies and Special Convey- ances, suitable for tourists and travellers, can be had at the shortest notice. Coaches leave Hawera for Manutahi at 5.30 a.m. and 11.10 a.m. Coaches leave Manutahi for Hawera at 12.10 a.m. and 7.50 p.m. Booking office at Hawera at Gallagher's Egmont Hotel. FRANK BAILEY, Agent, Hawera. C. H. CHAVANNES, Agent, Wanganui.
1885 Hawera & Normanby Star, 9 February 1885:PR0SPECTUS OF THE OPUNAKE DAIRY FACTORY COMPANY (LIMITED). To be incorporated under the Companies Act; 1882. Capital— £2500,' in 1250 shares of £2 each, payable as follows: — Two shillings and sixpence per share on application ; two shillings and sixpence per share on allotment ; the first call of five shillings per share to be made at the expiration of two months from date of allotment ; and the balance of calls of not less than five shillings per share at in- tervals of not less than two months, It is expected that it will not be necessary to call up more than £1 per share. Provisional Directors : Emanuel Bayly, farmer, Punehu; John Stevenson, farmer, Rahotu; Richard Ching, farmer, Opunake; Simeon Forsyth farmer, Pihaina; Jacob Rothery, farmer, Pihama; S. A. Breach, farmer, Opunake; Alfred E. Baylis, farmer, Opunake; Thomas Good, farmer, Oeo; William Pettigrew, storekeeper, Opunake; John Stitt,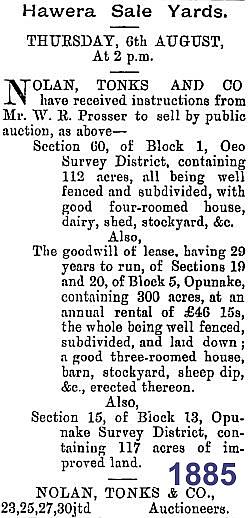 storekeeper, Opunake; Alexander Anderson, settler, Rahotu William Jeffries, farmer, Rahotu; William R. Prosser, farmer,Oaonui
Bankers : Bank of New Zealand. Treasurer and Secretary (interim): A. H. Moore. This Company is projected for the purpose of manufacturing Cheese, Butter* and Bacon on the American Factory-system. The Directors place this project before the farmers of the district and the public generally with the fullest confidence, believing that this district is eminently adapted for dairying; that the time has come when farmers should move out of the old rut of profitless stock raising; that similar factories in other less favored districts in the colony, have proved undoubtedly successful*; that the markets for dairy produce are now certain and unlimited. The Company proposes to purchase milk from shareholders only; the quantity of milk to be supplied by each contributor will be regulated as far as practicable to his interest in the Company. No site has been fixed upon, but it is considered that it should be as near to the port of shipment as convenient, due regard being had to the present and probable future supplies of milk. Applications for shares will be ; received by the Interim Secretary, from whom forms of applications may be received. The share list will close on the seventeenth day of February, 1885.
1886 PROSSER W R age 39, DEC 1886 on the WHAMPOA, unassisted passenger to Victoria
William and Mary Ann lived at Rae St, Fitzroy North. Parkville, Windsor, Kensington Hill and Carlton North are old, inner suburbs of Melbourne then to Port Phillip Bay to be near their daughter Norma.
The Argus (Melbourne, Vic. : Tue. 2 March 1943: Death - PROSSER. On February 28, at his daugher's residence, 332 Point Nepean road, Chelsea, William Robert, Age 94, loving husband of the late Mary Ann and loved father of Florence (Mrs Smith deceased), James (deceased), Joshϊa (W.A), William, Norma (Mrs. Ingram), Leah (Mrs. Hine), Cobb, Tana (Mrs. Keimath), Martha (Mrs. Williams), David, Jeanie (Mrs. Grant), and Richard (deceased. 1st A.I.F.), aged 94 years.- (New Zealand papers please copy.) William was bur. Cheltenham Cemetery, Charmen Rd, Victoria
Their children:
i Florence Prosser Born: 21 Mar 1872 to ? Smith Died: 1903 in Western Australia
ii Caroline Alberta Prosser Born: 27 Mar 1874 in Marton Died: 11 Feb. 1875
iii James Samuel Prosser Born: 05 May 1875 in Marton Died: 1932 in Kew, Melbourne.

iv Joshua Henry Prosser Born: 02 Oct 1876 in Marton Married: 11 May 1901 in Residence of Fred J S Milas, Sth St, Beaconsfield, WA to Grace Gertruse Hanham He d: 14 Apr 1961 in Sunset Hospital, Dalkeith, W A Burial: Freemantle Cemetery
a Phillip William Prosser Born: 30 Mar 1904

b Joshua Henry Prosser Born: 30 Oct 1907

c James Hanham Prosser Born: 30 Apr 1909

d Grace Elizabeth Prosser Born: 29 Mar 1915
v William Robert (Will) Prosser Born: 08 Aug 1878, Married: 1900 to Matilda Lane (Born: 1880 in Ballarat, Victoria Father: Thomas Lane Mother: Emma Died: 1944 in Nth Carlton) he d: 1956 in Parkville, Victoria
a Iris Isabel Lillian Prosser Born: 1906 in Carlton North

b William Roy Prosser Born: 1903 in Kensington Hill Died: 1904 in Fitroy Nth
vi Norma Mary Prosser Born: 29 Jun 1880 in Hawera Married: 1906 in Victoria, Australia to John Robert Ingram She d: 1949 in Croxton

vii Leah Marian Prosser Born: 16 Apr 1882
viii Cobb Prosser (Born: 27 Jan 1884 in Punehu, near Hawera Died: 1956 in Fitzroy) Married: 1911 in Victoria, Australia to Alice Margaret Challis (Born: 1884 in England Father: David Challis Mother: Elizabeth Ann Wild Died: 1959 in Fitzroy)

a David William Prosser Born: 1911 in North Fitzroy, Melbourne
ix Maritana (Tana) Prosser Born: 06 Nov 1886 in Richmond, Australia Died: 1968 in Gree Married: 1922 to Ern Kermath
x Martha Prosser Born: 27 Jul 1889 in Melbourne Married: 1925 to Robert Francis Williams
xi David Prosser Born: 02 Jan 1894 in 1894 Died: 1977 in Windsor
xii Jennie Prosser Born: 25 Aug 1895 mar ? Grant
xiii Richard Prosser Born: Abt. 1897 Died: 21 Jul 1916 in WW1
All images and data used in this site are copyright - ©

Descendant input to up-date family pages is very welcome and more detailed information is available to family on request.

Acknowledgement must be given to this research source and no content may be published without permission.