Hidden Slide Menu on Left
Below, Bayly Page Index

Children of William & Elizabeth May Bayly
1 Daniel Bayly was Chr: 8 Jan 1835 at Ashwater, Devon; d: 10 May 1910 at his residence Bell St; Wanganui. He mar: 1865 to Janet (Jessie) Duncan Watt who d: 1912. Daniel came to Taranaki when about five years old, and about 1880 became a settler at Wanganui - his homestead was situated on Native Reserve, Section 667 in Register of Native Land Court, Kai Iwi Block, Rangitatau 1C (Tarapuruhi), part of Baylys Road extension. In March 1891 he applied to the Waitotara County Council for the issue of a License for a Slaughterhouse at Kai Iwi. At probate, his estate was valued at £19,349. The family:
i. William Morant Bayly b: 1867 He was educated at the Wanganui Collegiate school, joined the National Bank, and was stationed at New Plymouth, Wanganui, Napier, and Wellington and in 1897 Manager of the National Bank at Stratford. He d: 28 May 1931 and was bur: 31 May 1931 Taruheru Cemetery, Gisborne; Mar: 1897 to Isabella Jane Gerhardt (b. 1865; d: 08 Aug 1931 Gisborne)

ii Horace Henry Bayly b: 1870 in NZ; farmer of Kai Iwi, Wanganui; d: 1957 in Wanganui; Mar: 24 Sep 1903 in Hillside, Wanganui to Ada Peat b: 1877 to parents Jane and David Peat; d: 26 Jan 1936 in Wanganui They are Bur: Aromoha Cemetery, Wanganui

iii Margaret May Bayly b: 31 May 1873, Tikorangi, Taranaki; she did not marry and d: 1940 Wanganui where she was buried.

iv Olive Bayly b: 22 Mar 1875 in Waitara; Married: 30 Apr 1913 in St Paul's Church, Wanganui to Stanley Rankin, a Wellington dental surgeon (deaths not found in NZ)

v Emily Bayly Born: 11 Sept 1877; she did not marry and d: 1977 Wanganui where buried

vi Stanley Bayly b: 1879 Died: 1963 Mar: 1906 to Isabel Gordon b: 1881 Mar: 1906 Died: 1968 Children; i - Riti Bayly b: 18 Mar 1906 ii - Harold Bayly b: 1907

vii Jessie Cora Bayly b: 1881 in Wanganui d: 12 Mar 1937 in Dunedin Mar: 1903 to Thomas Dewes Jamieson b: 1876 in Ernsclew, Central Otago; WW1; butcher Dunedin; d: 25 Jun 1951 in Dunedin They are buried Dunedin Northern Cemetery

viii Hilda Vera Bayly b: 10 Dec 1884 Wanganui,she did not marry and d: 1974 Wanganui

ix Mary Bayly Born: 1886; d: aged 6 weeks

x Archie Bayly b: 16 Apr 1889 Wanganui; Veterinary Surgeon, Hawera, d: 1976 Wanganui

xi Cecil Bayly b: 1890; d: aged 5 weeks
2 Ann Bayly Chr: 17 Mar 1836 in Clawton, Devon; d: 23 Sep 1920 at Hawera where she is buried.
3 Jane Bayly b: 1840 in Blagdon, Devon d: 30 Nov 1926 in Wanganui; Mar: 1862 to Joseph Hawken b: 1827 in Devon d: 18 May 1918 Wanganui Bur: Wanganui Heads Rd Cemetery; aged 91 years. Husband Joseph Hawken arrived in New Plymouth on the "Cresswell" in 1852 and farmed the Mission Station (country between the break-water and the town) for 9 years. Charge 30s an acre rent for this! He, at the same time, had a farm near Omata in partnership with John Stephenson Smith. He volunteered when the first Maori war broke out, and Maoris took all his stock from his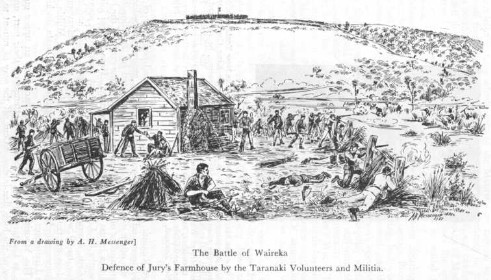 Omata farm. Joseph was shot Wairakei, and lay out all night on the sandhills, (his brother John was shot near Sentry Hill about the same time). Joseph joined Captain Atkinson's "Bushrangers" and was with the regiment through both Maori wars. When hostilities concluded, he bought land grants from his comrades (any soldiers who fought at New Plymouth in the first Maori War were granted of land) These were at Kakaramea, near Patea so in 1867, Joseph with his wife, 5 children, horses, cattle and two drays, travelled south along the coast - the first family to trek down to South Taranaki. To navigate to their destination, a Maori boy in the Institute at the Mission Station, drew a plan which enabled Mr Hawken and family to travel without roads. It took three weeks at considerable risk from Maori attacks. Hawken family and James Ball, who had the adjoining farm, were the first white people to farm in this locality. After getting settled, Joseph returned to New Plymouth - he travelled by night and brought his sheep through - the very first in South Taranaki. The country between Kakaramea and New Plymouth was Maori owned and Honi Pihama was at Pihama. The Hawken family had not long been settled at Kakaramea when Tito-kowaru's war broke out, and although Joseph succeeded in getting his horses and cattle away, the sheep had to left behind. The Maoris detroyed all the crops on the farm and drove the sheep to the old Toumaha pa, near Kakaramea, where they ate a good many. The family were forced to go to Patea, and for a short time occupied the Patea Blockhouse. On return to his farm, Joseph built a raupo whare and they lived there till other white settlers arrived in the district.
General Cameron and his troops came along shortly afterwards, and the Maori chiefs had a "korero." The outcome was that they agreed to allow Hawken to collect the remainder of his flock of sheep so he set out around the bush clearings to round up all he could find, but as he was followed all the way by an old Maori with a gun he did not make a particularly good muster. When Titokowaru's war came to an end, the Government offered to lend money to soldier-settlers to assist them in developing their land, but with an interest rate of 11 per cent! And there was no suggestion of lending this money on any kind of second-rate security, so settlers had to deposit their deeds as security. Joseph applied for a loan of £300 on the security of 800 acres of land that has since proved to be amongst the finest and richest land on this coast. He sent his deeds to Wellington with his application for a loan, but no loan materialised, and after writing many letters and waiting eighteen months, he decided to journey to Wellington - no light undertaking in those days - it is not known if he got his loan. The family settled down to the business of farming. They grew a tremendous lot of wheat and oats on this rich sea-coast land getting as high as 70 bushels to the acre of wheat and up to 100 bushels of barley. Great quantities of ryegrass were cut off the land, and it was from here the seed was secured that eventually sowed most of the Waimate Plains. Initially when cattle and sheep were scarce, prices were good - sheep were worth about 30s each, and cattle ?. One of a team of horses was sold at Kakaramea for £60. They received 2s 9d per lb for their wool - some of this first wool sold in New Plymouth. However as the settlement progressed, more stock was raised, but with no market of any consequence, prices came down to the extent that thousands of sheep were boiled down solely for their tallow and even legs of mutton were hawked about for sale at a shilling a piece deemed worthless for boiling down purposes. Markets were sought for cattle, and numbers shipped through Waitara to Auckland had small returms. In the early eighties freezing works were started in Wellington, but the initial stages did not afford much relief - fat heifers realising only 11s to 16s per head. All were strenuous and difficult times, but those who succeeded in holding on ultimately reaped the reward. These are Joseph and Jane Hawken's descendants:
i Ada Elizabeth Hawken b: 1863 Died: 1929 in Auckland; Mar: 1888 to Frederick William Wake b: 1862; Occ: Teacher; d: 1932 in Auckland; Bur: Onehunga Hillsborough Cemetery

a. Nina Wake b: 1890 d: 1923 in Stratford Mar: 1915 Elliott Stanley Rutherford b: 1887 d: 1962 in Stratford; Bur: Kopuatama Cemetery Stratford

b. Cecil Barry Wake b: 7 Mar 1897; d: 1977 Hamilton; Mar: 1923 to Cecille Mary Larner b: 5 Feb 1899; d: 1982 in Hamilton; Crem. Hamilton Park Cemetery

c. Allan Harewood Wake b: 1891; Died: 1891 in Timaru; Bur: Timaru Cemetery

d. Freda Wake b: 20 Feb 1893 d: 1976 Mar: 1922 to Alexander Gunn Polson b: 1884; d: 1957 in Auckland; Crem. Waikumete Cemetery

ii Nina Matilda Hawken b: 1866 d: 1942 in Auckland Mar: March 1895 to Thomas Coverdale b: 1855; d: 1929 in Auckland; Crem. Waikumete Cemetery. Family:

a. Oswald Myles Coverdale b: 1896 d: 1966 in Auckland; Mar: 1929 to Elsie Drayton Elliott b: 05 Jan 1904 d: 1990 in Auckland; Bu: Purewa Cemetery

b. Howard Vincent Coverdale b: 1897 d: 1971 in Auckland Bur: Purewa Cemetery

iii Cecil John Hawken b: 1870 in Kakaramea d: 1950

iv Oswald James Hawken b: 1871 d: 24 Jul 1957 in Wanganui Mar: 1902 to Grace Caroline Tomlinson Hesketh b: 1875 in Auckland d: 14 Dec 1966 in Wanganui; Children:

a. Joan Hawken b: 23 Feb 1903 in Sth Taranaki; d: 1995; Mar: 1932 James Edward Vickers b: 13 Jul 1899; d: 1988 in Tauranga

b. Godfrey Hesketh Hawken b: 23 Sep 1904; Occ: Farmer Waverley; d: 1950 in Waverley

c. Oswald Bayly Hawken b: 23 Jun 1906 in Wanganui d: 1985 in Wanganui Mar: Una Mary Shield b: 21 Jun 1915 in Wanganui (Father: Arthur Princip Shield; Mother: Katie MacDonald) d: 16 Sep 2000 in Wanganui
v Cresswell Metherell Hawken b: 11 Jan 1875 in Patea d: 16 Jul 1949 in Hawera
vi Rosa May Hawken b: 1876 d: 1962 Mar: 1912 to James Thomas Wellington Wilkin b: 1881 (Parents: John Winstanley Wilkin Mother: Edith Leaf); d: 1936
vii Ella (Jane) Aletheia Hawken b: 1877 d: 18 Apr 1941 in Wanganui Mar: 1891 to Gilbert Pearce b: 1859 d: 1928 heir Children:
a. Frank Kenneth Pearce b: 1891 : 1951 Mar: 1925 to Jean Lowes

b. Kathleen Pearce b: 1896 Mar: 1921 to Baden Francis Redvers Knapp b: 1900 d: 1965

c. Gilbert Alan Pearce b: 15 Jan 1899 d: 1981 Mar: 1932 to Gladys Moana Seymour b: 1904 d: 1939

*2nd Wife of [1] Gilbert Alan Pearce: Mar: 1942 Janet Beatrice Scott

d .John Pearce b: 1900

e. May Vater Pearce b: 17 Jun 1902 d: 1988 Mar: 1924 to Alan Hadfield Marshall b: 1900 d: 1956
4 Eliza Bayly b: 30 Nov 1841, New Plymouth; d: 1842 New Plymouth
5 Emanuel Bayly b: Abt. 1843 in New Plymouth was a director of the Opunake Dairy Company; d: 23 Feb 1865 in New Plymouth
6 Matilda Bayly b: 1845 in New Plymouth d: 1926 Mar: 18

Mar 1871 at the residence of Daniel Bayly, Raleigh West to Thomas John George b: 1847 d: 16 Aug 1917 aged 77 years. Thomas was twelve months old when he arrived at New Plymouth with his parents William and Ann (nee Coulls) in 1841. When twelve years Thomas was apprenticed to the printing trade, serving his time on the Taranaki Herald, under the proprietorship of his brother-in-law, Mr. G. W. Woon. He saw service throughout the Maori War, receiving the New Zealand medal. Thomas George was for many years overseer in the jobbing department of the Hawera Star - the first printer to establish himself in Hawera, and started a jobbing office of his own prior to any paper being published. His family:
i Winifred George b: 1873 Died: 03 Oct 1912 in Kohi, Waverley

ii Millicent George b: 1875 Died: 1942; Married: 1893 to Augustus Samuel Biss b: 1864 Died: 1917

iii Lillian George b: 1882 Died: 1942 Married: 1903 to Henry Richard Joseph Burton b: 1879 Died: 1960

iv William Gerald George b: 1883 Died: 1957; Married: 1921 Catherine Mary Banks

v Eva Matilda George b: 1884 Died: 1959 Married: 1933 to Edward Sandford

vi Daisy Evelyn George b: 1886 Died: 1963 Married: 1910 to Samuel Henry Williams b: 1887 Died: 1965

vii Emily Constance George b: 1887 Died: 1913 Married: 1908 to Alexander James Allan b: 1877 Died: 1952
7 Samuel Bayly Chr: 7 Jan 1847 at New Plymouth d: 27 May 1857 in New Plymouth
8 Thomas Bayly b: 1849 in New Plymouth, grocer of Hamilton; d: 07 Aug 1930; Bur: Hastings Cemetery; Mar: 1874 at residence of parents James and Hannah Dingle, Frankley Rd. to Mary Jane Dingle b: 1853 in New Plymouth ( Father: James Dingle Mother: Hannah Veale) d: 1942. Family:
i Hannah Bayly b: 1877 d: 1958 in Hastings

ii Zoe Alethia Bayly b: 11 Jun 1878 in Sth Taranaki d: 1878

iii [1] Clarence Reginald Bayly b: 21 Aug 1882 in Sth Taranaki d: 10 Aug 1967 Hastings Mar: 1902 to Mary Frances Williams b: 1881 d: 1913 Waipukurau

*2nd Wife of Clarence Bayly: mar: 1920 Ivy Matilda Powdrell b: 1890 d: 1968 Hastings
9 Elizabeth May Bayly b: 1853 in New Plymouth d: 1932 Hawera; Mar: 10 Feb 1873 in Waitara, Taranaki to Richard Blair Hamilton b: 1844 d: 1924
i James Blair Hamilton b: 1875

ii Gertrude Elizabeth Hamilton b: 1876 d: 1946; Mar: 1915 Franklin John White b: 1862 d: 1941 Bur: Te Henui Cemetery

iii Margaret Mary Hamilton b: 1878 d: 1961 Mar: 1935 Hector Sinclair

iv Lily Mabel Hamilton b: 1889 d: 1965 Mar: 1910 Sidney Channing Tonks b: 1885 d: 1945

v William Douglas Hamilton b: 1881 d: 1930 Mar: 1908 to Edith MacKenzie Caplen

vi Leslie Richard Hamilton b: 1883 d: 1957 Bur: Hawera Cemetery Mar: 1932 to Etta Alethea Hawken b: 1878 d: 1972 Bur: Hawera Cemetery

vii Harold Hamilton b: 1884 d: 1926 Bur: Hawera Cemetery

viii Mary May Hamilton b: 1889 d: 1959 Bur: Hawera Cemetery Mar: 1909 to John Douglas Scott b: 1882 d: 1953

ix Bertha Sybil Hamilton b: 1891 d: 1983 Burial: Purewa Cemetery Mar: 1916 William Tudhope b: 06 Feb 1884 d: 1978
10 James Bayly b: 1853 in New Plymouth. James served as a volunteer during the Maori war, and afterwards leased a farm at Waitara. He then joined Mr. T. Elliot in partnership in 1875, as a runholder and breeder of fat stock for shipment. He was a member

of the Clifton County Council, and on the Waitara Town Board and various road boards for several years. James mar: 6 Jul 1875 to Elizabeth McNeice Crossley - a teacher b: abt 1850, d: 23 Aug 1912. James d: 25 Sep 1910 at Waitara, and they are bur: there with son Oscar. James Bayly's estate was certified for stamp duty September 1912: £15,049,
i Oscar James Crossley Bayly b: 07 Jan 1876 d: 30 Jun 1944 in Waitara Bur: 11 Jul 1944 Waitara Cemetery Mar: 1913 to Margaret Irene Law b: 1887 d: 1957 in Auckland Bur: 1957 Purewa Cemetery, Auckland

ii Theresa Isabella Bayly b: 22 Nov 1876 in NZ d: 1931 in Auckland Bur: 1931 Purewa Cemetery, Auckland

iii Clara Coralie Bayly b: 1880 in NZ d: 1932 in Auckland Bur: 1932 Purewa Cemetery, Auckland
11 Emma Bayly b: 12 Aug 1855 in New Plymouth d: 20 Dec 1925 in Wanganui Mar: 20 Apr 1882 in Waitara, Taranaki to Alfred Alexander Gower b: 1859 d: 1940 in Cambridge
i Eleanor May Gower b: 1883 d: 1955 in Christchurch

ii Clarissa Alethea Gower b: 1887

iii Arnold Arthur Gower b: 1886 d: 1886

iv Alfred Morrison Gower b: 1884 d: 1884 in Patea Bur: Patea Cemetery

v Percival Fred Gower b: 1891 d: 1951 in Wanganui Bur: Crem. Wanganui Cemetery; Mar: 1943 to Lilian Elvy Syms b: 11 Oct 1890 d: 1985
12 Clarissa Bayly b: 1858 in New Plymouth. She did not marry and in 1893 was a draper living at Waitara; Miss Clarissa Bayly died 11 Jun 1908 in New Plymouth after a long illness at her residence at Waitara. A large portion of her time had been devoted to church work where for a considerable period she was a teacher at the Wesleyan Sunday school. Her interment took place at the Te Henui Cemetery.
Public records were used to research and compile this database - there could be errors so please confirm any data BEFORE using!! William Bayly's family are distantly related to the Newshams - Emma Eliza Newsham mar. Albert George Bayly who was William's nephew.