Hidden Slide Menu on Left
Zoe Prosser & Henry James Newman
Zoe Ethel Prosser (b: 14 Nov 1872 in Porirua, d: 26 Jan 1959 in Opunaki; Bur: 28 Jan 1959 Opunake Cemetery) to parents Samuel and Elizabeth Prosser - she was admitted to the Pauatahanui School in Jan 1878 aged 5 years 2 months.
New Years Eve 1886: In accordance with the old custom, a watch night service was held in the Town Hall at 11 p.m., the Church of England prayers being read by Major Gascoigne, while a very effective sermon was preached by the Rev. K. J. Allsworth, Presbyterian. T About fifty people attended, and appreciated the service, the musical portion being presided over by Mr. Schwabe. The first part consisted of a concert, Misses L. Espagne. and Zoe Prosser, young ladies' of tender years, opening it with a duet, which showed that Opunake has musical talent of considerable power developing in its midst.
Taranaki Herald, 9 May 1889: EDUCATION BOARD: Opunahe Committee. — The Op«nake Committee recommended Miss Zoe Prosser as a pupil teacher for the Opunake School. At the annual meeting of householders confirmed Miss Prosser's appointment was to commence May1.
Hawera & Normanby Star, 8 January 1896: The marriage of Mr H. J. Newman to Miss Prosser took place to-day. The bride, who was attended by two of her sisters, looked charming, and Mr Scott was best man. The weather being beautiful the church was full. The Rev. Mr Chapman officiated. in St Barnabas' Church, Opunake
Henry (Harry) James Newman (b: 1864 d: 08 Mar 1946 in Opunake Bur: 10 Mar 1946 Opunake Cemetery) Zoe's husband was the youngest child in a family of six born to father John Lichfield Newman (b: 1815 in Ireland d: 1886) who came to Taranaki from Kinsale, County Cork, about the year 1849. The following year he married Harriet Matilda Honeyfield (b: 1824 of Gillingham, Dorset d: 1880) (Harriet had previously married 1850 Samuel Old who died the same year.) Other siblings in Harry's family were:
1 George John Newman (b: 1851 d: 1924) mar Annie Poad. George Newman was well known in NewPlymouth where he was associated in business for many year's with the late Mr. Daniel Berry, the firm carrying out the work of construeting the railway line between town and the breakwater among other important undertakings. While a resident of New Plymouth he took an active interest in public affairs, and he was one of the foundation members of the New Plymouth bowling green. Later he retired to Auckland.
2 William Lichfield Newman (b: 1853 d: 1921) mar Sarah Hempson. A Commission and Shipping Agent, at Currie Street, New Plymouth he was born in Taranaki, and, on leaving school, entered the office of Messrs Brown and Co., shipping agents, with whom he gained his commercial training. In 1875 he was appointed purser on the Union Company's s.s. "Maori," and afterwards served in the same capacity in the s.s. "Wakatipu." He was appointed the company's manager at New Plymouth in 1878, but resigned the position and commenced his present business in 1897. Mr. Newman is president of the Acclimatisation Society, a member of the Recreation Grounds Board, and is one of the directors of the New Plymouth Savings Bank. His father, the late Mr. J. L. Newman, was one of Taranaki's pioneer settlers.

3 Martha Ann Newman (b: 1855 d: 1886)

4 John Honeyfield Newman (b: 1857 d: 15 Sep 1891 in Opunake) son of the late Mr. J. L. Newman, a well-known colonist was born in Nelson. The family afterwards removed to New Plymouth, where Mr. Newman was educated. He subsequently entered the office of the Union Steam Ship Company, and remained there until he decided to establish his present business. Mr. Newman takes a great interest in local matters, and warmly supports whatever promises to aid the progress of Opunake. He is a member of the Ancient Order of Foresters, and has held office as treasurer of the local court for many years. (src Taranaki Cyclopedia)

5 Albina Elizabeth Newman (b: 1860 d: 5 Mar 1948 at Auckland)

Number 6: Harry as a young man joined the Union Steamship Company and later, with his brother John Honeyfield Newman, he formed the Opunake Company of storekeepers, bakers etc. They were pioneers in the district in the butter business, providing a good service to farmers who took up the land under the West Coast Settlement Act. The brothers bought fungus, cocksfoot, grass seed and home-made butter which they exported to the West coast, to Western Australia and Tasmania, using bullock wagons to transport the freight to the Port of Patea and also delivered goods to the Taranaki settlers before any roads were metalled.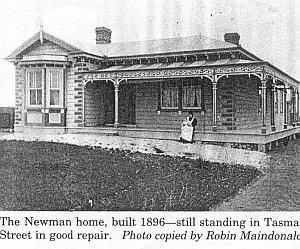 Henry Newman purchased a section in 1895 and built the house (now on the Opunake Heritage Invertory) and Jan. 1896 married Zoe, the eldest daughter of Mr Sam Prosser who was a well-known hotelkeeper in Opunake. Their marriage was the first to be celebrated in St Barnabas' Church.
Newman Brothers
(Henry James Newman), General Storekeepers and Provision Merchants, Opunake. Agents for the Northern Fire Insurance Company, Straits Fire and Marine Company, Booth and McDonald's Farm Implements, Reid and Gray's Drags and Agricultural Implements, McDougall's Celebrated Sheep Dip, Yates' weeds, and the Aorere S.S. Company. The business of this firm was established in the year 1880, by the proprietor, in conjunction with his brother, the late Mr. J. H. Newman, and has made wonderful progress, considering the firm's misfortunes. Messrs Newman Brothers were twice burnt out, and then occurred the death of one of the partners. Since then Mr. H. J. Newman has carried on the business alone, and has replaced the burnt-down building with a handsome store, which is thoroughly stocked with all the goods necessary for a first class business.(src Taranaki Cyclopedia)
After retirement from business, Henry Newman purchased a farm and became a supplier for the Opunake Cooperative and other business concerns in the district. He was a foundation member of the school committee on which he served many years and of St Barnabas' Church where Zoe Newman was an organist for 19 years. Their children:
i Albina Elizabeth Newman (b: 02 Jan 1897 in Opunake, d: 12 Jul 1990) Mar: 1932 to Oliver Coombe (b: 21 Dec 1909 at Opunake to parents George Lascelles and Hannah Maria Coombe (nee Blaxter); younger brother of Ernest) occ. Opunake - Concrete Manufacturer; d. 1975 Opunake age 65) He attended 11 Aug 1915 the Oaonui School Taranaki and 16 Apr 1918 St Joseph's New Plymouth
a Margaret Ledgard Coombe mar: David Thomas Royce Shegedin (b: 5 Sep 1922 to parents Thomas and Marion Eileen Shegedin; d: 03 Nov 1996) Children are Anthony, David, Yvonne and Michael
ii William Litchfield Newman (b: 28 Feb 1899 Died: 15 Nov 1988 Crem: Tauranga) Mar: 1929 to Dorothy May Cook (b: 8 December 1913, d: 1989; Crem: Tauranga)
iii Zoe Newman (b: 25 Feb 1903 Died: 1903 age 10 wks)
iv Harry James Newman (b: 27 Apr 1904 Opunake, Died: 1934, Bur: Karori Cem.) Mar: 1930 to Mary Roderique (b: 08 Feb 1907, d: 2003)
OBITUARY: MR. .H, J. NEWMAN: The death occurred.at Wellington recently of Mr. Harry James Newman second son of Mr. and Mrs. H. J. Newman, senior, of Opunake, and at one time first assistant-postmaster at the Wellington North Post Office. The late Mr Newman joined) the staff of the Opunake Post Office in January, 1920. In 1924 he was transferred to the Chief Post Office, Wellington, and from the Wellington North office he went to the Greytown office, where he remained until he resigned from the service to enter business as a draper on his own account at Miramar in 1928. He played an active part in promoting the progress of the suburb and was for some time secretary of the Miramar School Committee. He leaves a widow and a young daughter.

Karori Cemetery (Inscriptions) - Wellington: Area 01/Block /Row 17/Plot 02
In Loving Memory Of Frank d b husband of Florence RODERIQUE, b 23 Dec
1863, d 13 Jul 1913. `There in love's unclouded reign, Parted hands shall clasp again.'

Harry James NEWMAN beloved husband of Mary NEWMAN d, 22 May 1934, aged 30 yrs.
v Beatrice May Newman (b: 12 Jul 1906; Died: 1999) Mar: 1937 to Ernest Ulric Coombe (b: 1898 Towanba; Father: George Lascelles COOMBE b: 1861 in NSW; Mother: Hannah Maria BLAXTER b: 27 Oct 1867 Eden, NSW 1917 a farm hand at Oaonui, served WW1; farmer Egmont; d: 1966 New Plymouth)
vi George Edward Newman (b: 29 Oct 1907, d: 11 Apr 1989 in Opunake, Bur: 13 Apr 1989 Opunake Cemetery) He was 16 when he mar: 1924 to Florence Mary Hall (b 5 Aug 1900 to parents Mary and Thomas Hall; d: 1981)
vii Alice Isabel Newman (b: 1910; d: 23 Nov 1939 in Opunake; Bur: 25 Nov 1939 Opunake Cemetery) Mar: 1933 to Lawrence Henry Magee (b: 1909 Occ. Driver; d: 29 Dec 1966; Bur Hillcrest Cem. Whakatane)
viii Albert Claude Newman (b: 03 Nov 1911 Occ. Farmer; Died: 23 Nov 1974; Nelson) Mar: 1938 to Mary Newman
All images and data used in this site are copyright - ©

Descendant input to up-date family pages is very welcome and more detailed information is available to family on request. Acknowledgement must be given to this research source and no content may be published without permission.