Alfred Pelvin & Betty nee Jacobs
Alfred Pelvin (b: 23 Apr 1923 at Waimate to parents Dick and Queenie Pelvin; Alf d: 23 Jul 2002 in Nelson aged 79Y; Crem: 27 Jul 2002, Ashes Marsden Valley Cem. Nelson, Block RSA Plot 1, 429)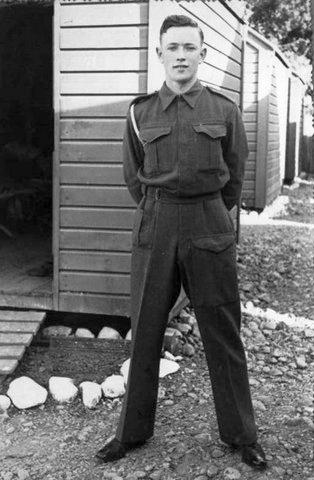 School: Alfred PELVIN; Waimate Main School ; Reg. No 0620/2; Admission Date 4 Sep 1928

2/6/544 & 443449 Signalman 4th Brigade Div. Sigs. Also 4345792 Flying Officer R NZ A F in Canada and England

Alf mar: 14 Feb 1947 at Waimate to Margaret Bessie (Betty) Jacobs (b: 01 Feb 1922 in Waimate to parents Samuel Henry George JACOBS

and mother Eliza Ann ATTWILL; d: 13 Apr 1996 in Stoke, Nelson; bur: 16 Apr 1996 Crem. Motueka)

Their two daughters:
1 Bronwyn Linley Pelvin b: Dunedin

2 Jennifer Mary Pelvin b: Mosgeil mar: Queensland to Gary Butler b: NSW
Alf's sisters Mary and Rose: Their farewell tribute to their brother:
Big brother, father - uncle - tall, blonde, blue-eyed, handsome.
Alf was born in Waimate in 1923, the eldest child and only living son of Queenie and Dick Pelvin. He had four adoring - and adored - sisters.
We grew up in what would now be known as a pioneer cottage on the outskirts of Waimate - a very happy household with love and laughter, music and mandolins, and singing. We remember the telegraph boy on his bicycle with his telegram bag over his shoulder. His bedroom had drawers of 'boys' stuff which girls were never allowed to touch. His home made crystal set and a morse key which he had made himself were included. Recall the tap - tap - tapping as he practised for hours and remember his uncanny ability to remember long strings of numbers.
| | |
| --- | --- |
| Mary - School days at Waimate | Rose leaving home for work |
The Post Office in Waimate was a brick building and the telephone exchange was directly underneath a clock tower. Alf was on duty the night an earthquake came that shook the whole tower. He stayed at his post underneath that clock, not knowing if at any moment the whole building would collapse.
The war came and Alf was at Burnham Military Camp. He followed the family tradition of service to King and Country - our father served at Galilpoll and in France and his grandfather had served in the British Army, first escorting convicts to Australia and then in the Sikh wars in India before emigrating to New Zealand and settling in Timaru.
It must have been a very hard call for the young soldier to have to break the news to his younger sisters that their father had died aged just 47 years old in 1942 . Alf now became the man of the family. These were very difficult times for the young widow with her children, far from her own family in England.
Alf went to Canada and trained as a wireless operator at the Calgary Wireless School.
Our days were brightened when mail arrived. He wrote descriptively of Canada - Banff, Lake Louise, the Calgary Stampede. Souvenir gifts for each of us -one, a handkerchief of a bucking bronco - airforce wings and a maple leaf which was treasured and Alf borrowed it back for an Air Force Reunion at Hamilton years later.
The day war ended - Alf was on his final furlough and was only 3 weeks away from being called in to active service where all the young airmen were being called up to fight in the Battle of Britain. We were to learn much later of his experience at his posting in England. On the interviewing panel was an officer from Waimate. This man had known Alf all his life - had dandled him on his knee as a baby. He said quite simply, "This boy is needed at home," and posted him to Cornwall, probably the safest place in Britain at that time. There he was gloriously happy - as happy as one could be in wartime when Britain was being bombarded. However war ended and the young pilot officer was shipped home, only to be kept waiting off shore at Lyttelton for three days because of a wharfies strike. A bitter blow for all those young men.
After the war, a new life. Alf's marriage to Betty Jacobs, a pretty, vivacious and highly talented young musician.
First to Fiji then back to Dunedin where they built a brick bungalow. Two daughters Bronwen and Jennifer then, a move to Oamaru, and the dark shadow of Bet's health begun to creep up on them.
It was a difficult time for Alf with two young daughters and a career with the Waterfront Industry Commission. His needs were supported by our mother and family at this time.
Next was Timaru. The girls were growing up. Alf developed an interest in tropical fish and bred axolotyls which were a bit creepy for visiting nieces, although they loved his two turtles. Patiently and with great forbearance and tolerance, Alf went through the trials and tribulations of reining in his two daughters. It is a tribute to his strength of character that he could always rise above the problems of his own life to help others.
A last shift was to Nelson where Norma and Harry lived. After Norma died, our Mother shifted to Nelson too, to be nearer the family. Alf spent many happy hours, willingly working for the RSA, the Airforce Association and the Family History Centre, enjoying the camaraderie of his friends and colleagues.
Every couple of years or so, family celebrations were organised for "milestone" birthdays, or any other excuse really. Alf was always there - always photographing his nephews and nieces. He loved children. He nursed each and every one of his nephews and nieces when they were babies - all were special to him and he followed their lives with interest. On one occasion at a family gathering he listened as the next generation discussed their communications systems and swapped their business cards. He said "It's a whole new different world" and he set about mastering the challenge of his computer with the help of family.
His proudest moments were when Jenny graduated as a Master of Business Administration and when Bronwen's peers conferred on her Life Membership of the College of Midwives.
He was very conscious that he was the last of our line to carry the name Pelvin. In his retirement he developed an abiding passion to record the Pelvin genealogy. He must have found every person named Pelvin in the world. He ended up with a database of well over 3000 names.
He had a good sense of humour and enjoyed life and laughter. He enjoyed his holidays in Australia with his beloved Jenny and Gary. But most of all he enjoyed the last three months. He told me these months were the happiest he had spent in his life. He was at home with his beloved daughter Bronwen. He revelled in the love and compassion with which she nursed him - and bossed him around. He was truly happy and content and at peace with himself and the world. For this, and for the loving care of doctors, nurses, friends and family, we thank you.

We celebrate the life of this truly good man. . . father, brother, uncle, friend.
Only those very close to him knew of his self-doubts and the pain and suffering in his life. Everyone knew of his integrity and strength of character, and his love for his fellow man.
Go in peace, my brother.
As you lived your life by the sea shore, the deep peace of the lapping waves to you;
As you soared above the skies, the deep peace of the flowing air to you;
As you watched the night sky from your balcony before you went to bed each night, the deep peace of the shining stars to you;
As you lie at rest at last, the deep peace of the quiet earth to you;
And as you enter life eternal, the deep peace of in infinite peace of God to you.

Images and data used in this site copyright -
Descendant input to up-date family pages is very welcome - more detailed information available on request.