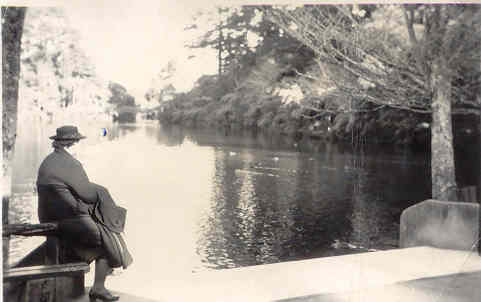 Mavis Anona Guilford was born 19/06/1912 at Waimate , the eldest daughter of Arthur and Rose Pelvin of Sobraon Farm at Redcliff, now know as Ikawai.
Mavis's father placed a great emphasis on the advantages of a good education and this aim was to be reflected later on in Mavis's own expectation for her own children. A horse and cart provided the transport for the young Pelvin children to attend Ikawai and Tawai schools.
In 1921 the sale of the Waimate property found the family removed to Timaru where Mavis continued her schooling at Waimataitai followed by four years at Timaru Girl's High School and academic success. Her pride in this school remained and her three daughters followed in her path.
A farm was bought in Totara Valley and the tough depression years saw Mavis in domestic service, then a dance at Hazelburn brought romance and led to her marriage on the 27th February 1935 to Frances Henry Guilford, a farmer of Middle Valley where they spent busy years together raising a young family.
The advent of the war with it's restrictions and hardships, came with sorrow - in 1943 with the loss of their eldest son Dick at the age of 8 years and the sad death of her brother Wattie shot at the Prisoner of War Camp at Featherstone where he was a guard. Henry's mother died in 1945.
After the war ended, Henry leased Te Puke, a farm just out of Fairlie which he was later able to purchase and here the family lived for 27 years before Mavis and Henry retired to Timaru. Henry passed away in 1978 after 43 years of happy married life together and son Bruce continued to farm the Middle Valley property.
Mavis had a strong personality, was at her best when entertaining friends. She was an excellent cook and food and it's serving were her specialty, whether it be the countless morning and afternoon teas or farm meals she provided for the farm workers where ever they might be or when ever they were needed, from her overflowing pantry. "Dear.....Dear.....Dear..... it was no bother! Come and get it before it is cold" was the catch phrase. Old and young, all responded to the aroma of delicious hearty home cooked food. To share a meal around a table and glean with interest each achievement or new happening was her joy. Mavis shared with Henry a love of gardens and flowers, a subject which she was very knowledgeable and these flowers overflowed into her home along with the fruits of her labours in the vegetable garden and were a source of pride and satisfaction.
Mavis had a long association with the Country Women's Institute and loved her music and singing. Two world trips with Henry gave her happy memories and mementos and nick-nacs filled her home to remind her of her interest in craft - be it pottery or handwork such as crochet or art. Mavis loved the stimulation of debate and would expound her view on a wide range of interests and there would be little hesitation on where or with whom she would place her stamp of approval or displeasure, with awesome finality.
Then alone after the death of Henry, restricted mobility in Mavis's last 10 years with it's accompanying frustrations after such a full and active life did not dim her sense of humour and she welcomed the companionship of friends and family, with her warm interest in their news and activities. Those last weeks she spent in hospital she saw as a new experience and a hoped-for means of achieving freedom from arthritis pain. A time to make new friends and regale the many who visited her bedside with the latest authoritive report on the goings on, as she experienced them, in her new environment, until just when these goals appeared to be realised, death suddenly and unexpectedly took her from her family on 14 December 1988.
Francis Richard; Winsome Daphne; Bruce John; Heather Rose; Allison Anona