Sarah Hilbert & George Mills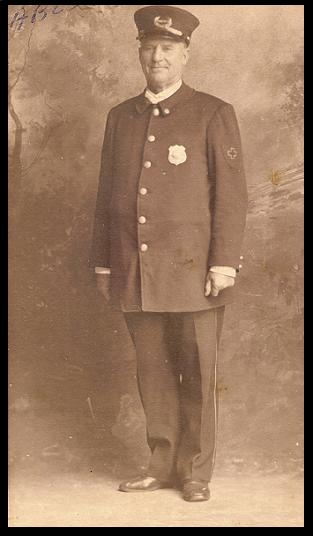 Sarah Hilbert (b: Abt. 1824 in Boxley, Kent to parents Lucy and Phillip Hilbert; d: 02 May 1901 in Finsbury, London aged 74 yrs) Her father shown as Farmer at christening

1841 - Sarah was not at home with her parents and siblings

19 Aug 1850 - Sarah a spinster of full age mar: after Banns in Parish of St Mark, Old Street, Shoreditch, Middlesex to George Mills - Witnesses:- Lydia Hilbert and Frederick James Richards
Husband George Mills (b: 15 Dec 1826 in Kintbury, Berks - his father: George Mills, Mother: Hannah Tidcombe; occ; bef 1851 63rd Reg. of Foot living at 11 Henry St, Finsbury, London; 1850 - 1871 Metropoliton policeman Warrant No 27730 living at 3 Langton St, St Luke, London; he retired for health reasons reumatism; d: Bef. 1881)
Description (at age 45 yrs) Height 5ft 9 ins; Hair - brown; eyes - Hazel; Complexion - fair; Marks - none; (on right - the 1850 uniform of a London policeman)
1851 - Sarah shown as born Boxley, Kent, aged 26 years - Wife of George Mills, a Policeman. She is caring for Arthur Hilbert, their nephew, the illegitimate son of Sarah's sister, Lucy and living at 11 Henry Street, Finsbury, London
1859 - 1881 living at 3 Langton Street, St. Luke, Middlesex
1861 - Shown as aged 36 years, married to George.
1881 - Shown as a widow occupation, Laundress aged 56years
1901 - living at 17b Peabody's Buildings, Dufferin Street, Finsbury, London

Died aged 74 years, the widow of George Mills a Police Pensioner.
Cause: Influenza for 4 days, pleurisy, pneumonia certified by J.J.Udale LRCP. Informant A. Longcluse, daughter, of 3, Chester Road, Edmonton, present at death.
Their family;
i George Frederick Mills (b: 1851

ii Phillip Charles Mills b: 1858

iii Henry Natham Mills b: 1862

iv Albert Ernest Mills (b: 16 May 1864 in City Road, St Luke, Middlesex; d: Abt. 1910) occ: 1881 - paker of fine art; 1887 letter carrier; 1900 photographer; 1901 mgr Grocer with Tea Agency; Albert mar: 18 Jul 1887 in St Paul, Finsbury, Middx to Alice Mary Ann Brine (b: 29 Nov 1869 in Surbiton, Surrey - her father: Charles Brine; Mother: Mary Preece; d: 1948 in Islington, London)

Their family:

a Albert Charles Mills b: 1888

b Ernest H Mills b: 1889

c Emily Louisa Mills b: 1891

d Rose Adeline Mills b: 1893

e Louisa Marian Mills (b: 03 Jul 1895 in St Lukes London; d: 1950) mar: 1917 to Ernest Alfred Woodward (b: 03 Jul 1893 in St Lukes, London; d: 1931)

Family are: Ernest Jack Woodward (b: 1921; d: 1970) and Patricia Marian Woodward (b: 21 Feb 1929 Occ Nurse)

f Bertha Mills b: 1897

g Charles Mills b: 1900

h Harry Frederick Mills b: 1902

i Elsie Mills b: Abt. 1904

v Sarah R Mills b: Abt. 1867

vi Alice E Mills b: Abt. 1869

vii Adeline Louisa Mills b: Abt. 1872