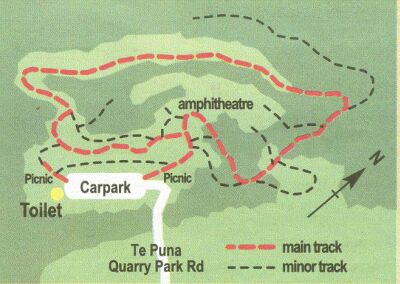 The Quarry Road which leads to the park, provided cartage access from the Te Puna Quarry to State Highway 2. The Quarry opened in the 1920's and covers an area of 32 hectares, although only 6 were mined. The remainder was covered in both native and exotic bush.
It ceased working in 1979 and was used as a stockpile by a local quarry company. The Western Bay District Council in 1989 planted radiata and penasta pines on the qaurry site to control weed growth and as a future revenue earner and the quiet access road served the residents.
In 1991 the Western Bay of Plenty District Council applied for a mining licence to extract rock from the abandoned Quarry. This met public objection from local residents who had mainly small horticultural blocks. They worried about the blasting and noise, a road in need of an up-grade and loss of property values.
The Quarry was finally closed in 1992 and a formal sale was about to be formulated when the Quarry Park Action group proposed turning it into a garden. Quarry road has now received it's upgrade to allow visitors safe entry to view what is one of the major tourist attractions in the Bay of Plenty.
View high above the Quarry Park carpark which is accessed by climbing the winding Quarry road from State Highway 2 (top photo). This aerial view is courtesy of the Western Bay District Council.
Since 1993, when the Te Puna Park Quarry Society was formed, it has been transformed by a group of local residents with a vision to turn it into a premier wilderness garden and artistic retreat. Three years later it was granted reserve status.
The park is fast becoming one of the most popular walks in our District. To get there, turn off State Highway 2 at Te Puna and drive to the carpark entry at end of road.
The park is a myriad of walking tracks, waterways, native and exotic gardens, outdoor art, picnic areas, cliffs and offers stunning views from the Coromandel ranges to the Eastern Bay of Plent Coastline.
The map and information is courtesy of the Western Bay District Council.
Please go to the wonderful Quarry Park website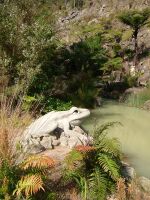 Click to enlarge photos