Alice Mabel Guilford by Catherine Lincoln (Benbow Book)
Alice Mabel Guilford was the last surviving member of the Ann (Benbow) Guilford's family. She was the 12th child of the family and was brought up in Pleasant Valley, Geraldine, South Canterbury where she recieved her schooling. In lieu of High School the family graduated in the seventh standard as Timaru being the nearest High School was too far away to attend.
I write this from recalled memories of the family in the Valley and I feel a warmth and pride for my pioneer forebears. Consider the physical mental and spiritual endurance of those people! Alice was typical of that influence. She learned the skills of cooking, caring (home, human and animals), sharing and practising the basics of homoeopathic medicine and christian values, plus piano playing and sewing while in Pleasant Valley. The highlight of the week for the family was the all day Sunday visit to Geraldine for Church. The younger family members went the four miles with the parents in the buggy while the older ones walked there over the hills. For the more senior family members there was also church in the afternoon (Brethren) while the younger members joined other families in the local Park.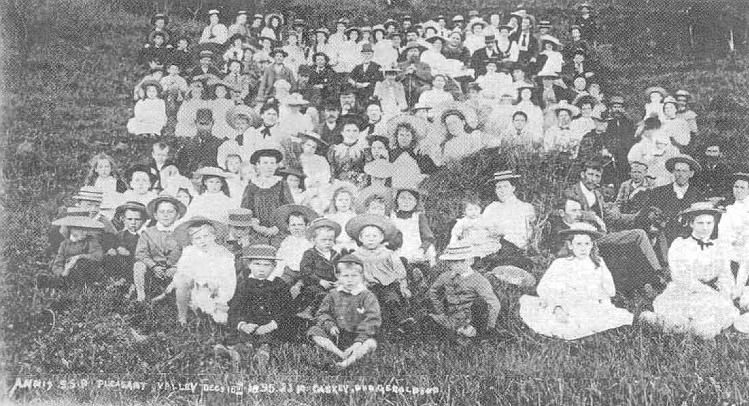 Brethren Church Picnic at Pleasant Valley 1895 (Guilford family front right)
In 1902 the family moved north to settle on a farm at Tarata, Taranaki. They arrived at Port Taranaki from Lyttleton by steamer, stayed overnight in Inglewood before arriving at Tarata. From Inglewood, in company of sister May, Alice cycled to Tarata, (some 12 miles). Apparently at one stage on "slippery hill" her brakes failed and totally out of control she passed the stage coach. A local was to relate "gosh that little one rides fast". Their home on the farm was old but father William and brothers, soon felled property timber from which they pit-saw and built a fine house which is occupied to this day.
Alice was the oldest girl living at home, she milked the cows, made butter, attended to family cooking and helped with sewing. Father William died a few weeks before Alice's 21st birthday and the family moved to New Plymouth. At age 21 Alice commenced work with "Cockers" the Taylors in Brougham St. Duties included receptionist/fabric sales and taking measurements of mIlady for the tailors, plus the book keeping. From observation and practical application within the family, the skills of tailoring were acquired. Evenings were spent producing fashion blouses of the day-boned stand-up collars and cuffs with masses of lace trim and pin tucks for a 5% charge. this extra work she bought her first piano costing 175 guineas.
Taranaki Herald, 18 Sept 1907:
MISS GUILFORD, DRESSMAKER, IS prepared to give lessons in practical Dressmaking, plain and scientific. Class to open beginning October. For terms &c. address Young-street, New Plymouth.
Taranaki Herald, 8 Sept 1909: Mr. H. Cocker, ladies' costumier and gents' tailor notifying that he is able to cater for the costume trade second to none in the district. He claims that the class of work turned out should render it quite unnecessary for the most fastidious to send out of New Plymouth for tailor-made garments. Mr. Cocker has had his fitting rooms most tastefully decorated and fitted with electric light throughout.

Some years later in company with sister Dot the two set up as dressmakers in Inglewood. From Inglewood they moved south to Timaru, South Canterbury, where the business flourished and there were eight in the workroom. During these working years Alice was always in a church choir and an accompanist to sister Dot whose quality voice was ever in demand and together they sang duets.
During Alice's time in New Plymouth she and four others of the family were members of the Methodist Primitive Choir, a balanced choir into which one had to be invited for their particular quality of voice. The organist and choir master became her brother- in-law - Edward Golding and sister May were married.
On January 1920, Alice married Leonard Guilford (first cousin) and they took over an undeveloped farm property at Okahukua, King Country (seven miles north of Taumarunui) where they remained for twenty years. It was here the three children were born, Kathleen Anne, Leonard Cecil and Bruce Norman. Together, through sheer endurance they made a good life for their family while also contributing to the community by way of service to School and Hall committees. Alice was a foundation member of the local Womens WDFU and served as President for several years. For funds for celebration and travel to conference she staged local concerts which included items of choirs and solos, dance and plays. Together with 'Toge' a duet was usually provided and she also accompained other's vocal items.
It was not a Sunday' if relatives or friends did not visit the farm for a picnic by the river, a meal of home grown meat and veges or home baking from bread through to cream topped sponges was followed by a sing song around the piano, usually dancing too for all ages. During the farm years of the 20s and 30s of little money and no paid employment, Alice along with homemaking, raising the family, sometimes sharing in the farm development and milking cows, and giving support in the community, managed to sew for many of the locals who did not have her talent. When there was no work for teenagers leaving school and they would come to stay and do the household chores while Alice produced fashionable clothes for the teenagers and her family frequently from something handed down. For a few special people, Alice painstakingly created beautiful models for the most social of occassions - bridal gowns and trousers were her passion. For daughter Anne and lifelong friend Alma Bull she created wonderful dancing costumes and later 'belle of the ball' evening wear. Sons Cecil and Bruce always wore tailor made clothes and some very original costumes at the school fancy dress balls.

Early 1940 the family moved to New Plymouth where Alice re-linked with six brothers and sisters then living in Taranaki. She joined a local WDFU and was a member of the choir, and gave considerable time to the local ANA (Army, Navy, Airforce) Service. She was forced to live alone for several years during the war tending hens, growing a garden and milking two cows (within the city boundary). Husband Len spent five years in Security with RNZAF at Bell Block; Anne in Wellington, the Middle East and on the Hospital Ship "Oranje" as a nurse with the NZ Army; Cecil in RNZAF at Ohakea and the Soloman Islands, Santos, Guadacanal and Bouganville and Bruce in Taieri, Dunedin as a RNZAF pilot trainee.

After almost ten years in New Plymouth, Alice and Leonard moved north briefly to Otahuhu thence to Wanganui where husband Len worked successfully as a private racehorse trainer, almost until death in June 1964. Son Bruce had died earlier that same year, suddenly of a brain haemorrhage.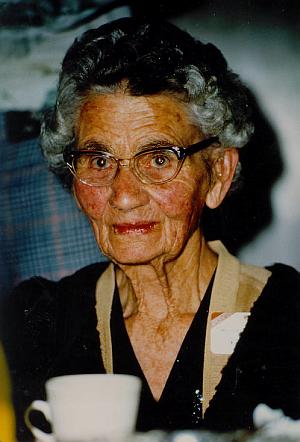 Alice and son Cecil remained in Wanganui until 1970 when they returned to New Plymouth and Alice bought her final home on Coronation Avenue. She retained her interests (aged 86) outside the home and attended a 'Friendship Group' with the local Baptist Church which encouraged socialising, provided some entertainment and demonstrated and encouraged participation in arts and crafts.

Having been 'deprived' (these were her own words) of grandchildren, the many nieces and nephews and their families were a constant interest and delight to her. A keen gardener, the rose her favourite flower. She made herself an occassional dress past mid-eighties. Crochet was her particular passion and a wool crochet rug completed after age 90 is testimony to this. As eyesight and physical strength deminished she continued to read and enjoy large print books. After almost ninety five years of life, Alice's hip broke and she fell, was hospitilised, for the first time in her life except for maternity. She survived the surgery, had been walking with support and after ten days was placed in the main ward, but shortly after breakfast 10/10/80, a heart attack found her "at peace". A full and productive life had reached its conclusion.

Click for Page 1

Please