Marriage of Alice Victoria Benbow to Lawrence Hartley Hopkinson
Alice Victoria Benbow was born: 11 Jul 1900 to mother Mary Vincent and was adopted as a baby . Charles and Edith Benbow lived at Ormsby Street, Temuka and were delighted to add a daughter to their family of three sons. She was admitted to Temuka Primary School on 5 Feb 1906 under name Alice Vincent Benbow. Alice was an excellent cook and that became her career until she married 26/6/1925 at Temuka to Lawence Hartley Hopkinson (b: 20 Nov 1901 in Temuka; d: 31 Dec 1980 in Temuka Bur: Temuka Cem. Sect E, Block 9, Plot 250)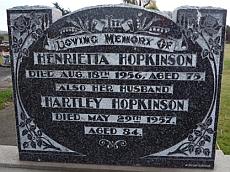 Lawrence's father was Hartley Hopkinson (b: 27 Apr 1873 in Temuka, d: 29 May 1957 in Arowhenua) and his mother Henrietta Huirangatira Kapiti was the daughter of HIKIPENE KAPITI. He was the eldest of their 12 children.

Both Alice and Lawrence were very highly respected and lived in Temuka for the rest of their lives. Alice sang for years in the Methodist church womens choir and also enjoyed the church drama group. Both Laurie and Alice played indoor and outdoor bowls until late in life. Laurie was a keen gardener, well known for his super vegetables and perfect garden, not a weed in sight, clean sharp borders and overall tidiness and beauty. Alice also delivered meals on wheels and ever ready to give a little care to sick or elderly neighbours. Alice was very unwell at the time of the Benbow re-union - she had intended being there and many of the family expressed regret at not being able to see her.

Alice's two daughters, Mavis and Olive

, both married Temuka men and lived in Wellington.