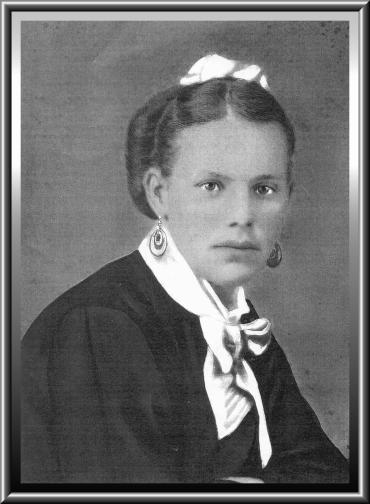 Ellen and Charles Benbow - Research by grandson John Benbow of Waipukurau.
My grandfather Charles Acherley Benbow aged 42 years married Ellen Webb aged 17 on May 10th, 1877 at the home of the brides's father, John Webb, Settler of Ormandville.
My Benbow family originated in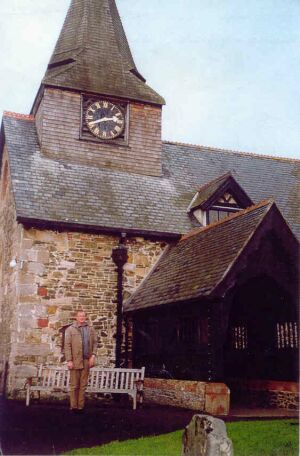 Llansantffraid-ym-Mechain parish. Charles's parents were Richard (1783 - 1876) and Sarah Ann nee Atcherley , a tailor living in Llan and Richards parents were Charles (1747 - 1835) and Alice 1740 - 1836) also a tailor but from Lledrad.

Charles fought at Crimea with the Grenadier Guards and was wounded and said to have been nursed by Florence Nightingale. He later sailed with his older brother David to New Zealand on the "Ida Zeigler"

from Gravesend taking 90 days to arrive at Auckland on the 22nd August 1861. It is thought that he fought in the Maori Wars under Major von Tempsky. However there is no documentation of his activities after his arrival until his application to marry lodged 5th May 1877.

Children of Richard and Sarah Benbow:

1. DAVID BENBOW born 27 July 1827, Brecknock Brecon, North Wales; died 27 Jul 1889, Dannevirke.

Newspaper reports:
Sat 27 July 1889: Fatal Hotel Fire in Danevirke - DICKEY's Hotel Destroyed

One man was burned to death and there was a narrow escape of other inmates.
An old landmark disappeared from Dannevirke this morning and unfortunately was attended by loss of life. Mr DICKEY's hotel with all it's contents was destroyed by fire at about 3.00am
Mr. J. DONNELLY, who slept in the upper storey raised the alarm and all got out safely, except for an old man named DAVID BENBOW, who was employed in the stables, which were attached to the hotel. Mr BENBOW would have been 62 years old today.Mr C BENBOW of Ormondville is a brother of the deceased
The hotel is owned by Messrs ROBJOHNS & Co.

Tues 30 July 1889
Inquest : An enquiry into the burning of DICKEY's Hotel, resulting in the death of David BENBOW was held at ALLARDICE's Hotel yesterday.
On the jury: J.C. FRASER; A. MACKAY; C. BIRSS; R. RASMUSSEN; J. ALLARDICE; C. BADDELEY; Mr S. JOHNSON of Waipawa acted as coroner

Evidence was given by Robert DICKEY, the Licensee of the late Dannevirke Hotel. He said there were four boarders in the house the night of the fire - W. MANTEL, John DONNELLY, W. BROWN & MADDEN. There were two servant girls, Edith RICHARDS and another girl called Bertha , the man called BENBOW and his own family.
Other evidence was given by John DONNELLY, the Lessee of the billiard room at the hotel; by William BROWN, Compositor, a boarder at the hotel; W. MANTEL, carpenter, a boarder and by Charles BENBOW, Settler who resided at Ormondville and was brother of the deceased. The Benbows were natives of North Wales
The constable, John RYAN gave evidence.
Verdict : That David BENBOW met his death accidentally by a fire which occurred at the Dannevirke Hotel on Saturday 27 July and that no evidence as the origin of the fire was apparent to the jurors.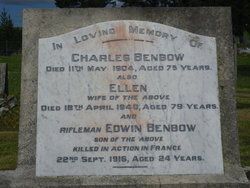 2. CHARLES ATCHERLEY BENBOW was baptised on 13 September 1829 at Llan, Llansantffraid-ym-Mechain, Wales, and he died 11 May 1904 in Ormandville where he was a farmer. ELLEN WEBB, his wife was born 1861, and died 18 Apr 1940 in Ormandville where they are buried.
Charles came to New Zealand to fight in the Maori Wars. Out of the militia, he settled at Ormandville taking up a land grant from a grateful government. (Land Deed dated 13 Oct 1885)
The Waipukurau Small Farm Association was formed 31st August 1876 to settle 2584 acres known as the Tua Tua block. It was boundaried by the Manawatu River and the Makotuku Stream and formed a triangle block surrounding the town of Ormandville. It was know as Seventy Mile Bush and had neither rail or road access.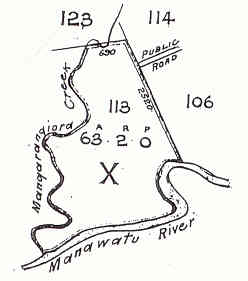 Members were required to be married and the maximum holding was 100 acres and the occupation of and enclosing of 10% of the land up to 10 acres and clearing of the area constituted occupancy.
Settlers were requested to erect a dwelling of at least £10 value within 4 years and were given 1 year to start clearing and fencing. Charles Benbow was one of the original settlers on this land.
The land transfer was dated 8th February 1887 for Charles Benbow of Takapau, Hawkes bay, Settler 63 acres 2 roods at Ormandville Special settlement.
Newspaper report: WMSetMayl4 l9O4
DEATH - Mr Charles BENBOW, an old Ormondville settler, joined the great majority on Tuesday night.
News paper reports:
Bush Advocate July 1889: Ormondville School: Action will be taken against the following children unless they attend school regularly. Ellen MARCH, Agnes HERBERT, Thomas BENBOW, Kate PETERSEN, Charles BENBOW & Oscar AMUNDSEN.
23 Mar 1889: Ormondville School Prizegiving - Passing Std I Victor OLSEN, Carl MARCUSSEN, Charles KHUTZE, Louis PLANK, Charles BENBOW, John BENBOW, Louisa BEALE, Edith CANTWELL, Susan FOTHERGILL, Frances JACKSON, Lena LEACH
Ormondville Cemetery: Dannevirke
Internal Plot No: 17469 Last: Benbow First: Charles Middle Names: A
Section: Main Age: 74
Block: 3 Person Classification: Adult
Section/Plot Number: 51 Occupation: Farmer
Date of Death: 11/05/1904 Number of Burials: 1
Date of Funeral/Burial: 14/05/1904
Funeral Officiator: Rev W Lambert
Notes for ELLEN WEBB:
Internal Plot No: 18233 Last: Benbow First: Ellen
Cemetery: Ormondville Last Address: , Ormondville
Section: Main Age: 79 years Block: 3 Person Classification: Adult
Section/Plot Number: 49
Grave: Marital Status: Widow/Widower
Date of Death: 18/04/1940 Number of Burials: 1
Date of Funeral/Burial: 20/04/1940
Interment Type: Funeral Officiator: Rev F Middlebrook
The Headstone at Ormandville reads: In loving memory of CHARLES BENBOW died 11th May 1904 aged 75 years also ELLEN wife of the above died 18th April 1940 aged 79 years and rfm EDWIN BENBOW killed in action in France 22nd September 1916 aged 24 years.
Children of Charles and Ellen Benbow:
1. Charles John Benbow - Born: 18 May 1878 in Norsewood, Ormandville. His occupation: Sawmiller and mill owner at Ohakune. Died: 13 July 1923 in Ohakuneand was buried 16 July 1923 Ormandville Cemetery. Charles married Martha Lillian Elsie Dew on the 21st December 1904 in Dannevirke, Hawkes Bay. She was born: 29 August in 1883 and died 20 September 1969 at Masterton where she is buried at the ARCHER STREET,Q E PARK Cemetery on 29 Sep 1969.They had five children
........ 1 Mavis Lydia Ellen Benbow, born: 1906 in Masterton who married in 1932 Amyas Constantine Zohrab who was a Schoolmaster at Whangarei - he died there in 1944
........ 2 Vincent Charles Benbow was born: 1907 in Ohakune and Died in Dec 1909 at Raetihi, Wanganui
........ 3 Leslie Charles Benbow was born 16 Feb 1914 in Dannevirke, Hawkes Bay and died at Oakune on 25 Aug 1923. He was buried on 27 Aug 1923 at the Ormandville Cemetery
........ 4 Esmond John Benbow was born on 16 Feb 1914 in Dannevirke and died Jun 1988 in Paptoetoe. Cremated at Manakau 16 Jun 1988. He married Alison Gorton Price in 1954 and their daughter Anne Marie Benbow was born in Taumarunui
........ 5 Nola Elsie Benbow was born 1921 in Dannevirke who married William John Clement.Their son was called William. Nola died at New Plymouth
2. Sarah Ann Benbow (Twin) was born 18 May 1878 in Ormondville and Died at birth.
3. Thomas Henry Benbow was born 1880 in Norsewood. He was killed 7th June 1917 in Belgium in World War 1.
Name: BENBOW, THOMAS HENRY Initials: T H
Nationality: New Zealand; Rank: Rifleman; Regiment: New Zealand Rifle Brigade Unit Text: 3rd Bn. 3rd; Date of Death: 07/06/1917 Service No: 18948; The son of Mrs. Ellen Benbow, of Ormondville, Hawkes Bay, New Zealand. Casualty Type: Commonwealth War Dead Grave/Memorial Reference: Spec. Memorial C. 10. Cemetery: MESSINES RIDGE BRITISH CEMETERY
4. Andrew Alexander William David* Benbow(twin) was born March 1882 in Waipukerau and died 29 February 1883 in Waipukerau
5. John Edward Benbow(twin) Born March 1882 in Waipukurau and died 18 Aug 1963 in Waipukurau, Hastings at the age of 81. He was buried at the Ormandville Cemetery 20 Aug 1963
1917 - New Zealand Gazette; Te Pohue; Farm Hand Page 2240 Military call up
1946 - Hastings electorate; living at 307 W Avenue Rd; Barman
Obituary - John Edward Benbow 1882 - 1963 (Source - Hawkes Bay Tribune Aug 1963) Mr John Edward Benbow, a barman for about 33 years at the Albert Hotel, Hastings died at Hastings Memorial Hospital aged 81. He was born at Takapau, son of the late Mr and Mrs Charles Benbow. In his earlier days, he was a partner in John Brown's Store, Ormandville. After about 6 years, he worked on a farm at Whetakura.He later took the position as barman for the late Tom Bennett at the Takapau Hotel and also conducted a picture show in partnership. Mr Bennett then took over the partnership of the Grand Hotel, Hastings, taking Mr Benbow with him as barman. Mr Benbow later transferred to the Albert Hotel and he retired 3 years ago. He did not marry and leaves 3 brothers and four sisters.
6. Herbert Richard Benbow Born 1884 in Waipukurau, he was a farmer. Herbert died on 29 May 1962 in Palmerston North and was buried on 31 May 1962 Ormandville Cemetery
In 1915 he married Eleanor Eugenie Field - she was born in 1891 and died 05 Jun 1952 in Ormandville where she was buried 07 Jun 1952
Their five children were -
.... 1 Verdun Charles Benbow Born: 1916 in Dannevirke, Married: 1940 ........ to Jean Patricia ?. They had two sons Brian Verdun Benbow and Kevin John Benbow who were born in Auckland. Kevin married Sandra Merita Hunt in 1971.
.... 2 Eugenie Ellen Benbow was born: 1917 in Dannevirke and married: 1941
.... 3 Edwin Henry Benbow was born 1920 in Dannevirke and died: 24 Dec 1937 in Ormandville where he was buried 26 Dec 1938

.... 4 Herbert Ian* Benbow was born 1925 in Dannevirke where he was a Railway employee. He died 25 Apr 1972 in NZR, Waipukurau and was buried 28 Apr 1972 at the Ormandville Cemetery. Headstone reads - In loving memory of HERBERT IAN BENBOW died 25th April 1972 aged 46 years
.... 5 Margaret Beth Benbow was born: 1928 in Ormandville. She married 1948 Leonard Joseph De Pina
7. William David Benbow was born 1884 in Waipukurau. He was a Sawmill employee and a farmer and was retired when he died 29 Dec 1943 in Dannevirke and was buried 31 Dec 1943 at the Ormandville Cemetery.
8. Richard Benbow Born 1886 in Waipukurau he died on 26 Jun 1973 in Waipukerau where he was buried 28 Jun 1973 in the RSA Section
He married 1968 Elizabeth Ella Harvey - she was born 1892 and died 18 Jul 1973 in Waipukerau and was buried there on 19 Jul 1973 Block 1 Plot 38
9. Sarah Atcherley Benbow Born 2 August 1888 in Ormandville she died 27 May 1969. Sarah married Walter James Dew. He was born on 14 Sep 1884 in Carterton and they married: 09 Nov 1909 in Ormondville, Hawkes Bay Walter's father was James Lewis Dew and his mother, Rosa Annie Bean. Walter died 04 Jan 1972. They had four children Leslie, Walter Atcherly, William and Margaret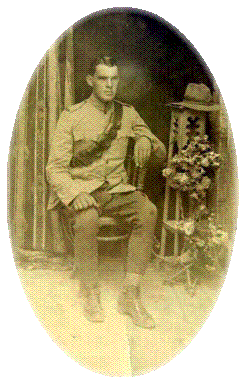 10. Ormond Benbow was born 29 April 1890 in Ormondville and died 16 Aug 1964 in Dannevirke He is buried at Mangatera Cemetery Plot 10715
NZ Expeditionary Force - Wellington to Alexandria 1914. Aboard the Orari; Unit 9th WEC Mounted Rifles WMR Regt.Trooper BENBOW O
Ormand married in 1920 Emma Johnston who was born 13 Jul 1900 in Dannevirke and died on 14 Aug 1988 in 39 Thyra St, Dannevirke. She was buried 18 Aug 1988 at the Mangatera Cemetery.
They had two children -
.... 1. Leslie Vincent Benbow, a farmer, Born: 1921 in Ormandville and died: 30 Jun 1991 in RD 7, Tataramoa, Dannevirke and was buried 02 Jul 1991 Mangatera Cemetery. He mar: Ethel Gladys, born: 1925 and died: 15 Jun 2003 in 4 Smith St, Dannevirke Burial: 18 Jun 2003 Mangatera Cemetery
They had three children - Alan Leslie; Keith Steven who is married to Christine and daughter Judith Lorraine married to Alan Mill
....2. Margaret Alice mar: to Alexander Reginald Hall
11. Edwin Benbow Born: 1892 in Ormandville Edwin died 22 September 1916 in WW1 Somme, France
SERVICE No. 26/1564; RANK Rifleman
SURNAME Benbow; FIRST NAMES/INITIALS Edwin
BODY OR DRAFT 5th Reinforcements to the 1st & 2nd Battalions
UNIT 3rd New Zealand Rifle Brigade
EMBARKED Left New Zealand 01st April 1916
OCCUPATION Labourer
NEXT OF KIN Mrs E. Benbow (mother), Ormondville, Dannevirke County, Hawke's Bay, New Zealand
DIED 22nd September 1916 France; GRAVE/MEMORIAL REFERENCE Caterpillar Valley New Zealand Memorial, Somme, France
SERVICE MEDALS & CLASPS British War Medal: Victory Medal ADDITIONAL INFORMATION Killed in Action.
12. Daisy Benbow born 1893 died 1969
13. Violet* Benbow was born 1893 in Ormondville where she died on 24 Apr 1946and was buried 30 Apr 1946 at the Ormondville Cemetery. She married twice -first to Alfred George* Dew - they married in 1916 in Dannevirke, Hawkes Bay. His father was James Lewis Dew and mother: Rosa Annie Bean. George died: 01 Oct 1918 in Pas de Calais, France. Their son was named Alfred George Dew Born: Abt. 1917
Daisy later married William O'Leary.
14. Bessie Benbow was born 1895 in Ormandville and died 14 April 1984. In 1919 she married Henry (Harry) Joseph Bussell. He was born 30 May 1896 in Colyton, Manawatu. He was a company manager and died 1966 in Christchurch. They had a son James Bussell
15. Ellen Benbow was born 10 April 1897 in Ormandville. She did not marry and died 04 Nov 1970 in Dannevirke Hospital. She was cremated 06 Nov 1970 and her ashes scattered Kelvin Grove Cemetery, Palmerston North
16. Lewis Llewellyn Benbow was born: 1899 in Ormandville and died: 22 May 1976 in Waipukerau where he was buried 25 May 1976 Waipukurau Cemetery
17. Albert Edward Benbow Born 23 January 1901 in Ormandville, Albert became a farmer. He died 23 Oct 1952 in Ormandville where he was buried 25 Oct 1952 at the Ormandville Cemetery. He married 1938 to Emma Madge Eaton who was born 13 Jul 1900 and her death occured on 22 Oct 1988 in Ormandville, Dannevirke where she was buried on 27 Oct 1989.
They had two children -
.................. 1 Patricia Atcherley Benbow who married Richard Dakin Bollard
.................. 2 John Richard Benbow born Carterton