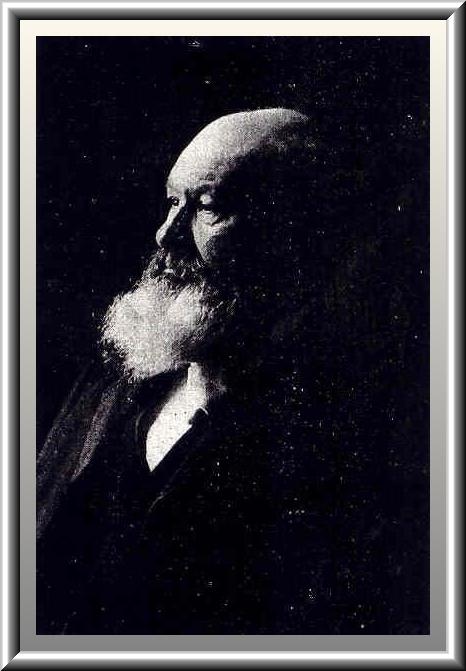 CHARLES WILLIAM BENBOW, the son of GEORGE and Mary Benbow nee Coles, was born 13th February 1842 at Bordesly, Warwick, and was baptised there on 20 May in 1842. His parents married 06 APR 1840 at Saint Martin, Birmingham, Warwick.
He was educated at a Birmingham Church School and at the age of 12 had completed his education and entered the office of a Birmingham firm, remaining with them for 22 years. He married ELIZABETH JENNINGS 11th August 1866 in Aston Juxta, Birmingham, Warwick. She was the daughter of Michael Jennings born on January 2nd 1845, and died January 1906 at Wellington and was buried at the Karori Cemetery.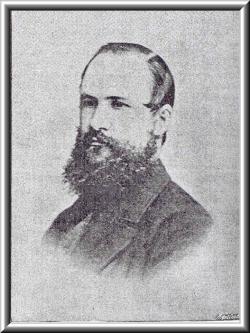 In 1875 Charles came to New Zealand arriving in Wellington on the sailing ship "Border Chief" in October of that year and entered the employment of Messrs Levin and Company, merchants, where he superintended the Insurance department and conducted the correspondence until 1891. He severed his connection with that firm to take up the position of manager of the Wellington Branch of the South British Insurance in Tasman Street where they had their home.
Charles took an active part in the many movements but was perhaps best known as a chess player. He was one of the original members of the Wellington Chess Club and was the president for many years past. He is also one of the vice-presidents of the New Zealand Chess Association. Another great interest was in cricket and was a remaining foundation member of the Phoenix Cricket Club and one of the vice-presidents. Friendly Society work also engaged a great deal of his attention. He was a member and a trustee of the Southern Cross Lodge, No 24, I.O.O.F. and for a long period held the position of Deputy Grandmaster of the Order for the Wellington District.
An ardent book lover, he gathered a somewhat extensive library. He became a Justice of the Peace in 1901 till 1904. His death occurred on 9th March 1908 in Wellington and is buried at Karori Cemetery
REF: CYCLOPEDIA OF NZ 1897 Wellington Province
Although Mr Benbow has kept aloof from both colonial and civic politics, he has in less prominent ways, been serving the public with commendable ardour and most satisfactory results. Whatever he takes in hand is done, and done thoroughly. He is, of course, best known as a chess player; but as a separate article in connection with the Wellington Chess Club speaks of him in that capacity it need only be said here, that in addition to his duties for 15 years as President of the Club, he has for many years past had charge of the Chess column of the New Zealand Mail, It is to be congratulated on having, therefore, in one department at least, the highest talent that the colony can supply. The Chess Club met Tuesday and Friday evenings on the top floor of the Echange Buildings in Lambton Quay. As a composer of problems, as in other branches of the game, Mr Benbow many years ago made for himself a prominent position among the first chess stars of England. In draughts, too, he plays a strong game.
As a cricketer he has shown a keen interest, and no small ability in at least one out-door pastime; but in this, his son, Mr Charles Benbow of the AMP staff, has outstripped his father. Mr Benbow sen. still plays occasionally for exercise, and he occupies the position of president of the Phoenix Club and vice-president of the Cricketer's Association. Mr Benbow is a rare example of a rare class of men - there is hardly an important game which he does not play really well; and yet he has sacrificed himself to none. The positions he has held in business circles show that very plainly.
Mr Benbow's library is one of the best in the city; and of the thousands of books which compose it, there are very few with wose contents he is unfamiliar. He is not a mere collector of books: his study of thmis characterised by the same thoroughness which wins for him the highest esteem in all quarters. As a public lecturer he cannot be said to have come prominently before the public; but several audiences have been kept in almost breathless interest throughout the delivery of his lectures on Goldsmith, John Bright and others.
As an Oddfellow of the American Order, Mr Benbow has held for many years the high position of deputy Grandmaster for the Wellington District. He is a member of the Southern Cross Lodge, No 24 of which he is a trustee, and both officially and privately, he takes a leading partin Oddfellowship.
In Church matters, too, Mr Benbow has an extraordiary capacitiy and an equal willingness for hard work; and as he is incaable of doing anything badly or of neglecting the due performance of a duty devolving upon him, it is not surprising that he is pressed into positions of responsibility and honour. With his genuine desire to be useful, and genially courteous to all, the wonder that he has been able to limit the number of public duties within the possibility of such punctilious performance. Among the positions held by Mr Benbow in connection with the Wesleyan body may be mentioned those of Senior Circuit Steward, Society Steward of Wesley Church, and Trustee of the Wellington Circuit Education Trust. In the Wesley Sunday School and in connection with the Literary Institute he has given much valued assistance.
Newspaper report, Hawkes Bay Herald: May 5 1883
Chess- The chess match by telegraph between the Wellington and Napier Chess Clubs was commenced on Saturday evening, the Napier men playing in the cloak room of the Telegraph office, in which a telegraph instrument was fixed for the occasion. The combatants were matched as follows:-
HULLETT V PIRANI; WHITTEM V LESSSONG; DIDSBURY V HINDMARSH; HOLLAND V WILSON; RIGHT V RIDDELL; SEARLE V J DINWIDDIE
Mr KING was in attendance as emergency man for Napier and the referees were Mr BENBOW for Napier and Mr A J MORTON for Wellington.
Mr FALKINER was the telegraphist at Napier, and Mr BURR for Wellington.
1906 - In October at Wellington, a fire reported. The estimated value of the damage to the building ( a dwelling) and contents. It was insured with South British Insurance Co for £1750. (Source Australasian Insurance and Banking Record 1906)
The children of CHARLES BENBOW and ELIZABETH JENNINGS were:
i. CHARLES ALBERT BENBOW was born 1870 in Solihull, Birmingham, England and arrived with his parents in June 1875. He attended the Mount Cook Boy's School, Wellington and the Wellington College. His first employment was with the Wellington Fire Office for 7 months before joining the staff of the Australian Mutual Provident Society on 7 Nov. 1887. In the 1896 Stones Directory he is recorded as a clerk living at Tasman St, Wellington
He, like his father, was a keen cricketer and played in senior cricket matches from 1886 to 1902 in Wellington and was member of the teams playing against one of the Australian teams which visited England, Melbourne and New South Wales and played for local representative matches. In March 1902 he married ALICE REBECCA BIRCH in 1902, the daughter of GEORGE Baynes BIRCH and REBECCA.
It was in this month that the Australian Mutual Provident Society opened a branch in Broughan Street, New Plymouth which covered an area from the Kawhia in the north to the Wanganui River. It had public and private rooms and employed three agents to canvass Taranaki. Charles was appointed the Secretary.
In 1911, Charles is an Insurance Agent and Manager of the AMP and lived at Vogel Town, New Plymouth where he died on 29th March 1912. Alice, his widow died in 1954 at Wellington.
Obituary - Taranaki Herald 28 Jan 1954
Mrs Alice Benbow, a resident of Wellington for many years and wife of the late Mr Charles Benbow, well known in New Plymouth, died in Wellington recently at the age of 83.
Her husband opened the AMP Society's first office in New Plymouth which was then in Brougham Street. A member of the New Plymouth golf Club for many years, he was a keen golfer and was also an outstanding cricketer for Wellington.
Mrs Benbow is survived by her daughter Rona (Mrs L Avann, Karori) A son Howard predeceased her eight years ago.
The funeral service was conducted at the Thorndon Methodist Church where mrs Benbow had been a popular worker for many years.
The children of CHARLES BENBOW and ALICE BIRCH:
1. CHARLES HOWARD BENBOW, born 01 Jul 1910, New Plymouth; Charles was IHC and attended the Side School Masterton in 1920. Howard spent many years at Levin in residential care. He died 24 Aug 1944 at Wellington and is buried at the Karori Cemetery.

2. ALICE RONA* BENBOW was born in 1904 at Wellington and is in the 1921 New Zealand Gazette as teaching at Masterton.

Evening Post 5 Jun 1926: The engagement is announced of Leonard, only son of the late Mr. and Mrs. S. Avann, New Plymouth, to Rona, only daughter of Mrs. Benbow, and the late Mr. C. A. Benbow, Wellington.

Rona married LEONARD AVANN in 1928, civil servant and son of Stephen and Alice Avann (nee Robert). Leonard was born in 1896, served WW1 and his death occurred on 25th February 1981 at Wellington. Rona died prior on 24th April 1970, and they are buried at the Karori Cemetery in Wellington
Rona had a degree from Victoria and taught at Solway College before her marriage. She and Len had no children, as her brother Howard was intellectually handicapped and she said she would never put herself through what her mother had to go experience. Rona looked after her mother and Len at her house in Karori, installing a lift when Alice couldn't manage the stairs.

ii. ANN AGNES BENBOW was one of three children who accompanied their parents on the ship to New Zealand. She died in 1922 at Wellington. She participated in the first woman's electoral roll in 1893 and is living at Guilford Terrace Wellington, spinster.
Annie died in 1922 aged 81 years and is buried at Karori Cemetery

iii. ELIZABETH (LIZZIE) LOUISE BENBOW Her birth was registered at Wellington in 1875 but from her school roll it appears she was born 1873.
LIZZIE attended the Mt Cook Girls school where she was admitted March 1881. Her home address was Tasman St, and said to be aged 8 years. In 1896 she undertook the Wellington Teacher Examinations and records show her as a teacher till at least 1910. She married FREDERICK WILLIAM PRINCE. He was born abt 1870 and lived in Hopper St, Wellington where his father was employed as a wharfman, and attended the Mt Cook Boys School. In 1906 they were on the Wellington Suburbs electoral roll and when military callup came in 1917, the Princes lived at 44 Hill St, Wellington and Frederick was employed as a storeman. Frederick died in 1948 at Wellington and Lizzie passed away on 2nd July 1942 - they are buried at Karori Cemetery, Area 12, Block BF; Row 15, Plot 13

Wedding of Fred Prince and Pearl Benbow. From left to right: Mr William and Mrs Jane Prince (nee Spencer), Fred Prince, Pearl Benbow and her father C W Benbow. Photograph taken circa 1908

iv. MARY ETHEL BENBOW was born in 1876, Wellington and attended the Mt Cook Girls school. In 1911 NZ Post Office Directory her home address is "Miss Mary Benbow, 134 Tasman St, Wellington". She worked as a Clerk in the Ocean Accident Insurance Office, Wellington and died 9th Febrary 1963 and is buried at the Karori Cemetery

v. EDITH LILLIAN (LILY) BENBOW was born 1882 at Wellington
LILY BENBOW attended the Mt Cook Girls School at Wellington and between 1895 and 1897 went to the Terrace School, Wellington She died 8th Aug 1957 and was buried at the Karori Cemetery

vi. ELSIE ALICE BENBOW was born in 1885 at Wellington
ELSIE attended the Mt Cook Girls School, Wellington and between 1895 and 97 at the Terrace School, Wellington.

New Zealand Free Lance, 13 April 1907: The engagement has been announced of Miss Elsie Benbow, fourth daughter ot Mr C. W Benbow, of Wellington, to Mr. W J. Prictor, jun., only son of Mr. W. J. Prictor, of Dunedin.

Evening Post, 13 June 1908: William Prictor, aged 25, this morning walked on to the lawn of a house in Tasman-street, and there shot himself. He had with him a five-chambered revolver, from which he fired two shots, the second of which took effect behind the ear. He then walked to the front door of the house, and told the inmates that he had shot himself. There was blood running from his head, and the inmates ran for a doctor, and afterwards summoned Sergeant Stewart, officer in charge of the Mount Cook district, who had Prictor taken to the hospital, where he was further succoured. It is not thought that the injury will prove dangerous. Prictor, who came to Wellington from Dunedin about four weeks ago, attributed the cause of his act to his inability to get work in this city.

Elsie never married and died 4th June 1917, Wellington – her death registered as Eltie Alice Benbow and she is buried at Karori

vii. FLORENCE MARY ANN BENBOW was born 1886 and in 1897 was admitted to the Mt Cook Girls School; home address Tasman St; age given as 9 years five months; Parents occupation given as "Clerk" A natural scholar, she was in the sixth standard by the age of 10.
In 1893 Florence is recorded as voting on the First womans electoral roll City of Wellington; living at Tasman St, spinster. She died on the 12th July 1968 at North Shore Auckland at the age of 82 Years and was buried on the 16th July at the Birkenhead/Glenfield Cem. Public Lawn Row V Plot 65




THE TEACHING STAFF OF THE CLYDE QUAY SCHOOL, WELLINGTON. Back Row.—Mr. Polson, Mr Dempsy, Mr. Cowles, Mr Price, Mr. Castle. Front Row.—Miss ONeill, Miss Benbow, Miss Scott, Mr W. T Crum (Headmaster), Miss Robinson, Miss McLean. (New Zealand Free Lance, 07 March 1903)