Sailing ship "Huntress" painted by Wm Smith Jewett in 1855.
Assisted Immigration to New Zealand

County Salop

Occupation - Farm labourer

Total cost of Passage money to Government £52

Amount payable by Individuals in Cash £16

In Promissary Notes by Emigrants £36

Benbow

"

"

"

"

"

"

William

Mary

Anne

James

Sarah

Elizabeth

William

36

35

11

9

6

4

Infant
Scenes of Emigrants at Blackwall Pier:
Here the Londoner may see the traffic of the Thames. It is reached by a railway which has some of the dirtiest and shabbiest stations and carriages to be found anywhere, and thus the contrast presented when the door of the Blackwall Terminus has been passed is the more striking. You exchange in a moment its dingy interior for the view of a grand bend in the river, alive with a crowd of red-sailed barges and other craft, through which a few big ships proceed slowly, like oxen among sheep. To the right the masts of the vessels in the West India and Miliwall Docks show like a larch plantation in the winter time. Both ways there is a long view down the Thames.
This spot was once chosen as a likely site for a temple of whitebait, but the hotel is now converted into an Emigrant Depot. With its bow-windows commanding a finer prospect than 'The Ship' at Greenwich, it is now a hive of swarming emigrants, at least just before each shipload of them is despatched. The large balconied dining-room has exchanged the 'purple and fine linen' of its white cloths and coloured wineglasses for a number of plain bare deal tables.
I must say a word about this, as it is indeed in some measure characteristic of the business that goes on at this end of London. Not only are we in contact with the uttermost parts of the earth by means of the merchandise which we receive from thence, but this depot is our door of departure for New Zealand. I have frequently to sign the papers of those who sail hence. The first day I visited it the dining-room was filled with a crowd of hungry emigrants waiting for dinner, and the air with the odour of its advent. They sat in messes of eight or ten, to each of which was a captain, who kept his nose steadily pointed towards the door through which the smell came.
Presently a signal was given, and each disappeared, receiving a ticket as he passed out. With this he descended to the kitchen, returning in a minute or two, mostly grinning, and bearing a large brown oval dish, divided in the middle. One half was filled with roast-beef and the other with potatoes. There was enough and to spare for all. 'They waste a lot,' said one of the officials. But I don't know; it seemed to be appreciated. 'Ah,' remarked a country-looking fellow to me, with his cheek bulged with a huge bite, and a twinkle in his eye, 'I wish, sir, they would let me stay here for a month.' 'Rare good victuals,' said another. 'I believe you,' added a third; 'Tain't allus we've had a bellyful of cooked meat every day.'
The emigrants are fed and taken to New Zealand free of charge, excepting £1 each for 'bedding-money' for those over twelve, and 10s. each for those under that age. I was struck with the air of confidence displayed by most. They were leaving the old country with less regret than I liked to see, though some of the elders looked sad. The majority were labourers. The officials told me that on the arrival of the ship at its destination they were for some time lodged in a depot free of expense, but that they were generally engaged at once, or soon fetched away by friends.
The sleeping arrangements at the depot prepare the emigrants for their inevitable crowding on board-ship. The married couples have each a berth to themselves, but dozens of these sleep in what would be called, on shore, the same apartment. Their discomfort, to use the mildest word, especially during the first week of the voyage, must be extreme. The single men and women are of course kept scrupulously apart, and their berths, especially those of the former - which were 22 inches wide, and separated by a wooden division some 6 inches high - looked unpleasant enough. However, free carriage and food can hardly be expected to be luxurious. Some of the men wore red-carpet slippers, which were an odd finish to an earth-stained suit of fustian or corduroy. Divers, however, had on their 'Sunday' clothes. The vessels are fine-looking and roomy. But the 'roominess' of a ship, like that of any other place, is comparative, being determined by the number it is made to hold. Several of them were waiting their turn in the Docks hard by, and sticking their bowsprits over the quays in that long masted line which fringes the land in these parts, and to which the dirty Blackwall Railway ministers with incessant trains. The Blackwall depot associated with Plymouth sends emigrants to Sydney, Adelaide, and New Zealand. It looks as if New Zealand were filling up fast, since this is only part of the human stream which is incessantly being poured into it from Europe.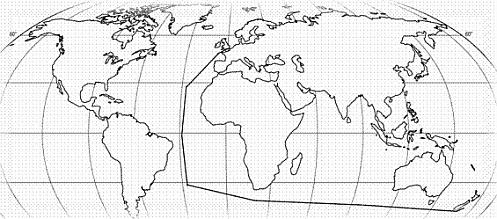 Route followed by sailing ships to New Zealand

Huntress
: Departure 18 Dec 1862; Arrival Lyttelton 21 Apr 1863
Benbow: (Src. The Benbow Family Tree written by Catherine Lincoln, 1973)

Filled with optimism about their future in New Zealand, William and Mary left with their family, Ann, James, Sarah, Elizabeth and baby William Charles, for London then Plymouth where they were to board their ship. Their 770 ton ship had 313 passengers on board and was sailed by an experienced sea captain, Captain Barron who had previously sailed ships to New Zealand.

Along with their treasures and necessities, William and Mary brought seeds, fruit pips, nuts and tree cuttings. Mary had a bundle of spring bulbs, snowdrops, irises, crocuses and tulips. Cargo space was rationed but immigrants were encouraged to bring as much as possible. With water on the voyage rationed, William would go without his ration in order to keep his cuttings alive. Some of the folk had brought livestock instead of household goods.

Sarah Benbow had her 7th birthday on board and she remembered well the Christmas puddings being boiled in sea water and that no-one could eat them - apparently the storms had swished salt water over the water tanks.

They had very heavy weather in the English Channel and some violent seas till they reached the equator 60 days after leaving Plymouth. From then on they made fine time but did not sight land until they reached New Zealand. Near Timaru they again suffered severe gales and the captain decided to put into Lyttelton instead. They had been at sea for 4 1/2 months, a great test of endurance and courage. Any hardships that came after probably felt trifling compared to that long difficult voyage.


PS: Son baby William died during the voyage.

William Robert Keay and John Alexander Keay, his brother, were sent out on the 'Huntress' to work as farm cadets. He wrote a manuscript entitled "Extracts from the Reminiscences of W.R. Keay." These extracts below were published in the "Timaru Herald" in 1959 and reprinted in "Sherwood Downs and Beyond" by Connie Rayne of Oamaru.
"After a few days of fine weather the good humour and pleasing anticipations of all were restored. Crossing the Bay of Biscay, the great height of the waves and the valley-like wide spaces between were a source of much wonder.The wind continued favourable to within near the equator, where the ship was becalmed for about two weeks. The intensity of the heat was an uncomfortable experience. A 15ft shark was caught. The boats had to be used to tow the ship into clear water.
The first mate was popular but the captain and some of the other officers were not.That was the origin of a quarrel with menacing possibilities between the officers, crew and some of the young men, who resolutely refused to accept the nauseous favours of Neptune and his satellites. The lower deck between decks was crowded with men, one of whom was grabbed by the sailors and a fierce struggle ensured, the body and legs of the young fellow being cruelly handled before the men completely overpowered the sailors. Many of the combatants were badly bruised and their clothing torn or stripped from their bodies. The crew was deprived of the fun expected and were not in an amiable mood. The tactless captain, instead of allowing the dispute to cease, ordered the men down to their quarters, saying as they would not join in the sport to allow themselves to be plunged overhead in a vile, evil smelling liquid and then shaved with a formidable bar of iron with cruelly jagged edges, he would not allow them to look at others doing so. But the men refused to go below. Two brothers had many shotguns and much ammunition and the captain trained a cannonade on them threatening to blow them to Hades. A few of the men brought up the firearms and defied the captain, virtually holding possession of the ship, until the first mate, who had previously interfered with the passengers, spoke in a kindly but determined manner, who at once put away their weapons.

Days after leaving the equator, a terrible cyclone was encountered. The ship was hove to and shipped many seas. smashing boats and parts of the cooks' galley. The passengers were all locked in their quarters, but William managed to escape and saw the mountainous waves, and the sea white with foam. After the furious wind ceased the sea became quite calm, and a wonderful and appealing spectacle ensued. The surface of the sea was quite smooth, dark blue, and had an oily appearance. There were no undulations. Everywhere the water was rising vertically in huge cone-shaped heaps, then falling exactly to their base. The good ship's timbers were creaking dismally, and also began to leak. The ship reared almost perpendicularly - bows or stern up or down, also rolling sideways, and all ways, in a most alarming manner. Only that the ship's structure and materials were excellent, she must have foundered. That was the opinion of the officers and crew, many of whom had had years on the ocean. A new foremast was erected. A fair wind came and the turbulent waters soon regained their natural form. Rapid progress was made to the south, in favourable weather at night."
William always tried to remain on deck. On one occasion, William had been listening to the yarns of a regular old shell back named Old Bill. His vernacular was free and foul. He was the watch at the bow and had been sleeping. William rose to go to his bunk, and looking ahead saw to his amazement, a semicircular bay with many lights and land showing distinctly. He instantly woke Old Bill who, after seeing the land ran aft, and in quick time the stern of the ship was facing where the bow had been. Old Bill threatened to throw William overboard if he told anyone. It seemed a very narrow escape from disaster.

William saw many whales spouting, also many birds including albatrosses gliding through the air without perceptible motion of the wings. Those that were caught vomited on deck. Many of the little Cape Pigeons and stormy petrels etc followed the ship. Flying Fish came on board. WIlliam caught several dolphins and admired the beautiful coloured skin tints as they were expiring. The dainty nautilus were always objects of admiration as they gracefully floated past.

The voyage was becoming monotonous when crossing the southern seas, only varied by singing and dancing. The English conconcertina was the only musical instrument on the ship. There was a pugilistic encouter with bare fists between a little man and a big man, and fought in the good old English way to allow the weakest to have a sporting chance. The combat ended in a draw. There was excitement over a fight about equal in strength, and the struggle continued until the butcher conquered, much to the delight of the onlookers. The mate was the aggressor.

With one or two exceptions, the passengers were a superior class, agreeing well together. There was much discontent about the way victuals were cooked. The chief cook was a surly tempered individual, and would persist in boiling the salt junks and duffs in a mixture of sea and fresh water. Getting no redress from the captain or the officers, the men in a body approached the cook about the matter, and the dispute culminated in a fray in which the cook gave one of the men a very serious wound near the eye with his long fork. He was instantly seized and plunged head down into a cask nearly full of slimy grease. His reappearance from the slimy depths was greeted with shrieks of laughter. He became mentally affected and had to be confined until the voyage ended.

A new lifeboat was aboard for Timaru, also agricultural implements, but a fierce southerly storm prevented the ship from approaching the roadstead, which was then, and many years after worked with surfboats.
| | |
| --- | --- |
| Roadstead at Timaru | Surfboat |
"The good ship having suddenly disappeared in the furious storm from the view of the expectant onlookers on the land, prayers were offered in the churches for the ship's and passengers' safety but two or three days afterwards the ships anchor was dropped inside Lyttelton Heads.

The snow on the Southern Alps caused some weeping among the women, fearing they had been deceived by the glowing accounts about NZ, discribed in a book "A land of pure delight, where peaches grow on trees and roasted pigs came crying out, "Oh, eat me if you please."
William Keay thought that the captain was summoned for exceeding his duty and also for cruelty and was fined. Some five sailors slipped down the bowsprit and swam safely to the shore. They were lucky as the Huntress left Lyttelton for Callao, South America (port of Lima, Peru) and was lost at sea. One single man died from exhaustion when climbing the Port Hills, another was killed a day or two afterwards after being dragged by a horse." (End of William Keay's Diary)
Lyttelton Times, 18 April 1863: Captain Boyd reports that he sighted a large ship apparently standing in for Timaru at an early hour on the morning ot the 16th. It is just possible we may have to announce that this ship turns out to be the Huntress, so long looked for by anxious friends; she is out of Timaru 125 days, and has to call in with Government immigrants.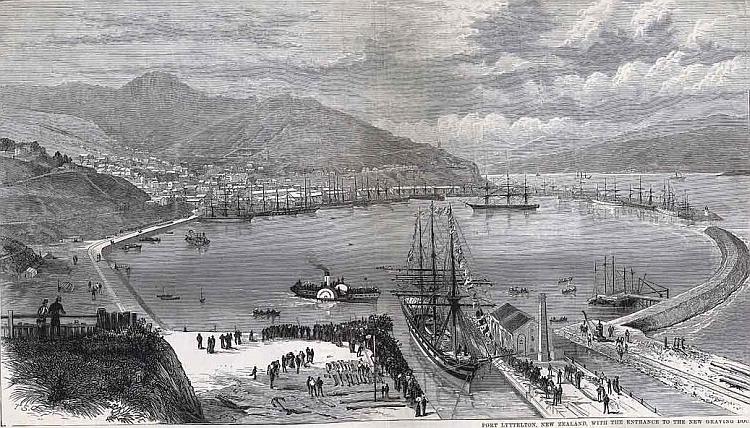 Lyttelton Apr 28 1863 - Source: London Illustrated News
Lyttelton Times, 22 April 1863 ARRIVAL OF THE SHIP HUNTRESS.
The "Huntress", Captain Barrow, arrived yesterday evening after a protracted passage. On leaving London she experienced very heavy weather in the channel, and only reached the line after the very long interval of 60 days. At the Cape she again met with contrary winds, and during a heavy gale sprung the foremast badly, losing top-gallant mast and gear. After leaving the Cape, the "Huntress" enjoyed favorable winds, making the coast of New Zealand in 32 days. Attempted to go into Timaru on Sunday, but a heavy south-easter coming on, had much difficulty in beating off shore, and brings all her passengers to Lyttelton. Two births have occurred on the voyage, and 15 deaths, all children, with the exception of one young woman aged 17, and a boy belonging to the ship.
We can imagine their relief, as our Benbow family stepped ashore after the storm-racked voyage and the memory and heart-break experienced with of the loss of their infant son whose canvas-shrouded small body had been slipped over the ship's side. But now, all this was behind them and room was found in the New Zealand Company's immigration barracks and trunks and belongings were unloaded and they awaited arrangements to be made so they and others could be taken by coastal shipping back to Timaru..

Lyttelton Times, 25 April 1863: SHIPPING INTELLIGENCE: LYTTELTON. arrived on April 21, ship "Huntress", 776 tons, Barrow, from London. Passengers— Cabin: Rev. F. Tripp, Messrs. Hoggard, Cook and Ainsworth. Second Cabin: Mr. and Mrs. Pilbrow, Mr. and Mrs. Lippett, Miss Ellis, Mr. and Mrs. Russell, Mr. and Mrs. Smith and son, Mr. and Mrs. Dickson and two children, Messrs. Whiteford, Bound, Wedderspoon, Russell, Butterworth, Keny, Bonnington, Stokes, Spridgeon. Milns, Hamilton, Jeffries, Lane, Murphy, Woodhouse, and E. H. Marshall (surgeon); also Government immigrants equal to 222 statute adults.
Lyttelton Times, 2 May 1863: The "Lady Bird" sailed yesterday at half-past 4 with the passengers per "Huntress" for Timaru. She had the new life boat in tow.
May 1, "Lady Bird", s.s., 220 tons, Renner, for Dunedin and intermediate ports. Passengers—For Akaroa: Messrs. Pentridge and Middleton. For Timaru: Messrs. Pilbrow, Mr. and Mrs. Smith, Mr. and Mrs. Hughes, Mr. and Mrs. Russell, Miss Chapman, Miss Ellis, Miss Campbell, Messrs. Whitford, Tippitt, Fieldhouse, Whittaker, Winter, Proctor, Campbell, Russell, Benbow and family. For Dunedin —Mr. and Mrs. McDonald, Mrs. McQueen, Messrs, Wright, Chapman, Pike, Buchanan.
Lyttelton Times, 16 May 1863 Timaru: The "Lady Bird", s.s., 220 tons, Capt. Rentier, from Lyttelton, arrived at Timaru early on Saturday morning, May 2. She brings the life-boat, so long expected, and the passengers come down are all from the Huntress, viz., Mr. and Mrs. Pilbrow, Mr. Whitford, Mr. Lippett and child, Miss Ellis, Mr. and Mrs. Smith, Messrs. Whitaker, Winter, Proctor, Mr. and Mrs. Russell, Mr. and Mrs. Hughes and 5 children, Mr. Campbell, Mr. Russell, Mr. and Mrs. Benbow and family, Mrs. Fieldhouse, Miss Chapman, Miss Campbell. We understand the "Lady Bird" is likely to make Timaru a regular port of call. She sailed again about noon.
Press, 10 Sept. 1863: There was no room to doubt that the fever which raged last summer was brought by the Huntress. Fever had never been known here before, and in many instances it had been traced to servants engaged from that ship. To prevent spread of disease from subsequent ships arriving, strict quarantine regulations were put in place. Now immigrants are landed in Camp Bay, and now under canvas, however portable houses were ordered, and erected. It was thought had these regulations been put in force on the arrival of the Mary Ann, Mystery, and Huntress, much expense would have been spared to the Government. The immigrants by those vessels had cost the Government more since their arrival than the expense of bringing them here. From notes of cases which had come under notice whole families had become affected with & severe form of fever from having engaged servants from these vessels. This would not have been the case if the immigrants had been prevented landing.